Easy Alphabet Soup Recipe - Alphabet Soup is such a simple and fun soup! Great for kids and great for kids at heart!
With a rich tomato base and beefy filling this easy Alphabet Soup Recipe will take you right back to childhood! If you loved this classic soup as a kid you can now make it at home and it will taste 100 times better than what you get in a can!
The Legend of Alphabet Soup
The legend behind alphabet soup - well that is easy, right? Campbell's soup made it, of course!
Actually that's not the case. Here's what I have learned...
Urban legend states a noodle factory had an accident when making pasta. Instead of coming out as elbow pasta, it looked like the letter C. The factory was inspired and thought alphabet style pasta would be a big hit.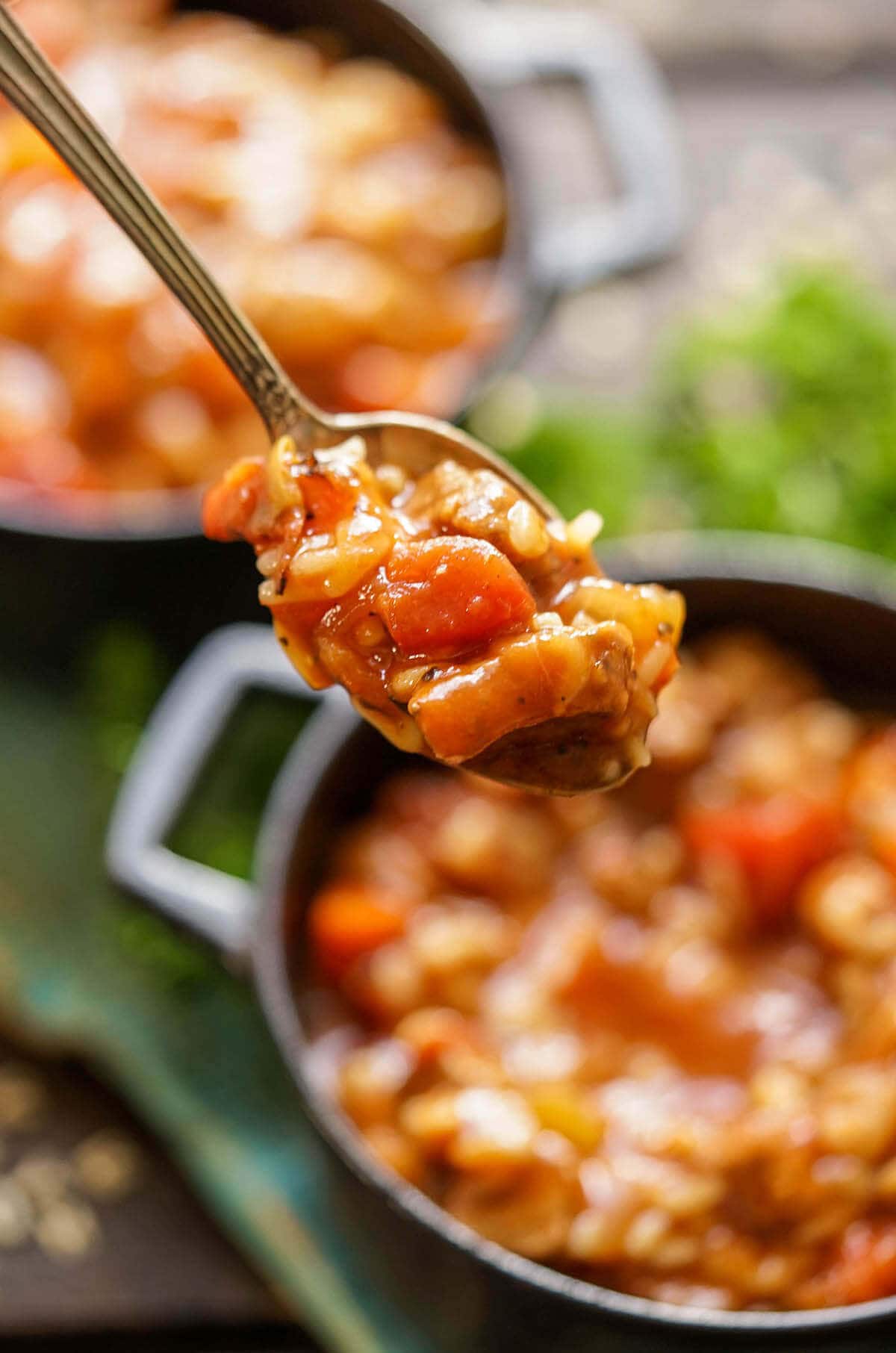 Because playing with your food is always fun!
And they were right! After all - what's more fun than to play with your food!
Ingredients for soup recipe
sirloin steak - great flavor, tender and affordable
alphabet pasta noodles - if you can't find alphabet you can certainly substitute with small pasta like ditalini or orzo pasta
onions, carrots, celery, garlic - loads of veggies make it especially tasty
fire roasted tomatoes, tomato sauce and beef stock - it's the perfect amount of liquids for a rich broth.
salt, pepper, Italian seasoning and red pepper flakes - all go-to pantry ingredients.
Who made alphabet soup?
When I was doing my research I assumed that this noodle soup was made by Campbell's, but actually it was originally created by Knorr.
Where do I find alphabet pasta?
At the grocery store, the first place I would logically look for this would be the pasta aisle. But most times I find it with the Mexican Food near the dried beans. Of course you can also order it online and I've included a link below.
Can I freeze this soup recipe?
Yes! If you end up with leftovers (which we never do because we eat it all!) they freeze beautifully. Sealed well this Alphabet Soup Recipe will last up to three month in the freezer.
How long will soup last in the refrigerator?
It will store three days in the refrigerator. This is a great soup to make ahead of time as it tastes even better on day two!
I have only made this on the stove, not using the slow cooker or pressure cooker. I shouldn't say you can't until I try it, so when I do - I'll let you know!
How to make Alphabet Soup
Dice the onions, carrots and celery. Mince the garlic, cube the beef.
Sauté the beef with seasoning until lightly browned. Add the vegetables and continue cooking for just a couple minutes.
Add the fire-roasted tomatoes, sauce and stock, bring to a boil then reduce to a simmer.
Cover and simmer for an hour or until the beef is tender.
Bring back to a boil, add the pasta and cook until al dente.
Honestly, I don't think this could have gotten much easier. Alphabet Soup is such a simple and fun soup! Great for kids and great for kids at heart!
More tasty soups with pasta!
Minestrone Soup - Rustic and filled with greens, beans and pasta this is a satisfying meal! Or Chicken Tortellini Soup - Only 30 minutes to make with simmered all day flavor, delicious!
Vegetable Orzo Soup
Vegetable Orzo Soup a delicious soup made vegetables and everyday ingredients. These easy flavors come together in a snap and it's a healthy meal packed full of flavor!
Check out this recipe
Chicken Tetrazzini Soup
Creamy and rich Chicken Tetrazzini Soup is filled with ender chicken, earthy mushrooms and creamy jack cheese. It's savory and delicious! Get dinner on the table in 30 minutes or less

Check out this recipe
Beef Noodle Soup
Beef noodle soup is a big hearty stew packed with tender, slow-cooked beef, vegetables and egg noodles. It's easy to make, full of flavor and delicious!
Check out this recipe
I am a participant in the Amazon Services LLC Associates Program, an affiliate advertising program designed to provide a means for us to earn fees by linking to Amazon.com and affiliated sites.
Some of the items below contain affiliate links, however, I only promote things that I love and think you will love, too. For more information, please see my Disclosure Policy.
Don't forget to check out my Amazon storefront for some of my favorite products! 🛍️
If you post a photo, please tag me! I'd love to see your pictures! You can tag me with #bowlmeover or if you're on Instagram use @bowl_me_over I can't wait to see how yummy this turned out for you!
I would love it if you gave this recipe 🌟🌟🌟🌟🌟 stars!!
Alphabet Soup Recipe
Easy Alphabet Soup Recipe
Easy Alphabet Soup Recipe - Alphabet Soup is such a simple and fun soup! Great for kids and great for kids at heart!
As an Amazon Associate I earn from qualifying purchases.
Ingredients
6

oz

sirloin steak

small ½ inch cubes

½

cup

alphabet pasta

½

yellow onion

diced

2

carrots

peeled and diced

2

stalks celery

diced

1

clove

garlic

minced

1

14.5 oz

fire roasted tomatoes

1

8 oz

tomato sauce

3

cups

beef stock

1

teaspoon

salt

½

teaspoon

pepper

¾

teaspoon

Italian Seasoning

⅛

tsp

red pepper flakes

just a pinch!

2

tablespoons

olive oil
Instructions
In a large dutch oven, or stock pot, heat the olive oil over medium heat. Add the beef and season with salt, pepper, Italian seasoning and red pepper flakes. Saute until the beef is lightly browned.

Add the onions, carrots and celery and saute about three minutes, just until the vegetables begins to soften.

Add the fire roasted tomatoes, tomato sauce and beef stock. Increase the heat to high and bring to a boil, reduce to simmer, cover loosely and simmer for one hour.

Bring the mixture back to a boil and add the alphabet pasta. Stir when adding the pasta so it doesn't clump.

Continue to boil, stirring often. Cook just the pasta is al dente (according to package directions).
Notes
Tips to cook Alphabet Soup Recipe
Stir the pasta while it's cooking.
That will ensure it doesn't stick to the bottom of the pan.
Additionally, stirring the pasta will release the starch and help thicken the soup. 
Cook just to al dente. As the soup cools the pasta will continue to cook and swell in size. Though you may think it's not enough pasta, you'll see it's the perfect amount!
Nutrition
Calories:
236
kcal
|
Carbohydrates:
22
g
|
Protein:
16
g
|
Fat:
10
g
|
Saturated Fat:
2
g
|
Cholesterol:
26
mg
|
Sodium:
1004
mg
|
Potassium:
690
mg
|
Fiber:
2
g
|
Sugar:
4
g
|
Vitamin A:
5204
IU
|
Vitamin C:
4
mg
|
Calcium:
57
mg
|
Iron:
2
mg
Sign up for my recipes here!!
Don't worry, we'll never share your email.
First Published: May 9, 2014... Last Updated: January 22, 2020