Alphabet Soup is such a simple and fun soup! Great for kids and young and old!
With a rich tomato base and beefy filling this Alphabet Soup Recipe will take you right back to childhood! If you loved this classic soup as a kid you can now make this easy meal at home and it will taste 100 times better than what comes in a can!
After you try this recipe, I think Beef Noodle Soup should be next on the menu, enjoy!
Why you'll love this recipe
Because playing with your food is always fun! I dare you to enjoy make this recipe and NOT spell out your name! After all - what is more fun than to play with your food?!!
Honestly, I don't think this could have gotten much easier. Alphabet Soup is such a simple and fun soup! Great for kids big and small!
Ingredients
For the exact measurements, please refer to the recipe card at the bottom of this post.
sirloin steak - great flavor, tender and affordable
alphabet pasta noodles - if you can't find alphabet you can certainly substitute with small pasta shape like ditalini or orzo pasta
onions, carrots, celery, garlic - loads of veggies make it especially tasty
fire roasted tomatoes, tomato sauce and beef or vegetable stock - it's the perfect amount of liquids for a rich broth.
salt, pepper, Italian seasoning and red pepper flakes - all go-to pantry ingredients.
Instructions
This is an overview of the instructions. For the complete directions just scroll down to the bottom!
Dice the onions, carrots and celery. Mince the garlic, cube the beef.
In a large soup pot sauté the beef with seasoning until lightly browned. Add the vegetables and continue cooking for just a couple minutes.
Add the fire-roasted tomatoes, sauce and stock, bring to a boil then reduce to a simmer.
Cover and simmer for an hour or until the beef is tender.
Bring back to a boil, add the pasta and cook until al dente.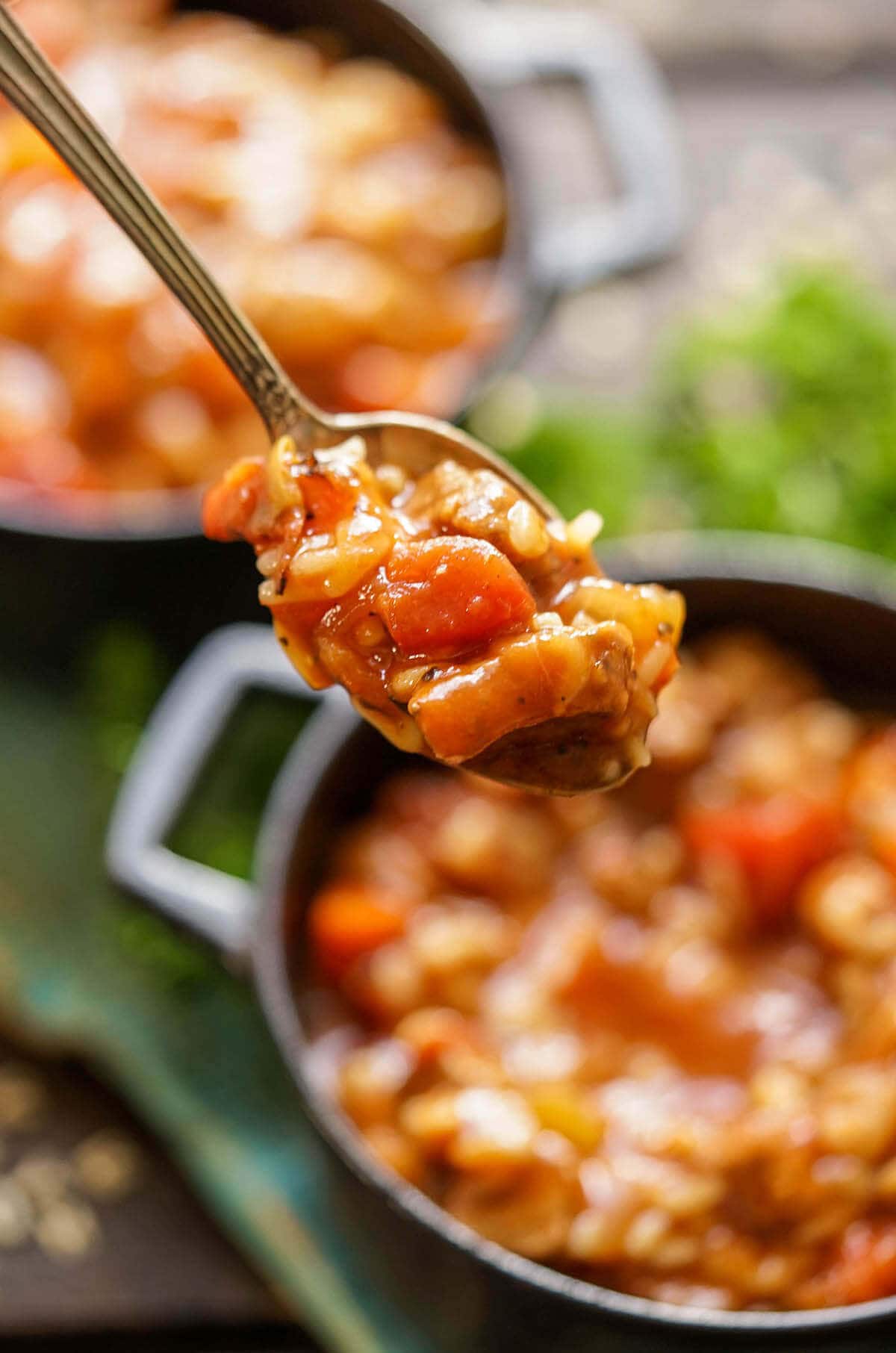 FAQ
Who made alphabet soup?
When I was doing my research, I assumed it was made by Campbell's.Actually Knorr created Alphabet Soup first!
Where do I find alphabet pasta?
At the grocery store, the first place I would logically look for this would be the pasta aisle. But most times I find it with the Mexican Food near the dried beans. Of course you can also order it online and I've included a link below.
Can I freeze this soup recipe?
Yes! If you end up with leftovers (which we never do because we eat it all!) they freeze beautifully. Sealed well this Alphabet Soup Recipe will last up to three month in the freezer.
Tips
Frozen vegetables are a great shortcut for this recipe. Don't be afraid to cut your prep time and utilize those!
Variations
Substitute diced turkey or chicken for the beef.
Use frozen mixed vegetables to pack the soup with your favorites.
Storage
Refrigerator - Alphabet Noodle Soup will store three to four days in the refrigerator. This is a great soup to make ahead of time as it tastes even better on day two!
Freezer - It freezes great and will last up to three months frozen.
Reheat the alphabet soup by first thawing it in the refrigerator overnight. Reheat on the stovetop or in the microwave.
Related Recipes
Tomato Soup - rich and delicious, this is a satisfying meal! Or Chicken Tortellini Soup - Only 30 minutes to make with simmered all day flavor, delicious!
Vegetable Orzo Soup is another homemade soup recipe that's filled with vegetables. It's amazing!
If you'd like all my tips and tricks to learn to make the BEST homemade soup click here.
What I've learned
Where did the legend behind alphabet soup come from? It's Campbell's Alphabet Soup, right?
Actually it's not. Here's what I have learned...
Urban legend states a noodle factory had an accident when making pasta. Instead of coming out as elbow pasta, it looked like the letter C. The factory was inspired and thought alphabet style pasta would be a big hit.
Alphabet Soup Recipe
Homemade Alphabet Vegetable Soup Recipe
Alphabet Soup is such a simple and fun soup! Great for kids and young and old!
As an Amazon Associate I earn from qualifying purchases.
Ingredients
6

oz

sirloin steak

small ½ inch cubes

½

cup

alphabet pasta

½

yellow onion

diced

2

carrots

peeled and diced

2

stalks celery

diced

1

clove

garlic

minced

1

14.5 oz

fire roasted tomatoes

1

8 oz

tomato sauce

3

cups

beef stock

1

teaspoon

salt

½

teaspoon

pepper

¾

teaspoon

Italian Seasoning

⅛

tsp

red pepper flakes

just a pinch!

2

tablespoons

olive oil
Instructions
In a large dutch oven, or stock pot, heat the olive oil over medium heat. Add the beef and season with salt, pepper, Italian seasoning and red pepper flakes. Saute until the beef is lightly browned.

Add the onions, carrots and celery and saute about three minutes, just until the vegetables begins to soften.

Add the fire roasted tomatoes, tomato sauce and beef stock. Increase the heat to high and bring to a boil, reduce to simmer, cover loosely and simmer for one hour.

Bring the mixture back to a boil and add the alphabet pasta. Stir when adding the pasta so it doesn't clump.

Continue to boil, stirring often. Cook just the pasta is al dente (according to package directions).
Notes
Tips to cook Alphabet Soup Recipe
Stir the pasta while it's cooking.
That will ensure it doesn't stick to the bottom of the pan.
Additionally, stirring the pasta will release the starch and help thicken the soup. 
This is a thicker soup, add an additional cup of beef broth if you'd prefer a thinner soup.
Cook just to al dente. As the soup cools the pasta will continue to cook and swell in size. Though you may think it's not enough pasta, you'll see it's the perfect amount!
Nutrition
Calories:
236
kcal
|
Carbohydrates:
22
g
|
Protein:
16
g
|
Fat:
10
g
|
Saturated Fat:
2
g
|
Cholesterol:
26
mg
|
Sodium:
1004
mg
|
Potassium:
690
mg
|
Fiber:
2
g
|
Sugar:
4
g
|
Vitamin A:
5204
IU
|
Vitamin C:
4
mg
|
Calcium:
57
mg
|
Iron:
2
mg
Sign up for my recipes here!!
Don't worry, we'll never share your email.
First Published: May 9, 2014... Last Updated: January 22, 2020