Chicken Tortellini Soup Recipe with all the flavor of a slowly simmered meal but only takes 30 minutes to make! It's deliciously and savory filled vegetables and deep rich broth – hearty and satisfying!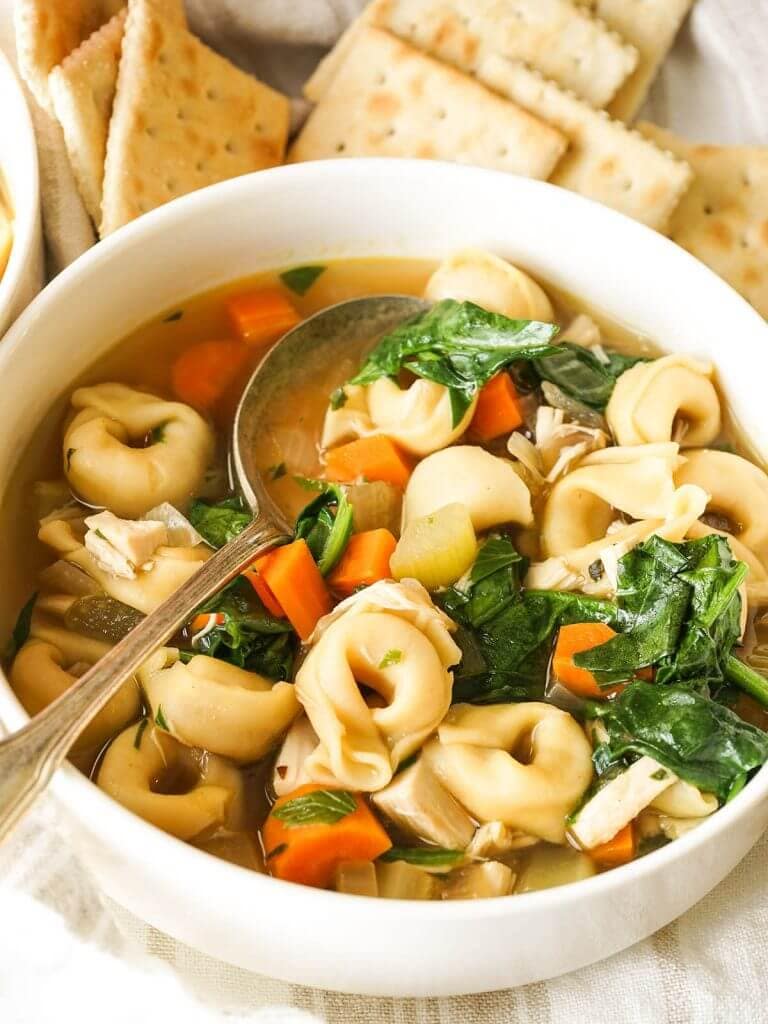 Chicken Tortellini Soup
What happens when you cross chicken soup with your favorite pasta? That's when you get Chicken Tortellini Soup! Add in your favorite vegetables and you have quite the meal.
Don't worry though, this doesn't take forever to make. It's ready in a snap, it only takes 30 minutes!
Everyone's favorite soup gets an update with this quick and easy recipe.
Plus by the end of the week, we're all going to be looking for ways to use up leftover turkey! Like my recipe for Turkey Chowder with Corn, this recipe works great!
Chicken and Cheese Tortellini Soup
Chicken Tortellini Soup Recipe Ingredients
Using pantry and refrigerator ingredients it's quick and easy to make!
yellow onion, carrots, celery, garlic, spinach – this soup is loaded with fresh veggies.
dry tortellini – I used cheese, but you can certainly use your favorite.
chicken stock and a splash of wine – using stock gives this soup slow-cooked flavor and the wine helps deglaze the pan.
rotisserie chicken or cooked turkey – either will work, use what you have on hand.
salt, pepper, red pepper flakes and fresh herbs – basil, parsley and/or thyme to add tons of flavor. In a pinch? Substitute the fresh herbs with 1/2 teaspoon dry Italian seasoning.
lemon – lemon juice is optional but just a squeeze of lemon adds acidity and brightens the flavors.
olive oil – to stir fry the vegetables.
I love that it's full of veggies and though it's light, it's still hearty and satisfying!
How many calories are in chicken tortellini soup?
This soup has less than 300 calories per serving.
How long will tortellini soup last?
Well sealed, this soup will last for 3 to 4 days in the refrigerator.
Does tortellini soup freeze well?
I don't recommend freezing this soup. UNLESS you wait to add the tortellini. Once the pasta is added it continues to soften and soak up the broth. If you freeze/thaw/reheat the pasta really turns into mush.
I know… I've done the research!
Can I substitute turkey for chicken?
Absolutely! This is a great substitute if you're looking for a use for your leftover holiday turkey.
Plus it gives you a whole new flavor profile, which is great about that third day after cooking a turkey, wouldn't you agree?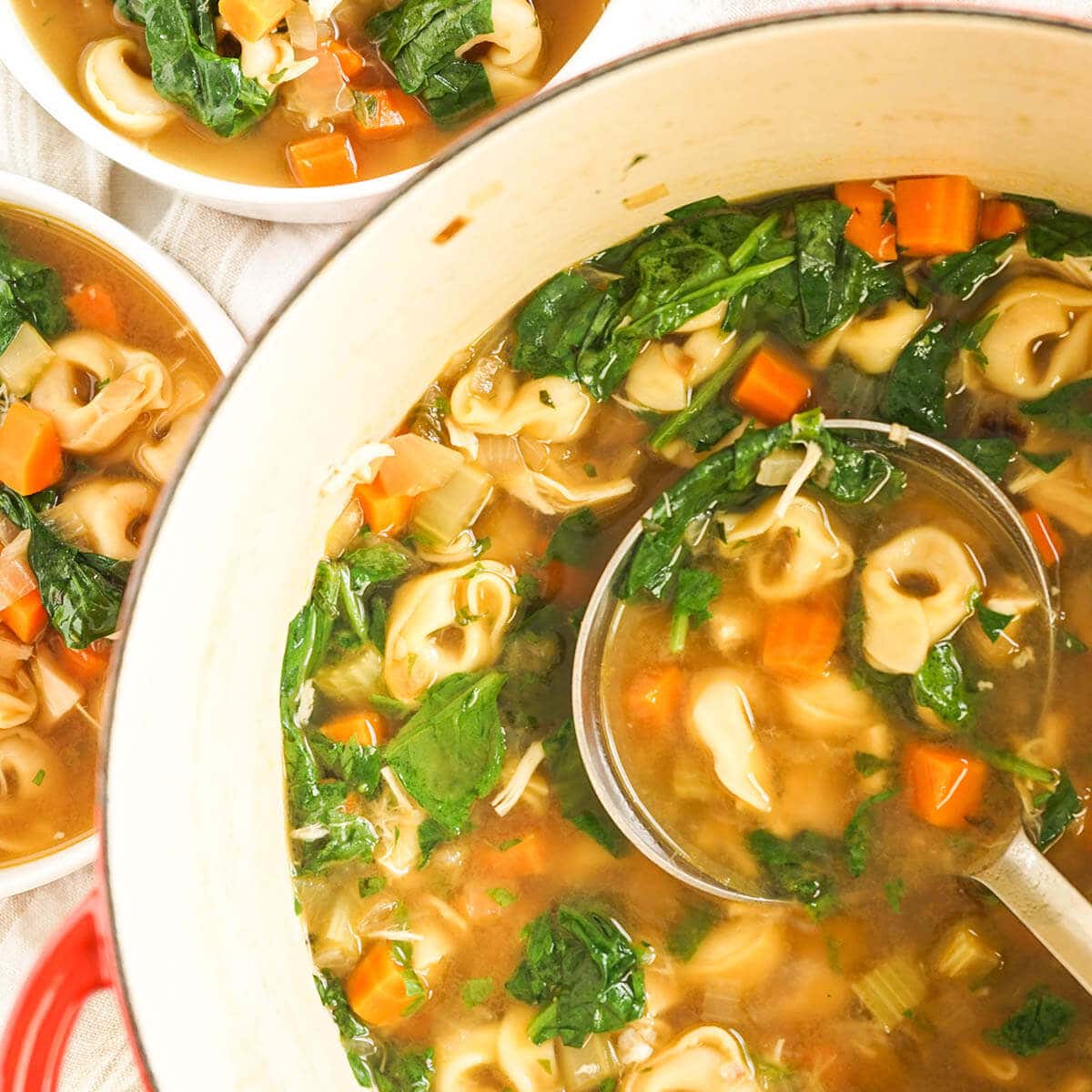 Chicken Tortellini Soup with Spinach
Steps to make the stew
Start by dicing the onion, carrot and celery – mince the garlic.
Shred the cooked chicken, give the spinach a rough chop, mince the fresh herbs.
Heat a heavy bottom stock pan over medium heat. When hot, add olive oil, then the onions and carrots. Sauté stirring occasionally, then add the celery.
When the veggies are lightly browned add the minced garlic and give it a good stir. It will only take about 30 seconds and you'll begin to smell the garlic. Deglaze the pan with a splash of wine, scraping all of the lovely bits off the bottom of the pan.
Increase the heat to high and add the chicken stock and water, bring to a boil. When boiling add the tortellini. Cook until just al dente. Remove from heat and stir in the chicken, spinach and herbs.
Finish with a squeeze of lemon.
Serve this up with some delicious crusty bread and a great glass of wine! Cheers to an easy weeknight dinner!
Love a great bowl of soup? Here are a few more of my favorites!
Suggested Recipe Pairings
If you're wondering what to serve with this meal, a great slice of homemade bread or dinner rolls are a great pairing. I always love a nice salad also. Here are a couple of my favorites!
I am a participant in the Amazon Services LLC Associates Program, an affiliate advertising program designed to provide a means for us to earn fees by linking to Amazon.com and affiliated sites.
Don't forget to check out my Amazon storefront for some of my favorite products! 🛍️
When you make this please be sure to tag me on Instagram @bowl_me_over or #bowlmeover – I'd love to see your pictures! And if you get a chance, please comment and leave me a ⭐⭐⭐⭐⭐ rating below!
Chicken Tortellini Soup Recipe