Rich and delicious easy Chicken Pot Pie Soup Recipe is meaty, flavorful and hearty! This thick, decadent soup takes only 30 minutes to make on the stove top and is a perfect weeknight meal!
First Published: Feb 11, 2016... Last Updated: September 18, 2019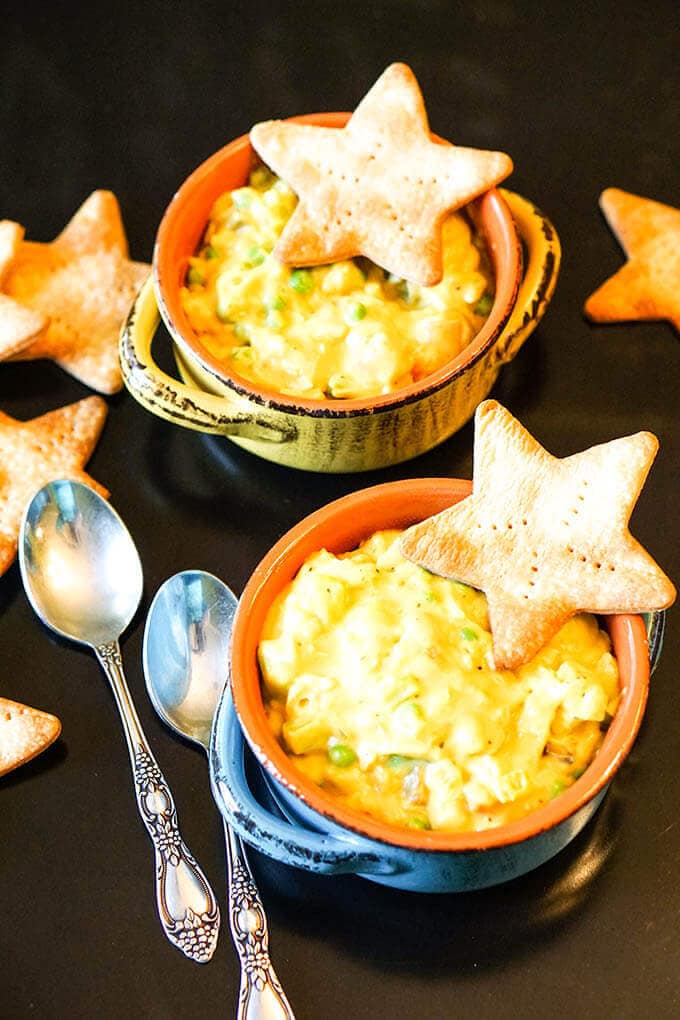 Chicken Pot Pie Soup Recipe
Have you ever eaten at Tahoe Joe's? It's a local steakhouse chain & we ate there a couple weeks back, in fact I even posted a pic on Facebook showing our amazing steak lunch (I mean how often do you have prime rib for lunch??!!!).
It was delicious and both my hubby and I had a full meal - soup, salad, entree even dessert....Well Dan ordered soup (usually it's me doing that) and the soup was Chicken Pot Pie Soup.
One bite of it and he pushed the bowl at me and said "try this"!
After one spoonful I said, this needs to be my next soup, huh? He just smiled, grabbed his bowl, nabbed the spoon out of my hand and pulled the soup back to his side of the table!
My caesar salad wasn't quite as delicious after that. 😢
It was time to make this soup at home and actually recreating this recipe was really easy!
I had some pre-cooked chicken breasts on hand - (check!) onions, carrots, celery and peas - (check!) chicken stock and cream (check and check!) time to get cooking!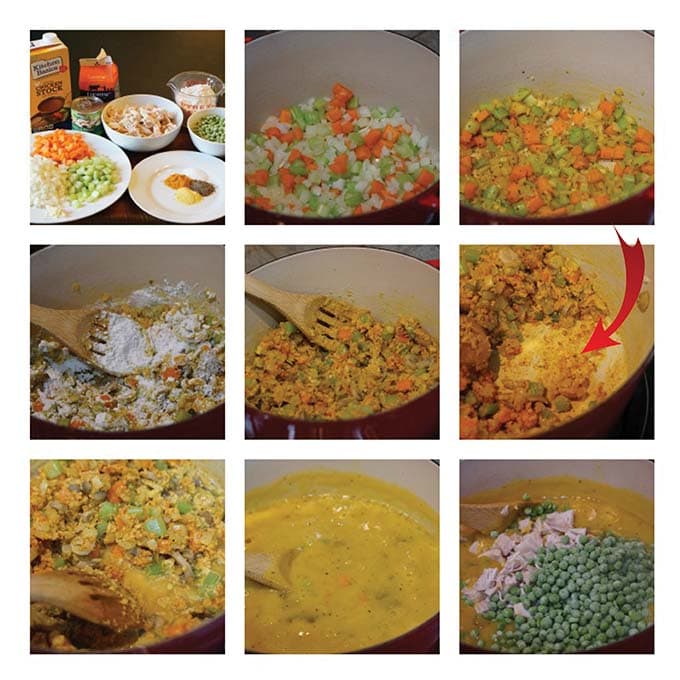 Ingredients for Chicken Pot Pie Soup
Soup Ingredients
chicken - precooked, leftover rotisserie chicken works perfect!
carrots, celery, onion - also called mirepoix, it's the beginning of many a perfect soup!
frozen peas - for bright freshness, you'll add them at the end.
garlic - adds a pungent and spicy flavor.
bisquick - this pre-made biscuit mix will thicken and flavor the soup.
chicken stock - better than water, stock or broth adds full flavor to this meal.
heavy cream - for creamy goodness
olive oil, butter - to sauté the vegetables.
pie crust (optional) - every chicken pot pie should have a great crust! Using pie crust makes it fun and tasty!
salt, pepper, turmeric, chicken granulated bouillon - will season and flavor this soup!
Steps to make soup recipe!
Start by dicing the veggies and mince garlic.
Add to a large stockpot along with butter, olive oil and seasonings. Sauté until soft.
Now add Bisquick and cook for at least two minutes.
Add the chicken stock, scraping up the golden bits on the bottom of the pot to thicken and release the flavor.
When thickened add the frozen peas, cream and chicken, warm thru.
Serve with baked pie crust rounds.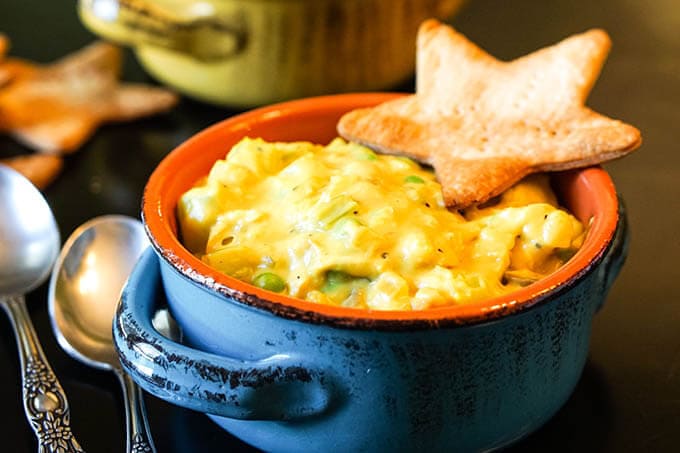 BEST Chicken Pot Pie
And the topping, those little stars? Well they are simply store bought pie crust cut into stars - you know, even the kids would eat this because it makes it fun!
What goes with pot pie?
A great salad is a terrific side for this meal, here are some of my favorites!
Yes, you could use crackers, but the pie crust is buttery and tasty and makes the soup that much better!
Green Salad with Fruit
This easy summer salad has a creamy homemade vinaigrette. It is as delicious as it is pretty!
Check out this recipe
Southwest Salad Recipe
This days salad takes minutes tot make! It's full of crunch and flavor.
Check out this recipe
Fall Harvest Salad
An easy salad perfect for fall and topped with a creamy homemade salad dressing.
Check out this recipe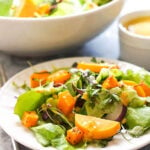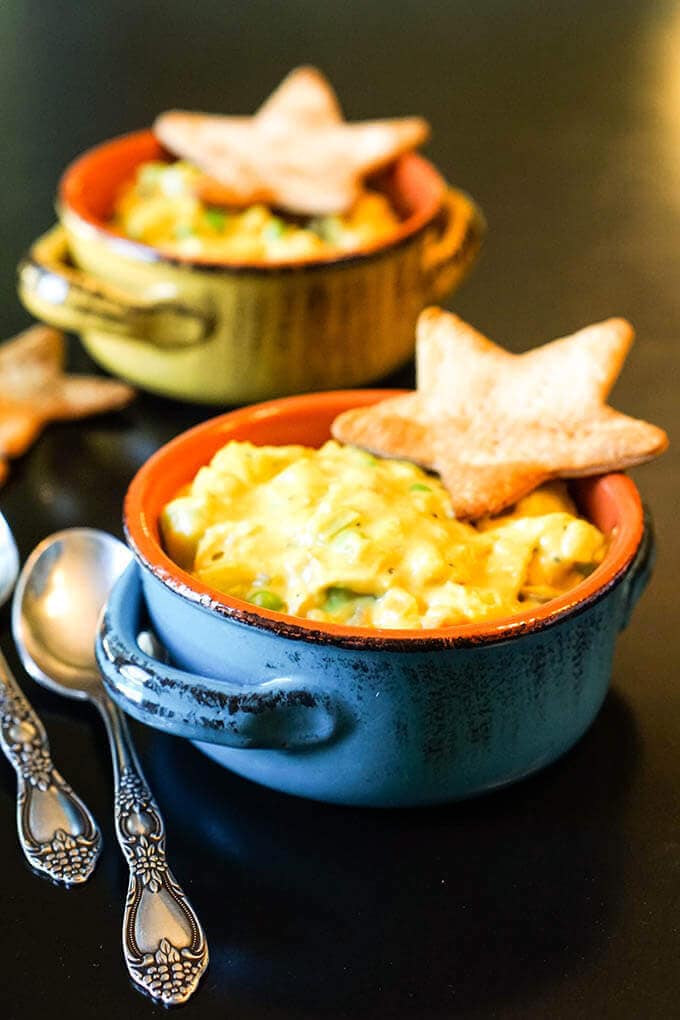 Chicken Pot Pie
This is super thick - after all it is Chicken Pot Pie Soup - so if you are looking for more "soupy" soup, reduce the flour to ½ cup or add more chicken stock.
Either way, you serve it, you're going to LOVE this soup!! Flavorful, hearty and creamy - the whole family will be happy with this meal!
You know me, I love Soup - after all Soup is Good Food!
Do you know someone who loves soup? Check out my soup makers gift guide! Or for all my best soup making tips and tricks - Homemade Soup; A Complete Guide!
Love Pot Pie? Me too! Here are a few more recipes to try!
Leftover Turkey Pot Pie Recipe
Turn those boring leftovers into a delicious new meal when you make homemade pot pie! This is a cozy meal your whole family will love!
Check out this recipe
Mummy Pot Pie Recipe
Easy to make, fun and tasty Halloween pot pie is a favorite spooky dinner.
Check out this recipe
Easy Chicken Pot Pie Soup
Easy Chicken Pot Pie Soup
Want your kids to eat their veggies? Serve them Chicken Pot Pie Soup - Meaty, flavorful and hearty this is rich & decadent and super yummy!
As an Amazon Associate I earn from qualifying purchases.
Ingredients
2

cups

diced chicken

1

cup

chopped carrots

1

cup

chopped celery

1

onion

1

cup

sliced mushrooms or 1 7 oz can sliced mushrooms

drained

1

clove

garlic

1

cup

frozen peas

1 ½

teaspoons

salt

1

teaspoon

pepper

1

teaspoon

chicken granulated bouillon

½

teaspoon

tumeric

this is optional, it adds great nutrition and also a beautiful golden color.

⅔

cup

bisquick

4

cups

chicken stock

½

cup

heavy cream

1

tablespoon

olive oil

1

tablespoon

butter

1

store bought pie crust
I earn a commission from Instacart from qualifying purchases.
Instructions
Start by preheating the oven - cut the pie crust into shapes if desired and bake according to package directions - remove & allow to cool.

Chop the vegetables & mince the garlic. Place a large stock pot over medium heat. Add butter & olive oil. When hot & bubbly add the vegetables, all of the spices and cook for 6-7 minutes.

Add the garlic and bisquick and cook for another couple of minutes, mixing very well - cook it until it's a golden brown - this will remove the flour taste and really develop the flavors. It only takes a couple of minutes.

Then add the stock - scrape the bottom of the pan as you'll want to remove all of the golden bits on the bottom of the pan - that's where the flavor is at! Continue to stir and cook - it is SUPER thick!

Cook for about 3-4 more minutes then stir in the frozen peas, diced chicken and cream. Stir well to incorporate and remove from heat. It's ready to serve - top with pie crust!!
Nutrition
Calories:
526
kcal
|
Carbohydrates:
41
g
|
Protein:
21
g
|
Fat:
30
g
|
Saturated Fat:
11
g
|
Cholesterol:
72
mg
|
Sodium:
1274
mg
|
Potassium:
590
mg
|
Fiber:
3
g
|
Sugar:
8
g
|
Vitamin A:
4215
IU
|
Vitamin C:
13.6
mg
|
Calcium:
89
mg
|
Iron:
2.9
mg
Sign up for my recipes here!!
Don't worry, we'll never share your email.