Easy Chicken and Dumpling Soup recipe is slow cooked flavor in a creamy soup that takes only 45 minutes! This is a great recipe, the ultimate comfort food!
This simple stew is filled with chunks of tender chicken and biscuits that do double-duty as dumplings. It's packed full of your favorite vegetables too!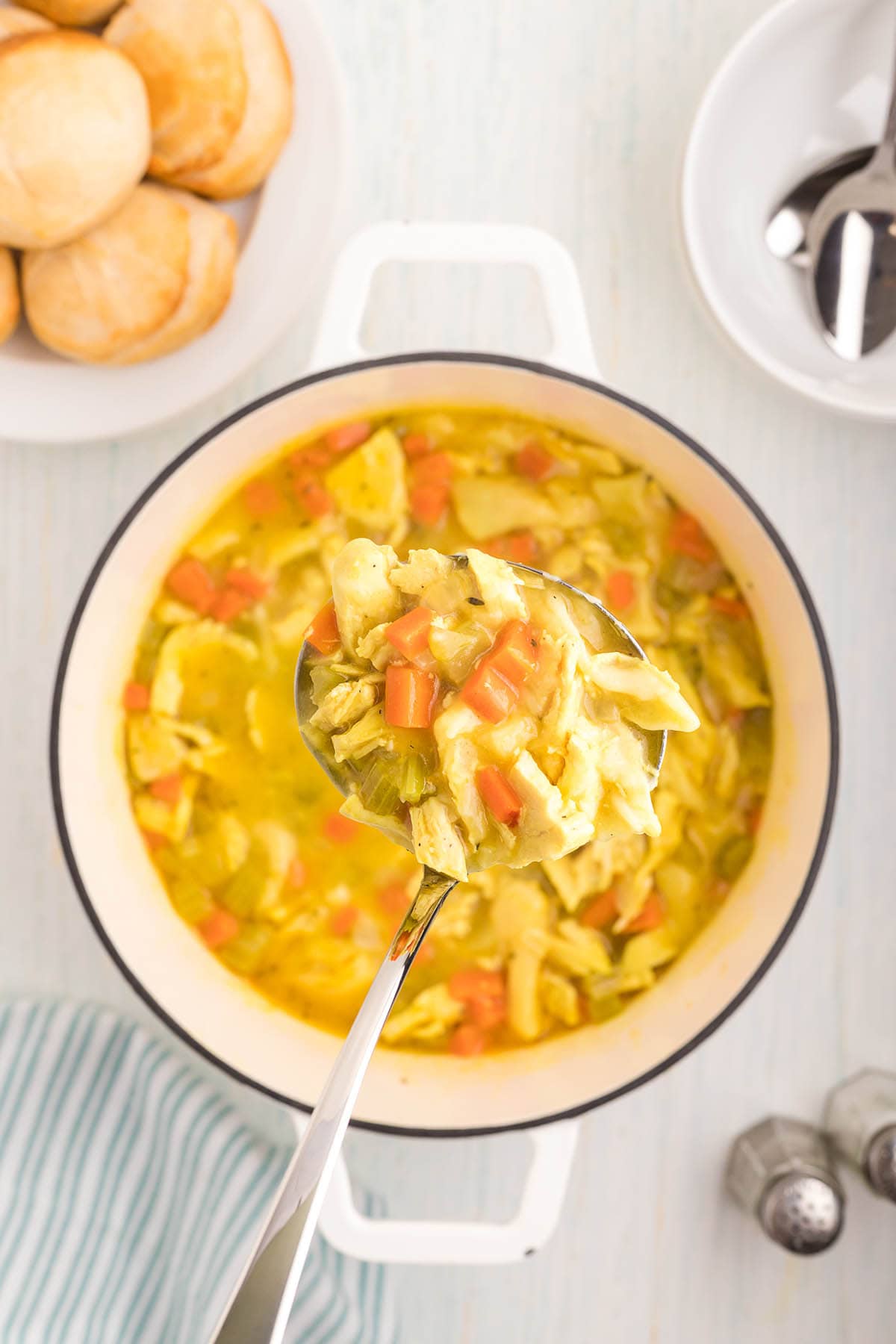 Next time try Slow Cooker Chicken and Gravy.
Jump to:
Why you'll love this recipe
My Grandma Corliss was quite the cook. Grandma did more with less and served up comfort food to a big family without a lot of dollars.
When I think of Grandma a couple of meals come right to mind - Mac 'n Cheese, Goulash and of course Chicken and Dumplings! These are meals that stretch a buck and feed a crowd.
Chicken and Dumpling Soup is a meal Grandma made often. Unlike her recipe though, this one takes minutes instead of hours. It's simple and delicious - I think you'll love this recipe!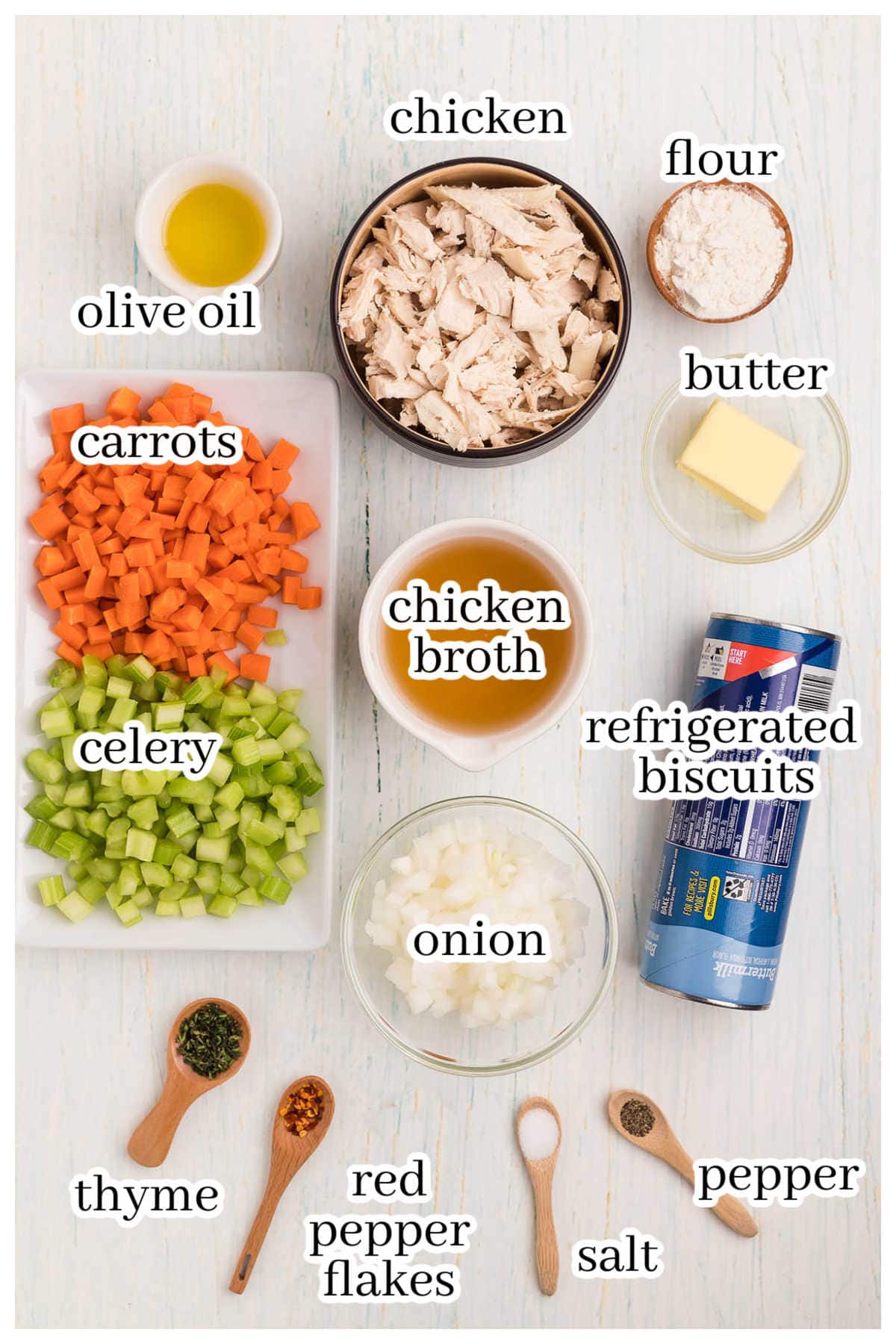 Ingredients
For the exact measurements for this homemade chicken and dumpling soup recipe, please refer to the printable recipe card at the bottom of this post.
rotisserie chicken - or any leftover cooked chicken will work well for this recipe. I prefer boneless chicken breasts for this recipe.
carrots, celery and onions - classic chicken soup flavors.
fresh thyme, salt, pepper and red pepper flakes - for seasoning.
chicken stock and refrigerator bake 'n serve biscuits - all the flavor in half the time!
flour, butter and olive oil - help flavor and thicken the stew.
Rather than cooking a whole chicken all day (not that there's anything wrong with that!), we're using rotisserie chicken.
Using refrigerator biscuits instead of making drop dumplings makes for another great shortcut!! Since we won't be using all of the biscuits, you can bake the rest of the rolls in oven and serve them with your meal!
This doubles the aroma of home cooked goodness because now you're going to have fresh rolls too! Swooning!!!
Dinner is done, doesn't that sound amazing?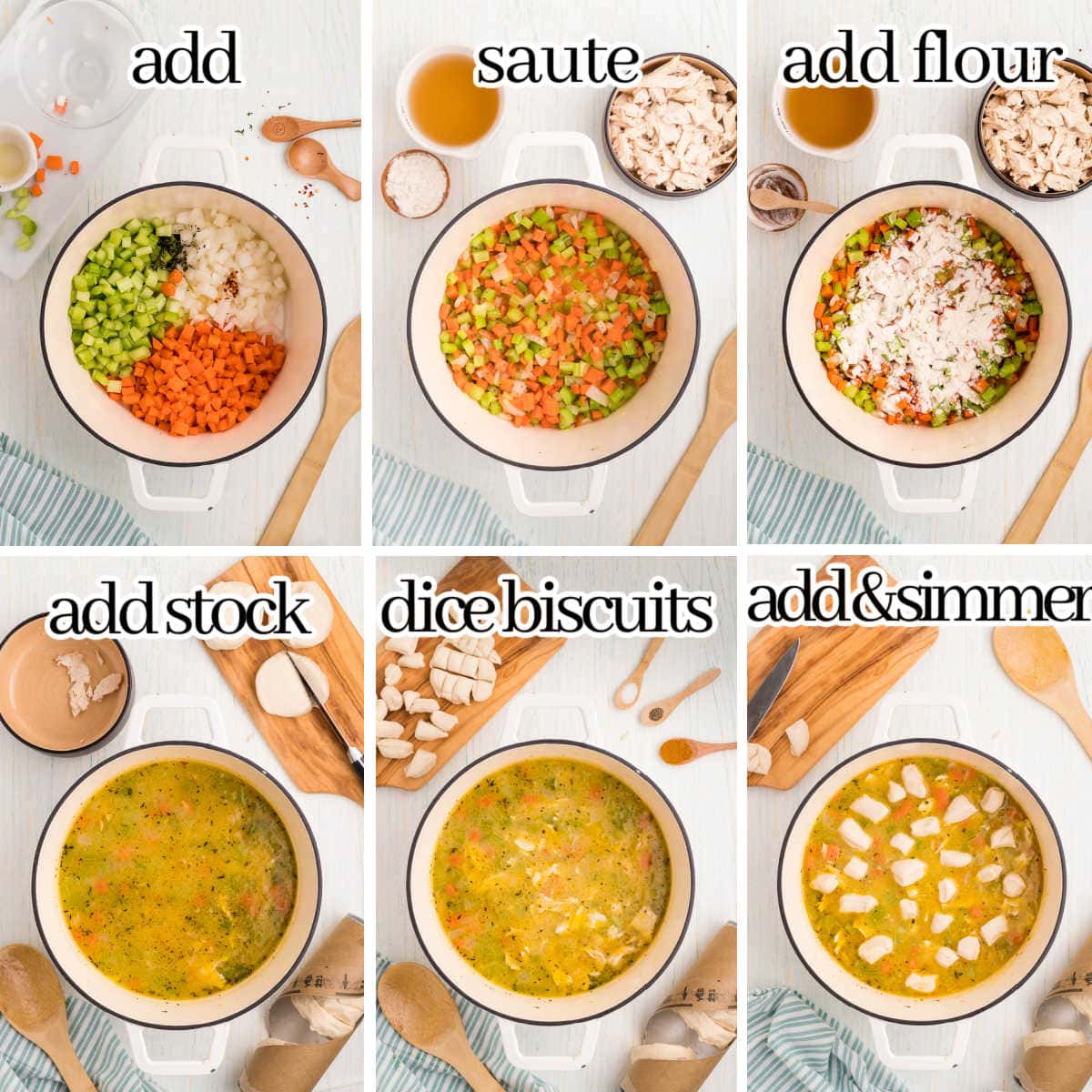 Instructions
This is an overview of the instructions. For the complete directions just scroll down to the bottom!
Start by dicing an onion, celery and carrots in a large stockpot.
Melt butter, add olive oil. Add the spices and sauté, add the chicken, then add flour.
Combine flour and stir everything together and cook the flour for a minute or two.
Next you'll add stock slowly and stir. The mixture will thicken nicely. This only takes a couple of minutes.
Finally, you'll add the dumplings. Take a couple of the biscuits and thinly slice or dice them. You'll want them to be quite small. The dumplings will triple in size as they cook.
Reduce the heat to low.
Place the lid on the pot of soup and allow the dumplings to cook thru. There is nothing worse than a gooey dumpling, so just be patient. It only takes about 15-18 minutes.
Now's the time to put the rest of the biscuits in the oven! Cook according to package directions.
When time is up stir everything together and serve!
Start to finish only about 45 minutes! Rather than taking three to four hours. This is easy enough for a weeknight meal too!
Chicken and Dumpling Soup is a comforting meal that fills your home with an enticing aroma. But what if you don't have all day long? Then let's take a shortcut or two - you won't lose the flavor and your family will still be lined up begging for more!
Equipment
The following are affiliate links. We are a participant in the Amazon Services LLC Associates Program, an affiliate advertising program designed to provide a means for us to earn fees by linking to Amazon.com and affiliated sites.
FAQ's
Why are my dumplings chewy?
Dumpling get heavy and chewy when they are submerged into the broth. When you add the dumplings try to float them on the broth, this will result in lighter biscuits!

By slowly simmering these biscuits and allowing your stove top to do the work! Add the biscuits to the soup, cover tightly with a lid and don't peak!
Why do my dumplings fall apart?
Over-cooking the dumplings will cause them to fall apart. If they sink to the bottom there's a good chance you'll break them apart when scraping the pan also.
How do you thicken chicken and dumplings?
Chicken and Dumpling Soup is thick like a creamy chicken stew. It's easily thickened with butter and flour. This is a simple method that makes the soup thick and creamy - without any lumps!
Do you cook dumplings covered or uncovered?
You'll want to cover the soup pot - covering will allow the dumplings to steam as they cook.
How do you know when a dumpling is done?
Open the soup pot and insert a toothpick into the dumpling. If it comes out clean, the dumplings are done!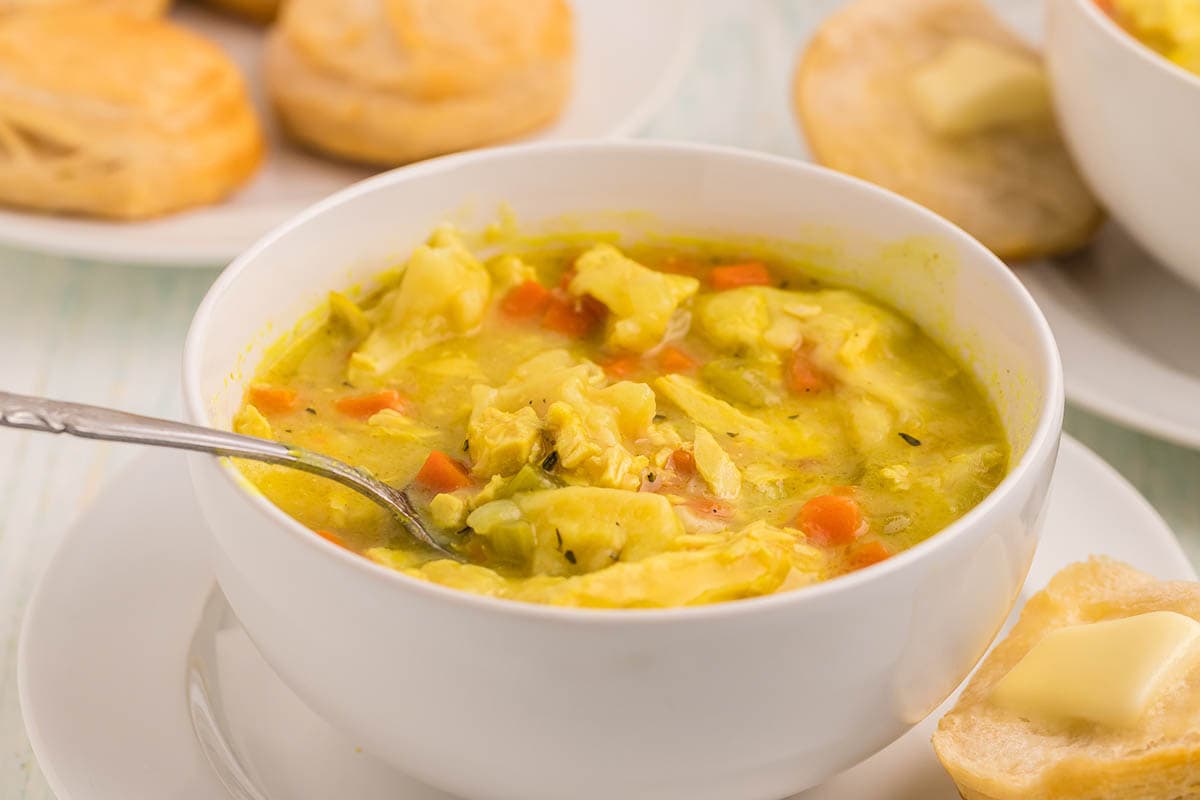 Tips
If you want to thicken the chicken and dumpling soup, do that before adding the dumplings. Mix two teaspoons cornstarch into ⅓ cup cold water. Whisk until smooth. Pour into boiling soup and stir until thickened.
Leftover chicken, shredded rotisserie chicken or leftover turkey all work great in this recipe!
Fresh or frozen peas are great in this soup.
Using the shortcut of canned biscuits means you won't spend hours making dumpling dough either.
Add a can of cream of chicken soup if you prefer this stew super creamy.
Check this out for a complete guide to making fantastic homemade soups and stews!
Storage
Refrigerate - allow leftovers to cool completely. Store in an airtight container up to three days.
Freezer - this soup freezes well. Again, store in an airtight container and freeze up to three months.
Reheat - allow to thaw overnight in the refrigerator. Reheat on the stovetop or microwave.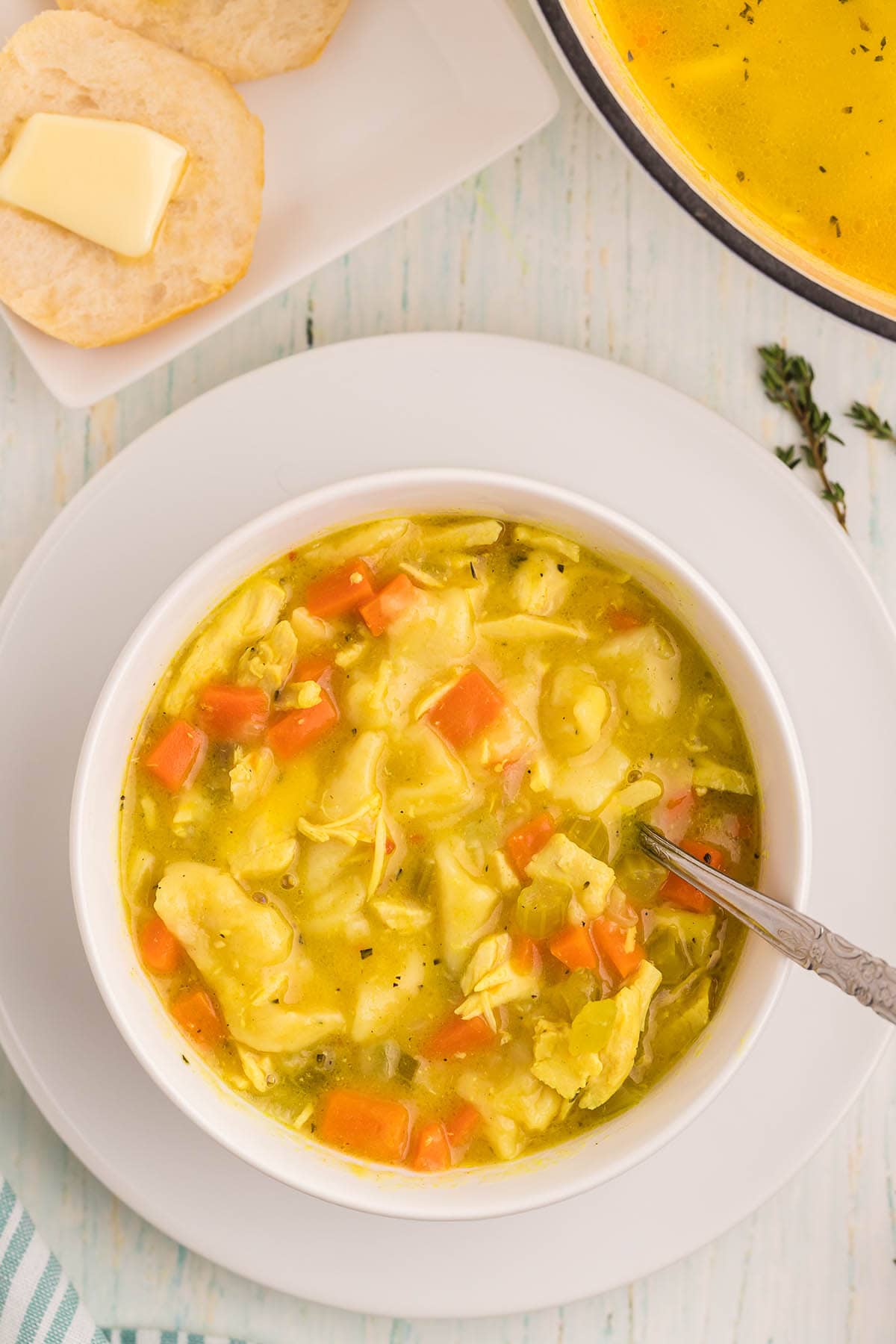 Related recipes
Here are more tasty soups I know you'll love! But this just scratches the surface! For all of my soup recipes, click here.
If a casserole is more up your alley, be sure to try this Chicken Potato Casserole next! Want to skip the biscuits? Make your own with this homemade dumplings recipe!
Serve with
This is such a cozy, wonderful meal!
Start it off your meal with this Quesadilla Dip - that would be a fun little snack-along while the soup is on the stove. Serve it with wheat thins or tortilla chips.
I know we are baking the leftover biscuits with this meal. But if you're looking for a little something more, this skillet cornbread recipe to enjoy with your homemade chicken and dumpling soup. It would be the perfect combination!
Sandwiches go nicely with this meal! Cuban Sliders are delicious!
Don't forget to check out my Amazon storefront for some of my favorite products! 🛍️
If you love this recipe please leave a ⭐⭐⭐⭐⭐ rating!
Chicken Dumplings Soup
This creamy chicken soup is filled with fluffy dumplings, tender chicken and an enticing aroma. It will taste like a simmering soup that has cooked all day, BUT it's a quick and easy recipe.
As an Amazon Associate I earn from qualifying purchases.
Ingredients
1 ½

cups

cooked chicken

diced boneless skinless chicken breasts

2

stalks celery diced

2

large carrots

cleaned and diced

1

onion diced

3

tablespoons

butter

3

tablespoons

all purpose flour

3

sprigs thyme

remove leaves and dice

1

teaspoon

salt

½

teaspoon

black pepper

just a pinch of red pepper flakes

2

tablespoons

olive oil

4

cups

of chicken broth

1

package refrigerated bake and serve biscuit dough

½

teaspoon

tumeric

Tumeric is optional, but I love using it in chicken soup. In addition to the beautiful color, it's full of antioxidants - super good for you!
I earn a commission from Instacart from qualifying purchases.
Instructions
If you're using rotisserie chicken, pull meat from the bones, remove skin and dice or shred. You'll want about 1 ½ cups chicken meat.

Using a large pot, heat the olive oil & butter over medium heat. When the oil is hot, add the onions, carrots, celery, red pepper flakes & thyme. Sauté' until the vegetables are soft stirring often - about 5-6 minutes.

Increase temperature to medium-high heat and sprinkle the flour over the mixture. Continue to cook for another minute.

Slowly pour in the chicken stock. As the mixture comes to a boil it will thicken. Add in the shredded chicken. Lower the heat to medium low.

Test for seasonings. If needed add salt at this time to taste.

Open the can of biscuits - remove three biscuits and slice into strips or a small dice. Keeping in mind they will triple in size when they are cooked. Sprinkle them over the top of the soup in one even layer (very important!), do not stack them on top of each other. Cover & simmer for 15-20 minutes until the biscuits are cooked thru.

The rest of the biscuits....you guessed it! Cook according to package directions and serve them with your meal.
Notes
What goes good with chicken and dumplings? For a long time my go-to was rolls or cornbread, but a great salad is my favorite now. Loaded with bright flavors and crunch, this easy Garden Salad is my choice!
Nutrition
Calories:
340
kcal
|
Carbohydrates:
15
g
|
Protein:
15
g
|
Fat:
24
g
|
Saturated Fat:
8
g
|
Cholesterol:
62
mg
|
Sodium:
1656
mg
|
Potassium:
503
mg
|
Fiber:
2
g
|
Sugar:
3
g
|
Vitamin A:
5525
IU
|
Vitamin C:
22.1
mg
|
Calcium:
54
mg
|
Iron:
2
mg
Sign up for my recipes here!!
Don't worry, we'll never share your email.
If you love this meal as much as I do, be sure to leave a five-star rating below! Also, I love it when you tag me Instagram with pictures of my recipes!