Panera Butternut Squash Soup - A creamy, rich, velvety soup made in the slow cooker using butternut squash and tart apples. Perfect when you have a busy day and you don't want to spend all day in the kitchen.
Easy? Absolutely! The fall flavor is deep and complex. Better than the Panera soup recipe, this is the BEST Crock Pot Butternut Squash Soup you've ever tasted and a meal your whole family will love!
If you love this, next time try Potato Soup Recipe! This easy recipe is so good. Super cheesy and creamy, this hearty soup will be a new favorite!
Jump to:
Why you'll love this recipe
This copycat Panera recipe has been tasted and perfected over the years and this recipe it is fabulous!
It's simple and delicious and can be made on the stove top or the slow cooker. I'm sure you could make it in the pressure cooker as well, I just haven't ever tried that. Frankly I love dumping everything in the crockpot.
What can I say, I'm lazy! 😋
You're going to love this delicious soup recipe!
Ingredients
For the exact measurements, please refer to the printable recipe card at the bottom of this post.
fresh butternut squash - you can buy a whole butternut squash or save yourself some time and get pre-peeled cubed squash. Frozen butternut squash work too. In a real pinch, sweet potatoes would work as well!
pumpkin purée or frozen butternut squash puree.
yellow onion
granny smith apples - actually you only need just one. Granny Smith or a Honeycrisp apple would be my favorite choice. Both have a bright tart flavor that adds a real depth of flavor to this soup!
cream cheese adds richness and creaminess.
honey for sweetness, though you could substitute brown sugar or maple syrup.
vegetable stock - use chicken broth if you'd prefer.
you'll love these warm spices - yellow curry powder, pumpkin pie spice, salt, black pepper, cinnamon, powdered ginger, red pepper flakes, garlic powder.
optional garnishes - pumpkin seeds, pecans - I love adding a bit of crunch. A splash of cream swirled in looks really pretty on top!
Instructions
Slow Cooker Instructions
This is an overview of the instructions. For the complete directions just scroll down to the bottom!
Peel the squash, remove the seeds and chop into 1 inch pieces.

Peel the onion and rough chop. Remove the core from the apple and dice.
Dice the brick of cream cheese.

Add the squash (fresh & frozen), onion, apple and cream cheese to the crock pot.
Measure and combine all spices and sprinkle into the slow cooker along with the honey, stir well.
Pour in the vegetable stock and cover. Set the temperature on low and cook for 8 hours.
Use an immersion blender or regular blender and blend until the soup is creamy.
Stovetop Instructions
This is an easy recipe for Slow Cooker Butternut Squash Soup. It's a creamy combination of pumpkin and autumn squash.
Follow steps above, peel the squash, remove seeds and dice. Dice the onion, etc.
Add the ingredients to a dutch oven.
Bring to a boil and simmer until the butternut squash is tender, about 45 minutes.
Use an immersion blender and blend until the soup is creamy. Or pour soup into a stand blender and process until smooth.
Equipment
The following are affiliate links. We are a participant in the Amazon Services LLC Associates Program, an affiliate advertising program designed to provide a means for us to earn fees by linking to Amazon.com and affiliated sites.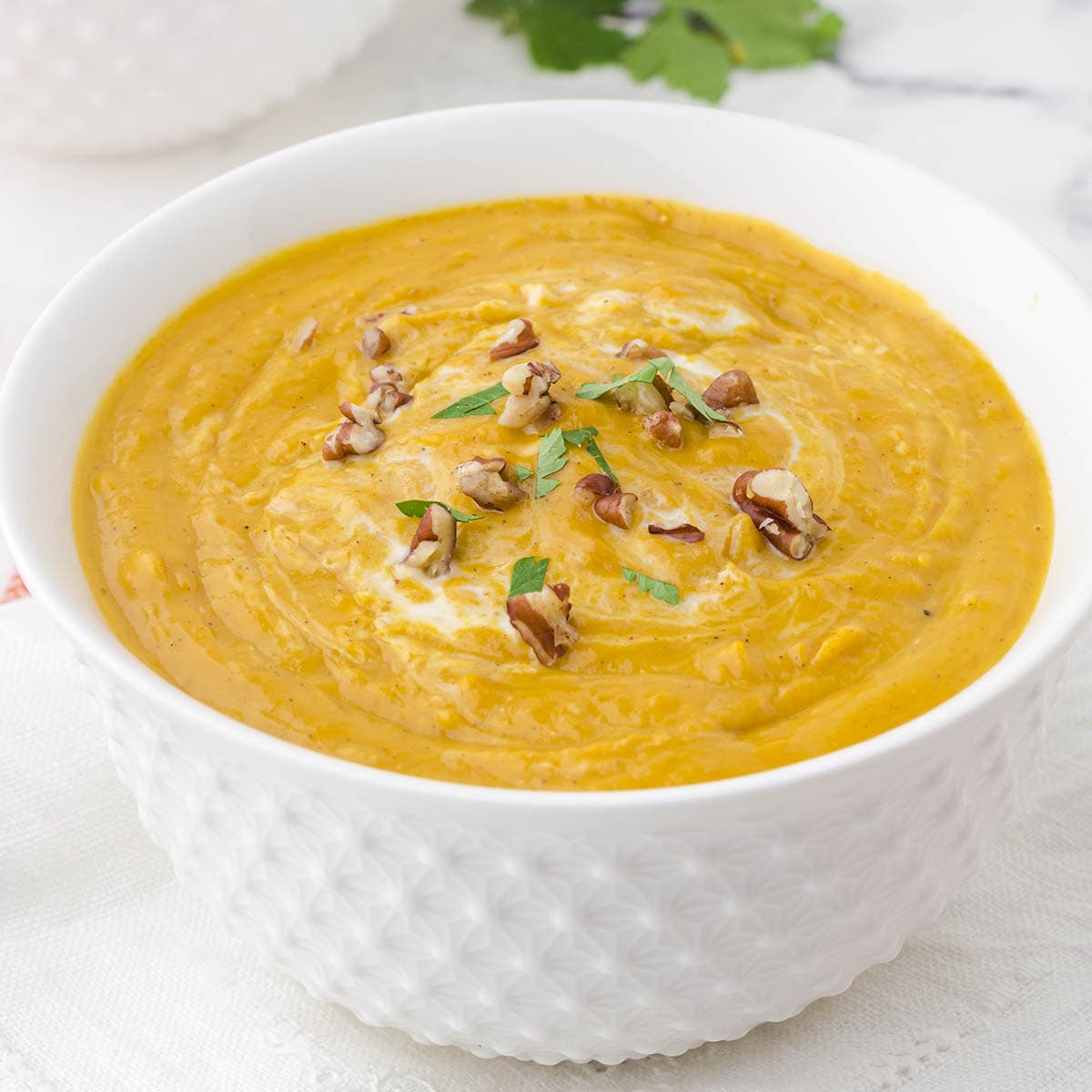 FAQ's
Is butternut squash soup good for you?
This soup is filled with antioxidants and it's a healthful meal AND yummy!
Do you have to peel butternut squash when making soup?
Yes I recommend removing the skin, it's tough, waxy and not very tasty.
Do you need to add flour or cornstarch to thicken butternut squash soup?
Not with this recipe! Pureeing the soup thickens it.
Can you put butternut squash in a slow cooker?
Absolutely! This meal is meant to be cooked in your crockpot. The soup slow cooks and the flavors meld together. The result is a creamy luscious soup that is incredibly rich and flavorful.
Tips
If you're short on time, purchase diced butternut squash. It's such a timesaver!
This can be pureed with an immersion blender or a stand blender.
If you want your soup to be perfectly smooth and velvety use a stand blender. Just be careful not to overfill the blender as the hot soup expands as it blends.
How to safely slice butternut squash:
Peel the squash with a sharp knife.
Place a damp paper towel on the cutting board to keep it from slipping.
Slice the top and bottom end off the squash.
Stand upright and starting at the top, carefully slice in half lengthwise.
Scoop out the seeds with a spoon.
Dice the flesh into cubes.
Variations
You can get really creative with the toppings and garnishes for this soup, having a little crunch adds the nicest texture!
Roasted pumpkin seeds are terrific!
You can also roast butternut squash seeds.
Crumbled goat cheese.
A swirl of heavy whipping cream adds richness.
Pecans or walnuts are yummy!
I think my favorite is popcorn. I love buttered popcorn topping the soup, it's crunchy and a little fun.
Storage
Allow the creamy soup to cool completely. Store in an airtight container, refrigerated for 3-4 days.
Freeze leftovers up to three months.
Related recipes
One of my favorite things is re-purposing leftovers. I'm not a fan of eating the same meal day after day. Reserve a cup of leftover Panera's butternut squash soup and use it to make Butternut Squash Pasta.
If you love butternut squash, be sure to try Butternut Squash Ravioli - it's seriously delicious!
Serve with
Serve the Slow Cooker Butternut Squash Soup with a salad!
This lovely Fall Harvest Salad with butter lettuce, roasted butternut squash and persimmons makes a crunchy, beautiful salad with a creamy butternut squash salad dressing.
Don't forget to check out the Amazon storefront for some of my favorite products! 🛍️
If you love this recipe please leave a ⭐⭐⭐⭐⭐ rating!
Slow Cooker Butternut Squash Soup
Creamy, rich and velvety Panera's Autumn Squash Soup Recipe is an easy recipe.
As an Amazon Associate I earn from qualifying purchases.
Ingredients
5

cups

squash

for me this was one medium squash

14

ounce

can pumpkin puree

or frozen butternut squash puree (thawed)

1

yellow onion

roughly chopped

1

granny smith apple

peeled and chopped

8

ounces

cream cheese

1

teaspoon

yellow curry powder

1

teaspoon

pumpkin pie spice

1

teaspoon

salt

½

teaspoon

pepper

½

teaspoon

cinnamon

¼

teaspoon

powdered ginger

¼

teaspoon

garlic

pinch red pepper flakes

3

tablespoons

honey

2-3

cups

vegetable broth

¼

cup

pumpkin seeds

optional
I earn a commission from Instacart from qualifying purchases.
Instructions
Peel the squash, remove the seeds and chop into 1 inch pieces. Peel and chop the onion and apple also. Dice the brick of cream cheese. Add the squash (fresh & frozen), onion, apple and cream cheese to the crockpot.

Measure all of the spices and put them in a small bowl. Stir well to combine and then sprinkle all the spices into the slow cooker. Using a large spoon, stir well - add the honey and stir again.

Pour in the vegetable stock and cover. Set the temperature to low cook for 8 hours. When the soup is finished cooking, blend the soup until it is a creamy consistency.

Toast the pumpkin seeds - using a dry pan over medium-low heat, toast the pumpkin seeds until they are a golden brown - takes about 5 minutes. Remove from the pan immediately - if you leave them in the pan, even though you've removed the pan from the heat, the residual heat may burn the seeds (this happens very quickly!).
Notes
Serve topped with toasted pumpkin or pine nuts or pecans for a little crunch and a drizzle of heavy cream.
Nutrition
Calories:
299
kcal
|
Carbohydrates:
37
g
|
Protein:
5
g
|
Fat:
16
g
|
Saturated Fat:
8
g
|
Cholesterol:
46
mg
|
Sodium:
847
mg
|
Potassium:
696
mg
|
Fiber:
5
g
|
Sugar:
19
g
|
Vitamin A:
24185
IU
|
Vitamin C:
30.2
mg
|
Calcium:
124
mg
|
Iron:
2.5
mg
Sign up for my recipes here!!
Don't worry, we'll never share your email.