Garlicky Braised Chard – Vegetarian
A couple weeks ago I stopped by the market and found the most amazing red Swiss Chard. It was so gorgeous I knew I had to make a fabulous soup with it so I did. I cleaned the chard, chopped it up and into the soup it went. I slow cooked it all day and was so excited, I had to sneak a bite.
I stirred it up well, grabbed a spoonful and into my mouth it went. The flavor was amazing, but as I chewed it, I tasted grit. I did not clean it well enough.
Bleck!
No, it can't be! I grabbed another spoonful. Nope, still tasted grit.
It pained me but down the sink it went. 🙁
I'm sharing this in the hopes you'll avoid my mistakes. Do as I say, not as I do!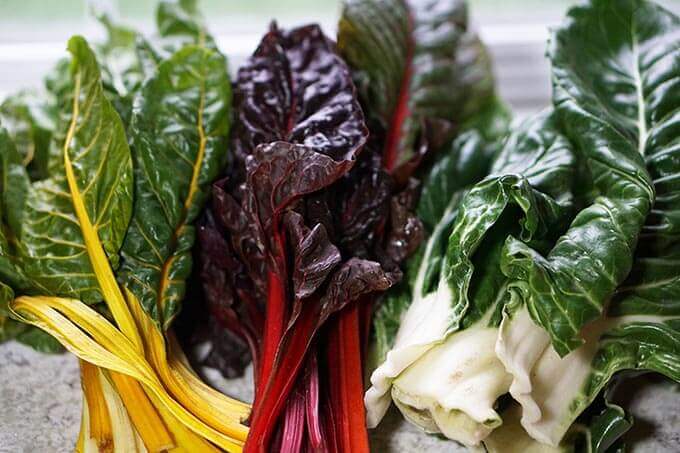 So this week back to the market I went! This time I got yellow, red and green chard. And by-golly I cleaned it really good! I wasn't going to make that mistake twice! I submerged it in water and gave it a good jshhh, swished it around and checked the leaves, grit. So then I chopped it up, removing the bottom of the stems and got out my salad spinner.
I filled it with water, twirled it and dumped the water. I did this four times before I was satisfied with the results. Maybe the Swiss Chard you get at the store or market won't need that kind of cleaning. Just a word of warning. Clean it really well.
So, enough about that! Let me tell you about garlicky braised chard. Braising chard turns an almost bitter leaf into savory goodness. They are called garlicky for a reason too. You're going to use three tablespoons of garlic! But don't worry, it's not halloween and you're not going to have to scare off any vampires, I promise.😊
When you braise garlic it becomes almost sweet. The flavor changes completely and fills your home with an amazing aroma! I know this because my husband was off reading when I made this. He came into the kitchen and took a deep breath and said what's for dinner, that smells amazing!
The combination of greens and garlic is tantalizing. Braising the greens and garlic together and it becomes garlicky sweet goodness! It's easy too and only takes 30 minutes.
Leftovers on day two were transformed into a wrap when paired with humus and on day three? An omelet with some shredded truffle cheese, leftover cheese from the Smokey Cheese Fondue we shared on Valentines Day. I topped each omelet with a couple slices of avocado and diced fresh tomatoes.
Oooh! One more thing! Today I am guest posting on The Melrose Family website – make sure you head over there to check out the recipe for 30 Minute Roasted Cauliflower Soup, it's amazing!
Are you ready to get cooking? Let's get started!
Garlicky Braised Chard - Vegetarian
Garlicky Braised Chard - The combination of greens and garlic is tantalizing. Braising the greens and garlic together and it becomes garlicky sweet goodness!
Ingredients
2

bunches

Swiss Chard

cleaned well, thinly sliced

1

yellow onion

peeled and thinly sliced

3

tbsp

garlic

minced

2

tbsp

olive oil

2

tbsp

butter

1 1/2

tsp

salt

1/2

tsp

pepper

1/8

tsp

red pepper flakes
Instructions
Remove the skin from the onion. Slice in half and then into half moon slices

In a large heavy bottom pot, over medium heat add the olive & butter to the pan. When melty and hot, add the onions.

While the onions are cooking prepare the chard. Slice off just the ends of the stalks of chard and discard. They can be really tough. Slice and dice the rest of the stalk and the leaves. Add to the pot with the onions and add all of the seasonings. Give it a good stir.

Now mince the garlic. You'll need three tablespoons. When minced, into the pot it goes with everything else. Give a good stir, reduce heat to medium low, cover tightly and simmer for twenty minutes, stirring everything 7 to 8 minutes.
Recipe Notes
Want to make this vegan? Simply omit the butter and add additional olive oil!
Nutrition Facts
Garlicky Braised Chard - Vegetarian
Amount Per Serving
Calories 108
Calories from Fat 72
% Daily Value*
Total Fat 8g 12%
Cholesterol 10mg 3%
Sodium 830mg 35%
Potassium 421mg 12%
Total Carbohydrates 6g 2%
Protein 2g 4%
* Percent Daily Values are based on a 2000 calorie diet.
If you enjoy this lovely side dish, then please check out my 3 Ingredient Steamed Green Beans Recipe – so light & lovely!