Southern Style Collard Greens Recipe made with salty Ham Hocks is a simple side dish full of savory flavor. This classic dish is easy to make and delicious the perfect side dish for just about any meal!
Easy Collards Greens Recipe
The first time I had them was when I lived in North Carolina. I was trying to figure out what to have for dinner and the guys I worked with said to go down to the gas station and get some fried chicken and be sure to get the collard greens.
I was like…. what? Go to the gas station for dinner?
They said yup! Best southern food around.
I was pretty sure they were pulling my leg, but they weren't! The fried chicken was crispy and delicious, but what had me going back were the sides!
Green Beans, Mac 'n Cheese and Southern Corn Pudding – all of it amazing. Bacon, ham hocks and cream are staples in southern cooking and boy did they serve up a meal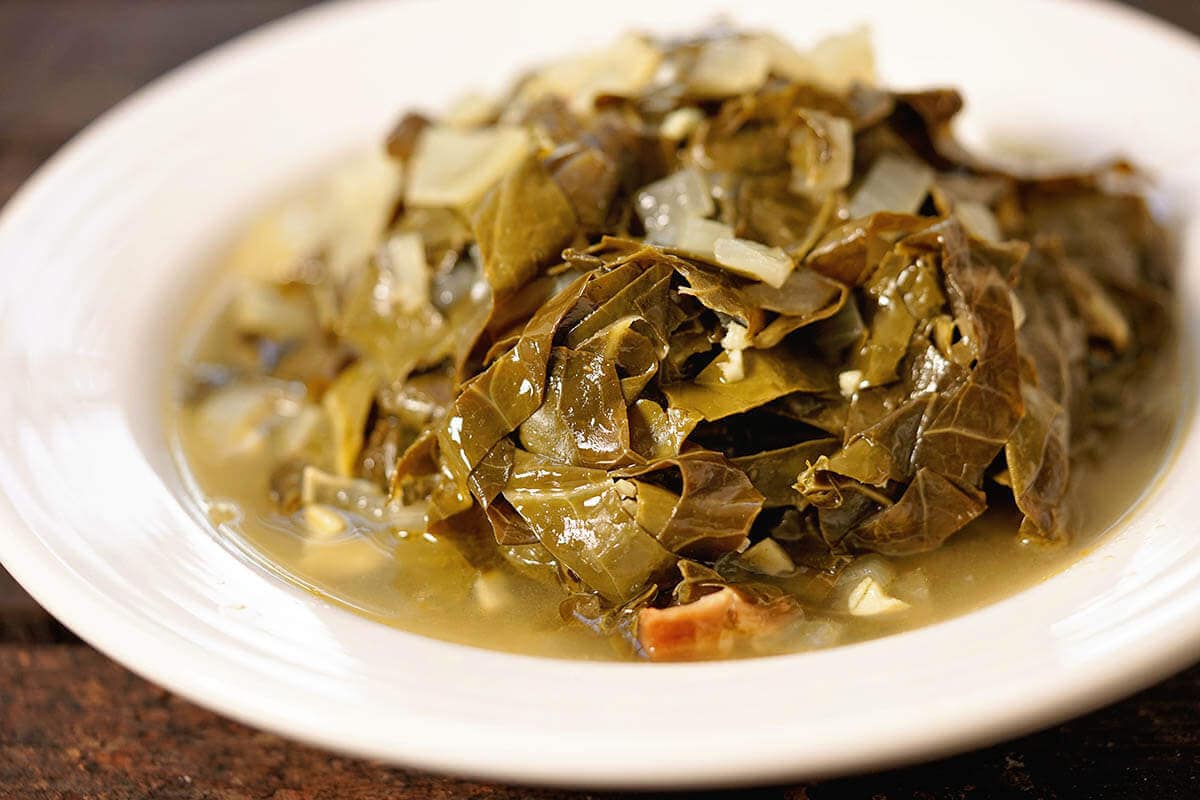 Easy Collard Greens
What exactly are collard greens?
Collard Greens are leafy vegetables with thick tough stems. They are in the same family as turnips, kale and mustard greens.
Are collard greens good for you?
They are filled with goodness! Low in calories, filled with vitamins and minerals.
Here's what's important though, Southern Style Collard Greens are delicious!
How to select good greens at the store?
Purchase collards with firm, deep green leaves – not yellow. Smaller leaves will be more tender and the flavor will be milder.
How long are you supposed to soak collard greens?
Soaking them in saltwater for about 30 minutes will help remove any bitterness. Just be sure to rinse them well afterward.
What do you eat with collard greens?
Collards pair really well with rich meals some of my favorite pairings are:
Prime Rib – melt in your mouth tender meat
Roast Turkey – perfect combination! Better yet, smoked turkey and collards are a match made in heaven!
Fried Chicken – of course!
Easy Collard Greens Recipe with Ham Hock
No Ham Hock – no problem! Substitute with smoked turkey leg or bacon. Both are delicious! And if you have leftovers be sure and add them to Black Eyed Pea Soup – excellent!
Ingredients for recipe
You'll only need a handful of ingredients to make this dish.
collard greens – a dark green and leafy vegetable
ham hock – they are often found in the frozen food section. Check with your butcher if they aren't readily available.
onion – recommend white or yellow onion
garlic, Tabasco Sauce, olive oil and butter – to add flavor and richness
How do you prepare collard greens?
Soak the greens well in cool water to remove any grit or grime.
The center stems are tough and need to be removed.
Slice along either side of the stem with a knife or you can strip the leaves from the stalk using your hands.
Stack the leaves in a single pile and roll them up cigar-style.
Cut crosswise into thick ribbons.
How do you cook Southern Style Collard Greens?
Boil the ham hock in a large pan covered with water to tenderize the meat. Remove ham hock, dice the meat into small pieces, set aside.
Saute onion and garlic in butter and olive oil until soft.
Add the chopped greens, diced ham, seasonings and reserved broth. Bring to a boil, stirring often.
Cover and reduce to a simmer. Cook until the leaves are tender.
More of my favorite Southern Dishes
I may have not been born in the south, but I sure love their food! Some of my favorites are:
I am a participant in the Amazon Services LLC Associates Program, an affiliate advertising program designed to provide a means for us to earn fees by linking to Amazon.com and affiliated sites.
Don't forget to check out my Amazon storefront for some of my favorite products! 🛍️
When you make this please be sure to tag me on Instagram @bowl_me_over or #bowlmeover – I'd love to see your pictures! And if you get a chance, please comment and leave me a ⭐⭐⭐⭐⭐ rating below!