Easy Brussel Sprouts Recipe seasoned simply with salt and pepper. Pan-fried in butter and olive oil, they are easy to make and delicious! It is the perfect simple side dish. This festive dish is finished with a sprinkle of pomegranate arils to brighten the flavors!
First Published: September 28, 2018… Last Updated: November 22, 2018
Sautéed Brussels Sprouts
Did you guys know I'm the (self-proclaimed) Queen of Brussels Sprouts? Tis true! If you look up How to Steam Brussels sprouts in google, little ole' Bowl Me Over is on the first page in google, something I'm really proud of.
I do like Brussels sprouts – pan-fried, steamed or roasted – never met one I didn't like.
And oooh! Don't forget about pickled. Topping off a Whiskey Old Fashioned (sour of course) with a spear of pickled Brussels? YUM!!!
How about you? Sautéed Brussel sprouts – love 'em or hate? Your choice and there's no wrong answer!
Pan-fried Brussels Sprouts are an easy way to enjoy a great side dish. It only takes 10 minutes to cook. This is a quick and easy dish made with simple ingredients.
This sautéed brussel sprout recipe is very simple. You'll start by cleaning them. I have step-by-step directions here to store and clean them, but let me walk through the basics with you.
Rinse well under cool water.
Trim the end of the sprouts and remove any brown leaves.
Slice in half.
Pretty simple, huh?!!
Now they are ready to cook!
How to Sauté Brussels Sprouts
Ingredients for easy brussels sprouts
brussels sprouts – choose bright green, firm sprouts.
butter and olive oil – to caramelize the vegetables
salt and pepper – for seasoning
pomegranate seeds – to brighten the flavor of this dish
How do you caramelize brussel sprouts?
The key to caramelizing Brussels sprouts in butter and olive is allowing them to cook and sauté undisturbed. Don't stir or push them around the pan.
Allow them to roast. If you stir them around too much, they will steam as opposed to caramelizing.
How do you know if they are bad?
When you choose Brussels at the grocery store, look for bright green colors, including the stem. If the stem is brown or dark, discard it.
They are best if used within the first couple of days of bringing them home. You'll know brussel sprouts are bad if they have a strong odor prior to cooking. If that's the case just discard them.
Step by step directions for making Easy Brussel Sprout Recipe
Clean the sprouts, trim ends and slice in half.
Place a cast-iron skillet over medium heat on the stovetop.
Add butter and olive oil.
Next, add the sliced brussel sprouts, cut side down.
Saute uncovered. Do not stir, allow to cook for five minutes.
Give a good stir, allow to cook for another 2-3 minutes.
Using a fork, check to see if they are tender. If not, cook for another couple of minutes.
How do you make brussel sprouts taste good?
Seasoning the sprouts simply with salt and pepper enhances their flavor. See that dark brown caramelization and how the edges are brown and crispy?
That's what gives them flavor!
When it comes to sautéing, brown food tastes good and the best way to get that is patience. Allow your pan and the ingredients to do the work for you.
What goes well with Brussels?
Sprouts can be mixed in a salad, stirfry or soup. They really add a lot to the meal. Because this is a fall vegetable, I often prepare it with a traditional Turkey Dinner, Prime Rib or Ham.
A great green vegetable balances the heaviness of a rich meal!
Here are two of my favorite sprouts recipe!
Shaved Brussel Sprout Salad
Shaved Brussel Sprout Salad Recipe is packed crunchy greens and tangy brussels and is topped with bright fresh fruit. Dress your salad with creamy or tangy balsamic dressing for a great side salad or an easy lunch for any time of the year!

Check out this recipe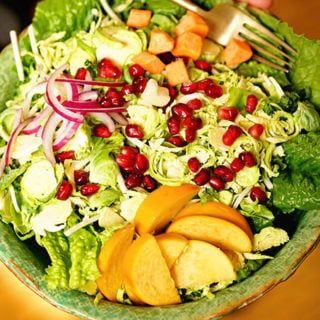 Steamed Brussels sprouts
Steamed vegetables are a great way to serve a healthy side dish, without adding additional calories or heavy sauces. Delicious too – steaming keeps them bright green and fresh.
Check out this recipe
A few more of my favorite vegetable side dishes!
I'm a veggie gal, what can I say? A great side dish is often overlooked, but let's change all that! Be sure and try this recipe for Pan-Roasted Vegetables, they make their own sauce while cooking, YUM!
Another favorite of mine is Buttered Rutabagas – so delicious! Here are a few more I think you'll really enjoy!
How to Make Swiss Chard 
How to Braise Chard – The combination of greens and garlic is tantalizing. Braising the greens and garlic together makes the vegetables so delicious and savory.
Check out this recipe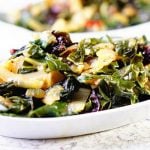 3 Ingredient Steamed Green Beans
Steamed Green Beans are a super easy, super delicious side dish taking just minutes to make. They are perfect when paired with rich heavy meals and leftovers become a yummy snack or an ingredient for a great soup!
Check out this recipe
Some of the items below contain affiliate links; I am a participant in the Amazon Services LLC Associates Program, an affiliate advertising program designed to provide a means for us to earn fees by linking to Amazon.com and affiliated sites. However, I only promote things that I love and think you will love, too. For more information, please see my Disclosure Policy.
Don't forget to check out my Amazon storefront for some of my favorite products! 🛍️
When you make this please be sure to tag me on Instagram @bowl_me_over or #bowlmeover – I'd love to see your pictures! And if you get a chance, please comment and leave me a ⭐⭐⭐⭐⭐ rating below!
WATCH THE STEP BY STEP VIDEO LEARN HOW TO SAUTE BRUSSELS SPROUTS BELOW!
If you enjoy watching these videos make sure you subscribe to my YouTube Channel to be notified each time I share a new video!
Easy Brussel Sprouts Recipe
Print
Sautéed Brussel Sprouts
Sautéed Brussel Sprout Recipe cooked in butter and olive oil seasoned simply with salt and pepper! A sprinkle of pomegranate arils brightens the flavors of this side dish!
Ingredients
1 1/2

pounds

Brussels sprouts

1

tbsp

butter

2

tbsp

olive oil

3/4

tsp

salt

1/2

tsp

pepper

1/4

cup

pomegranate arils

optional
Instructions
Run the Brussels sprouts under cold water to clean them well. Trim the ends and remove any brown leaves and discard. Slice them in half.

Place a cast iron skillet over medium heat on the stovetop.

Add the butter and olive oil, heat until hot and bubbly.

Next add the sliced brussel sprouts. Flip them over so the cut side is flat on the bottom of the pan.Saute uncovered and undisturbed for 5 minutes. Do not stir, allow to cook and caramelize.

Give a good stir, allow to cook for another 2-3 minutes, again let it cook and caramelize.

Using a fork, check to see if they are tender. If not cook for another couple of minutes. When tender remove and spoon into a serving dish. Top with pomegranate arils.
Video
Nutrition
Calories:
113
kcal
|
Carbohydrates:
11
g
|
Protein:
3
g
|
Fat:
7
g
|
Saturated Fat:
1
g
|
Cholesterol:
5
mg
|
Sodium:
336
mg
|
Potassium:
457
mg
|
Fiber:
4
g
|
Sugar:
3
g
|
Vitamin A:
915
IU
|
Vitamin C:
97.1
mg
|
Calcium:
48
mg
|
Iron:
1.6
mg
Sign up for emails here!
Don't worry, we don't share emails!