Shaved Brussel Sprout Salad Recipe with crunchy greens and tangy brussels with bright fresh fruit. Top your salad with creamy or tangy balsamic dressing. This is great side salad or an easy lunch for any time of the year!
First Published: March 22, 2019… Last Updated: September 30, 2019
Shaved Brussel Sprout Salad
I realized when I posted my Steakhouse Salad Recipe how much I have neglected my salad lovers recently! That yummy salad has just taken off with 11,000 shares and counting. Shame on me, that won't happen again, I promise!
At heart, I'm definitely a soup and salad kinda gal. Casual comfort food is probably one of the BEST ways to describe my blog, wouldn't you agree?
This is a recipe I developed when I was in Utah at a photography conference. It was fall, the air was cool and crisp and it just seemed like the best time to share a hearty salad!
The workshop was fun, I got to spend time with some of the BEST food photographers in my business to learn, take pictures and focus on food styling.
I had a blast!
So having said that… I have a new salad for you today! This shaved brussel sprout salad with Lemon Vinaigrette is a tasty crunchy salad! It's delicious because you can top it with your favorite fruit and a creamy salad dressing.
Brussels Sprout Salad
Ingredients for Brussel Sprout Salad
Brussels sprouts – if you're picking thru them in a bin smaller sprouts are sweeter than the large ones.
kale salad mix – this salad is full of big crunch!
red onion – adds a nice peppery bite.
peach in the summer or persimmon – in the wintertime.
butternut squash – a great use of leftover roasted squash
pomegranate arils – the perfect finish for this salad.
For the Vinaigrette
Greek yogurt – for creaminess
fresh lemon juice – adds tangy deliciousness
olive oil – this oil helps marinade the kale and brussels to soften them.
parsley, salt, pepper, garlic powder – flavors the dressing
You can certainly take a shortcut and purchase a premade salad dressing – no judgment! If you do, get one that is creamy and citrus based or even coleslaw dressing! These flavors will compliment this salad mix.
How to Shave Brussels Sprouts
If you're using a stalk of sprouts, simply break each sprout off the stalk and clean well. (For tips on how to clean and store brussels, click here.)
With a knife – slice the sprout in half and with a sharp knife, thinly slice until you reach the stem or core. Discard the core
With a food processor – Clean the sprouts well. Remove and discard the core. Use the slicing blade and feed the sprouts into the tube pulsing the machine to process. Avoid overprocessing.
With a mandolin – this is the best way to thinly shred the sprouts, but also the most dangerous. Be careful! It's easy to cut yourself! If you do use a mandolin, protect your fingers with a slice-proof glove. They are inexpensive, no reason not to have them if you use a mandolin. Set the blade to a thin cut and hold the end of the sprout and carefully shred. Discard the end when you reach the core.
Shortcut! Purchase a bag of pre-shredded sprouts at the store. Just to be sure to check the sell-by date so they are fresh.

Deb Clark
Seasonal Change-ups for the Fruit in this Salad
Spring – mango, apricots, pineapple or strawberries
Summer – blackberries, blueberries strawberries and peaches
Fall – apples, dried cranberries, grapes and figs
Winter – dried cranberries, persimmons, segmented oranges or mandarins
Roasted butternut squash, creamy chunks of avocado, walnuts, pecans or almond slivers are always a great addition to this salad!
Don't feel like making your own salad dressing? No judgment! I've even used the premade salad dressing that comes right in the kale salad kit, delicious!
Kale and Brussel Sprout Salad Recipe
How do you make brussels sprout salad?
Clean all of the vegetables well
Shred the sprouts
Thinly slice the onion and fruit
Add all of the ingredients to a salad bowl
Mix together the salad dressing ingredients – toss and serve
Here are a few more of my favorite salad recipes!
How about a yummy Citrus Salad with Winter Greens or a great Southwest Salad, YUM! Be sure to check these out also!
Garden Salad Recipe with Creamy Vinaigrette
Spring leads to light delicious meals often paired with a great salad! This easy Garden Salad Recipe with Creamy Vinaigrette is as delicious as it is pretty and easy to make.

Check out this recipe
Grilled Shrimp Nicoise Salad Recipe
Grilled Shrimp Nicoise Salad Recipe – a hearty salad that is still light and delicious. A complete meal and a show-stopping salad!

Check out this recipe
Kale Superfood Salad Recipe
Healthy Superfood Salad uses crisp vegetables, sweet fruit and crunchy nuts for a flavorful and delicious meal!
Check out this recipe
Iceberg Wedge Salad Recipe
Wedge salad is a favorite and something we enjoy quite often. This is an easy salad, so simple to put together!
Check out this recipe
Honey Glazed Orange Salad with Pistachios
Honey Glazed Orange Salad is light, bright and delicious, simple and amazing. This is a perfect side salad and a celebration of winter flavors – enjoy!
Check out this recipe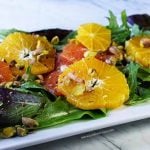 Here are a few more recipes to try!
Sautéed Brussel Sprouts
Sautéed Brussel Sprout Recipe cooked in butter and olive oil seasoned simply with salt and pepper! A sprinkle of pomegranate arils brightens the flavors of this side dish!
Check out this recipe
Steamed Brussels sprouts
Steamed vegetables are a great way to serve a healthy side dish, without adding additional calories or heavy sauces. Delicious too – steaming keeps them bright green and fresh.
Check out this recipe
Amazon Disclosure: Some of the items below contain affiliate links; I am a participant in the Amazon Services LLC Associates Program, an affiliate advertising program designed to provide a means for us to earn fees by linking to Amazon.com and affiliated sites. However, I only promote things that I love and think you will love, too. For more information, please see our Disclosure Policy.
Affordable slice proof gloves – check them out here.
Love it? Please share your comments below along with a five-star rating. You'll make my day! forget to snap a pic and tag me on Instagram @bowl_me_over or #bowlmeover – enjoy!
Shaved Brussel Sprout Salad Recipe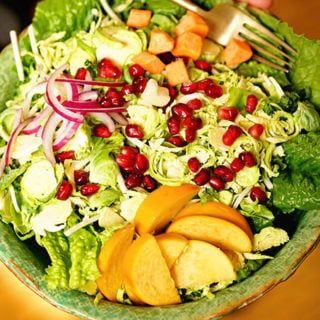 Print
Shaved Brussel Sprout Salad
Shaved Brussel Sprout Salad Recipe is packed crunchy greens and tangy brussels and is topped with bright fresh fruit. Dress your salad with creamy or tangy balsamic dressing for a great side salad or an easy lunch for any time of the year!

Ingredients
1

lb.

brussel sprouts

thinly sliced

1

8 oz.

kale salad

salad mix

1/4

cup

red onion

thinly sliced

1/2

cup

pomegranate arils

1

nectarine or peach

sliced into wedges
Instructions
Add the pre-made kale salad dressing to a large bowl.

Clean the brussel sprouts. Carefully slice or shred – add them to the salad.

Thinly slice the red onion, core the nectarine and slice into wedges or dice it.

Top with pomegranate arils and your favorite creamy or balsamic salad dressing. Enjoy!
Nutrition
Calories:
85
kcal
|
Carbohydrates:
18
g
|
Protein:
4
g
|
Sodium:
29
mg
|
Potassium:
575
mg
|
Fiber:
5
g
|
Sugar:
8
g
|
Vitamin A:
1000
IU
|
Vitamin C:
101.5
mg
|
Calcium:
48
mg
|
Iron:
1.7
mg
Sign up for emails here!
Don't worry, we don't share emails!