Bitter Greens Orange Salad - this salad pairs the sweetness of winter fruit with crunchy greens. It's a tasty mix of bitter, sweet & crunchy that compliments most any meal.

Citrus Salad Recipe pairs the sweetness of winter fruit with fresh crunchy greens. Topped with orange slices and crunchy roasted nuts, this salad is a tasty mix of bitter, sweet and crunchy. This bitter greens salad is finished with a delicious homemade salad dressing. It pairs with any meal!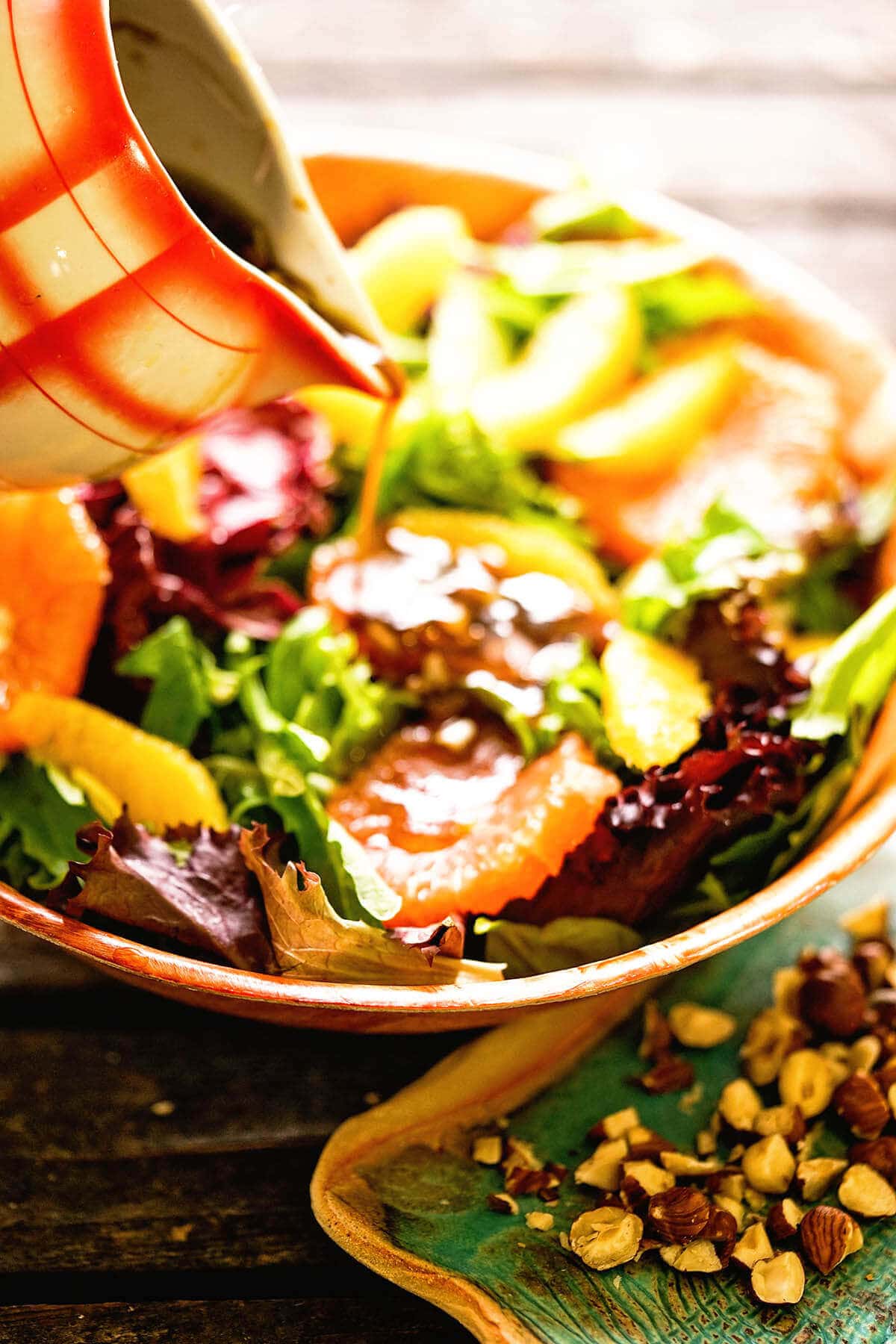 Mixed Greens Salad
When I was a kid I picked filberts for extra money. They were harvested in August, so I was able to get some extra money before school started.
The nuts would fall and we'd scrounge underneath the trees and pick the ripe nuts off the ground and put them into gunnysacks. Pretty basic stuff, right? But it was a great way to get extra $'s to buy back to school clothes with!
I have always loved filberts (do you call them hazelnuts or filberts?) They are crunchy and rich and so delicious! It doesn't seem like that many recipes include them though until its Nutella, right?
Well in this recipe they are one of the stars of the show!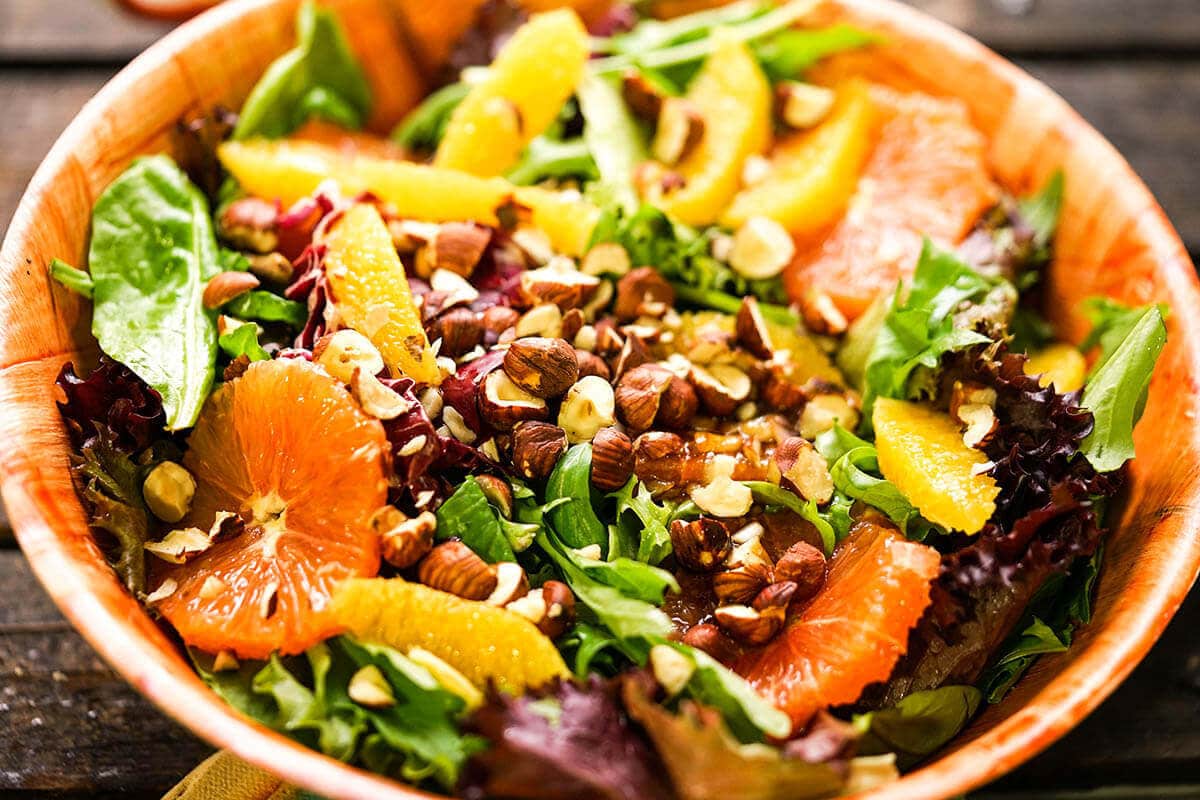 Easy Citrus Salad
I enjoy using bitter greens in this salad. I swear they are the perfect combination. That slightly bitter taste pairs with the sweet citrus and crunchy nuts!
The greens are full of nutrition and a great choice at the market.
What are the best greens for this salad?
Some of my favorites are radicchio, escarole, arugula, frisee and kale. They will have a light to an intensely bitter flavor.
The flavor will be less intense when they are young because the leaves are more tender. You can go through the market, pick and choose some of each. What (in my opinion!) is a better option is looking for fresh, packaged greens.
My grocery store carries a container of spring greens for five bucks, what a deal! This is perfect for several salads.
How do you eat bitter greens?
Slow-cooked like my recipe for collard greens is delicious or in a salad with loads of crunch!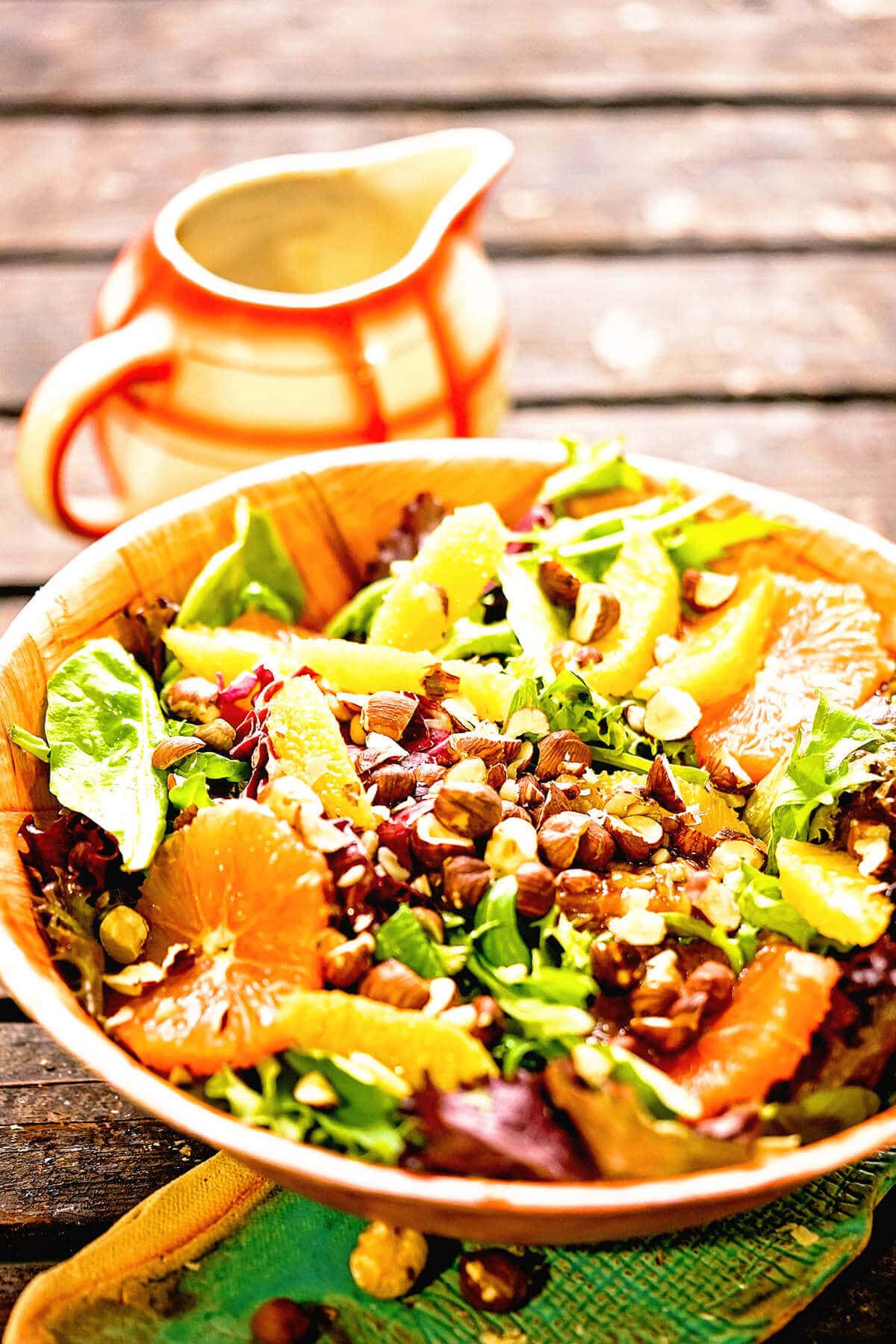 How do I get started?
Ingredients for Citrus Salad
salad greens - be sure to get the freshest salad leaves you can find
oranges - a variety of oranges will add a pretty color. I used Navel and Cara Cara Oranges.
filberts, also known as hazelnuts - though you can certainly substitute walnuts, pecans or even pistachios.
for the homemade salad dressing - balsamic vinegar, olive oil, shallot, honey and salt
If you've never segmented an orange before, here's a link that gives you a great example - click here for the video.
Steps to make Citrus Salad Recipe
dry roast the filberts, allow to cool and loosely chop.
clean the greens and place them in a bowl
peel the oranges, removing the pith and then remove the slices. Top the salad with segmented oranges
mix together the salad dressing. Dress the salad five minutes before serving.
More great green salads I know you'll love!
I am such a fan of a great salad. It's the best compliment to most any meal AND can be a meal all by itself! I've topped this with grilled chicken breast and grilled salmon.
My favorite is salmon - the fatty, rich flavor mixed with this salad? YUM!!!
Here are more of my favorites!
Superfood Kale Salad Recipe
This tasty salad is filled with crisp vegetables, sweet fruit and crunchy nuts. It's delicious!
Check out this recipe
Fall Harvest Salad
This beautiful salad is very simple and uses great fall harvest fruits and vegetables – butter lettuce, roasted butternut squash, Fuyu persimmons, red onions, and a handful of micro-greens – that's it! Topped with a creamy homemade salad dressing it's a perfect light lunch on a beautiful fall day!
Check out this recipe
Citrus Salad Recipe
Citrus Salad Recipe with Winter Greens
Bitter Greens Orange Salad - this salad pairs the sweetness of winter fruit with crunchy greens. It's a tasty mix of bitter, sweet & crunchy that compliments most any meal.

As an Amazon Associate I earn from qualifying purchases.
Ingredients
6

cups

bitter greens - recommend arugula

endive and radicchio - or a combination of these

2

oranges

½

cup

hazelnuts

also known as filberts

Dressing -

½

cup

balsamic vinegar

⅓

cup

olive oil

1

tablespoon

honey

juice of the orange

1

shallot

chopped

1

teaspoon

salt
Instructions
Start by toasting the hazelnuts. Use a dry pan over medium heat. Spread the nuts out in the pan so they are one even layer. Stir them or shake the pan every minute or so and keep an eye on them. They can scorch quickly! It will only take about 5-8 minutes.

Remove the nuts from the pan as soon as you take them off the heat. Roughly chop.

Prepare the greens, wash and dry thoroughly. Pile them in a large bowl.

Next, using a knife, peel the oranges. Cut off the peel with a sharp knife, removing all of the bitter white pith. Then cut out each segment of the orange carefully. This is best done over a bowl to catch the juice.

Mince the shallot. Place all of the salad dressing ingredients in a screw-top jar. Shake vigorously to combine.

Add the oranges slices and chopped hazelnuts to the salad bowl.

Dress the salad immediately before serving.
Notes
Be sure to take a moment and toast the nuts. It will make them a bit crunchy and give them even more flavor! 
When they are crisp and brown, remove them from the pan immediately as they will continue to cook and may burn if they are left in the pan. Set aside to cool.
When the nuts are cool enough to handle, give them a rough chop.
Dress this salad directly before serving. Start with just a few tablespoons of dressing and mix well. Season with salt and pepper and mix again. If you need additional salad dressing add another few tablespoons and toss. It's always easy to add more, but difficult to take it away if you add too much!
Nutrition
Serving:
2
g
|
Calories:
210
kcal
|
Carbohydrates:
20.8
g
|
Protein:
3.3
g
|
Fat:
22.9
g
|
Trans Fat:
2.9
g
|
Sodium:
592
mg
|
Fiber:
3.6
g
|
Sugar:
15.9
g
Sign up for my recipes here!!
Don't worry, we'll never share your email.
First Published: July 23, 2015... Last Updated: December 18, 2019