Healthy Superfood Salad uses crisp vegetables, sweet fruit and crunchy nuts for a flavorful and delicious meal!
Kale Superfood Salad Recipe is packed with greens and loaded with flavor. It's the perfect combination of antioxidant-rich foods like berries, nuts & seeds. Full of texture this is a great side salad or light meal!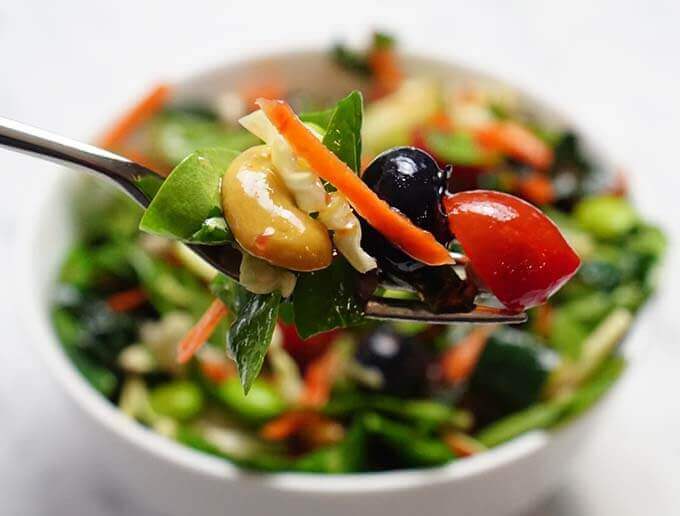 Kale Superfood Salad
How are you doing with your New Years Resolutions? Do you make resolutions? I do - I love to challenge myself, sometimes I fail and sometimes.... like last year I do really well!
I think it's because my biggest challenge last year involved a team; Mom, Dan and myself. We set a goal to walk or run 2016 miles in 2016 and you know what? On December 18th, 2016 we met our goal!
My Mom who is 75 years old walked 480 miles last year!! How cool is that? (Mom is my hero, I want to be just like her when I grow up!)
Dan and I picked up the slack. That left us with about 770 miles each, which isn't huge but it was challenging to complete. (Having broken ribs in the middle of the year didn't help.) Together WE DID IT!
We've already set our goal for next year and you guessed it - 2017 miles in 2017!
I'm best when I set goals and challenge myself. Daily, weekly, monthly and for the year. If I don't, I find myself spinning and I don't like it when I'm not productive.
Making better choices is part of those goals. I've been leaning this way for a while and I want to continue that into 2017. So....without further adieu...drumroll please!
Let me introduce to you this delicious Kale Superfood Salad!
Superfood Salad Recipe
I'm very excited to share this recipe with you today! It is full of crunchy goodness and it isn't just good for you, it's delicious too!
Which salads are best for weight loss?
Green Salads will be a better choice as opposed to potato or pasta-based salads. A couple of the best choices here on the blog are my Fresh Garden Salad and Southwestern Salad Recipes.
What makes food Superfood?
That's a great question and I did some research on it myself. Superfoods are considered nutritionally dense foods. Most, but not all are plant-based. They offer great nutritional value without being high in calories and fat.
Superfoods are also packed with fiber, vitamins and minerals. I did some research and I encourage you to check it out also.
I certainly love my veggies, but I also really enjoy sweets, so like everything life is about balance!
Grocery list for Superfood Salad
kale, spinach and cabbage - all lovely greens with tons of crunch!
cucumbers, tomatoes, carrots and edamame - bright fresh veggies to add flavor.
cashews, sunflower seeds - pistachios would also be a great addition! Nuts and seeds add protein
blueberries - you can really add whatever fruit you enjoy, strawberries, pomegranate seeds
Vinaigrette Ingredients
marmalade jam - for sweetness, no marmalade, substitute honey.
red wine vinegar and spicy yellow mustard - for tanginess, the mustard helps bring everything together.
olive oil - to emulsify, salt and pepper to season.
Steps to make Superfood Salad
Chop, slice and dice and dice the vegetables.
Mix together the homemade vinaigrette
Dress the salad with the dressing, enjoy!
Superfood Salad
Leftover salad? Pile it in a tortilla, it makes the perfect wrap. (Wait until just before eating to put the wrap together so it doesn't get soggy.)
Unfortunately, I did not take a picture of the wrap. It was so good we devoured them quickly. I loved that it was easy and repurposed leftovers.
Even if you don't eat leftovers as a wrap on day two it stays crunchy and yummy the next day as a salad.
If you take a shortcut and use store-bought dressing I won't tell! Use a sweet vinaigrette.
Here are more of my favorite salad recipes!
Steakhouse Salad Recipe
The big bold flavors in this steakhouse salad will compliment your steak perfectly! Blue cheese, marinated artichokes and hearts of palm pair perfectly with the sweet homemade vinaigrette.
Check out this recipe
Shaved Brussel Sprout Salad
Shaved Brussel Sprout Salad Recipe is packed crunchy greens and tangy brussels and is topped with bright fresh fruit. Dress your salad with creamy or tangy balsamic dressing for a great side salad or an easy lunch for any time of the year!

Check out this recipe
Kale and Quinoa Greek Salad
Why not make your own homemade salad dressing? Five minutes to make and it tastes so much better than store bought, you'll have everything you need in your pantry. Homemade Salad Dressing is the best!
Check out this recipe
What to serve with this salad
How about a great Tri Tip Roast - big meaty steak that can stand up to this salad.
Dinner Rolls - these are ridiculously good (and easy!), I dare you to eat just one!
And for dessert, these easy Lemon Bars are just so good!
Salad Dressing Mixer Bottle - I bought a couple of these. The bottle has recipes and measurements on the side and it makes it so easy to mix salad dressing!
Superfood Kale Salad
Kale Superfood Salad Recipe
Healthy Superfood Salad uses crisp vegetables, sweet fruit and crunchy nuts for a flavorful and delicious meal!
As an Amazon Associate I earn from qualifying purchases.
Ingredients
1

cup

shredded kale

4

cups

chopped spinach

1

cup

shredded cabbage

1

cup

shredded carrots

1

cup

sliced cucumber

seeds removed

1

cup

blueberries

1

cup

cherry tomatoes

sliced in half

½

cup

cashews

¼

cup

sunflower seeds

Vinaigrette Ingredients

2

tablespoon

marmalade jam

3

tablespoons

red wine vinegar

1

teaspoon

spicy yellow mustard

½

cup

olive oil

½

teaspoon

salt

¼

teaspoon

pepper
Instructions
This is super easy to put together. Slice and shred all the vegetables and add to a large bowl.

Add the remaining ingredients.

Combine the salad dressing ingredients, mix well.

Add ¼ cup dressing to the salad, mix well - adding remaining dressing as needed to dress the salad (nothing is worse than a soggy salad!).

Store remaining dressing in the refrigerator it will keep 4-5 days if tightly sealed.
Video
Nutrition
Calories:
308
kcal
|
Carbohydrates:
17
g
|
Protein:
4
g
|
Fat:
25
g
|
Saturated Fat:
3
g
|
Sodium:
246
mg
|
Potassium:
427
mg
|
Fiber:
3
g
|
Sugar:
8
g
|
Vitamin A:
5965
IU
|
Vitamin C:
24.7
mg
|
Calcium:
51
mg
|
Iron:
2.2
mg
Sign up for my recipes here!!
Don't worry, we'll never share your email.
First Published: January 8, 2017... Last Updated: November 10, 2019