This is an easy recipe using only a handful of simple ingredients. Buttered Rutabagas are a staple on the holiday table!
Sweet Buttered Rutabagas have always been a staple on our holiday table. They are super simple to make they are boiled until tender, drizzled with milk or cream and topped with rich, creamy butter, delicious!
Click here for more Holiday Side Dish Recipes.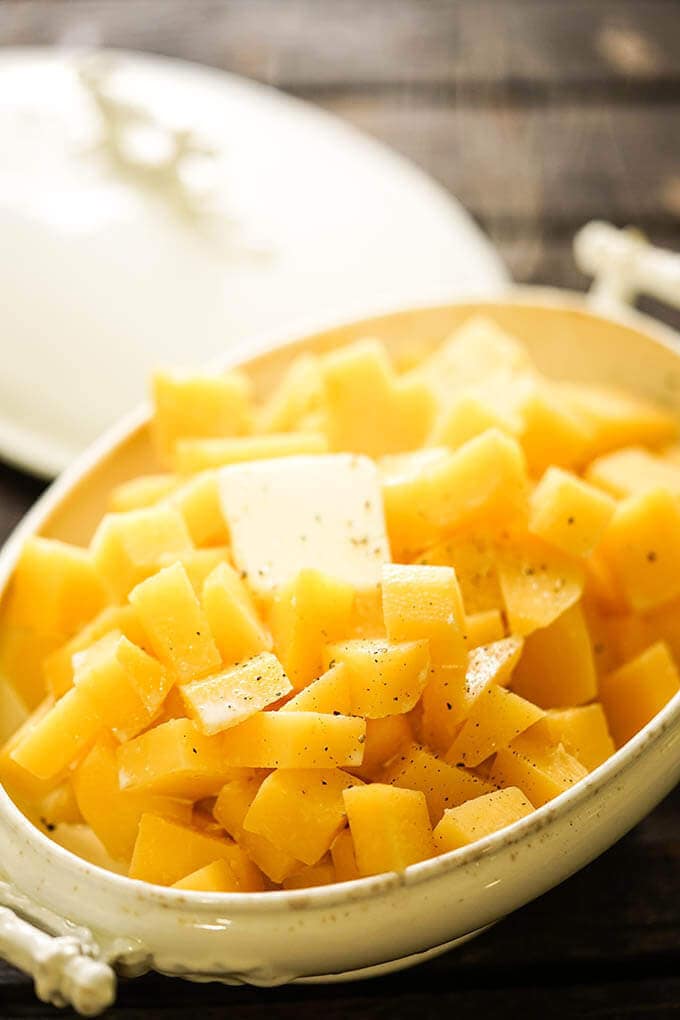 Southern Buttered Rutabagas Recipe
Today I'm serving up my favorite side dish, Buttered Rutabagas! This may be the most overlooked vegetable in the veggie aisle but I'm telling you that you are missing out!
Or perhaps I should keep my mouth shut and keep that secret so there's more for the rest of us, LOL!
A lot of people reach for the sweet potatoes, but if you've never tried rutabagas, it's time to change that. This side is quick and easy to make and so good. In our house, it's never a holiday without serving this dish!
Ingredients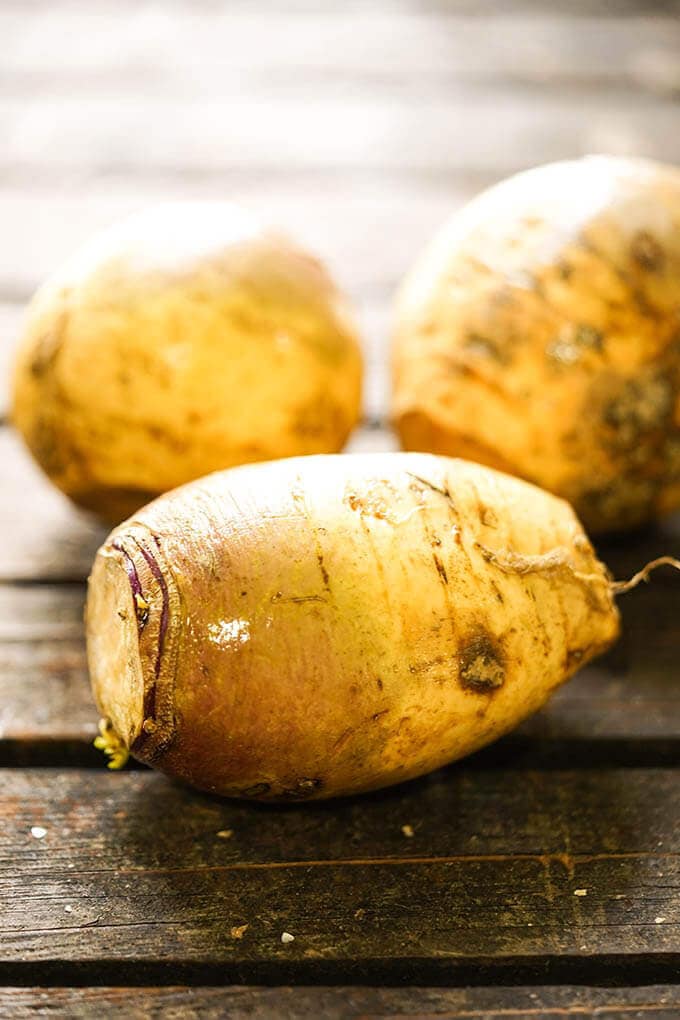 For the exact measurements, please refer to the printable recipe card at the bottom of this post.
rutabagas
butter
milk
salt and pepper
Instructions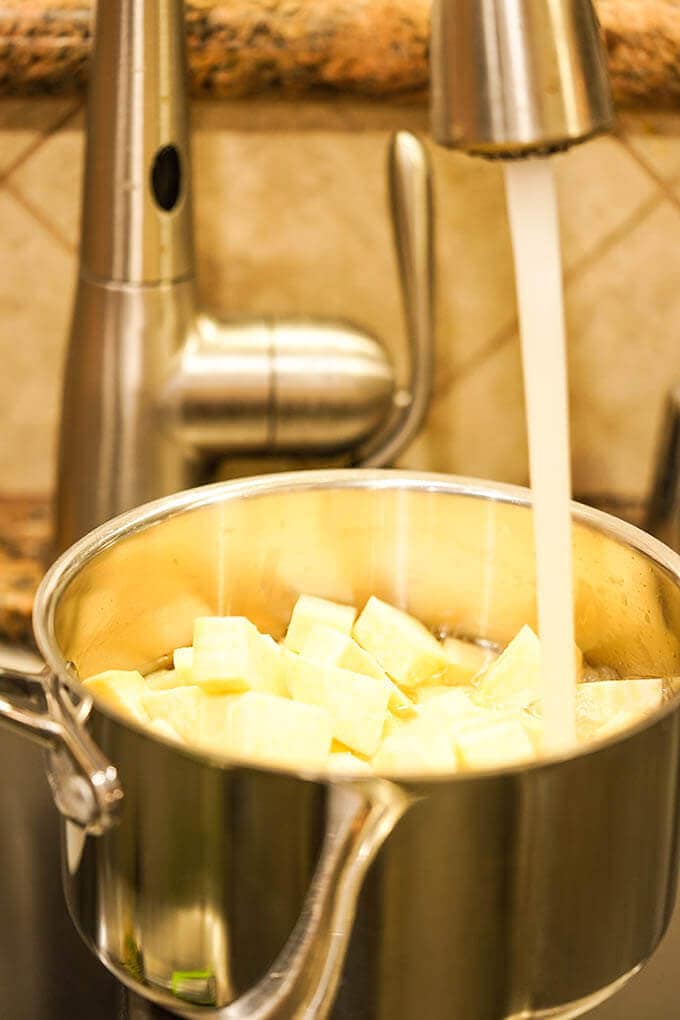 Follow these easy steps to make boiled rutabagas. For the complete instructions refer to the recipe card at the bottom of the post.
Begin by carefully peeling the vegetable.
Dice into one-inch pieces
Place rutabaga pieces in a dutch oven covered with cold water and bring to a boil on the stovetop.
When fork tender, remove and drain.
Add in the butter and milk, season with salt and black pepper.
FAQ's
What does a rutabaga taste like?
Rutabagas are a root vegetable. They are a cross between turnips and cabbage with the texture of a carrot. Crunchy when raw and slightly bitter in taste. Though you can certainly enjoy them in a salad or on a vegetable tray, I like them best cooked.
Are rutabagas and turnips the same thing?
They are similar in texture. Young turnips are sweet and crunchy like carrots. As they grow larger the taste becomes bitter and they are best enjoyed cooked.
How do you eat rutabagas?
They are great in soups and stews. They are terrific mashed with a bit of butter because they aren't starchy like potatoes so they get super smooth! And you can even eat them raw, however Buttered Rutabagas are my first choice!
Are rutabagas healthier than potatoes?
Rutabagas have less sugar and are higher in fiber than potatoes. Depending on what your diet requires, it may be a better choice.
Can you eat rutabaga skin?
The skin on the rutabagas is thick and waxy and has a bitter taste. Peel before eating, it's not tasty!
Where do you find rutabagas?
You can buy them in the grocery store, in the same section that you'll find potatoes, sweet potatoes and turnips.
Can you eat a raw rutabaga?
Yes, they are slightly sweet and have a texture similar to turnips.
What is the best way to prepare buttered rutabagas?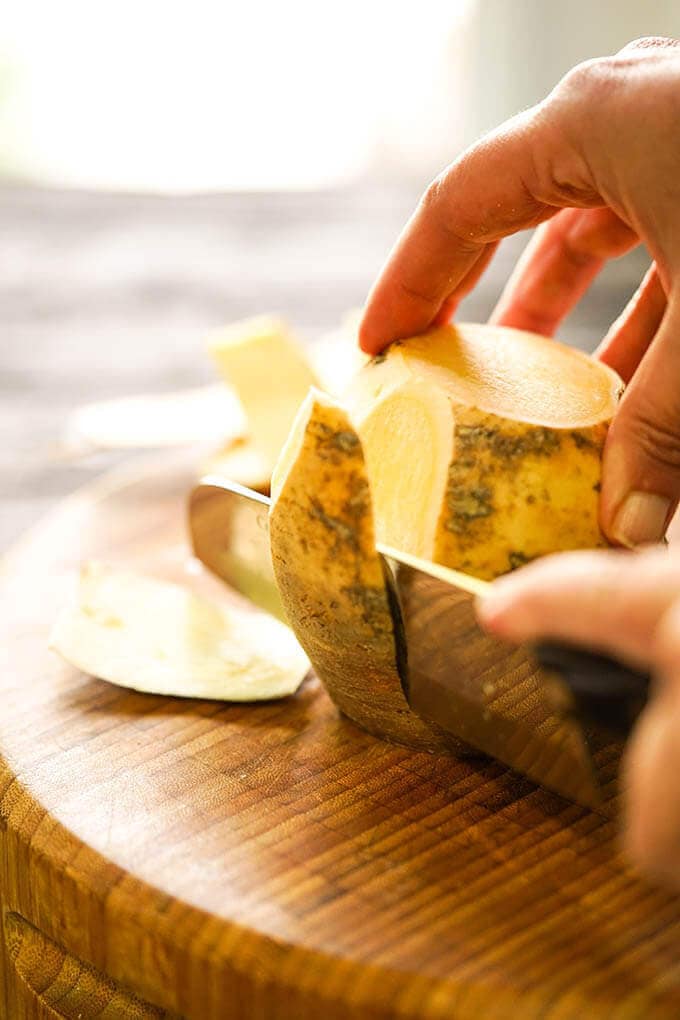 You'll need a sharp knife to slice the ends and peel the vegetable. Because the skin is so sharp, a knife is better than a vegetable peeler.
First slice off the top and bottom of the vegetables. This will give you a solid base.
Setting it on the flat base, carve around the edges removing the skin.
Slice the rutabaga into planks then cubes.
Tips
Use a paring knife to peel the rutabaga, not a potato peeler. They skin is too thick to use a peeler.
How do you choose a good rutabaga?
You'll find them in the vegetable department near the turnips and parsnips. They are creamy yellow in color. Select firm, smooth vegetables with a round, oval shape.
Rutabagas should feel heavy for their size. Do not choose vegetables with punctures, deep cuts, cracks, or decay. The vegetable itself is tough to peel. For this reason, I find the smaller ones easier to work with.
Rutabagas keep well in the refrigerator. They will last two weeks or more. If stored at room temperature, they will last about a week.
Here are more of my favorite side dishes!
What are your favorite holiday side dishes? Brussels Sprouts, Sweet Potatoes or Mashed Potatoes? There are so many favorites!
Pan Roasted Vegetables
Fresh crisp vegetables pan fried in butter and olive oil until caramelized and sweet. Adding tomatoes at the end makes a delicate light sauce. Easy sautéed vegetables, it's the perfect side dish and only takes 15 minutes to make!
Check out this recipe
Crockpot Cream Corn
Slow Cooker Creamed Corn - Easy to make this buttery, rich and creamy corn is the perfect holiday side dish!
Check out this recipe
Oven Roasted Delicata Squash with Honey Pomegranate Glaze
Delicata Squash oven roasted until it is tender and caramelized. Glazed with a sweet and spicy honey pomegranate sauce, it's a super easy side dish with all the flavors of fall!
Check out this recipe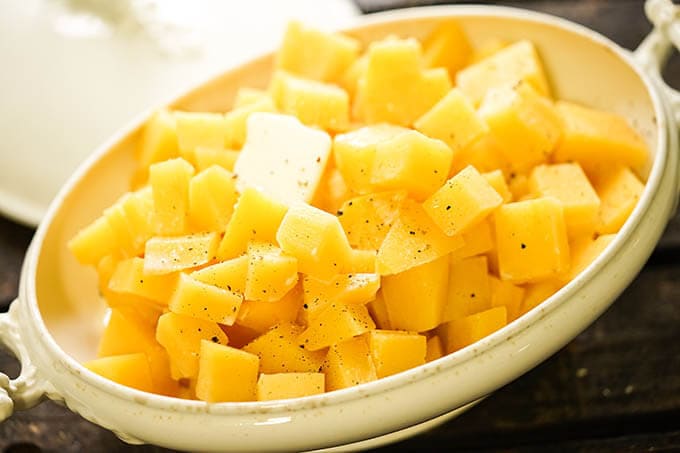 Rutabaga Recipe
Buttered Rutabagas
This is an easy recipe using only a handful of simple ingredients. Buttered Rutabagas are a staple on the holiday table!
As an Amazon Associate I earn from qualifying purchases.
Ingredients
4

large rutabaga

1

cup

milk

or cream

2

tablespoon

butter

¾

teaspoon

kosher salt

½

teaspoon

black pepper
Instructions
Carefully peel rutabaga with a paring knife. Cut rutabaga into one-inch pieces.

Place in a medium-sized pan. Cover with enough water and bring to a boil over medium-high heat on the stovetop.

Boil until fork tender, about 15 minutes or so.

Drain cooked rutabaga. Add the butter and milk, season with a generous pinch of salt and black pepper. Serve warm.
Notes
Rutabagas from the grocery store or farmers market have a waxy coating that need to be removed. The coating it to keep the rutabagas from drying out.
You can use a good vegetable peeler or a pairing knife to peel the skin off. I use a knife because the skin is tough.
Nutrition
Calories:
154
kcal
|
Carbohydrates:
24
g
|
Protein:
4
g
|
Fat:
6
g
|
Saturated Fat:
3
g
|
Cholesterol:
14
mg
|
Sodium:
372
mg
|
Potassium:
839
mg
|
Fiber:
6
g
|
Sugar:
14
g
|
Vitamin A:
183
IU
|
Vitamin C:
64
mg
|
Calcium:
157
mg
|
Iron:
1
mg
Sign up for my recipes here!!
Don't worry, we'll never share your email.
Published: Nov 13, 2019 · Modified: May 17, 2021