Just like Mo's Clam Chowder Recipe that we get every time we go to the Oregon coast, this is loaded with clams and bacon. It's a creamy, hearty soup full of classic flavors! Homemade clam chowder is easier to make than you think and this classic Boston Clam Chowder is a hearty delicious meal!
Love this? Next time try this Potato Soup Recipe - it is the BEST!!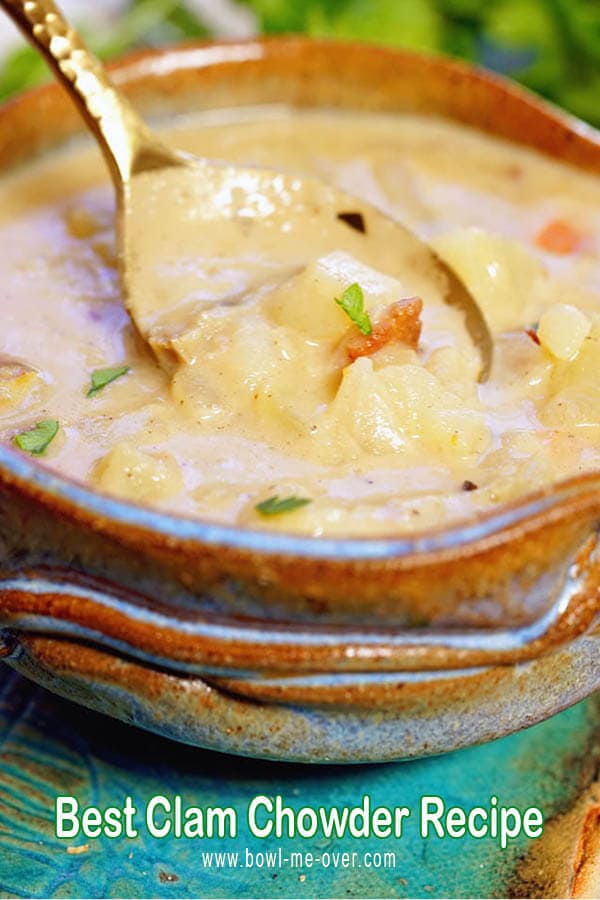 Jump to:
Why you'll love this recipe
The original Mo's restaurant is in Seaside, Oregon serves a big bowl of clam chowder in yummy bread bowls with thick creamy chowder spilling over the sides.
It's a must-stop location so you can be sure to score a bowl of Mo's chowder, but just in case you miss it, there are restaurants in Depot Bay, Cannon Beach and Lincoln City. In fact there are now restaurants all over the United States.
The Oregon chowder belt starts in Lincoln City and extends north on the Oregon coast up to Seaside. There are some great chowders available.
And now... well.... we don't live in Oregon so since then I've developed my version of their soup!
This homemade clam chowder recipe I've developed after years of recipe development. It's terrific because it's really a pantry/refrigerator type meal and so you can always keep the ingredients on hand.
It's a New England-Style Chowder, rich and thick. It is heavenly!
I've tweaked it a bit over the years, but I figured it's definitely time (past time?!!) to share it with you! Like my recipes for Potato Soup and Cheeseburger Soup - this is a family favorite!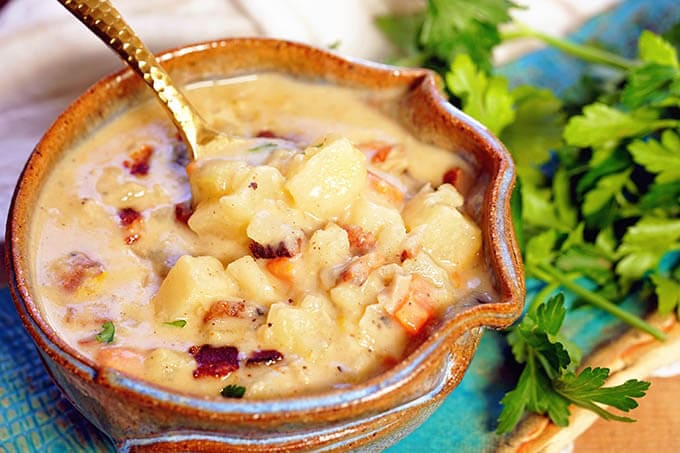 Ingredients
This is the BEST Chowder! For the exact measurements, please refer to the printable recipe card at the bottom of this post.
bacon - salty bacon slices add richness
celery, onion, carrot - for crunch and freshness.
flour - thickens the chowder
butter - works in conjunction with the flour to thicken and add creaminess, also adding richness.
chicken stock - though I've made this with clam juice or stock I think it makes it too "fishy" - I bet you'll love this combination!
canned clams - I recommend whole canned clams (not chopped!), save the clam broth. Fresh cherrystone clams or razor clams can be used when available, the canned clams are much more accessible.
heavy cream - for creamy richness.
russet potatoes - the perfect hearty potato for this soup!
chili powder, salt and ground pepper - to perfectly flavor this chowder!
Everyday ingredients, in fact, you probably have (almost) everything in your fridge or pantry. This is a great dinner idea for tonight!
Instructions
This is an overview of the instructions. For the complete directions just scroll down to the bottom!
In a large pot, add the diced bacon and sauté bacon until crispy, remove cooked bacon and drain on paper towels.
Dice the vegetables, drain the clams reserving juice.
Add the butter to the pot with the bacon grease, then add the onion, celery and carrots sauté over medium heat until softened.
Stir in the flour and season. Cookout the flour.
Add the chicken stock and clam juice.

Increase the heat to high and bring to a boil. Cook until the potatoes are tender.
Add the cream and clams. Bring to a boil and taste and adjust the seasonings.
Equipment
The following are affiliate links. We are a participant in the Amazon Services LLC Associates Program, an affiliate advertising program designed to provide a means for us to earn fees by linking to Amazon.com and affiliated sites.
Wooden Spoon - I have a dozen of these! An nexpensivei wooden spoon is my go-to choice in the kitchen.
FAQ's
What kind of potatoes are best in clam chowder?
Russet potatoes are the BEST choice for Mo's clam chowder. As the potatoes cook, they release starch and help thicken the chowder. It's a hearty potato with a meaty texture and perfect for this soup!
Do you have to peel the potatoes
Sorry but yes, you do. Believe me, no one hates peeling potatoes more than me! In this case, however a classic russet potato is the best choice.
Is it best to use canned or fresh clams?
It would be great to use fresh, but I want you to make this often so now is the time to utilize your pantry. Canned clams are a great choice and are much more affordable than fresh and a ton less work!
What's better chopped or minced clams or whole clams?
Choose whole canned clams rather than minced and roughly chop them yourself. Canned minced clams are so tiny and they don't have a whole lot of flavor.
What is the difference between Boston and New England Clam Chowder?
Similar in flavor, the main difference different between Boston and New England Chowder is the broth is thicker and creamier in Boston Clam Chowder.

The New England version is more of a thin clear broth. And Manhattan Chowder? That's a tomato-based broth.
Tips
Adding the clams at the end will ensure they stay tender! If you add it earlier in the cooking process they become tough and rubbery.
Bacon is an important part of the flavoring, so don't skip it! In fact if you make a little extra? Just scatter it on the top of the soup for garnish!
As the soup cools it will thicken. If it's too thick add a splash of chicken stock to thin it out.
Do you want to learn how to make the BEST Homemade Soups, Stews and Chowders? Read Homemade Soup; A Complete Guide get all of my tips and tricks!
Related recipes
Vegetarian Corn Chowder - bursting with yummy corn flavor, this soup takes less than 30 minutes to make and is AMAZING!
Turkey Corn Chowder - don't toss your holiday leftovers, transform it into this rich, delicious chowder. No turkey? No problem, use rotisserie chicken instead.
Corn and Potato Chowder - savory and delicious, this is an old fashioned chowda filled with crunchy sweet corn, creamy potatoes and plenty of cheese - YUM!
So many soups, so little time! 😋
Serve with
I bet you're wondering what's good with chowda, right? My favorite thing to serve with a thick, rich, creamy chowder is a salad. It compliments the richness of the meal and creates a nice balance. Here's are some of my favorites from the blog!
This light garden salad is filled with fresh ingredients. It's easy to make and serve with a creamy vinaigrette.
This Honey Glazed Orange Salad is wonderful, especially in the fall and winter when citrus is at its peak. A perfect combination of flavors.
Both light and delicious, these would be great choices! And if you're not serving the chowder in a bread bowl (which is always a great choice!) you'll definitely want some dinner rolls or some of this yummy cast iron skillet cornbread.
Best Clam Chowder Recipe
Easy to make this will quickly become your favorite homemade soup recipe! Loaded with clams and bacon it's creamy and hearty! Easier to make than you think, this classic Boston Clam Chowder is delicious meal!
As an Amazon Associate I earn from qualifying purchases.
Ingredients
3

large

russet potatoes

peeled and diced

6

strips

bacon

thick-cut

2

stalks

celery

diced

1

yellow onion

diced

1

carrot

peeled and diced

4

cups

chicken broth

2

10 oz.

canned whole clams

do not drain clams, be sure to reserve the juice.

1

cup

heavy cream

3

tablespoon

flour

2

tablespoon

butter

1

teaspoon

salt

¾

teaspoon

black pepper

½

teaspoon

chili powder

¼

teaspoon

garlic powder
I earn a commission from Instacart from qualifying purchases.
Instructions
Dice the bacon and render the fat In a large stockpot. Saute bacon over medium heat until crispy, remove from pan Drain on paper towels, set aside.

Dice the onion and celery. Peel and dice the carrots and potatoes.

Drain the clams, reserving the juice. Roughly chop the clams, set aside

In the same pot used to cook the bacon, drain off a bit of the oil. Add the butter then add onion, celery and carrots to the pot and saute over medium heat until softened about 3 minutes.

Stir in the flour & mix it well with the softened veggies, season with salt, pepper, garlic and chili powder - cook for 2 minutes.

Now add the chicken stock and the juice from the 2 cans of chopped clams, and potatoes. Increase the heat to high and bring to a boil. Stirring often, cook until the potatoes are tender, about 15 minutes.


When the potatoes are tender, add the cream, clams and bacon. Heat thru and taste the seasonings. Depending on how salty the bacon is you may need to add an additional ½ teaspoon of salt.
Nutrition
Calories:
361
kcal
|
Carbohydrates:
32
g
|
Protein:
9
g
|
Fat:
22
g
|
Saturated Fat:
11
g
|
Cholesterol:
62
mg
|
Sodium:
633
mg
|
Potassium:
828
mg
|
Fiber:
2
g
|
Sugar:
3
g
|
Vitamin A:
1895
IU
|
Vitamin C:
10.1
mg
|
Calcium:
51
mg
|
Iron:
1.6
mg
Sign up for my recipes here!!
Don't worry, we'll never share your email.
First published December 4, 2019 - Last updated November 4, 2021