Sausage and Okra in a stew is a yummy fusion of Italian and American Flavors. This soup is rich, thick, hearty and delicious!
Next time try this Stuffed Pepper Casserole Recipe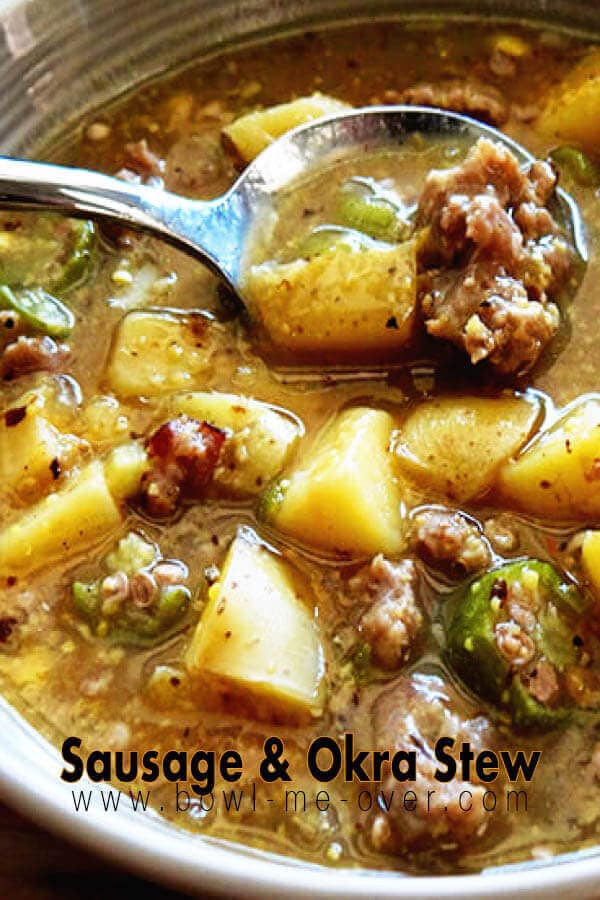 Jump to:
Okra Stew Recipe
Okra... love it... or hate it? Never tried? Ahhh yes! That's who I'm looking for! Someone without preconceived notions of okra.
You know I'm kidding, right? I confess - until I moved to the valley, I had never tried okra either. However once I tried it, I was hooked! It has an earthy flavor and a bright crunchy texture.
Fried okra, YUM! Sausage and Okra Stew? Delicious!
In this recipe okra is coated with polenta and together they make a rich creamy soup. Did you doubt me?
Seriously, this is rich and hearty - all you really need is a great loaf of crusty bread to sop up all this amazing broth!
Ingredients
For the exact measurements, please refer to the printable recipe card at the bottom of this post.
Italian sausage
okra
Yukon gold potatoes
onion
garlic
polenta
frozen corn
chicken broth
salt, pepper, red pepper flakes
Instructions
Brown the sausage in a heavy bottom pot.
Slice and dice the vegetables, mince the garlic.
Add in the okra, potatoes and onions.
Saute then add the garlic and polenta. Mix well and season.
Increase the heat to high, add the chicken broth, bring to a boil.
Reduce and simmer for another 20 minutes, stirring occasionally.
As the stew simmers it thickens and when the potatoes are cooked through, add the frozen corn and stir
I'm going to address the elephant in the room because I know what you're thinking. Okra is slimy. True or not, Deb?
When it's sliced and fresh, yes. But here's the deal - you don't eat it raw! (Although I've tried it and love the flavor!)
Equipment
The following are affiliate links. We are a participant in the Amazon Services LLC Associates Program, an affiliate advertising program designed to provide a means for us to earn fees by linking to Amazon.com and affiliated sites.
FAQ's
How do you make okra not slimy?
Deep fried or stewed, once it's cooked the texture is a non-starter. In this stew, the okra is coated with polenta. It's a crunchy bright flavor. The polenta thickens the stew and when it's mixed with the sausage? This one is dynamite!
How do I clean okra?
To clean the okra start by running it under cold water. Then slice off the stem and discard. Cut the okra into ¼ inch slices. If you are deep frying the okra you'll want to soak it in a vinegar brine for 30 minutes. Drain well and dry completely before frying.
Are okra seeds safe to eat?
Yes, okra seeds are safe to eat, the will burst in your mouth!
Can you eat the whole okra?
All of the okra is edible with the exception of the stem.
How long does it take for okra to cook?
If you're stir frying okra it only takes 3-4 minutes, in the stew it's simmered with the vegetables until the potatoes are tender.
How do you thaw frozen okra?
Thaw in the refrigerator, drain well.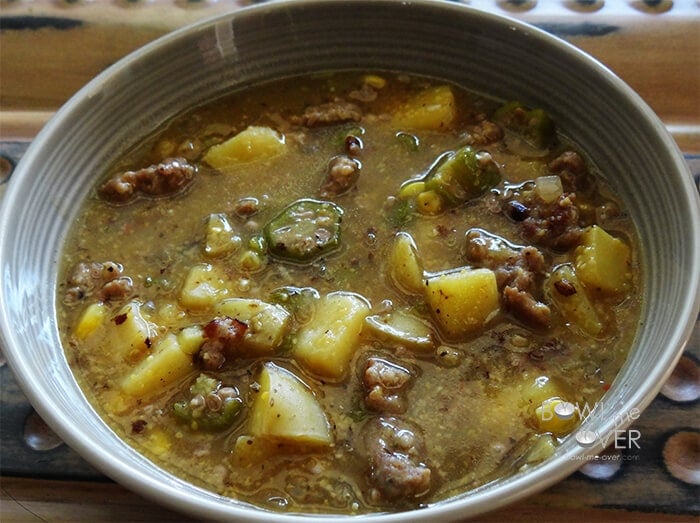 More hearty stews I know you'll love!
More Okra Recipes to try!
Ready to try some okra? Awesome!
I know you'll enjoy this recipes! This recipe makes a nice big pot of stew, enough for 6 generous portions or 8 healthy bowls. Plenty for your family - and if you don't say anything about the okra, they won't even know, right? Enjoy!
Sausage and Okra Stew
The combination of sausage and okra combine to make an amazing stew.
As an Amazon Associate I earn from qualifying purchases.
Ingredients
1

lb

mild Italian sausage

½

lb

okra

thinly sliced

2

yukon gold potatoes

chopped into small bite sized

1

onion

chopped

3

cloves

garlic

minced

¼

cup

polenta

1

cup

frozen corn

4

cups

chicken broth

1

teaspoon

salt

½

teaspoon

pepper

¼

teaspoon

red pepper flakes
I earn a commission from Instacart from qualifying purchases.
Instructions
Start by browning the sausage over medium heat in a heavy bottom pan. Get a good sear on it - you want it to be well browned and broken up into little pieces

While the sausage is cooking, chop the okra, onions, potatoes and mince the garlic.

Drain the excess oil from the sausage and add in the okra, potatoes & onions. Sauté for about 4 minutes and add the garlic and polenta. Mix well, seasoning with the salt, pepper and red pepper flakes.

Increase the heat to high and add the chicken broth, bring to a boil. Stir well scraping the brown bits from the bottom of the pan. !

Reduce to simmer and cook for another 20 minutes stirring occasionally. Add in the frozen corn once the potatoes are cooked thru.

The stew will thicken as it cooks. When the potatoes are fork tender, the stew is complete. Enjoy!
Nutrition
Calories:
312
kcal
|
Carbohydrates:
17
g
|
Protein:
14
g
|
Fat:
20
g
|
Saturated Fat:
6
g
|
Cholesterol:
54
mg
|
Sodium:
1448
mg
|
Potassium:
548
mg
|
Fiber:
2
g
|
Sugar:
1
g
|
Vitamin A:
365
IU
|
Vitamin C:
24
mg
|
Calcium:
54
mg
|
Iron:
1.7
mg
Sign up for my recipes here!!
Don't worry, we'll never share your email.