If you're a fan of Panda Express Honey Walnut Shrimp Recipe - Crispy oven-baked succulent shrimp tossed in a creamy sweet sauce, then tossed with candied walnuts. It's the perfect balance of sweet and crunchy!
Just like your favorite restaurant version, this has all the flavor, plus it's easy to make!
Enjoy this recipe with unstuffed egg roll in a bowl, what a great combination!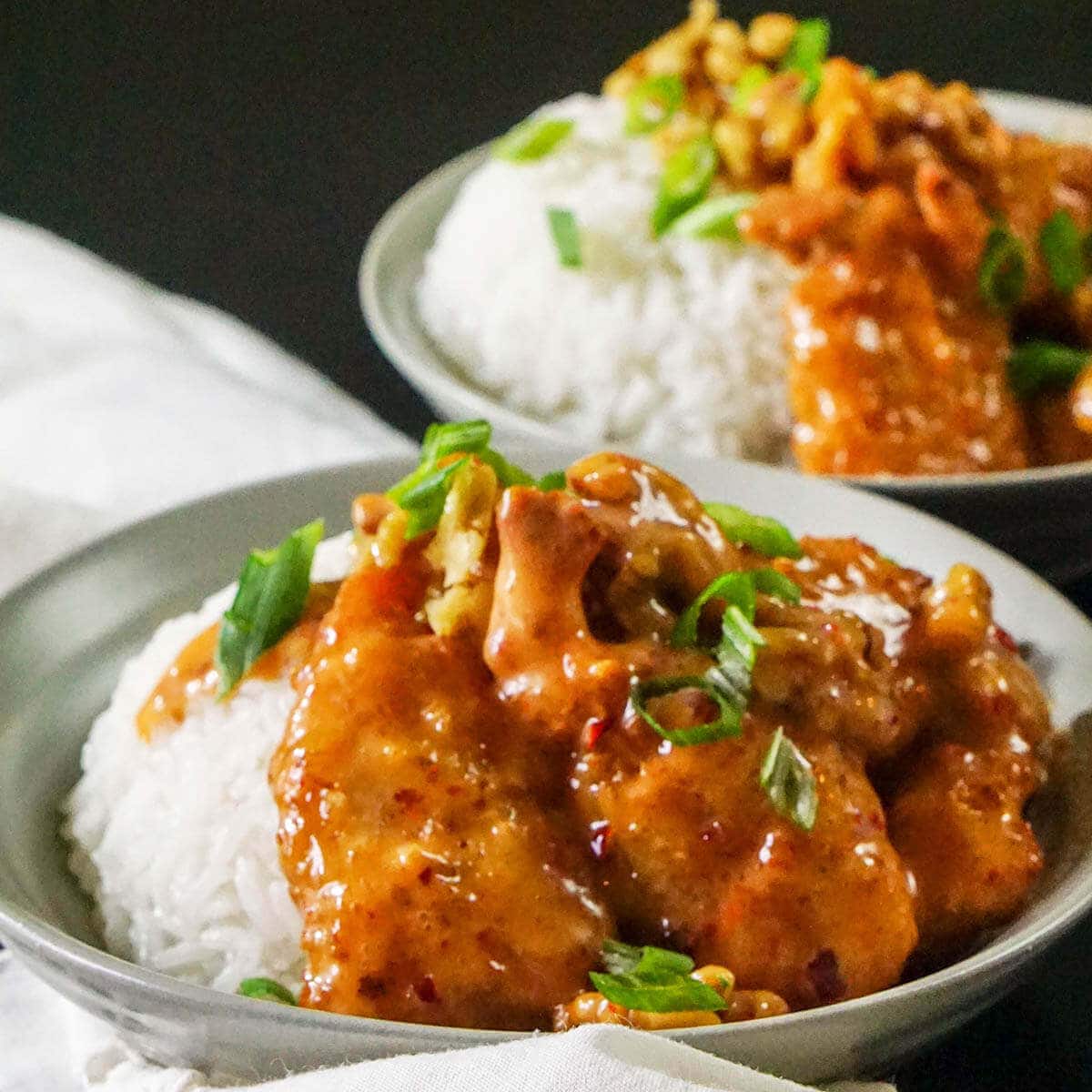 Jump to:
Why you'll love this recipe
Baked Honey Walnut Shrimp is better than the Panda Express version and more affordable than going out to your favorite Chinese restaurants!
I'm not kidding you here, this meal is fabulous! I'm so proud to be sharing it with you because you're going to be proud of yourself serving this for dinner!
Here's why -
the shrimp is crunchy and tender with a sweet coating.
it's easy to make!
No egg whites, tempura batter, deep fat frying or messy cleanup!
This copycat recipe uses store bought breaded frozen shrimp (I used SeaPak). It's a great shortcut that will save you a ton of time without compromising flavor!
Just like your favorite Chinese restaurant, you'll love this Copycat Panda Express Honey Walnut Shrimp Recipe! Using an easy shortcut puts it on the table in about 20 minutes!
Ingredients
For the exact measurements, please refer to the recipe card at the bottom of this post.
frozen coconut shrimp - the freezer is the way to go here. No breading or deep frying needed! Choose large shrimp when possible. I like coconut shrimp because I like the crispy coating.
walnuts - preferably whole or half walnut pieces.
honey and sweetened condensed milk - for the sweet honey sauce.
mayonnaise - helps make the sauce super creamy.
garlic sauce - adds a little flavor and a hint of spice.
sugar - for the candied walnuts.
rice - for serving with the meal.
green onions or cilantro - both are optional garnishes
Instructions
This is an overview of the instructions for this delicious recipe. For complete directions, scroll down to the bottom!
Preheat the oven.
First, make the sugared walnuts. Start by bringing the water and sugar to a boil.
Add the walnuts to the sugar syrup, cook for two minutes.
Remove, cool on parchment paper or a paper towel.
Place the shrimp on baking sheet and bake according to package directions.
Measure the ingredients for the sauce.
Add the sauce ingredients to a bowl, whisk to combine.
Remove the cooked golden brown shrimp, immediately toss it in the creamy honey sauce, and top with the honey walnuts.
Equipment
The following are affiliate links. We are a participant in the Amazon Services LLC Associates Program, an affiliate advertising program designed to provide a means for us to earn fees by linking to Amazon.com and affiliated sites.
Sheet Pans - I prefer aluminum sheet pans (not non-stick) and they come in several different sizes.
This metal spatula is great. The handle isn't wooden so it can go right into the dishwasher.
You'll need a small saucepan as well. This one is great because the lid actually includes a strainer.
FAQ's
Where did honey walnut shrimp originate?
Hong Kong perhaps, but most often enjoyed in the United States. This is a dish we see quite often here in California. Have you ever tried it?
What is honey walnut shrimp?
It so delicious! Basically the seafood is breaded and fried (or in this case baked) and then dunked in in a sweet/spicy sauce. It's the best combination of crunchy/tangy and sweet!
What is the difference between this and firecracker sauce?
Firecracker sauce is really similar using lemon in place of the mayonnaise and sweetened condensed milk. I definitely need to give it a try - it sounds a little light and the tang from the lemon really would give it a snap!
How do you reheat Panda Express Honey Walnut Shrimp?
Putting the shrimp in a bowl and into the microwave will result in soggy shrimp. The best way to reheat this meal is by preheating the oven to 350 degrees. Add the shrimp to an oven proof dish for about 15 minutes.
Tips
Got leftovers? Yay!! If you're wondering what the best way to reheat honey walnut shrimp is in the oven.
Preheat the oven to 350 degrees.
Bake on a baking sheet and reheat until crispy, about 15 minutes or so.
Watch for frozen shrimp to be on sale, buy and freeze so that way when you're in the mood for honey walnut shrimp you won't have to make a special trip!
Serving Suggestions
My recommendations for are steamed white or brown rice as a side dish.
Related Recipes
I'm a big fan of Asian food and have several great recipes on the blog!
Asian food is my favorite cuisine, if you're looking for a few more tasty meals, how about trying Sesame Noodles, Korean Style BBQ Beef Recipe, Teriyaki Noodle Recipe or Korean Black Bean Noodles recipes next?!! They are so delicious and great meals with authentic flavor!
Easy Honey Walnut Shrimp Recipe
Easy to make crunchy shrimp and candied walnuts with a sweet spicy coating. This simple recipe is a delicious meal!
As an Amazon Associate I earn from qualifying purchases.
Ingredients
8-10

Jumbo

coconut frozen shrimp

or use your favorite frozen breaded shrimp. I prefer the jumbo coconut shrimp

Candied Walnuts

½

cup

walnuts

½

cup

water

½

cup

sugar

Sauce

½

cup

mayonnaise

2

tablespoon

honey

1

tablespoon

sweetened condensed milk

1

tablespoon

chili garlic sauce

2

green onions (optional garnish)

slice the green onions on the bias, set aside for garnish.

1.5

cups

white rice (I used a quick cooking jasmine rice)

cook according to package directions. Or serve over brown rice if you'd prefer.
I earn a commission from Instacart from qualifying purchases.
Instructions
Step one
Cook rice according to product directions.

Preheat the oven according to package directions.
Step two
While oven is preheating make the candied walnuts. Bring water and sugar to a boil in a small saucepan. Boil for two minutes, stirring often.

Add the ½ cup walnut halves and cook an additional two minutes. Remove from the boiling sugar with a slotted spoon and allow to cool on parchment paper.
Step three
Cook the frozen shrimp according to product directions

Make the sauce. Mix mayonnaise, honey, sweetened condensed milk and chili garlic sauce in a large bowl. Whisk together to combine.

Remove the shrimp from the oven. Immediately toss the crispy shrimp and the caramelized walnuts in the sweet creamy sauce to coat. Spoon over rice, sprinkle with sliced green onions. Serve immediately.
Notes
The best way to reheat this meal is by preheating the oven to 350 degrees. Add the shrimp to an oven proof dish and bake for about 15 minutes or until crispy.
Nutrition
Calories:
1384
kcal
|
Carbohydrates:
191
g
|
Protein:
17
g
|
Fat:
63
g
|
Saturated Fat:
9
g
|
Polyunsaturated Fat:
39
g
|
Monounsaturated Fat:
13
g
|
Trans Fat:
1
g
|
Cholesterol:
33
mg
|
Sodium:
804
mg
|
Potassium:
392
mg
|
Fiber:
4
g
|
Sugar:
76
g
|
Vitamin A:
189
IU
|
Vitamin C:
3
mg
|
Calcium:
115
mg
|
Iron:
2
mg
Sign up for my recipes here!!
Don't worry, we'll never share your email.
👩‍🏫 What I've Learned
This is one of those meals when I first thought of the idea I was like hmmm.... how can I make this dish without all of the hassle?
No deep fat frying.
No breading.
No messy cleanup.
I used frozen Coconut Shrimp in this recipe. The coating is super crunchy, even after tossing in the sweet sauce. It's a great shortcut and makes prep and clean up so much easier!
It takes 20 minutes to make this meal which leaves you time to relax! That's why it is great to have a go-to meal in your pocket.
Panda Express Honey Walnut Shrimp is as delicious at home as when you go out to your favorite restaurant. It's so good that you'll never go out for it again!
First Published: February 28, 2017 Last Updated: May 4, 2022 to improve reader experience.