Easy Egg Roll in a Bowl Recipe is a simple one-pan dinner that takes 20 minutes start to finish and is packed with protein and flavor! Made with either ground pork, chicken, or turkey, this tastes just like an egg roll without the wrapper only better!
Easy 30 minute meal
It's a busy night. You're exhausted. You get home late. What can you make that takes a minute to make and you're serving dinner in a snap?
I gotcha covered! It's egg roll in a bowl!
Asian cuisine is my favorite – whether that's Korean Beef or yummy pot stickers. Or yummy Beef Bowls served with
Ingredients for egg roll recipe
ground pork – though you can also substitute ground chicken or turkey.
cabbage slaw, green onions, garlic, ginger – this bowl is filled with fresh ingredients and loads of crunch. Grab the slaw with shredded carrots and purple cabbage to give it even more flavor and pretty color.
soy sauce and sesame oil – to season the dish.
vegetable or corn oil – for sautéing.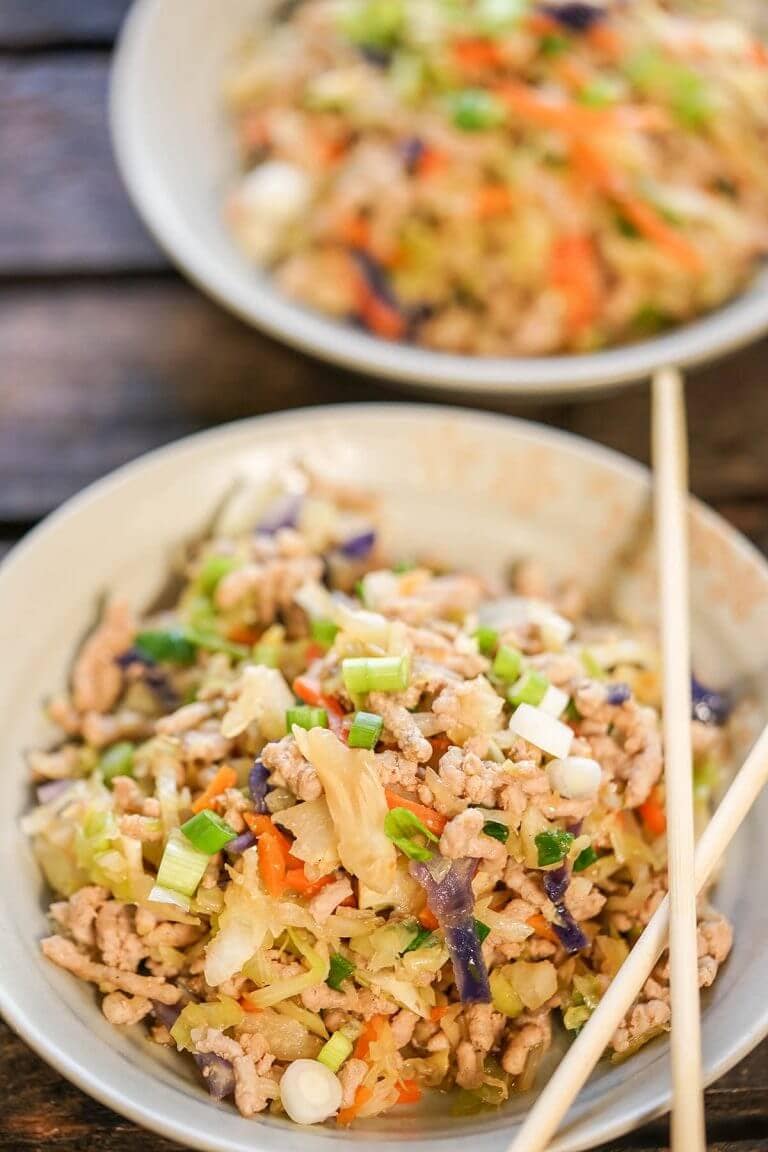 All the information you need to know
Can egg roll in a bowl be frozen?
In my opinion, this dish doesn't freeze well. It's best to eat it while it's fresh.
Good news – it keeps in the refrigerator up to three days, so there's plenty of time to enjoy this meal.
How do you serve this meal?
We enjoyed it in a bowl, just as shown in the photos. I've also topped it with a poached egg. A zip of sriracha adds a good punch of heat. If you want to stretch the meal a little further, add it to steamed rice. Delicious!
More additions for this recipe:
add mushrooms, bok choy or julienne'd bell peppers, if you're looking to bump up the veggies.
cashews or sliced almonds add a nice crunch.
shrimp – I'm such a fan of seafood and adding shrimp sautéed until just pink and plump, it's perfect!
an egg, scrambled, poached or fried an egg adds protein and flavor!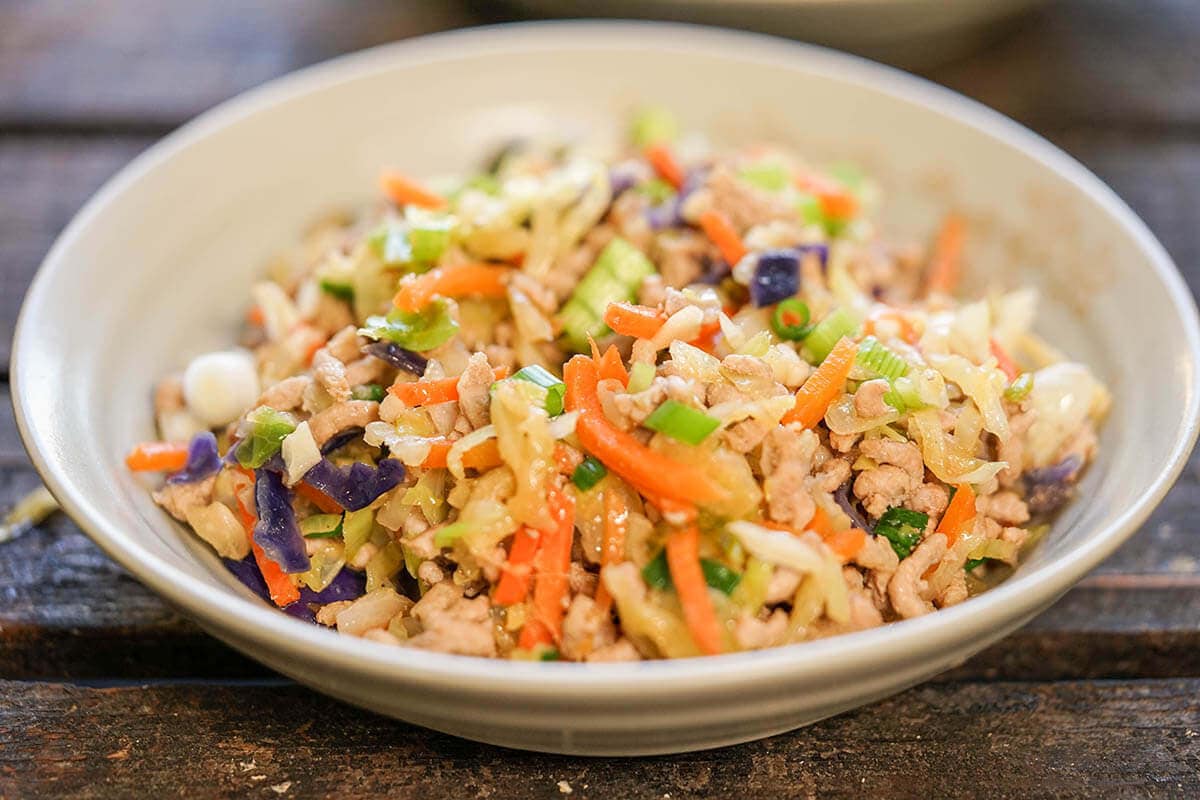 Easy Egg Roll in a Bowl
More of my favorite meal-in-a-bowl recipes!
I love a great meal in a bowl – maybe because it's easy to cozy up in front of the television and enjoy dinner? But even if you're serving this in a big bowl at the kitchen table, here are some of my favorites!
I am a participant in the Amazon Services LLC Associates Program, an affiliate advertising program designed to provide a means for us to earn fees by linking to Amazon.com and affiliated sites.
Some of the items below contain affiliate links, however, I only promote things that I love and think you will love, too. For more information, please see my Disclosure Policy.
Don't forget to check out my Amazon storefront for some of my favorite products! 🛍️
When you make this please be sure to tag me on Instagram @bowl_me_over or #bowlmeover – I'd love to see your pictures! And if you get a chance, please comment and leave me a ⭐⭐⭐⭐⭐ rating below!