Pressure Cooker Mongolian Beef – easy to make and 100 times better than takeout! Tender beef and crispy carrots in a delicious sweet and spicy sauce. Authentic flavor on the table in a snap using your Instant Pot!
Better Than Take-Out
Why eat out when your meal at home can be 100 times better? You know I love Asian food. I love the flavors, spice and (sometimes!) heat! All the fresh vegetables, I think it's my favorite cuisine.
I have several that are very popular on the blog, that if you haven't tried yet you definitely should!
YUM is the word that comes to mind! Today I'm adding one more, but this one is made in the pressure cooker!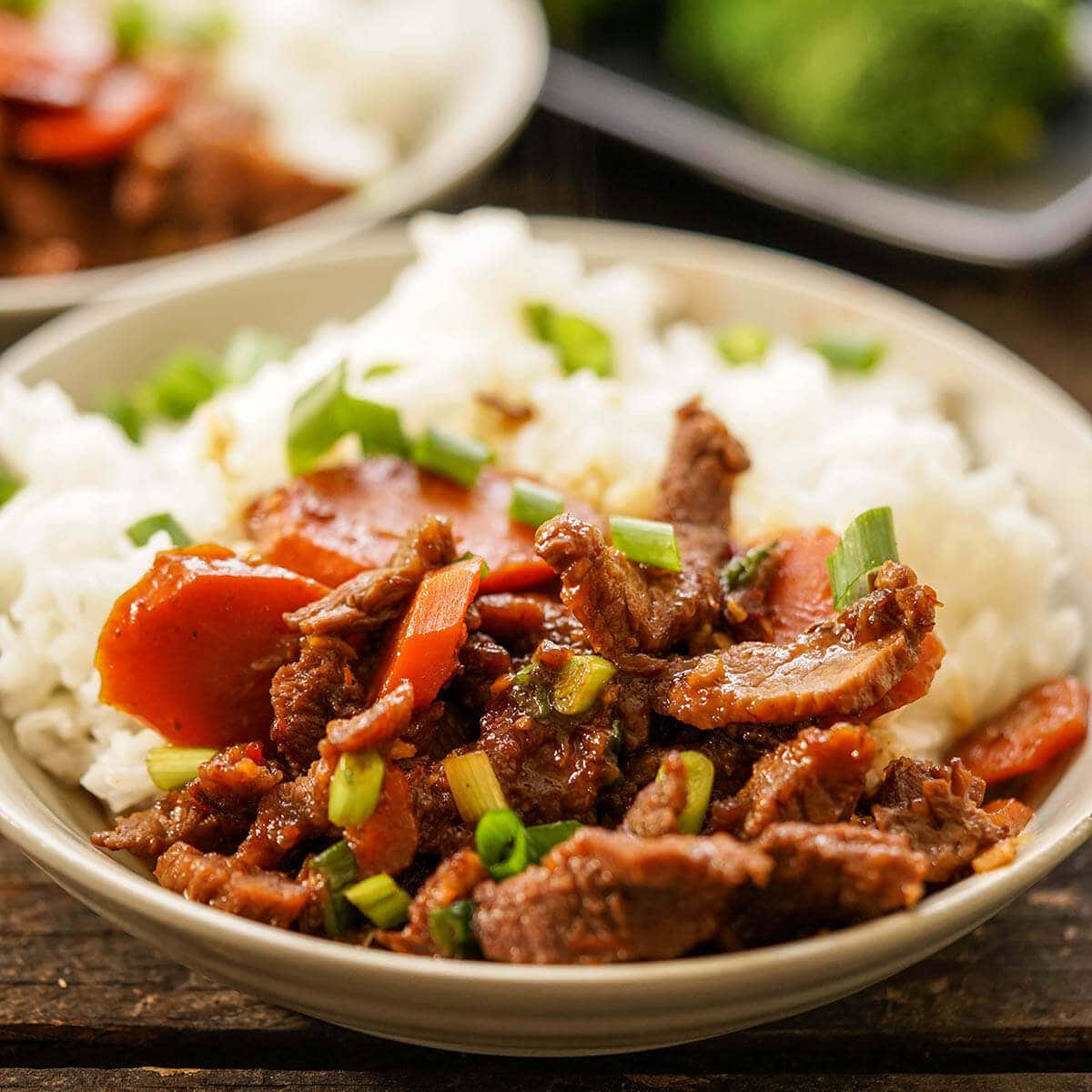 What you need and how to make it!
Ingredients for Pressure Cooker Mongolian Beef
flank steak
carrots
soy sauce
corn starch
sweet chili sauce (may substitute with red pepper flakes)
brown sugar
fresh ginger
garlic
sesame oil
canola oil
green onions or sesame seeds for garnish
How long should I pressure cook beef?
It only takes 10 minutes under pressure to cook this meal.
What is the best meat to cook in an instant pot?
For this recipe flank steak is a great choice. I've also used sirloin steak. Basically you want a tender cut of meat for this recipe.
How do you cook meat in an instant pot?
You'll start out by browning the meat and finishing it in the pressure cooker.
How do you thinly slice beef for stir fry?
You'll want it sliced quite thin and against the grain. No more than 1/4 inch thick. That will ensure the meat is tender.
Mongolian Beef in Pressure Cooker
Steps to make Pressure Cooker Mongolian Beef
Slice the beef, toss in the cornstarch, set aside
Peel and slice the carrots, mince the ginger and garlic, thinly slice onions.
Mix together the sauce.
Turn pressure cooker to sauté. When hot add oil and sauté beef on both sides. Add carrots, ginger and garlic. Next add the sauce.
Secure the lid and seal. Set timer to 10 minutes. When timer goes off quick release.
Serve over rice, top with sliced green onions.
No Instant Pot? No problem – make it on your stovetop with these easy directions.
If you have a wok, great – let's put it to good use! If you don't you can substitute with a heavy skillet.
Cast iron would be the best second choice. It heats evenly and gets super hot to cook the meat and vegetables quickly.
Slice the beef and prepare the beef vegetables as stated above and mix together the sauce.
Heat the pan on the stovetop with high heat. When hot add the canola oil, then cook the beef in batches just a minute or two on each side. Add the remaining vegetables, top with sauce
Stir fry for 6-8 minutes until the beef is cooked and the vegetables are tender.
Serve over rice, top with sliced green onions.
Leftovers (if there are any!) will keep in the refrigerator for three days. You can also freeze leftovers in a well sealed container. They will last up to three months refrigerated.
What to serve with Mongolian Beef
I usually keep it simple with white or brown rice, steamed snow peas, broccoli or a nice vegetable stir fry – YUM! But if you're serving up a feast, here are more of my favorite recipes that pair perfectly with this meal.
Instant Pot Asian Recipes
Loving that pressure cooker? Me too! Here are some great recipes I think you'll enjoy also.
Honey Sesame Chicken – easy to make with tender chicken in a sticky sweet sauce.
Sweet and Sour Pork – pantry ingredients and tender pork, this meal comes together in a snap!
Instant Pot Pho – Dan and I go out for Pho at least once a month. Now I can make it at home and it's delicious!
All of these great recipes use the Instant Pot – I hope you give them a try soon!
I am a participant in the Amazon Services LLC Associates Program, an affiliate advertising program designed to provide a means for us to earn fees by linking to Amazon.com and affiliated sites.
Some of the items below contain affiliate links, however, I only promote things that I love and think you will love, too. For more information, please see my Disclosure Policy.
Don't forget to check out my Amazon storefront for some of my favorite products! 🛍️
When you make this please be sure to tag me on Instagram @bowl_me_over or #bowlmeover – I'd love to see your pictures! And if you get a chance, please comment and leave me a ⭐⭐⭐⭐⭐ rating below!
Pressure Cooker Mongolian Beef