This simple and delicious Papaya Bowl is perfect for breakfast has only a few ingredients but is the perfect start to an amazing day. Fresh papaya, tangy Greek yogurt, homemade granola with a squeeze of tart lime.
Love an easy breakfast, make a Chocolate Peanut Butter Smoothie next!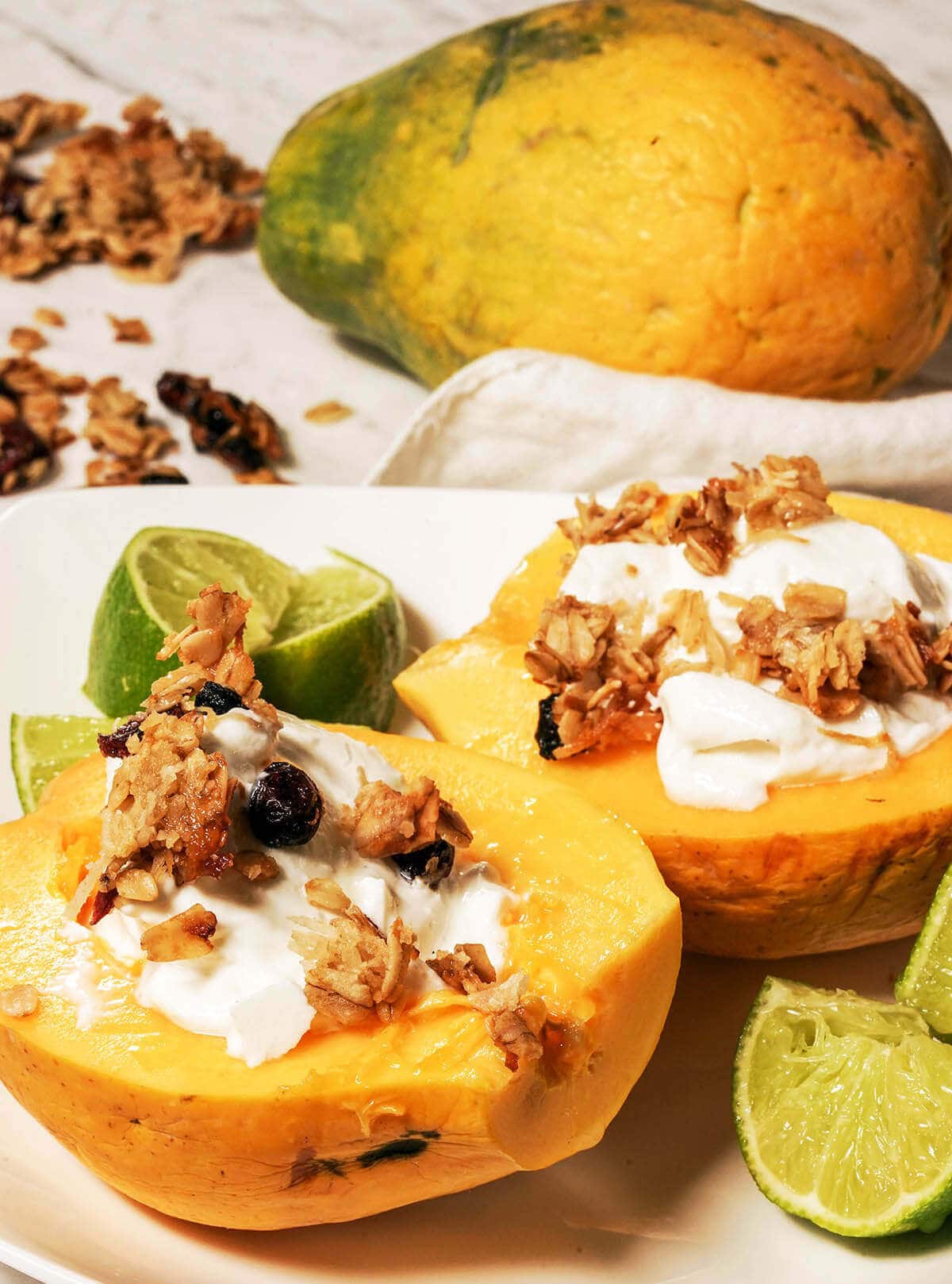 Jump to:
Why you'll love this recipe
✔️ The Papaya Bowl has only a few ingredients but is the perfect start to an amazing day.
✔️ It literally takes 5 minutes to make and it's special!
✔️ This is a breakfast that's actually good for you! But shhh.... I won't tell anyone! 😉
Papaya is perfect for breakfast! It's full of fiber, which will keep you full longer and loaded with protein. This is a terrific meal!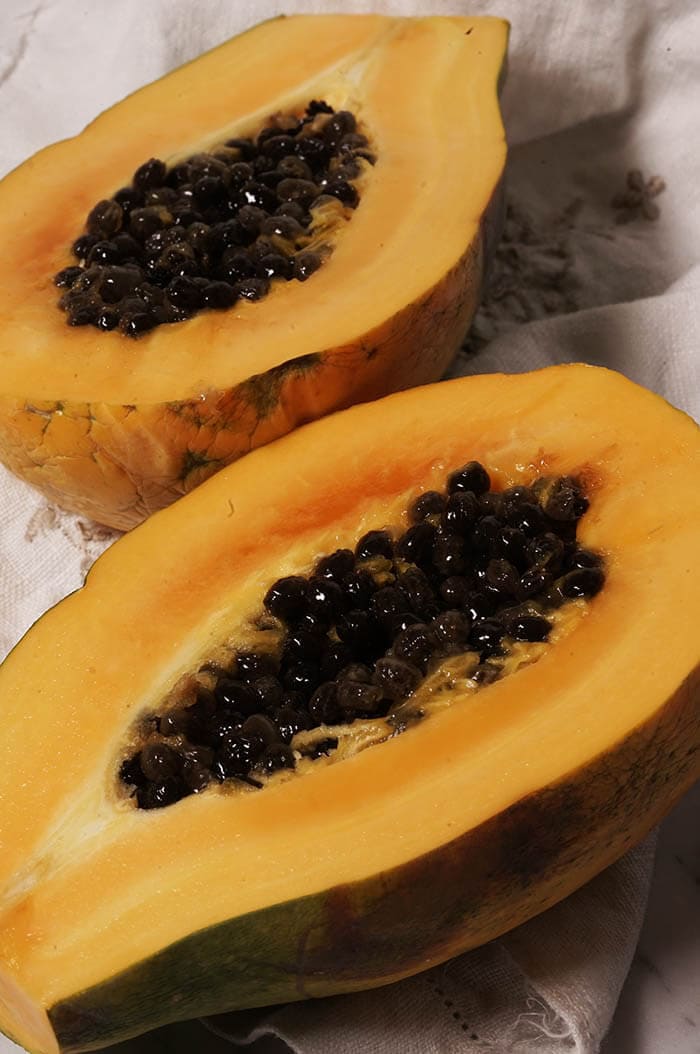 Ingredients
Please refer to the printable recipe card at the bottom of this post for the exact measurements. 
a juicy, ripe papaya - no papaya? Use a cantaloupe, fresh peach or your favorite bowl of fruit.
vanilla yogurt - though you can use any yogurt flavor you prefer.
I use this homemade granola recipe, but store-bought works too!
lime for fresh, bright flavor!
Instructions
This is an overview of the instructions. For the complete directions just scroll down to the bottom!
Slice ripe papaya in half.
Scoop out the seeds with a spoon.
Fill the cavity with a dollop of tart yogurt.
Top with granola and a squeeze of lime.
Equipment
The following are affiliate links. We participate in the Amazon Services LLC Associates Program, an affiliate advertising program designed to provide a means for us to earn fees by linking to Amazon.com and affiliated sites.   
You'll only need a couple of things to make the papaya bowl.
Sharp knife for slicing - this knife is gorgeous; it's on my wish list!
Cutting board - super pretty, of course, you can use it for every day, but it's so. pretty it would also be great for a Charcuterie board display.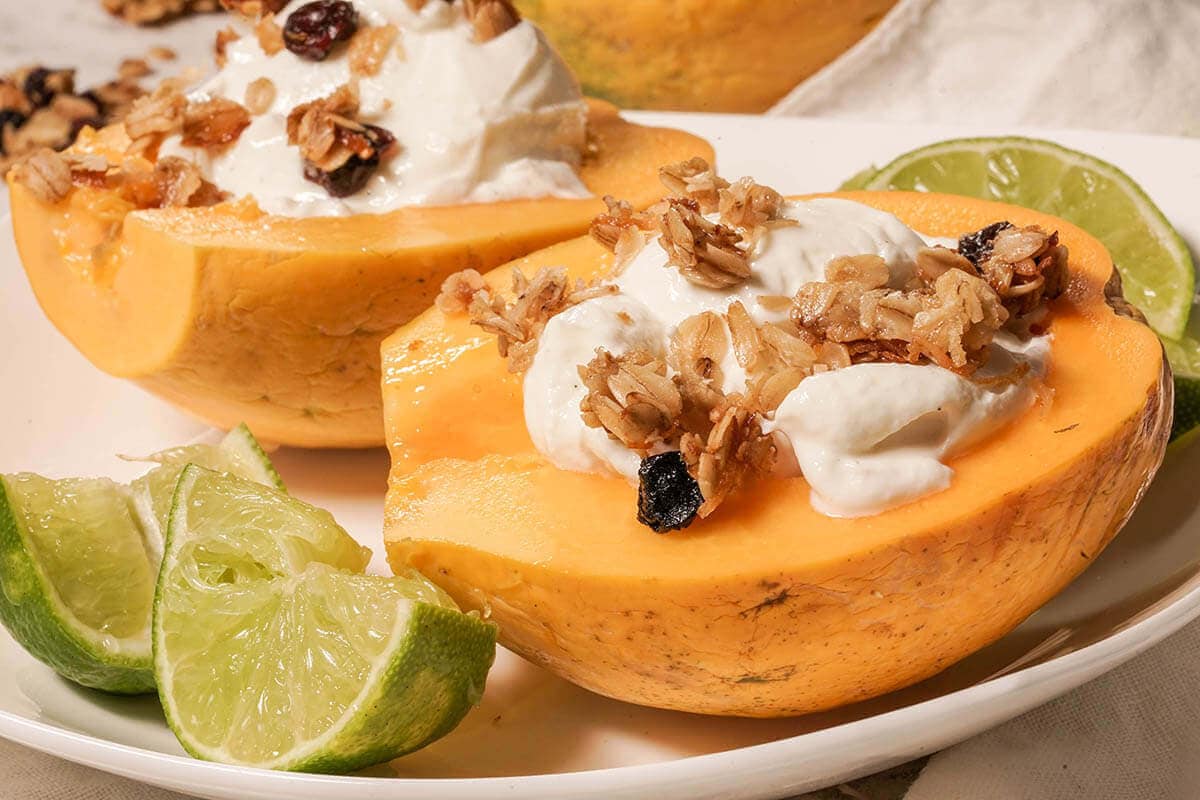 FAQ's
How do you know when papaya is ready to eat?
Similar to avocado, choose papaya with a little give when you press with your thumb. The skin of ripe papaya will be bright yellow with just a touch of green or red.
Do you eat the peel?
Nope, peel the papaya and toss the peel; it's not edible.
How do you ripen a papaya?
If you choose one that is firm, allow it to sit on the counter until it's completely ripened. If you want it to ripen more quickly, put it in a paper bag for a day or two until it's soft and sweet!
What does it taste like?
The texture of papaya is similar to mango but creamier. The smaller mangos are more tender and will almost melt in your mouth! The flavor is slightly sweet.
Things to know
If you've never prepared one, it's super easy to do!
choose a ripe papaya
slice it in half
scoop out the seeds with a spoon
dig in and enjoy!
Though papaya seeds are edible in small amounts, I discard them. Not tasty or palatable (in my opinion).
Related recipes
I'm all about the easy breakfast lately, and since every meal is cooked at home, I'm trying to mix things up a bit. This Smoothie Recipe was a real hit last week.
Of course, you know I'm going to recommend my Avocado Breakfast Sandwich! One of my very favorites, this toast is delicious and satisfying. Easy too. This is perfect for a lazy day breakfast or fancy brunch.
Here's another simple sandwich perfect for breakfast or lunch! Raw organic honey drizzled over peanut butter - wow! Biting into a Peanut Butter Honey Sandwich is an explosion of flavor!
Serve with
Topping the bowl with creamy yogurt and homemade granola recipe is great. Finishing with just a squeeze of lime takes it right over the top.
Serve the papaya bowl with breakfast potatoes and a couple of slices of bacon or sausage, yum!
Looking for more easy breakfast ideas? Here are 25+ recipes! You're guaranteed to find something delicious! 😋
Don't forget to check out my Amazon storefront for some of my favorite products! 🛍️
If you love this recipe, please leave a ⭐⭐⭐⭐⭐ rating! 
Papaya Bowl
Fresh papaya, Greek yogurt, granola with a squeeze of lime. This is a simple filling breakfast that's easy to make!
As an Amazon Associate I earn from qualifying purchases.
Ingredients
1

papaya

ripe

1

cup

vanilla yogurt

I recommend using Greek yogurt.

½

cup

granola

1

lime

cut into wedges
I earn a commission from Instacart from qualifying purchases.
Instructions
Choose a ripe papaya and

slice it in half.

Scoop out the seeds with a spoon.

Fill the cavity with a dollop of tart yogurt.

Top with granola and a squeeze of lime.
Nutrition
Calories:
287
kcal
|
Carbohydrates:
48
g
|
Protein:
10
g
|
Fat:
7
g
|
Saturated Fat:
1
g
|
Cholesterol:
6
mg
|
Sodium:
97
mg
|
Potassium:
552
mg
|
Fiber:
3
g
|
Sugar:
29
g
|
Vitamin A:
740
IU
|
Vitamin C:
54.9
mg
|
Calcium:
261
mg
|
Iron:
1.7
mg
Sign up for my recipes here!!
Don't worry, we'll never share your email.
What I've learned
Ok... why does a Papaya Breakfast Bowl remind me of Hawaii? Our host would stock our room with fresh fruit, including locally grown papaya. One morning for breakfast, I looked in our little mini fridge and realized I only had one yogurt container left, but I need to make breakfast for both Dan and I.
I grabbed the papaya and sliced it in half.
With a spoon I scooped out the black seeds.
The yogurt that we had was a lime yogurt with granola to put on top so I split that between the two of us and topped each with a spoonful of granola.
Little did I know it is a thing in Hawaii and I can see why, it's a perfect breakfast!
In November we went to Hawaii. If you've never been to the islands, I must say it's a magical place that embraces the Aloha Spirit in every part of it's culture. Life definitely slows down and moves at a more relaxed place.
Mornings were spent playing in the surf and sand before the rays became too intense. My camera was my constant companion as there is beauty around every corner!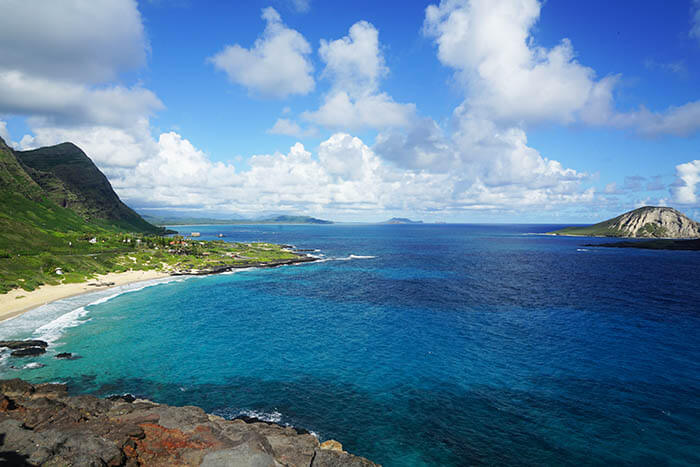 A breathtaking view at Makapuu Lookout - the bright green emerald mountain stand in stark contrast to the beautiful blue ocean and sky.
A dramatic sunrise at Kaupo Bay with waves crashing against the rocks on the shoreline. Off in the distance beautiful trees are silhouetted against the bright sunrise. Purple clouds dot the sky.
I love the islands! I took nearly 1000 pictures that week, it has been hard pairing it down to just a few to share with you!
Originally published 1/15/2018, updated 4/22/21 to improve instructions and information.