A great slice of bread, slathered with creamy or crunchy peanut butter and drizzled with raw organic honey equals simple sandwich perfection! If you're looking for a great after school snack or simple lunch for your loved ones a peanut butter and honey sandwich is satisfying and delicious!
Next time slice some bananas on that sandwich for a Peanut Butter Banana Honey Sandwich. This is great served with a side of crock pot baked beans - mmmm!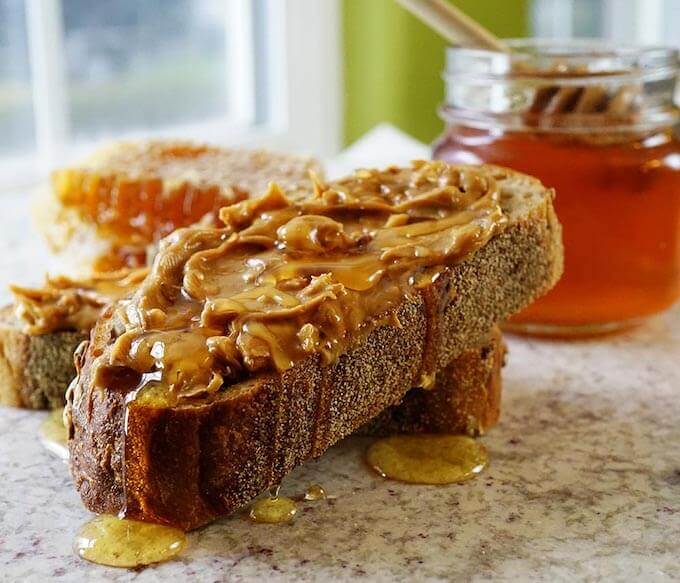 Jump to:
Why you'll love this recipe
✔️ easy to make.
✔️ super affordable!
✔️ delicious every time!!
Ingredients
For the exact measurements, please refer to the printable recipe card at the bottom of this post.
peanut butter - creamy or crunchy, choose your favorite
honey - local raw organic honey if you can find it. Check the farmers markets for availability. To learn why organic honey is better than what you find on the shelf at the grocery store - click here.
a good hearty bread, again choose your favorite!
Instructions
This is an overview of the instructions. For the complete directions just scroll down to the bottom!
Pretty sure you don't need an explanation here, but just in-case!
Slice the bread - I always toast it, but that's up to you!
Slather with peanut butter.
Drizzle with honey and enjoy!
Things to know inspecting the hives
Dan and I had the opportunity to tour a local bee keeper, Kingsburg Honey. We had the pleasure of meeting with the owner Daren and his children. It was exciting and informative to see the process of honey farming from start to finish!
It was a warmer than expected day. Because the bees were still active Daren carefully supervised while his son lit the smoker.
A light dusting of smoke triggers reflexes in the bees to "save the hive." They quickly ingest honey which slows them down and makes them less likely to sting.
(This is my less than technical version of the explanation! 😂 ) The entire process was fascinating!
Harvesting Organic Honey
In addition to checking out the hives we got to see some of the process of harvest also. This includes a tour of the processing plant and sampling right from a honeycomb!
The process is fascinating the product amazing and to think it's raw, natural and organic and it's all built by bees! Super cool!
FAQ's
Does peanut butter and honey taste good?
A peanut butter and honey sandwich is the perfect combination of salty, creamy and sweet. It is a great meal for breakfast, lunch or dinner.
Is honey healthier than jelly?
Surprisingly no, the benefits are about the same! Whew.... I'm glad because I do love my jam recipes on the blog! Strawberry, Pomegranate, Orange Jelly - I mean seriously... who would want to give that up!
Have you tasted raw organic honey? Drizzled over the peanut butter, this sandwich is an explosion of flavor. The bright, sweet eruption of sweetness as it touched the roof of you mouth is swoon worthy!
Next time you make a pb&j consider swapping out the jam or jelly for honey instead!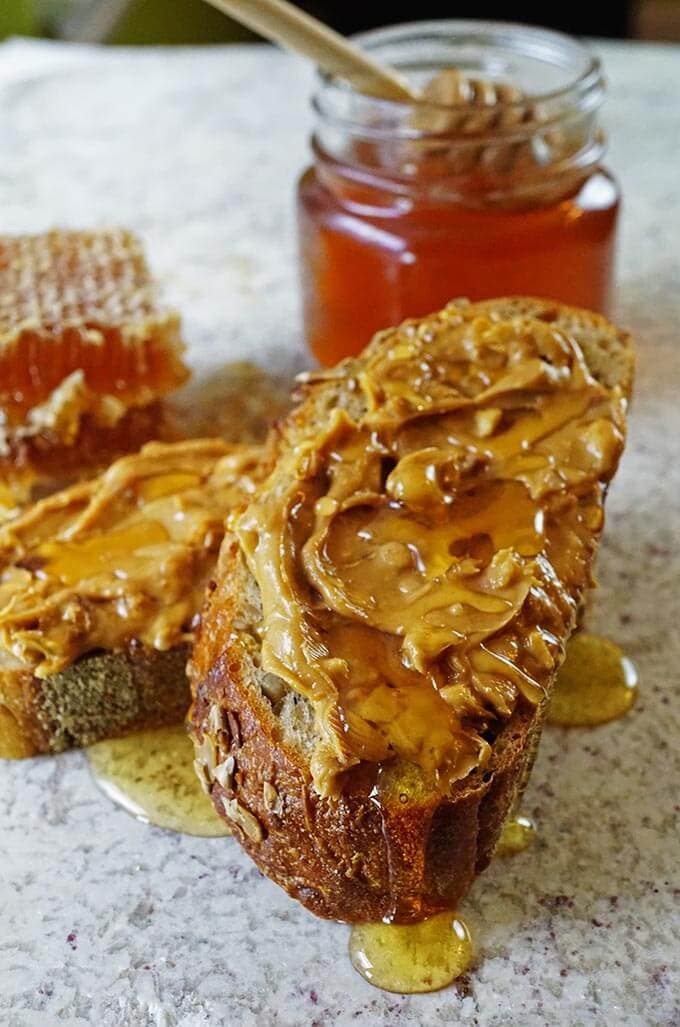 More sandwich recipes
Related recipes
If you like this simple meal then I have one more for you to try. Twisted PB&J. Made with peanut butter, Marmalade, Sriracha and basil and grilled until golden and crunchy!
Crazy ingredients? Yes! But trust me... It's amazing!
Peanut Butter Honey Sandwich
Drizzled over the peanut butter, biting into this sandwich is an explosion of flavor! Indulgent, this is the perfect sandwich!
As an Amazon Associate I earn from qualifying purchases.
Ingredients
¼

cup

peanut butter

4

tablespoon

honey

2

bread

thick slices
I earn a commission from Instacart from qualifying purchases.
Instructions
Slather the bread with peanut butter

Drizzle with honey. Enjoy!!!
Notes
Don't eat peanut butter? Substitute any nut butter. Simple, perfect and fabulous!
Nutrition
Calories:
322
kcal
|
Carbohydrates:
41
g
|
Protein:
8
g
|
Fat:
16
g
|
Saturated Fat:
3
g
|
Sodium:
161
mg
|
Potassium:
231
mg
|
Fiber:
1
g
|
Sugar:
37
g
|
Calcium:
14
mg
|
Iron:
0.8
mg
Sign up for my recipes here!!
Don't worry, we'll never share your email.
As a blogger there are all kinds of intricate things that you do before you publish a post on your blog.
You start by developing a recipe, researching ingredients or traveling to onsite locations. Next comes photographing the meal, writing a story, the recipe and combining everything together to actually publish a blog.
Additionally before I get started I do keyword research to make sure the topic I'm sharing is time relevant to readers. For instance publishing a hot soup on a 100 degree day isn't always the best decision!
And as you know, the majority of my meals are quick and easy. And this recipe is a classic!