Silky smooth, creamy mashed potatoes with cauliflower is an updated version of an old classic!
Mashed Potatoes and Cauliflower Recipe - a tasty twist on an everyday side dish! This tasty alternative to traditional whipped potatoes updates the flavor. The cheese makes them extra savory and the sour cream adds a great tang. Perfect alongside turkey or beef, this is an easy side to make in advance.
Cauliflower Mashed Potatoes
Mashed potatoes and turkey dinner go hand-in-hand! Can you imagine serving a big holiday meal without?
Nope, me either! It's just a necessity. I also can't imagine a holiday meal without candied sweet potatoes or green beans, but I do live for food! 😋
When my Dad was diagnosed with diabetes I wanted him to be able to enjoy some of his favorites with less guilt and that's where the Mashed Potatoes with Cauliflower recipe came from!
Now I make it because I love the flavor. I prefer it over straight potatoes. The sour cream; gives it tang and the cheese, salty goodness. If you've never tried this before, now's the time to start!
Why add cauliflower to potatoes?
Mashed potatoes are always a favorite on the table during the holidays and a delicious side dish all year round. Cauliflower Mashed Potatoes can also be made ahead, up to three days in advance! This means less stress all around!
Is mashed cauliflower good for you?
Cauliflower has a low Glycemic Index of 15. This means it has very little effect on blood sugar levels. So, basically this is a healthier version of the classic favorite!
Do you know what the secret is to making light and fluffy Cauliflower Mashed Potatoes?
Slightly warm the butter, sour cream and milk and whisk it together - THEN add to the vegetables!
If you put these ingredients in when they are "refrigerator cold" the mash will become pasty and sticky - not light and fluffy!
What can I serve instead of mashed potatoes?
All delicious alternatives!
How do you make mashed potatoes thicker?
Let's say the potatoes end up a little runny - can you fix that? Absolutely! There are a couple of easy fixes. Adding a tablespoon of powdered milk or instant potato flakes will help absorb the excess liquid. Stir to combine and cook for a couple of minutes to incorporate the taste.
What if you don't have those ingredients handy? Simple, just cook the potatoes over medium heat, stirring often. Cooking out the excess liquid will make the mash less runny.
Often times, when mixing potatoes & cauliflower to make a mash, the mixture separates because there is too much moisture.
Keep this from happening by draining them really well. Then as soon as they are done draining, put them back into the hot pot they cooked in.
The heat and steam from the hot pot will assist in removing excess moisture.
What meat goes well with mashed potatoes?
All things delicious, right? Here are some ideas, a great steak of course - more of my favorites are:
Instant Pot Barbecue Pork Ribs
BBQ Pork Ribs made in the pressure cooker! Tasty, tangy tender ribs that are moist and delicious are now possible in minutes instead of hours!
Check out this recipe
Holiday Turkey
Holiday Turkey - If you're looking for the most delicious roasted turkey recipe, this is the one! Easy & foolproof - and makes the most amazingly moist turkey.
Prime Rib Dinner
Melt in your-mouth-tender bone in prime rib that is juicy and delicious every time! Don't be intimidated to cook prime rib dinner at home, it's an easy, delicious meal
Check out this recipe
Grilled Teriyaki Chicken Skewers
Easy to make meal everyone loves! Only 15 minutes on the grill and dinner is done. These are always a hit!
Check out this recipe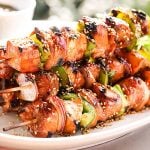 Ribs on the Grill
Easiest no-fail method ever to make fall off the bone tender pork ribs on the grill!
Check out this recipe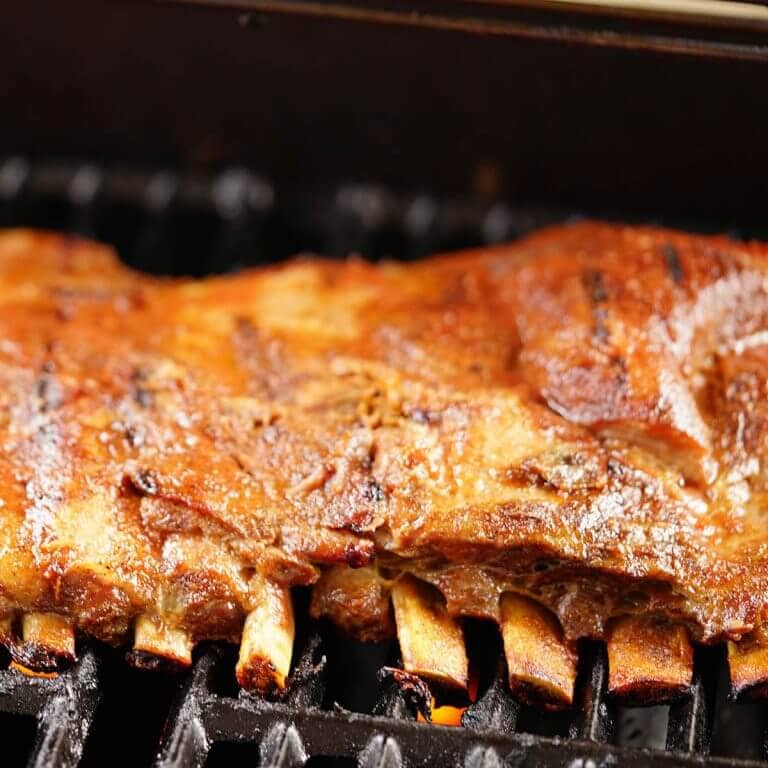 What's the secret to making light and fluffy Mashed Potatoes and Cauliflower Recipe?
If you enjoy silky, creamy potatoes use a potato ricer or a handheld mixer. This will ensure no lumps! If you prefer texture in your taters, mash them with a handheld potato masher. (affiliate links below)
Using Russet potatoes will add extra starch. This will help thicken the mash and help keep it together. If the potatoes are too stiff or not creamy enough, just add another tablespoon of milk or cream.
Jazz up your potatoes by adding some different flavors to this like roasted garlic or infuse the cauliflower with rosemary when it's cooking.
More of my favorite side dishes!
This cheesy hashbrown casserole is the best combination of flavors. It definitely deserves rotation in your menu planning!
Steamed Brussels Sprouts Recipe
Steamed vegetables are a great way to serve a healthy side dish, without adding additional calories or heavy sauces. Delicious too - steaming keeps them bright green and fresh.
Check out this recipe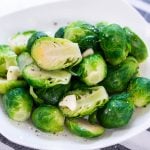 Pressure Cooker Baked Potatoes
Fluffy baked potatoes, perfectly cooked every time! Baked potatoes are made quick and easy your pressure cooker!
Check out this recipe
How to Make Swiss Chard 
Sautéed Swiss Chard Recipe - Braising the greens and garlic together makes the vegetables delicious and savory. 
Check out this recipe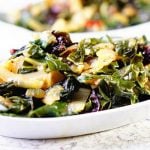 Instant Pot Steamed Carrots
Instant Pot Steamed Carrots - easy and tasty everyone loves steamed carrots!
Check out this recipe
Roasted Broccoli with Lemon
Do you roast vegetables? I love roasted broccoli! Topping it with fresh lemon gives it a super bright flavor and fresh taste!
Check out this recipe
Mashed Potatoes with Cauliflower
Silky smooth, creamy mashed potatoes with cauliflower is an updated version of an old classic!
As an Amazon Associate I earn from qualifying purchases.
Ingredients
1

head cauliflower

6

cups

Russet Potatoes

peeled & cubed about 3 large potatoes

¼

cup

sour cream

2-3

tablespoons

cream or milk

optional

½

cup

freshly grated Parmesan cheese

2

tablespoons

butter

salt & pepper to taste
Instructions
Remove the core from the cauliflower and cut it into large florets.

Peel and dice the potatoes. They are more dense than cauliflower, cutting them into a dice smaller in size than the cauliflower will ensure both cook evenly and be done at the same time.

Combine cauliflower & potatoes in a large pot & cover with cold water - add a heaping tablespoon of salt.

Bring water to a boil, reduce to simmer until the potatoes & cauliflower are fork tender, 12-15 minutes. Drain really well in a colander and return the potatoes and cauliflower to the hot pot that you cooked them in set on the stove (burner off). Setting them back on the stove, onto the hot burner will steam the remaining water off the vegetables.

In a small pan, warm the sour cream and butter. Add it to the potatoes along with the shredded cheese. With a potato masher, potato ricer or a hand mixer, mash/mix until they are well combined. If the potatoes need some extra moisture, add the milk.

Taste & adjust seasonings. Because the cheese is salty, you may not need any additional salt, but I always add a pinch of pepper.
Nutrition
Calories:
160
kcal
|
Carbohydrates:
21
g
|
Protein:
5
g
|
Fat:
6
g
|
Saturated Fat:
3
g
|
Cholesterol:
17
mg
|
Sodium:
137
mg
|
Potassium:
532
mg
|
Fiber:
1
g
|
Sugar:
1
g
|
Vitamin A:
185
IU
|
Vitamin C:
12.9
mg
|
Calcium:
99
mg
|
Iron:
1.1
mg
Sign up for my recipes here!!
Don't worry, we'll never share your email.
First Published: Nov 6, 2017... Last Updated: November 6, 2019