Roasted shrimp, corn, potatoes and peppers come together in a quick and easy meal!
This recipe for Sheet Pan Shrimp Boil is full of juicy, succulent shrimp with corn, tender potatoes and sweet peppers seasoned with just the right amount of cajun spices to make you feel like you are in the south having an authentic cajun shrimp boil--- but without all the work of prepping a boil!
Next be sure to try Panda Express Honey Walnut Shrimp Recipe - so easy and delicious!
Jump to:
💭 Recipe backstory
I'm popping in here today for Deb to share this cajun baked shrimp and vegetables with you to make for an easy weeknight dinner for your family.
I'm Michele from West Via Midwest where I write about entertaining without all the stress while still living a full, crazy busy life. One of the most popular recipes on my site is the Foil Packet Shrimp on the grill because its easy, fast and delicious so I thought I'd share with you a way you can make something similar in the oven.
❤️ Why you'll love this recipe
For the days when you are looking for a no-effort dinner but don't want something boring, this sheet pan shrimp boil dinner is what you NEED to make. It's good for you in that it has colossal shrimp cooked perfectly and all sorts of vegetables like corn, potatoes and sweet peppers (which can be totally customizable to what you like.)
The best part? It's done in the oven on one pan so after you have devoured every flavorful morsel of the cajun seasoned baked shrimp you will have very little cleanup.
It's a great meal for entertaining too! It can be our secret that it came together in less than 40 minutes with only about 10 minutes of that actual time spent working on it!
🗒️ Ingredients
For the exact measurements, please refer to the recipe card at the bottom of this post.
Colossal Shrimp - You'll want to be sure and get the larger shrimp. If you buy smaller shrimp it has a tendency to dry out when cooking. I also try to buy already peeled and deveined shrimp so it saves me time when its time to use them.
Mini Potatoes - Any potatoes will work -- I like to buy the mini white and red potatoes but if you cant find them. Buy the larger ones and cut them to 2" pieces so they will cook quickly and evenly.
Sweet Peppers - You can use green peppers, red peppers or orange peppers too, but if you buy the mini sweet peppers you can usually get the rainbow of colors in buying the on bag.
Cajun Seasonings - I'm giving you the pantry staples to make a fresh Cajun Seasoning just for this recipe (or go grab my cajun seasoning which this spice mix is based on to make and have it on hand for whenever you need it!)
You'll more than likely have everything in your spice cabinet to the cajun seasoning - paprika, garlic powder, celery salt, oregano, onion powder, thyme, cayenne (optional) and brown sugar.
You can also buy your favorite Cajun Seasoning and use that too. For that matter you can use any seasoning you like a lemon pepper seasoning, a sweet bbq rub or a mesquite spice seasoning mix.
You be you and use what you have and like!
🔪 Instructions
This is an overview of the instructions for the shrimp boils recipe. For the complete directions just scroll down to the bottom!
Start with the potatoes. Toss them with the olive oil and spice seasoning and make sure the potatoes are coated well. (only the potatoes are coated with olive oil so they get nice and crispy!)
Then take the corn on the cob and toss with the spice seasoning.
Place both the potatoes and the corn on the baking sheet and bake them in the oven for 15 minutes.
While those are baking, toss the peppers with the cajun spices and set aside.
Then do the same with the shrimp.
At 15 minutes remove the pan from the oven and add the peppers to the pan to bake for 10 minutes.
Lastly, add the peeled and deveined shrimp to the pan and bake for 6 minutes.
Remove from the oven and stir to mix well.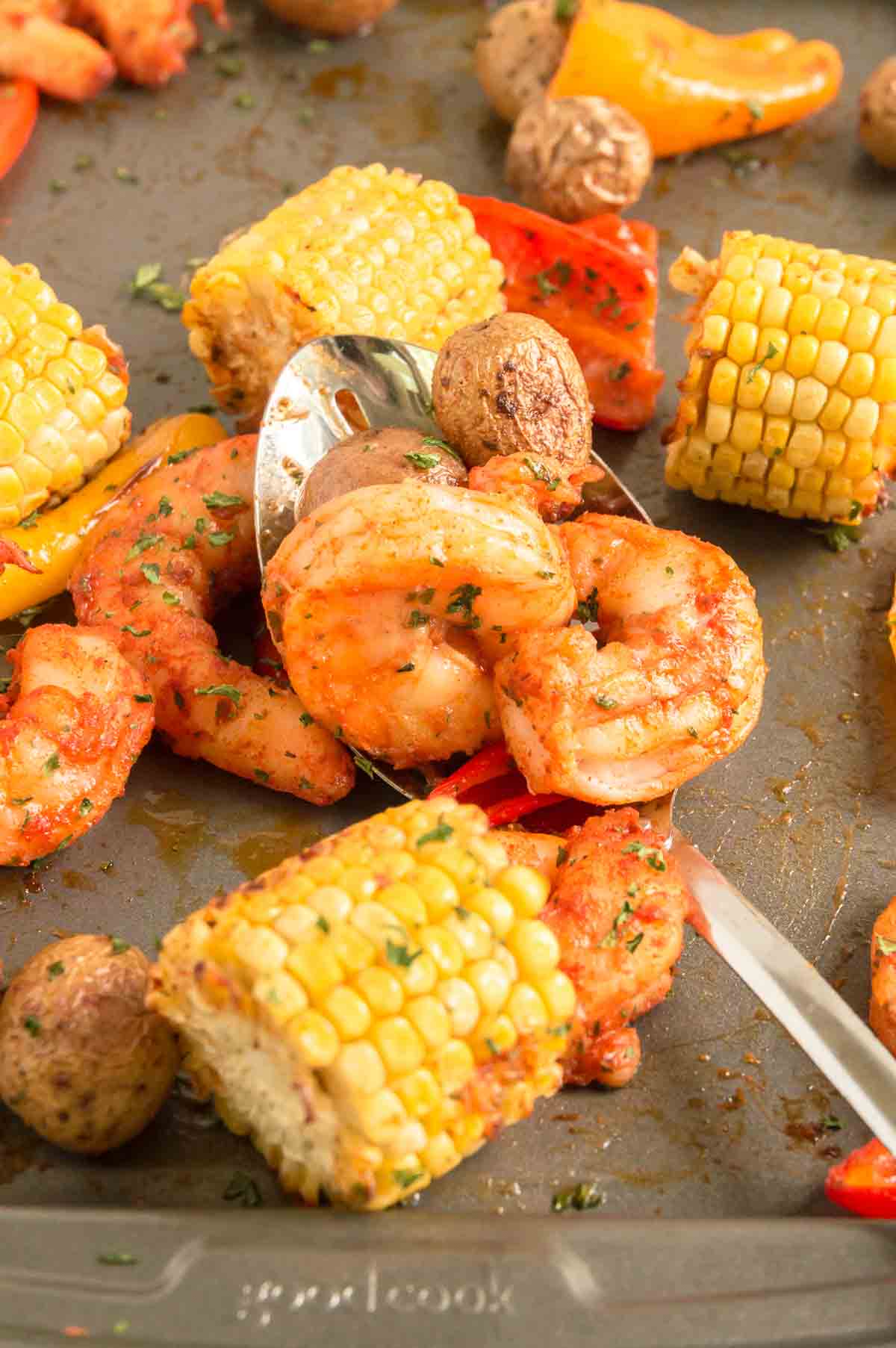 🙋‍♀️ FAQ's
Can I use smaller shrimp for this recipe?
I highly recommend you use colossal shrimp (15 shrimp per pound or at the very minimum extra jumbo shrimp (16-20 per pound.) Using any smaller amount you will have to be very careful when baking them that they do not overcook.
Do I have to remove the shells to make this recipe?
You don't have to at all. I have found in entertaining that its just easier for my guests but some people love the added flavor that comes with keeping the shells on while cooking!
How much seasoning mix will I need if I don't make my own?
I suggest using 4 tablespoons total-- 1 tablespoon for each ingredient. If you are using something that is really salty--- like a Lawrys seasoning salt you will want to cut that number in half as my seasoning mix is light on salt!
👍 Tips
The Sheet Pan Shrimp Boil recipe is almost foolproof if you follow these tips
Cut the vegetables all the same size so they cook evenly.
Use larger shrimp so you don't have to worry about the shrimp drying out. Shrimp cook very quickly and there is nothing worse than dried out overcooked shrimp.
Serve this over rice or pasta for a full meal.
You can also melt butter over the empty sheet pan to scrape up extra juices and bits remaining after baking the shrimp in the oven and drizzle the butter mixture over the top at the last minute for extra deliciousness.
Expert Tip: Stock up on frozen shrimp when it's on sale and keep it in your freezer for when you need it!
Variations
Add smoked andouille sausage and make it a true low country boil!
In a pinch for seasoning, substitute Old Bay Seasoning mix.
More One Pan Oven recipes you might enjoy
I hope you enjoy this easy oven baked shrimp recipe, it's the perfect summer meal! If you love to entertain but don't want to stress out over the details I'd love it if you would join me at West Via Midwest. I share gourmet comfort food meals that I break down so they are easy to follow and you can make great food that isn't a lot of work!
Cajun Sheet Pan Shrimp Boil
Roasted shrimp, corn, potatoes and peppers come together in a quick and easy meal!
As an Amazon Associate I earn from qualifying purchases.
Ingredients
½

pound

Mini Red and White potatoes

see notes

1

Tablespoon

Olive Oil

2

Ears Corn on the Cob

cut into 3" pieces

1

pound

Sweet Peppers

cored, then sliced to ¼" slices

2

pounds

Colossal Shrimp

peeled and deveined
Cajun Spice Mix
4

Teaspoons

Paprika

1

Tablespoon

Brown Sugar

1

Teaspoon

Garlic Powder

1

Teaspoon

Oregano

½

Teaspoon

Onion Powder

½

Teaspoon

Thyme

½

Teaspoon

Cayenne Pepper

optional
Instructions
Preheat Oven to 400°

In a small bowl mix all of the ingredients for the spice mixture with a spoon until well combined.

In a larger bowl add potatoes and olive oil and coat well. If your potatoes are large, you will want to cut them down to smaller pieces (see note 1)

Sprinkle 1 tablespoon of cajun seasoning over the top and mix well. Add the potatoes to a sheet pan.

In the same bowl, add the small cut down corn pieces and toss with 1 tablespoon of cajun seasoning. Then place the corn next to the potatoes on the sheet pan.

Place the sheet pan into the preheated oven and bake for 15 minutes.

While those are baking, toss the cut peppers with 1 tablespoon of peppers. At the end of 15 minutes, add the seasoned peppers to the sheet pan and bake for 10 minutes.

Toss the shrimp with the remaining seasoning mix. Place onto the sheet pan at the end of the 10 minutes and bake for 6 minutes. You will want to check the shrimp at 4 minutes to make sure they aren't cooking to quickly. Shrimp cooks fast and you want to pull it out when it is just opaque.

Remove the pan from the oven and stir the pan ingredients. Serve alone, over rice or over pasta.

Optionally you can add 2 tablespoons of butter to the hot pan to get all of the juices and bits then spoon over the top of the bowl you are serving it in.
Notes
If you cant find small bite-sized potatoes, cut the potatoes into small pieces. You can cut into quarters with most smaller potatoes.
I suggest you remove the shells and devein the shrimp because it's easier to eat. However, if you want to serve your shrimp with the shells on you can. The cooking time will be the same.
If you're using store-bought seasoning you'll need about 4 tablespoons.
Nutrition
Calories:
398
kcal
|
Carbohydrates:
30
g
|
Protein:
51
g
|
Fat:
8
g
|
Saturated Fat:
1
g
|
Cholesterol:
572
mg
|
Sodium:
1780
mg
|
Potassium:
835
mg
|
Fiber:
6
g
|
Sugar:
11
g
|
Vitamin A:
4724
IU
|
Vitamin C:
169
mg
|
Calcium:
356
mg
|
Iron:
7
mg
Sign up for my recipes here!!
Don't worry, we'll never share your email.