Oven Baked Fajitas – Tender chicken, bell peppers and onions seasoned with spices and baked to perfection! Sheet Pan Chicken Fajitas are an easy meal that comes together in a snap! Perfect for meal planning and a great weeknight meal everyone loves!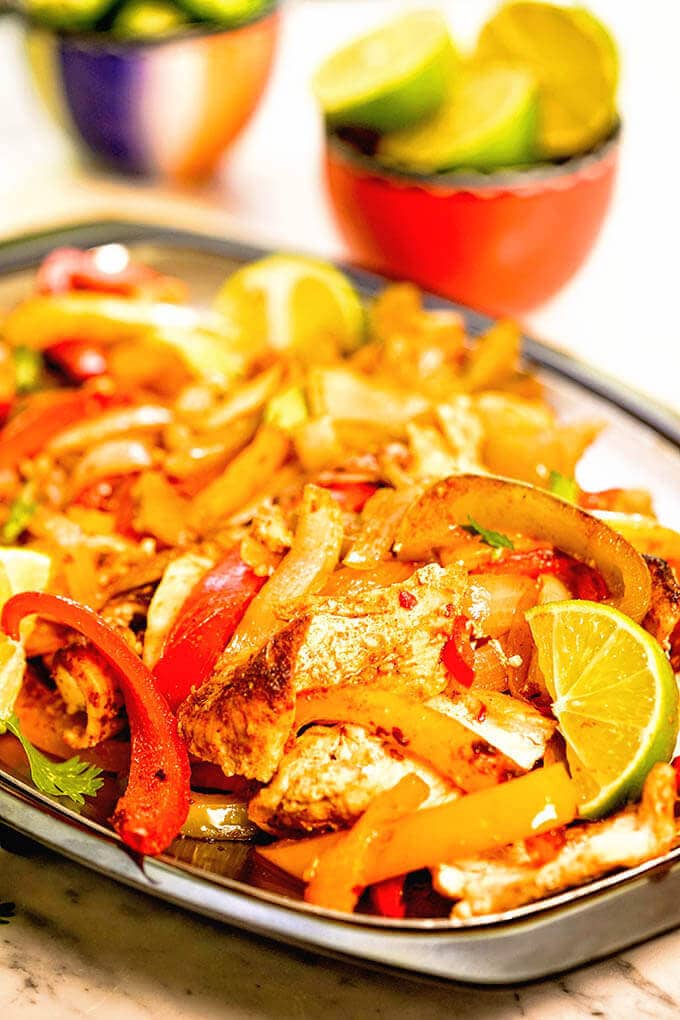 Sheet Pan Chicken Fajitas
Did I tell you we ate like royalty when we were in New Mexico?
Oh my goodness!
Standing at the Santa Fe Farmers Market. Enjoying the sites, sounds and aromas as the chiles are roasting, while the crowds surge by.
The Santa Fe Farmers Market is one of the top ten in the country. It's filled with fresh vegetables and beautiful handmade wreaths crafted from peppers. Artisans share their wares and music is played by performers on the corner.
An entire building is devoted to baked goods and rich, fresh coffee. You're completely surrounded by a taste of New Mexico!
I especially enjoyed sampling green chile sausage that was perfectly grilled. When I bit into it, the juices rolled down my arm. It was so good that every one of my fingers had to be licked clean!
Yes, I could have used a napkin, but hey… we were on vacation!
I remember Michelle saying "what did you do with the sausage?" and I smiled like the cat that swallowed the canary. 😋
Yup! It was that good!
So, of course, you know some tasty Mexican food is coming your way, right? YES! I knew you would!
Easy Oven Baked Chicken Fajitas
Baking them in the oven means no standing over the stove and if you line the sheet pan with tin foil or parchment paper, clean up is a breeze! No pile of dirty dishes? What's not to love!
So the first thing I'm going to do is send you over to my recipe for Fajitas Spice Mix. Hands down the best fajita mix ever! I bet you'll find you have everything you need already in your spice cabinet.
But having said that, if you take a shortcut and use a packet, that's ok, I won't tell!
Here's what you need to make the fajitas!
Ingredients for Oven Baked Fajitas
chicken – white or dark meat, use your favorite. I prefer white meat and that's what I used in this recipe.
red, green and orange bell peppers – the colored peppers are a little sweeter than the green, but you can certainly use all green if you'd prefer.
onion – yellow or white onion, you can even use red onion. It just has a more mild flavor
tortillas – corn or flour
fajita seasoning mix – for spicy deliciousness!
fresh lime – adds the perfect tang
olive oil – a great hearty-healthy oil, though you can certainly substitute with corn oil
One Sheet Chicken Fajitas
What's the difference between taco and fajita seasoning?
Is fajita mix and taco mix the same? Actually they are very similar in taste. Can you substitute them? Yes in a pinch! If you're looking to make your own fajita or taco mix, I have recipes for both on the blog!
Taco mix typically has more chili powder, fajita mix will be more earthy from the cumin and spicy from the red pepper flakes. If you mix your own, you'll be amazed at the improvement in flavor from the packets!
Do you put lettuce on fajitas?
Traditionally no – toppers for oven baked fajitas include sour cream, guacamole, chopped jalapeños and a squeeze of lime!
What do you serve with fajitas?
Of course, you'll want a big bowl of tortilla chips, pico de gallo and guacamole. Then how about street corn, slaw and black beans – how delicious!
For all of the BEST Mexican Party Food, be sure to click here!
Let's make Oven Baked Fajitas!
How do I make sheet pan chicken fajitas? ?
These are super simple to make you're going to love how quick and easy this recipe is!
preheat the oven
slice the chicken breast into thin 1/2 inch strips
clean the peppers, remove the seeds and thinly slice
do the same for the onion
line the sheet pan with aluminum foil or parchment paper
spread the ingredients evenly onto the pan, drizzle with olive oil and sprinkle with homemade fajitas mix
bake until chicken is cooked thru
finish with a squeeze of lime
Are you ready to give this recipe a whirl? I know you'll love it, in fact, the whole family will I'm sure!
I am a participant in the Amazon Services LLC Associates Program, an affiliate advertising program designed to provide a means for us to earn fees by linking to Amazon.com and affiliated sites.
Don't forget to check out my Amazon storefront for some of my favorite products! 🛍️
When you make this please be sure to tag me on Instagram @bowl_me_over or #bowlmeover – I'd love to see your pictures! And if you get a chance, please comment and leave me a ⭐⭐⭐⭐⭐ rating below!
Oven Baked Fajitas