Easy to make, spice up your meal with this easy recipe!
Homemade Fajita Mix Recipe! Ditch the packets and make your own seasoning! It only takes 5 minutes but tastes 100 times better than store bought. Ditch the seasoning packets, you already have the spices - why not make your own!
By now you know I'm a big fan of making my own seasoning mixes and I hope you are too! Next time try Montreal Steak Seasoning - it's one of my favorites!)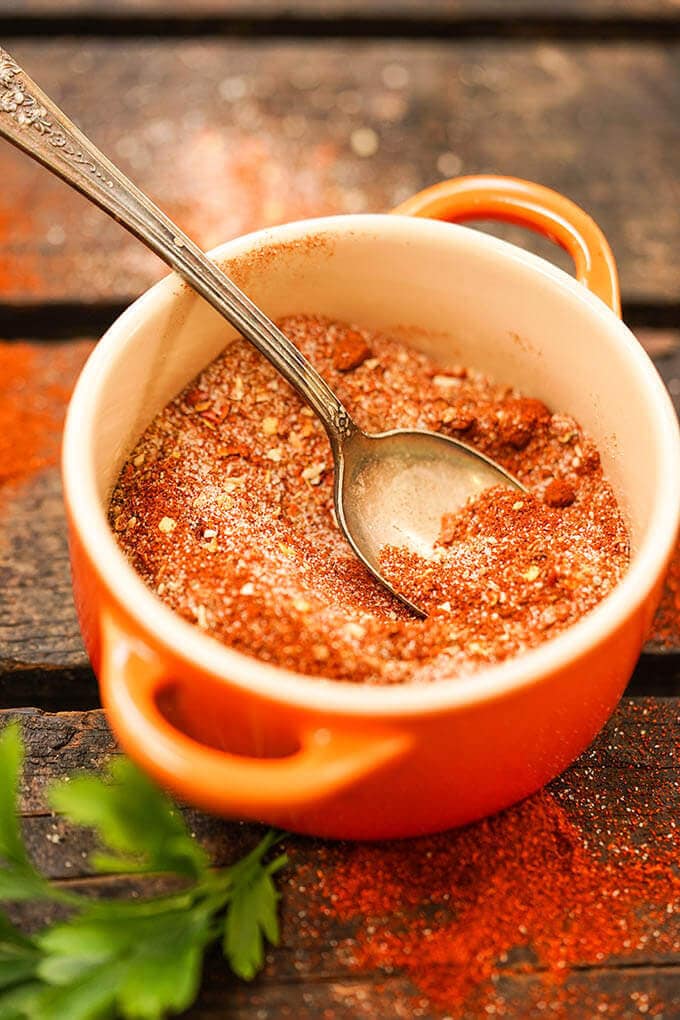 Jump to:
Why you'll love this recipe
✔️saves time
✔️saves money
✔️you can control the spice - add more chili powder if you want more heat, less if you don't!
Most importantly... you know what's in this mix - no preservatives and nothing you can't pronounce!
Ingredients
For the exact measurements for the homemade fajita seasoning mix recipe, please refer to the printable recipe card at the bottom of this post. 
chili powder - adds warms and spice.
sugar - for just a touch of sweetness.
cumin - adds an earthy depth of flavor.
smoked paprika - you can substitute with regular if you don't have smoked, but I like the smoked for that little hint of grilling without all the work!
onion powder - adds concentrated onion flavor and depth.
granulated garlic - compliments the spice mix, can substitute with 1 teaspoon of garlic powder.
kosher salt - to add flavor
red pepper flakes - helps turn up the heat! Cayenne pepper also adds a nice pop of heat!
Instructions
This is an overview of the instructions. For complete directions just scroll down to the bottom!
Measure ingredients into a small bowl or jar.
Stir to mix.
Store in an airtight container.
Equipment
The following are affiliate links. We are a participant in the Amazon Services LLC Associates Program, an affiliate advertising program designed to provide a means for us to earn fees by linking to Amazon.com and affiliated sites.
FAQ's
Can I use fajita mix in place of taco seasoning?
You bet, you'll need 2-3 tablespoons per pound of meat. Many seasoning mixes contain flour to thicken the sauce, so if you want the sauce with your tacos to be thick, add 1 teaspoon of flour to the seasoning mix prior to adding it to the meat.
Is there a difference between taco seasoning and fajita seasoning?
Yes, most fajita seasoning contains oregano and less garlic and onion powder, but in a pinch you can substitute.
How many tablespoons are in a packet of fajita seasoning?
There are two tablespoons of seasoning in the packets you'll purchase at the store.
How long does Fajita Mix Recipe last?
Stored in your pantry in an airtight container it will last about six months. So why not make your own?
Tips
After you've combined the mix, be sure to label the jar or container so. you don't forget what's inside!
Storage
Store spice mixes in an airtight container like a small mason jar. They are best stored and will keep longer in a dark place like the pantry or spice cabinet and will stay fresh up to six months!
Freezing excess fajita spice mix will help it to last even longer.
Related recipes
I think you'll really love this homemade fajita seasoning recipe! Making homemade spice blends is so easy and so much better than store-bought!
Serving suggestions
Using this recipe make a big platter of Sheet Pan Chicken Fajitas or you can use it for Skillet Chicken Fajitas - both are great recipes! Loaded with bell peppers and red onion, they are delish!
You can also use it to make Steak Fajitas with skirt steak or Shrimp Fajitas - super yummy!
Then to go with your meal here are some great side dishes:
Chipotle Black Bean Recipe - easy to make on the stove top or pressure cooker.
Mexican Street Corn - your favorite vegetable made even better!
This easy to make Mexican Coleslaw Recipe is a tasty twist on traditional slaw.
Southwest Salad - loaded with bright fresh crunch this is easy to make and delicious.
Don't forget to check out my Amazon storefront for some of my favorite products! 🛍️
If you love this recipe please leave a ⭐⭐⭐⭐⭐ rating!
Fajita Spice Mix
Easy to make, spice up your meal with this easy recipe!
As an Amazon Associate I earn from qualifying purchases.
Ingredients
2

tablespoon

chili powder

1

tablespoon

sugar

1

tablespoon

cumin

1

tablespoon

salt

2

teaspoon

onion powder

2

teaspoon

granulated garlic

1

teaspoon

red chili flakes
Instructions
Measure all of the ingreients into a small jar.

Use 2-3 tablespoons in place of seasoning packet.

Seal well and store in the pantry for up to six months.
Nutrition
Calories:
31
kcal
|
Carbohydrates:
6
g
|
Protein:
1
g
|
Fat:
1
g
|
Saturated Fat:
1
g
|
Sodium:
1458
mg
|
Potassium:
115
mg
|
Fiber:
2
g
|
Sugar:
3
g
|
Vitamin A:
1083
IU
|
Vitamin C:
1
mg
|
Calcium:
25
mg
|
Iron:
2
mg
Sign up for my recipes here!!
Don't worry, we'll never share your email.
Often times you have all of the spices you need in your cabinet and let's be honest, how many times do you look thru the cabinet, only to find some that are already expired?
I hate that. Having said that, don't get me wrong - you know I'm all about convenience! However using what I have on hand just makes better sense, wouldn't you agree?
This is one of Dan's favorites! When I made fajitas last week, he loved it. They were tasty and flavorful, with just the right amount of spice and heat!