Homemade Fajita Mix Recipe! Ditch the packets and make your own seasoning! It only takes 5 minutes but tastes 100 times better than store bought! You already have the spices – why not make your own!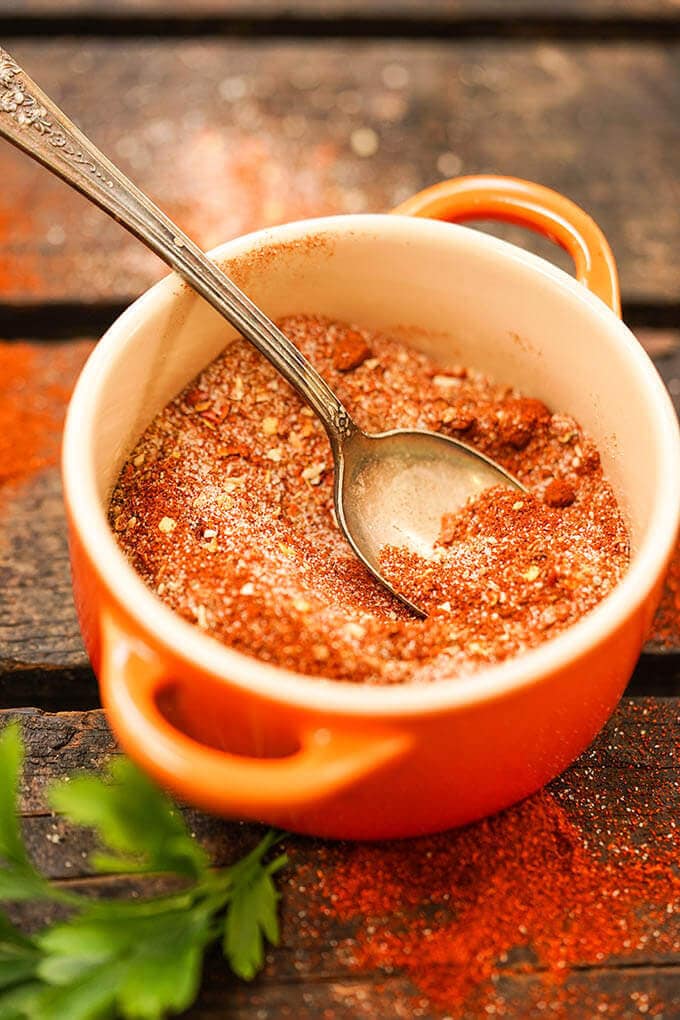 Homemade Fajita Mix
By now you know I'm a big fan of making my own seasoning mix and I hope you are too! (My recipe for Montreal Steak Seasoning is quickly becoming one of my favorites!) Making your own saves times and money and only takes minutes to do, so why not?
Often times you have all of the spices you need in your cabinet and let's be honest, how many times do you look thru the cabinet, only to find some that are already expired?
I hate that. Having said that, don't get me wrong – you know I'm all about convenience! However using what I have on hand just makes better sense, wouldn't you agree?
This is one of Dan's favorites! When I made fajitas last week, he loved it. They were tasty and flavorful, with just the right amount of spice and heat!
Easy Fajita Seasoning
Ingredients for Fajita Mix Recipe
chili powder – adds warms and spice.
sugar – for just a touch of sweetness.
cumin – adds an earthy depth of flavor.
smoked paprika – you can substitute with regular if you don't have smoked, but I like the smoked for that little hint of grilling without all the work!
onion powder – adds concentrated onion flavor and depth.
granulated garlic – compliments the spice mix
salt – to add flavor
red chili flakes – helps turn up the heat!
Can I use fajita mix in place of taco seasoning?
In a pinch, you bet! You'll need 2-3 tablespoons per pound of meat. Many seasoning mixes contain flour to thicken the sauce, so if you want the sauce with your tacos to be thick, add 1 teaspoon of flour to the seasoning mix prior to adding it to the meat.
Is there a difference between taco seasoning and fajita seasoning?
Yes, most fajita seasoning contains oregano and less garlic and onion powder, but in a pinch you can substitute.
How many tablespoons are in a packet of fajita seasoning?
There are two tablespoons of seasoning in the packets you'll purchase at the store.
How long does Fajita Mix Recipe last?
Stored in your pantry in an airtight container it will last about six months. So why not make your own?
What goes with fajitas?
Well darn near everything in my book! 😋 Here are some of my favorite recipes to enjoy with them!
See? There's a ton of food to enjoy with the – I know you'll love this recipe!
Easy Spice Blend
Have I talked you into making your own yet? I hope so, here's why!
saves time
saves money
you can control the spice – add more chili powder if you want more heat!
most importantly… you know what's in this mix – no preservatives and nothing you can't pronounce!
More Delicious Homemade Spice Blends !
I am a participant in the Amazon Services LLC Associates Program, an affiliate advertising program designed to provide a means for us to earn fees by linking to Amazon.com and affiliated sites.
Don't forget to check out my Amazon storefront for some of my favorite products! 🛍️
If you post a photo, please tag me! I'd love to see your pictures! You can tag me with #bowlmeover or if you're on Instagram use @bowl_me_over I can't wait to see how yummy this turned out for you!
Fajita Mix Recipe