Sprinkled with lime and a quick homemade spice mix then grilled to perfection! you'll want to be sure and make extras for snacking!
Seriously delicious this is the Best Grilled Shrimp Tacos Recipe! This quick recipe takes only 15 minutes to make. Spicy bbq shrimp wrapped in a tortilla and topped with cabbage slaw, salsa and cilantro lime sauce - YUM!
This recipe for Ahi Tuna Poke Bowl is loaded with rice, avocado, mangos and topped with a creamy, spicy sauce - I hope you try it next!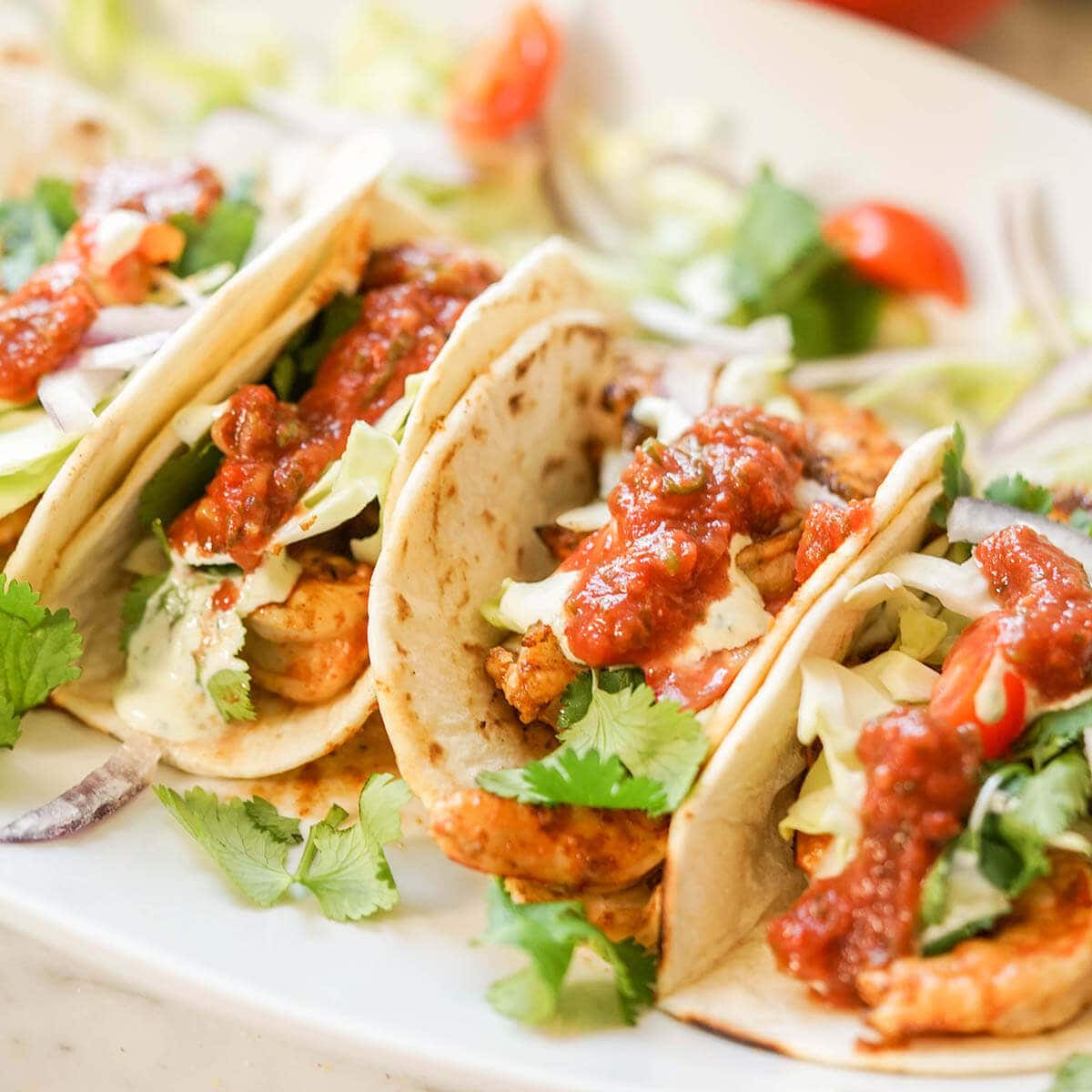 Why you'll love this recipe
Mexican food doesn't have to mean a heavy meal drenched in sauce and cheese - though I admit I love a great enchilada with all the fixings!
This simple cooking light shrimp tacos recipe will have you enjoying a great meal that's light and delicious and takes only 15 minutes to make!
Ingredients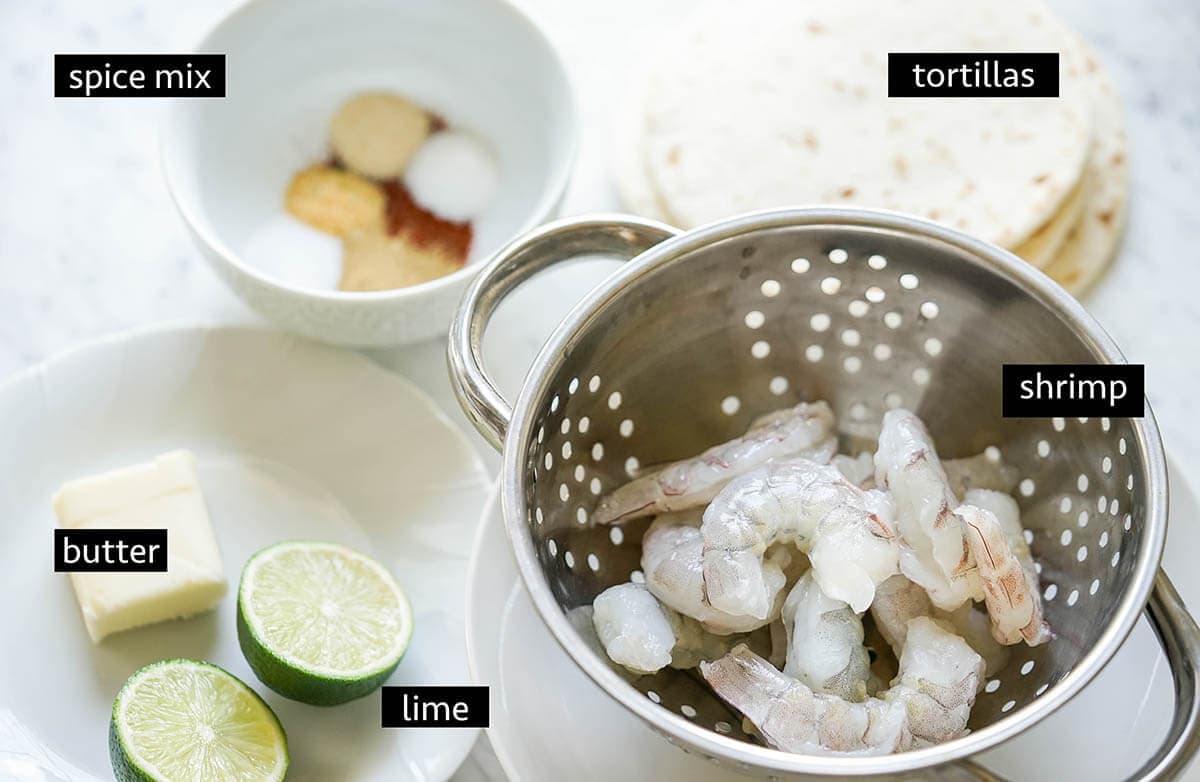 For the exact measurements for this grilled shrimp recipe, please refer to the recipe card at the bottom of this post.
shrimp - the larger the better.
chili powder, sugar, cumin, salt, garlic and onion powder - spices you have in your cabinet are the perfect combination.
lime - helps the spices adhere to the seafood.
butter - for basting while they are cooking.
corn tortillas or flour tortillas, we prefer the small street taco size.
grilled shrimp taco toppings - green or red cabbage, fresh cilantro, chopped tomatoes, jalapeños, cilantro lime sauce, salsa - use your favorites!
Instructions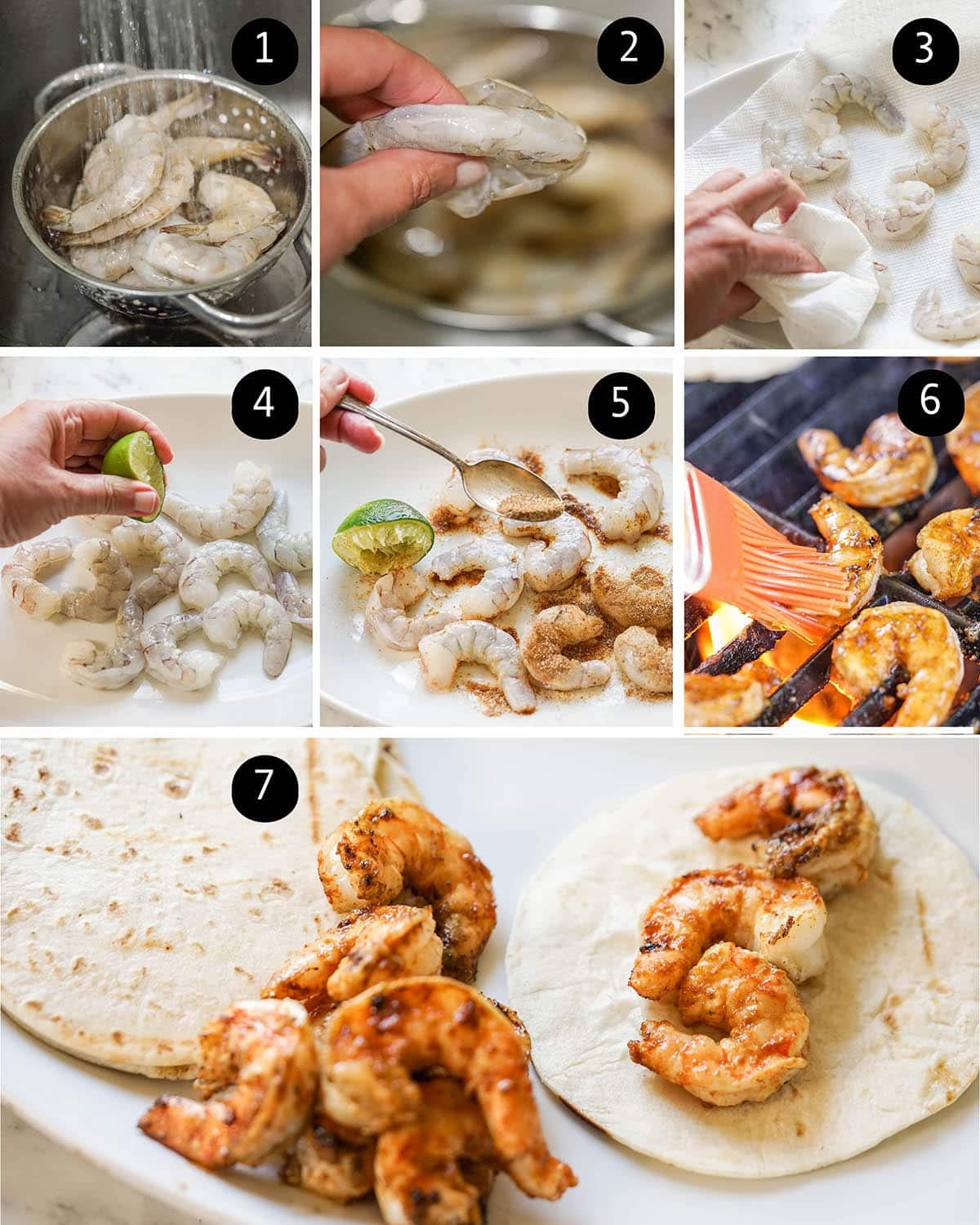 This is an overview of the instructions for bbq shrimp tacos. For the complete directions for the bbq shrimp tacos just scroll down to the bottom!
If frozen thaw the shrimp. An easy way to thaw them is to place them in a colander under cool running water.
Remove the shell and dark vein running down the back of the shrimp.
Blot the shrimp dry with a paper towel.
Squeeze the lime over the seafood.
Sprinkle with the spice mix.
BBQ the shrimp on a hot preheated grill. The amount of time it takes will depend on the size of the seafood purchased. But regardless, it only takes minutes per side!
Pile the grilled shrimp tacos on the tortillas and add your favorite toppings!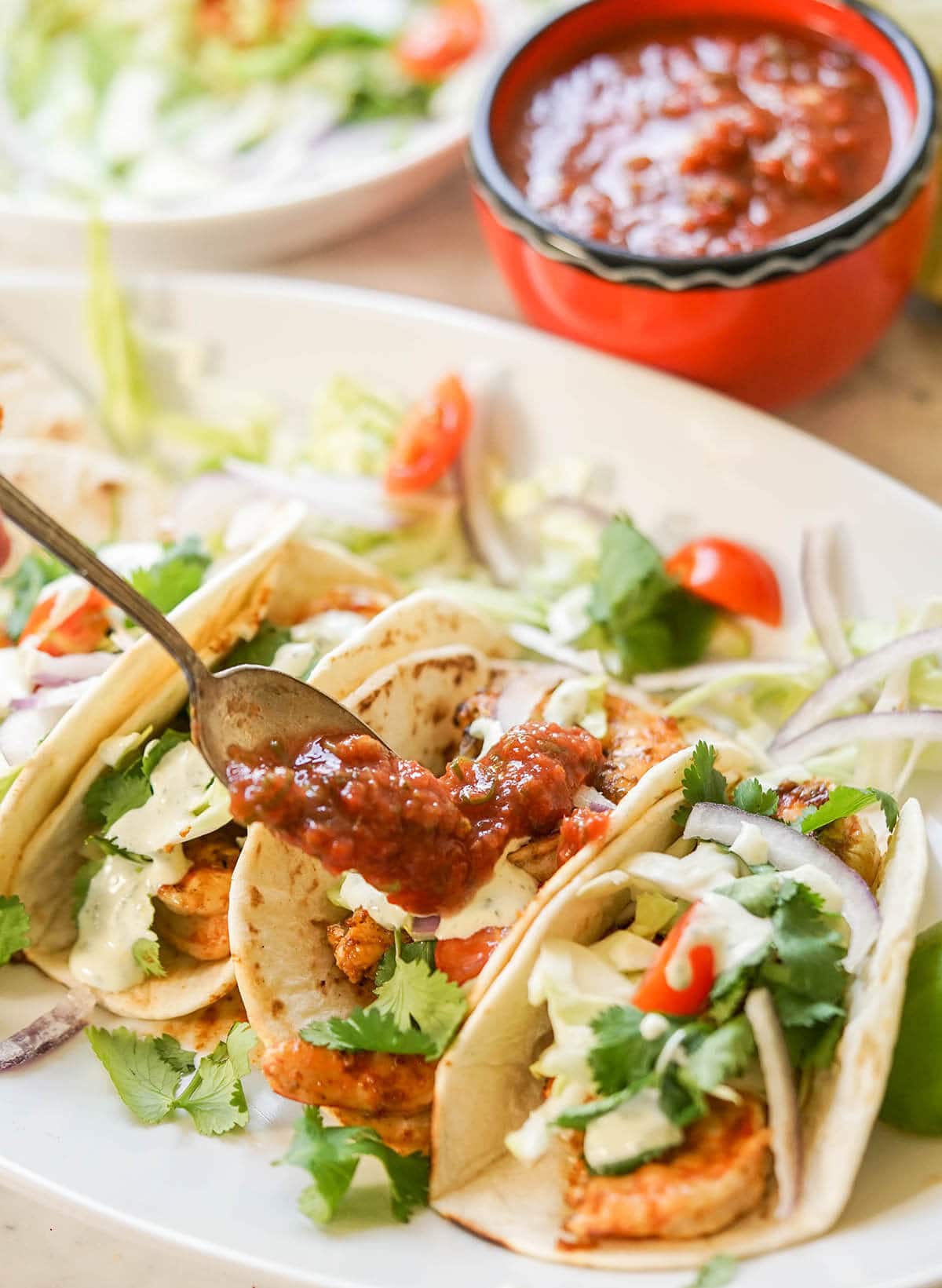 FAQ's
Is it best to use fresh or frozen shrimp?
Living in land-locked Fresno - fresh shrimp isn't an option. Frozen shrimp is our option and I think it works just great. I will buy a bag every 6 weeks or so and then remove and thaw as we need them.
What is the best size shrimp?
Any size will work for this recipe, however larger will be easier to because they won't fall through grill. If smaller shrimp is your best option, consider purchasing a basket to cook them in. I'll link one below. They are great for seafood, fish and vegetables.
How do you keep shrimp from sticking to the grill?
Be sure to preheat your grill well. Allow it to get super hot. Spray with non-stick cooking spray right before grilling.
How will I know when the shrimp is done?
It will only take 2-3 minutes per side to cook completely. You'll know they are done when the skin turns red and flesh will be pearly opaque.
What if I don't have a grill?
No problem! You can certainly cook this meal indoors. Utilize a stovetop grill or a skillet to cook these flavorful shrimp! The important thing is to give this recipe a try!
Tips
You can use either corn or flour tortillas, that's really person preference. I like using small street taco size. That way you can enjoy a couple of tacos and not feel guilty! 😋
Want restaurant quality tacos? Cook the tortillas! Whether it's on the bbq or in a fry pan on the stove, giving the tortilla a quick sear will take your tacos to the next level!
Serving Suggestions
Keep it simple with chips, rice and black beans. I really think you don't need more than that!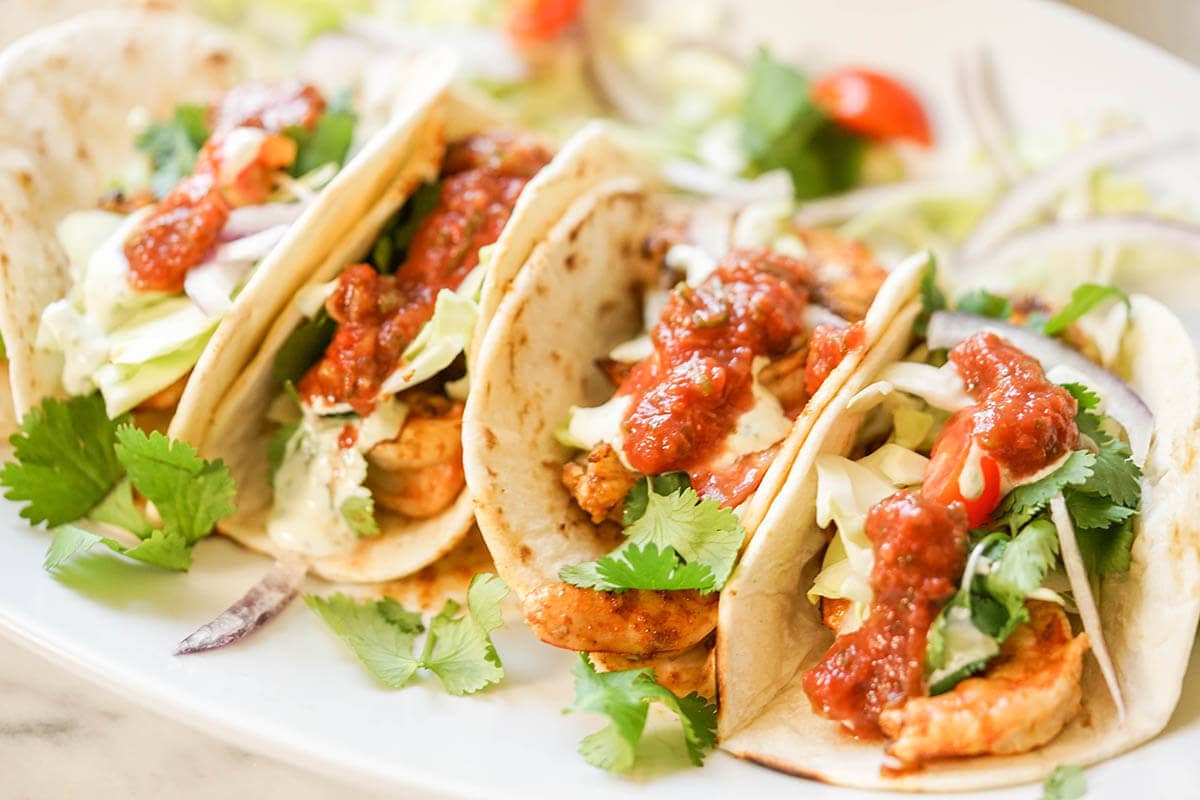 Variations
Really you can use your favorite toppings. We usually keep it quite simple with thinly sliced cabbage, red onions, cilantro lime sauce and salsa. I think it really makes the grilled shrimp the star of the tacos!!
You want your tacos all dolled up? Then here are more toppings to enjoy!
Mexican coleslaw - bright freshness with loads of flavor, a mayo-free slaw is perfect to top off tacos!
A side of Chipotle Black Beans and Cilantro Lime Rice are great side dishes!
sliced jalapeños, Pico de Gallo, sour cream, guacamole and shredded lettuce or cabbage.
Avocado Salsa - filled with tomatoes, jalapeños and onions with fresh lime juice - this is mighty tasty!
Related Recipes
👩‍🏫 What I've learned
It's no secret, I really love tacos! Whether they are beef, pork, chicken or fish but I have to say - these grilled shrimp tacos are just the BEST!
Whether they are grilled outside or pan-fried tacos are a meal everyone loves! Most are super simple to make as well.
🔪 Equipment
You'll need just a few pieces of equipment to make this recipe:
grill or grill pan for the stovetop
seafood grill basket
tongs for flipping the shrimp
Grilled Shrimp Tacos Recipe
Sprinkled with lime and a quick homemade spice mix then grilled to perfection! you'll want to be sure and make extras for snacking!
As an Amazon Associate I earn from qualifying purchases.
Ingredients
12

large shrimp

thawed if frozen, shelled and deveined

½

teaspoon

chili powder

½

tsp

cumin

½

teaspoon

kosher salt

¼

teaspoon

garlic powder

¼

teaspoon

onion powder

¼

teaspoon

granulated sugar

1

tablespoon

butter

melted

1

lime

juiced

4

corn or flour tortillas

taco toppings - finely chopped cilantro, shredded cabbage, diced avocado, salsa
Instructions
Preheat the grill to 400 degrees.

Mix the spices together in a small bowl.

Clean and shell and devein the shrimp, rinse thoroughly, pat dry.

Mix together the spices. Squeeze fresh lime juice over the shrimp then sprinkle with the spice mix.

Place the shrimp on the hot grill. Brush side two with some melted butter and sprinkle with seasoning.

Depending on the size of your shrimp it will take 2-3 minutes per side. Flip after you see light charring on side one and grill for another 2-3 minutes until browned on side two, basting with butter.

Quickly grill the tortillas, like the shrimp it will only take a minute or two per side.

Remove from grill and prepare your tacos with your favorite fixin's!
Notes
Restaurant style tacos start with the tortillas. Be sure to grill them. The char adds a ton of flavor and is so delicious. 
Rounding out the meals with black beans and rice makes for a complete fiesta!
Nutrition
Calories:
369
kcal
|
Carbohydrates:
50
g
|
Protein:
16
g
|
Fat:
13
g
|
Saturated Fat:
6
g
|
Cholesterol:
106
mg
|
Sodium:
1493
mg
|
Potassium:
63
mg
|
Fiber:
7
g
|
Sugar:
5
g
|
Vitamin A:
323
IU
|
Vitamin C:
11
mg
|
Calcium:
227
mg
|
Iron:
4
mg
Sign up for my recipes here!!
Don't worry, we'll never share your email.
Published May 18, 2020 updated May 2, 2021 to improve readability.