Oven Baked Carrot Recipe is simply, healthy and easy to make! Dressed with olive oil, salt and pepper and finished with mint, it's the perfect side to compliment any meal.
Roasting brings out the best in carrots. It caramelizes and crisps the edges, leaving the center tender and sweet. It's an easy to make, affordable vegetable that everyone loves! Oven baked carrots are simple and good!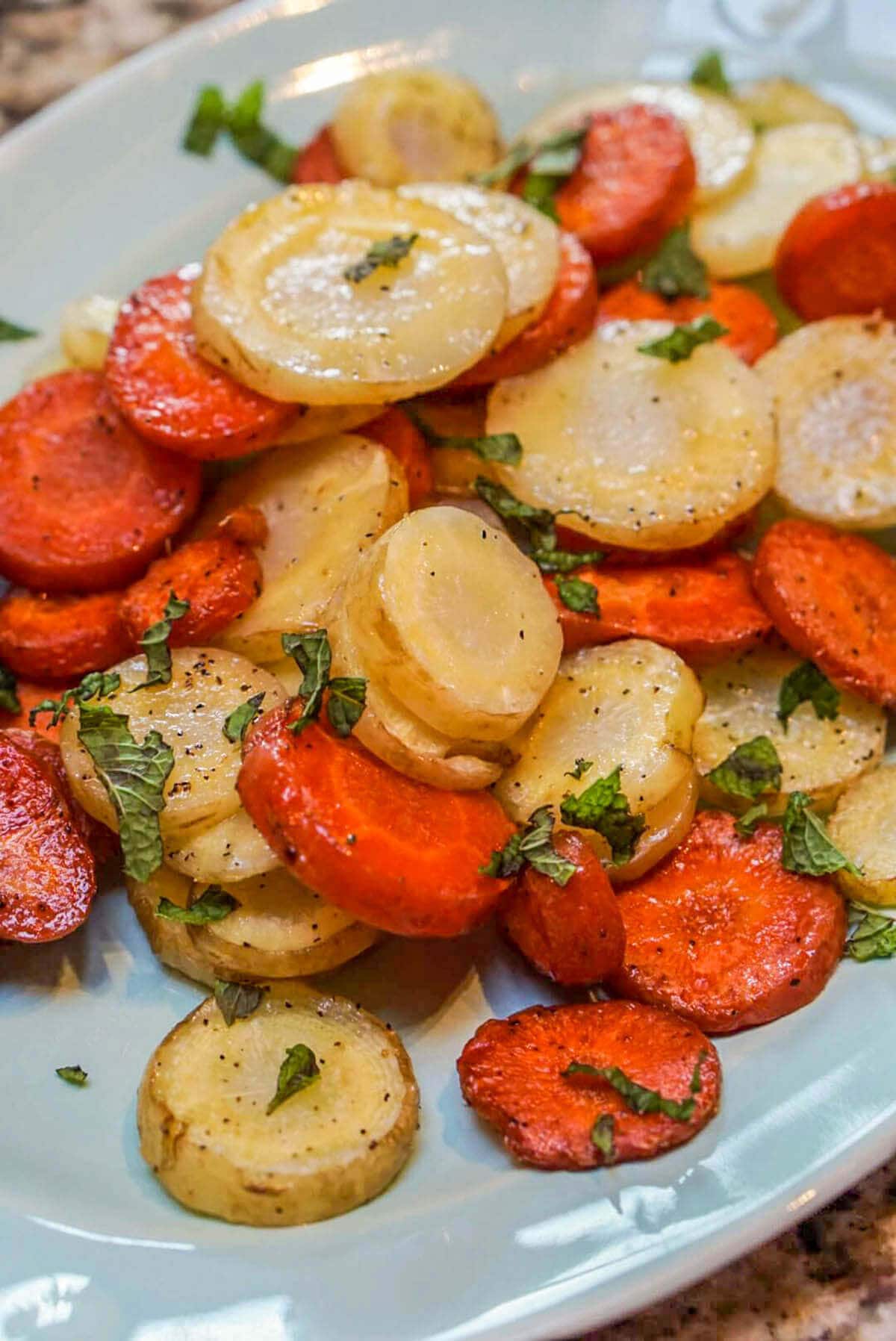 Roasted Carrots
Although I'm not a vegan or vegetarian, I really don't think I've met a vegetable I didn't like!
Roasted, steamed, grilled or in a soup, no matter the vegetable there's always a great way to either make it the star of the show or a great side dish!
One of my favorites ways to enjoy veggies are to roast them. Pan roasting on the stove top or right in the oven.
The heat of the oven caramelizes the natural sugars in vegetables, which brings about an amazing depth of flavor. What's not to love?!!
This recipe originated from a trip to the Farmer's Market when we were visiting our friends Ron and Michelle in New Mexico.
You remember Michelle, right? She's my fabulous friend who got me back into jamming years back.
One of our adventures included a visit to the Farmer's Market. Santa Fe has one of the top 10 Farmer's Market in the United States.
Baskets and baskets of chilies - there will be more in a future blog, but I wanted to share with you this short video I took of farmer Phil Loomis of Jacona Farms as he was roasts the chilies. After they are roasted, they pack them whole into small bags and offer them for sale. The video is short, less than a minute - definitely check it out!
Another treat at the market was a sample we tried - oven baked carrots with mint - delicious! Of course Michelle and I decided that would be perfect with dinner.
So simple too and I know you'd love this easy dish so I wanted to share.
Never roasted carrots? Here's what you need to know!
Other you're using carrots from the farmers market or a bag of baby carrots from the grocery store, this side is simple to make!
Ingredients for Oven Baked Carrots
carrots - you can use whole carrots or baby carrots that have already been peeled.
mint, salt and pepper - for seasoning
olive oil - to toss the vegetables prior to roasting
Do you peel carrots before baking?
To peel or not to peel it's totally up to you! However either way you'll want to be sure scrub the skin well to remove any dirt and grime.
What is the healthiest way to cook carrots?
Steaming is a great choice as there's no added fat. Roasting or oven baking is also a great choice for a healthy meal.
How do you cut carrots for roasting?
I like cutting them in thick "coins". You can also slice them on the bias to make them extra pretty.
Roasting really brings out carrots' best qualities.
What type of pan is best to oven roast carrots?
You can use an aluminum sheet pan or my favorite is a cast iron pan. Cast iron heat evenly and it's perfect for roasting vegetables.
Steps to make oven baked carrots
Toss carrots with olive oil, salt, and pepper.
Bake until they're golden on the edges and tender throughout.
Place the carrots on your prettiest dish!
Mince the mint and sprinkle over the carrots just prior to serving.
It's that easy!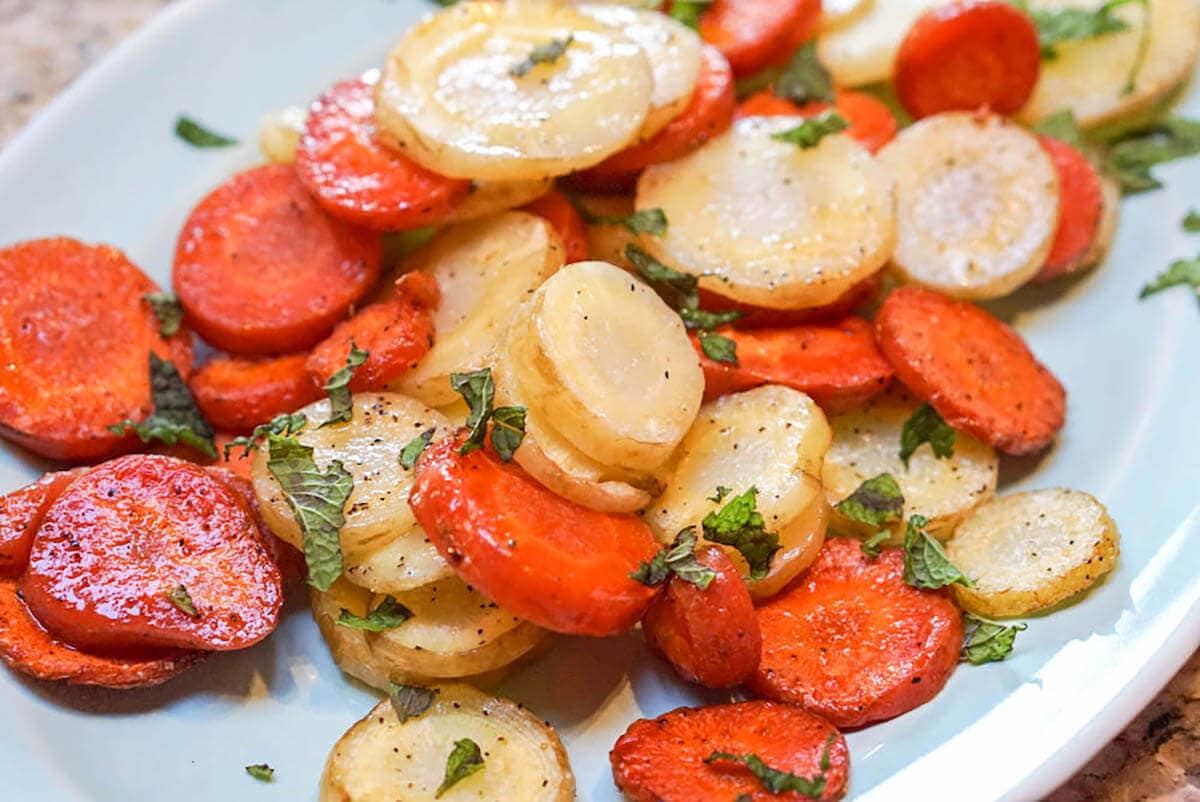 Carrots in oven
More of my favorite vegetables!
Roasted Cauliflower - I love how the edges brown and caramelize don't you? Of course any potatoes are delicious roasted - here are more of my favorites!
Can it get any easier? Food is perfect when it is made simply. This recipe is an excellent example!
Here's my favorite Cast Iron Skillet, it's what I use to roast vegetables!
Oven Baked Carrots
Oven Baked Carrots with Mint
Oven Baked Carrot Recipe is simply, healthy and easy to make! Dressed with olive oil, salt and pepper and finished with mint, it's the perfect side to compliment any meal.
As an Amazon Associate I earn from qualifying purchases.
Ingredients
3-4

carrots

1

tablespoon

mint

1-2

tablespoons

olive oil

salt and pepper
Instructions
Preheat the oven to 400 degrees.

Clean the carrots. Slice them into small coins. Drizzle with olive oil, sprinkle with salt & pepper. Place in the preheat oven for 25 minutes total until the edges are golden and the carrots are tender. Give them a good stir af 15 minutes - place them back in the oven for another 10 minutes.

Remove from the oven and place on a platter. Sprinkle with mint and serve.
Nutrition
Calories:
50
kcal
|
Carbohydrates:
4
g
|
Fat:
3
g
|
Sodium:
32
mg
|
Potassium:
146
mg
|
Fiber:
1
g
|
Sugar:
2
g
|
Vitamin A:
7695
IU
|
Vitamin C:
3.1
mg
|
Calcium:
18
mg
|
Iron:
0.2
mg
Sign up for my recipes here!!
Don't worry, we'll never share your email.