Perfect grilled asparagus is so simplle to make and an easy side dish!
Perfectly crisp, tender crunchy asparagus made on the grill. Grilling Asparagus on Gas Grill is easy to do! It's a simple side dish that only takes minutes to make!
Love these? Try grilled bacon wrapped asparagus next!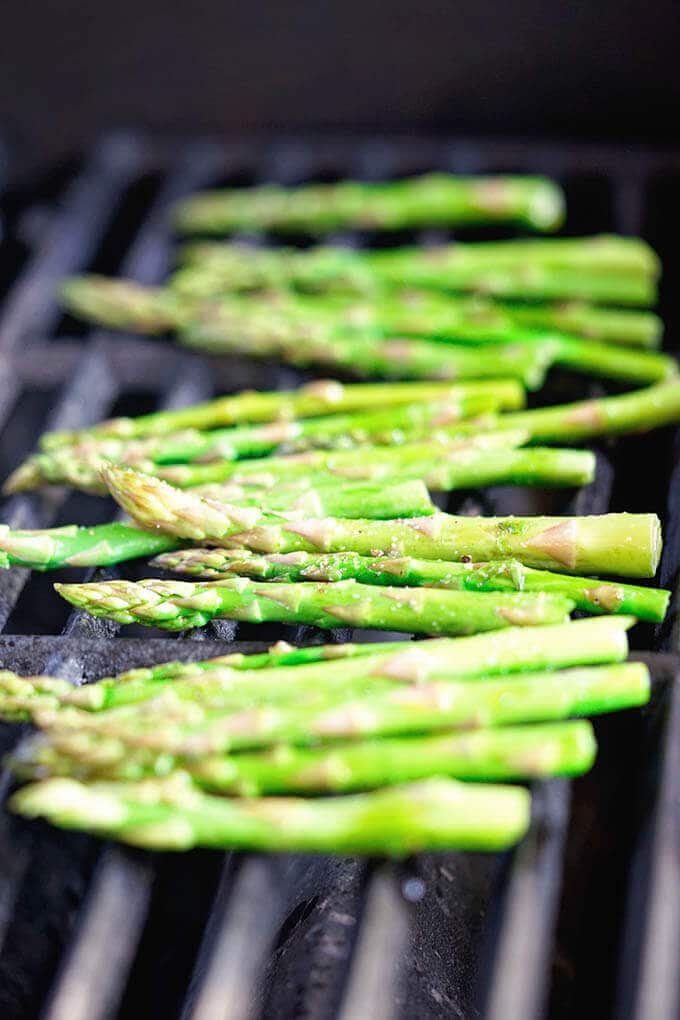 Jump to:
❤️ Why you'll love this recipe
I think just about any vegetable grilled tastes better, wouldn't you agree? There's something about the smoke and char that adds a ton of flavor with minimal effort.
BBQ'ing asparagus on the grill is a quick and easy side dish and takes just minutes to make. While you're letting your bbq'd chicken or steak rest, then toss these on the grill and poof they are done!
Recipe backstory
The first time I tried grilled asparagus was when I moved to a little town in Wisconsin. It was over at my friend Mary's house and they were so sweet and tender!
I immediately when home and planted some asparagus roots.
Only to find out that they wouldn't produce for two or three years! I was able to enjoy just a few stalks before moving out of the area, darn it!
The amazing thing about asparagus is that the plant is a perennial. It comes back each year! And each year produces more abundantly than the previous year.
I'm hoping someone is enjoying delicious spring asparagus right now!
Ingredients
fresh asparagus spears - available year-round at the market and during the spring at farmers markets!
olive oil - adds flavor and also helps the seasonings stick.
kosher salt, black pepper & seasoning salt to bring out the best of the vegetable.
fresh lemon juice - optional, but I recommend it! Squeezing lemon juice over the asparagus at the end adds so much flavor!
Instructions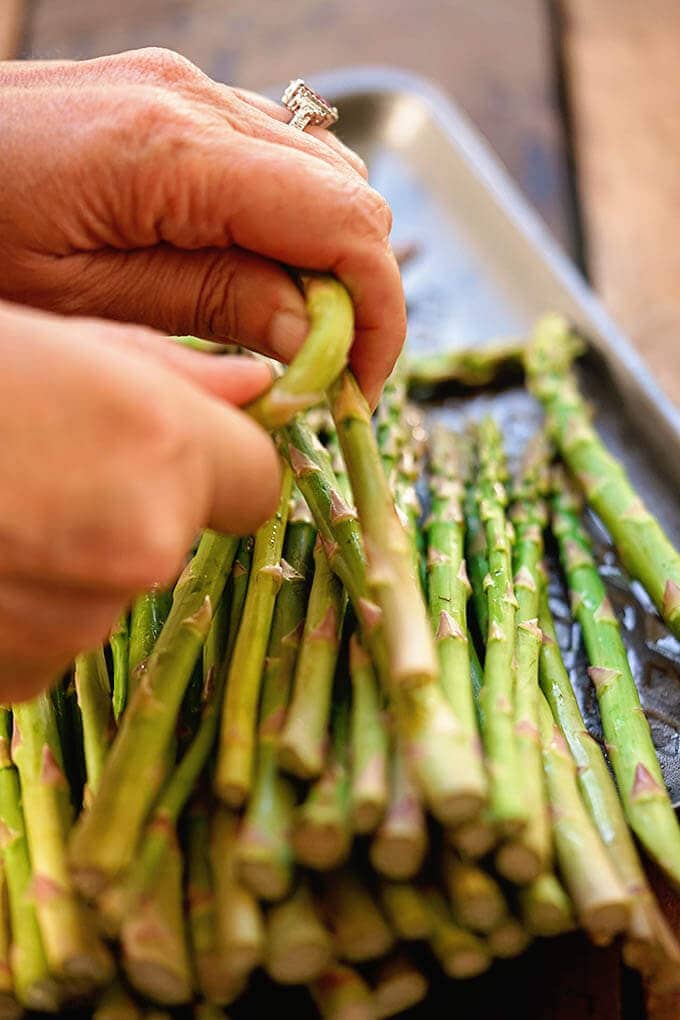 This is really so simple and the best way to grill asparagus
wash the asparagus well
snap off the ends
preheat the grill
drizzle with olive oil
place the asparagus stalks on the grill, perpendicular to the grill grates. That way they won't fall through the grill (see below for example).
sprinkle with salt, freshly ground black pepper and seasoning salt
finish with a squeeze of lemon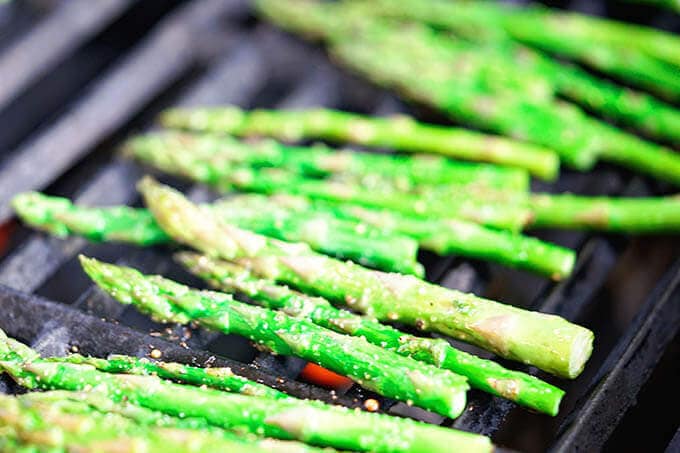 🙋‍♀️ FAQ's
What is the best part of asparagus?
Often the bottom of the stalk is woody and tough to chew. Simply snap off the end and discard or save it to make vegetable broth.
How can you tell if asparagus is good?
The stalks will be firm and bright green - the tips purple and dark green.
Do you have to blanch asparagus before cooking?
If the stalks are thick you can blanch them for two minutes, but it's not something I've done. I try and choose thin stalks and so it's not necessary. Anything to cut out an extra step and more dirty dishes, right? 🤣
Can I eat asparagus raw?
Absolutely, the young tender stalks are quite tasty raw!
How do you prepare asparagus in the oven?
I grill it whenever possible, but if it's cold, rainy or you just don't feel like going outside you can certainly roast the asparagus in the oven instead.

Preheat the oven to 400 degrees. Line a baking sheet with foil. Prepare the asparagus as described below, instead bake for 12-15 minutes. Flip the asparagus halfway thru cooking.
👍 Tips
If you think you'll need a pound... make two pounds! Seriously this is so good and leftovers make a great snack. I always double the recipe and I'm never disappointed!
How to choose and store asparagus
Now if you're not lucky enough to head out in the backyard and harvest these tasty stalks (and who is??) this is what you need to look when you are purchasing fresh asparagus;
stalks that are bright green
the top of the stalk has a slight purple hue
size indicates the maturity of the stalk - Thinner stalks will be more tender. But thick asparagus spears won't fall through the grill, so there's that!
when you get home, snap off the end of the stalk and store them in water, cut side down. They will continue to absorb water, keeping them plump and tender!
Variations
You can use any type of seasoning to add flavor to your vegetables - Lemon pepper, Montreal Steak Seasoning, Dry Rub or a season-all. What ever you'd prefer - you do you!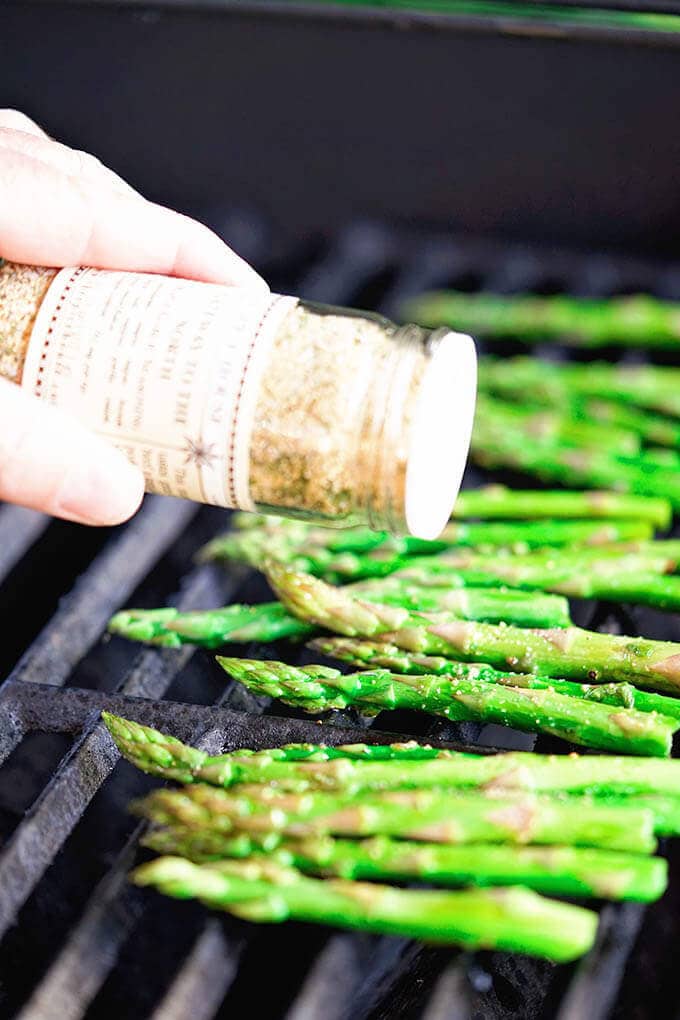 Serving suggestions
Oh my gosh, maybe the thing to say is what doesn't go with this? Asparagus on the grill is great with grilled Tri Tip, lemon pepper chicken or a great side dish for lemon pasta. What a lovely dinner!
Related recipes
When you make this recipe, I'd love it if you'd leave a five-star rating below!
If you post a photo, please tag me! You can tag me with #bowlmeover or on Instagram at @bowl_me_over so I can see how yummy they turned out!!
Grilling Asparagus on Gas Grill
Perfect grilled asparagus is so simplle to make and an easy side dish!
As an Amazon Associate I earn from qualifying purchases.
Ingredients
1

lb.

fresh asparagus spears

2

tbsp

extra virgin olive oil

½

tsp

kosher salt

¼

tsp

pepper

1

tsp

seasoning salt

1

lemon

optional
Instructions
Preheat the grill to 400 degrees.

Wash the asparagus well and snap off the woody ends.

Drizzle with extra virtin olive oil.

Sprinkle with salt, pepper and seasoning salt.

Grill for 2-3 minutes on each side until bright green and tender.

While the asparagus are grilling slice the lemon in half and add to the grill also, grilling for about two minutes cut side down until it has nice char marks.

Remove the asparagus from the grill and plate, squeeze the lemon over top and enjoy!
Notes
Place the asparagus stalks on the grill, perpendicular to the grill grates. That way they won't fall through the grill.
Nutrition
Calories:
93
kcal
|
Carbohydrates:
7
g
|
Protein:
3
g
|
Fat:
7
g
|
Saturated Fat:
1
g
|
Sodium:
875
mg
|
Potassium:
266
mg
|
Fiber:
3
g
|
Sugar:
3
g
|
Vitamin A:
855
IU
|
Vitamin C:
20.6
mg
|
Calcium:
34
mg
|
Iron:
2.6
mg
Sign up for my recipes here!!
Don't worry, we'll never share your email.
Originally published May 26, 2018 - Updated June 9th, 2021 to improve instructions.