Whether you're planning a party or a cozy family meal for your St Patrick's Day Celebration, you'll find yummy easy Irish recipes here! No matter if you're looking for green food on March 17th or a pot of gold at the end of the rainbow, you'll find the best appetizers, drinks, soups and salads, main dishes or desserts. Traditional Irish foods and everything you need to plan the BEST menu for your meal!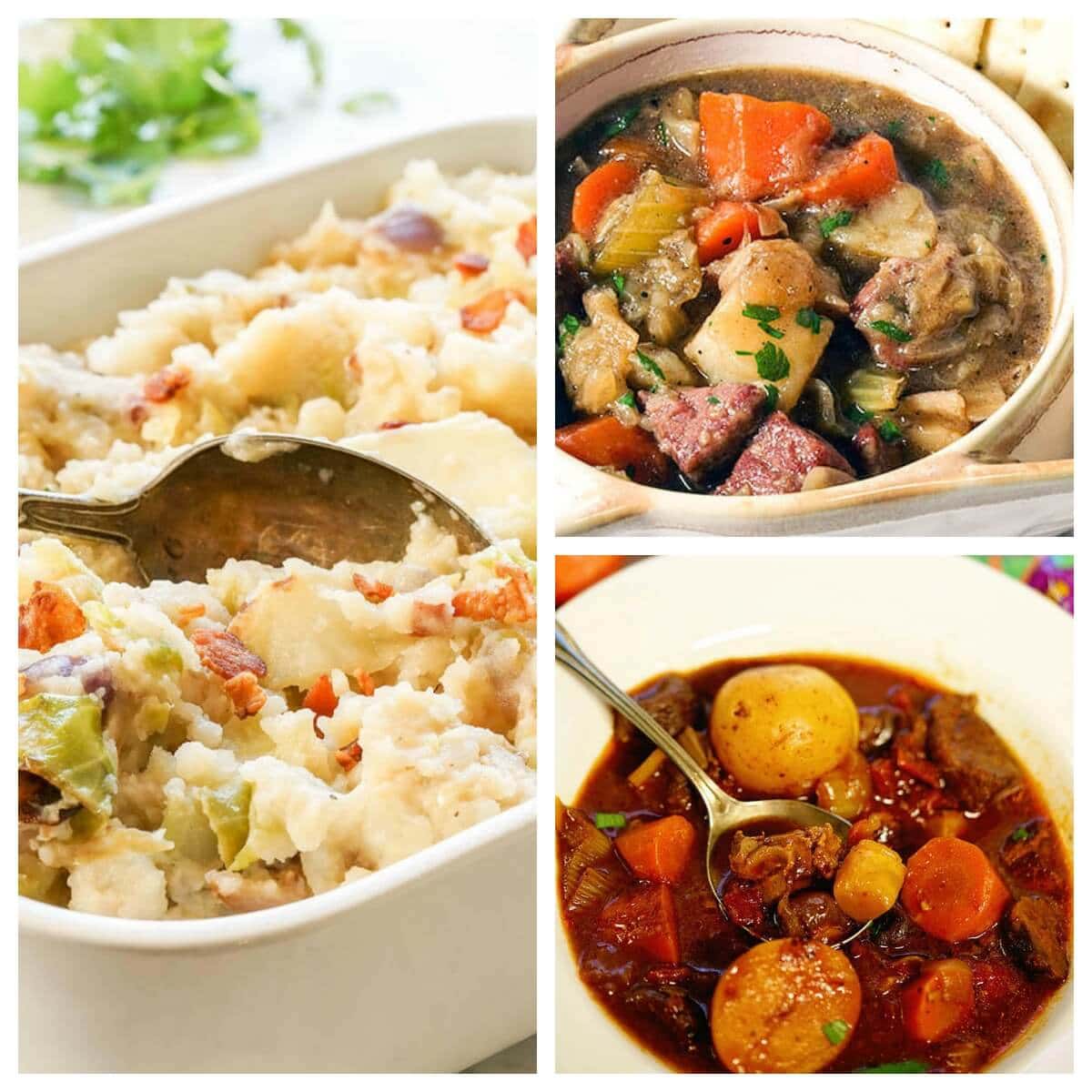 Jump to:
Irish Soups and Stews
And another favorite of mine is yummy soups and hearty stews. These will warm your soul and fill your belly.
Corned Beef Stew - is an Irish staple. As it slowly simmers on the stove, the beef becomes fall-apart tender. This soup is delicious! One of our favorites and packed with flavor!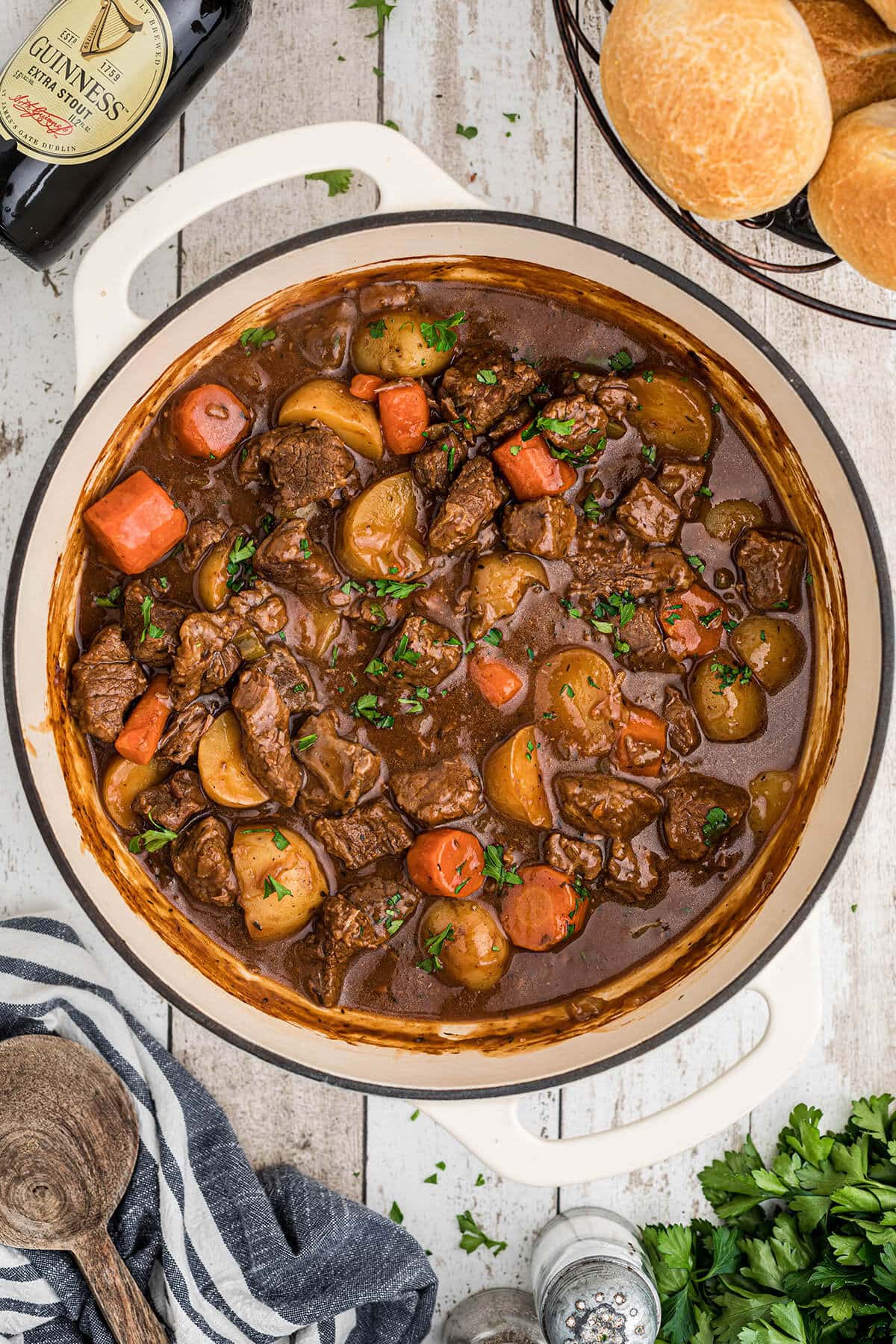 Irish Guinness Beef Stew - This traditional Irish stew is hearty and delicious. It's a classic comfort food meal and perfect for your St. Patrick's Day meal!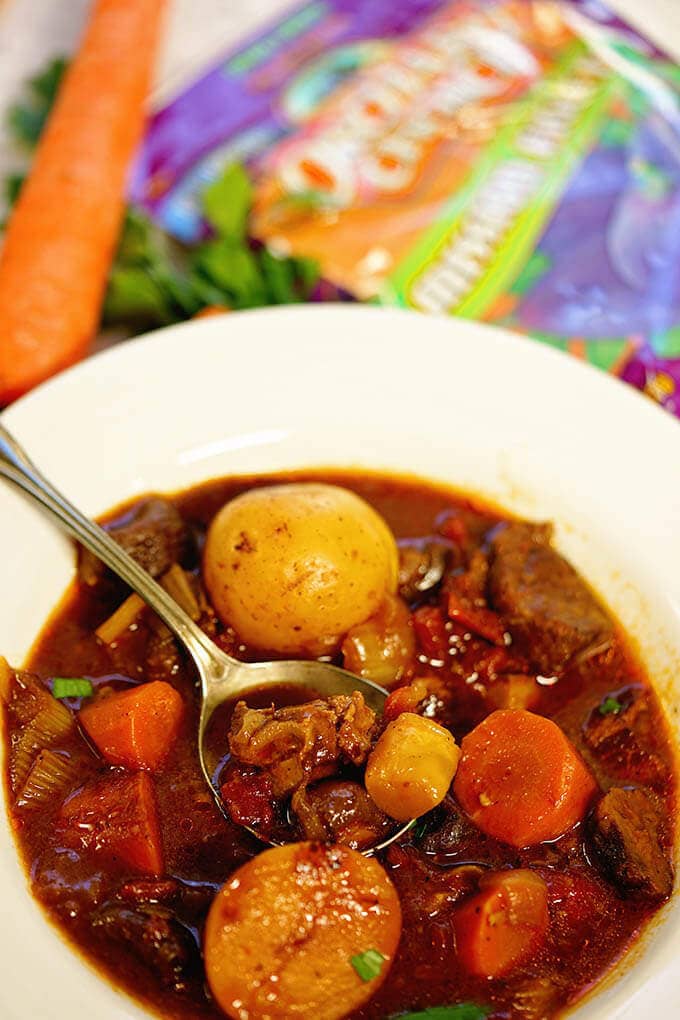 Slow Cooked Lamb Stew - Packed with deep rich flavor and hearty ingredients this is a satisfying soup!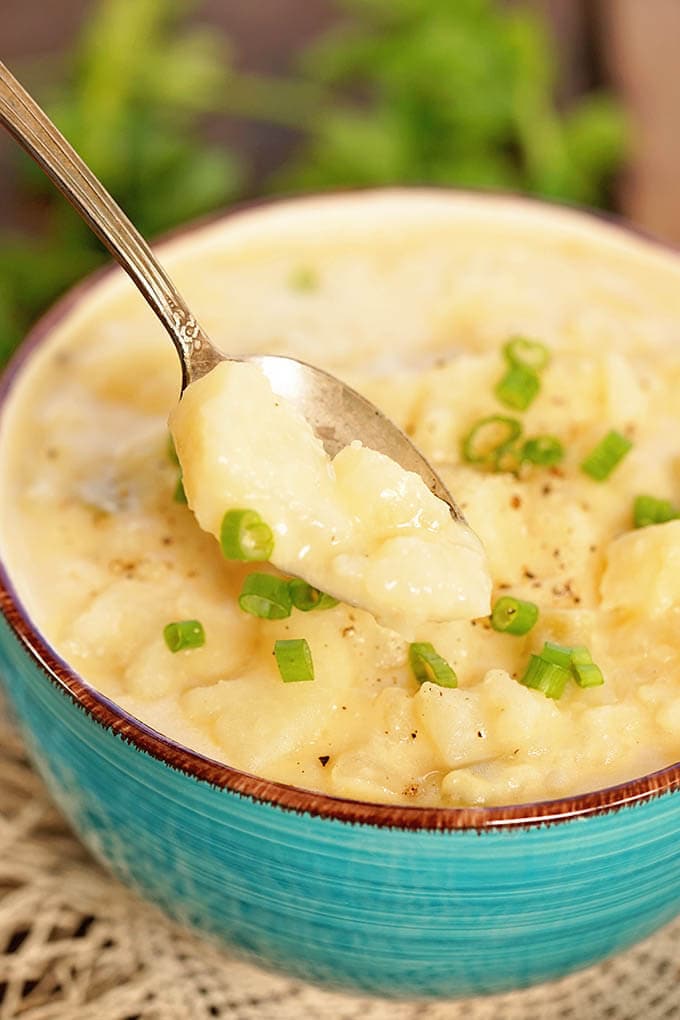 Vegetarian Potato Soup - savory and delicious this satisfying soup is quick and easy to make and every Irishman (or woman!) loves a great potato soup!
Side dishes for your party
Now we're in my area of expertise! You know I love a great salad or side dish. I love all of those great dishes that bring a meal together. Here are some of my favorite traditional St. Patrick's Day Recipes for Potlucks!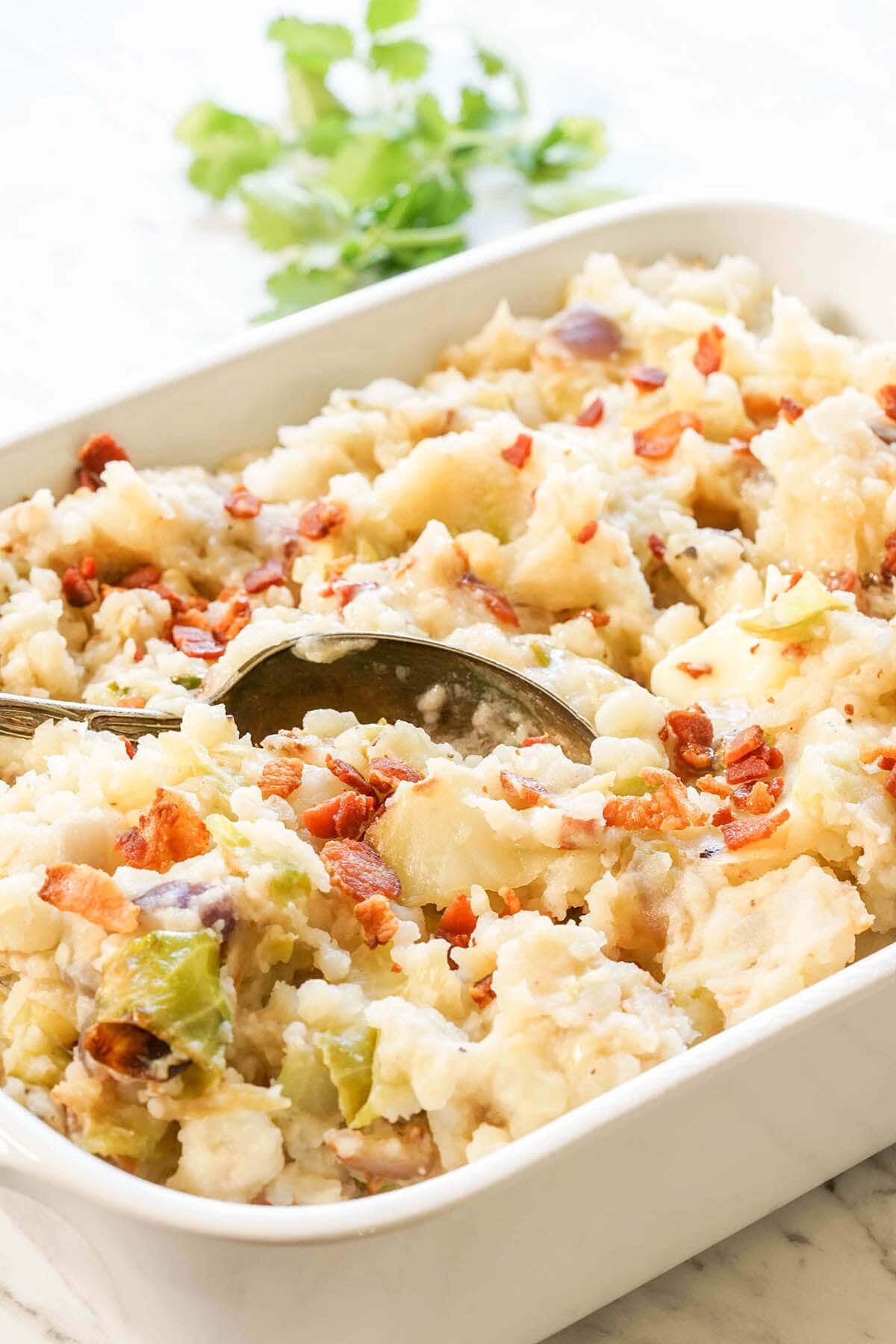 Colcannon Potatoes Recipe - This is a classic side dish with potatoes, cabbage and bacon. Bacon? YES! It's almost a meal in itself and leftovers keep for up to five days in the refrigerator. It reheats beautifully in the oven. This one is hearty and delicious!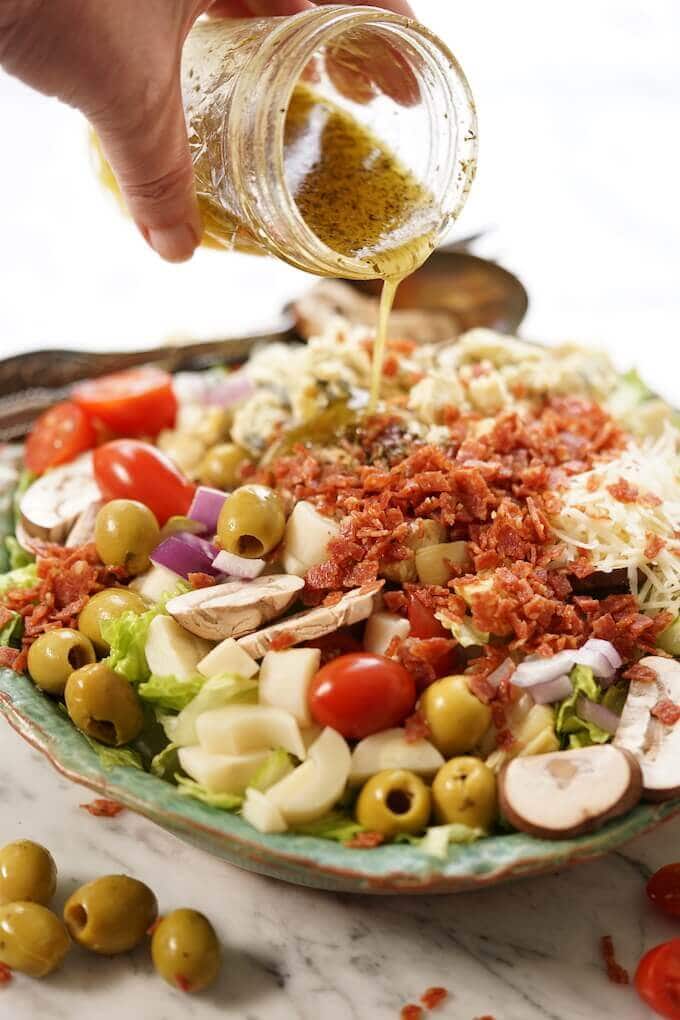 Steakhouse Salad - though not classically "Irish" this salad has enough green in it to pass as a great side to have for almost any party. Hands down the best salad recipe.
Carrots with mint recipe - Classically Irish, roasted carrots are another great choice for an easy side dish. Caramelizing carrots makes them sweet and delicious. It's an easy side that add tons of flavor and color to your table.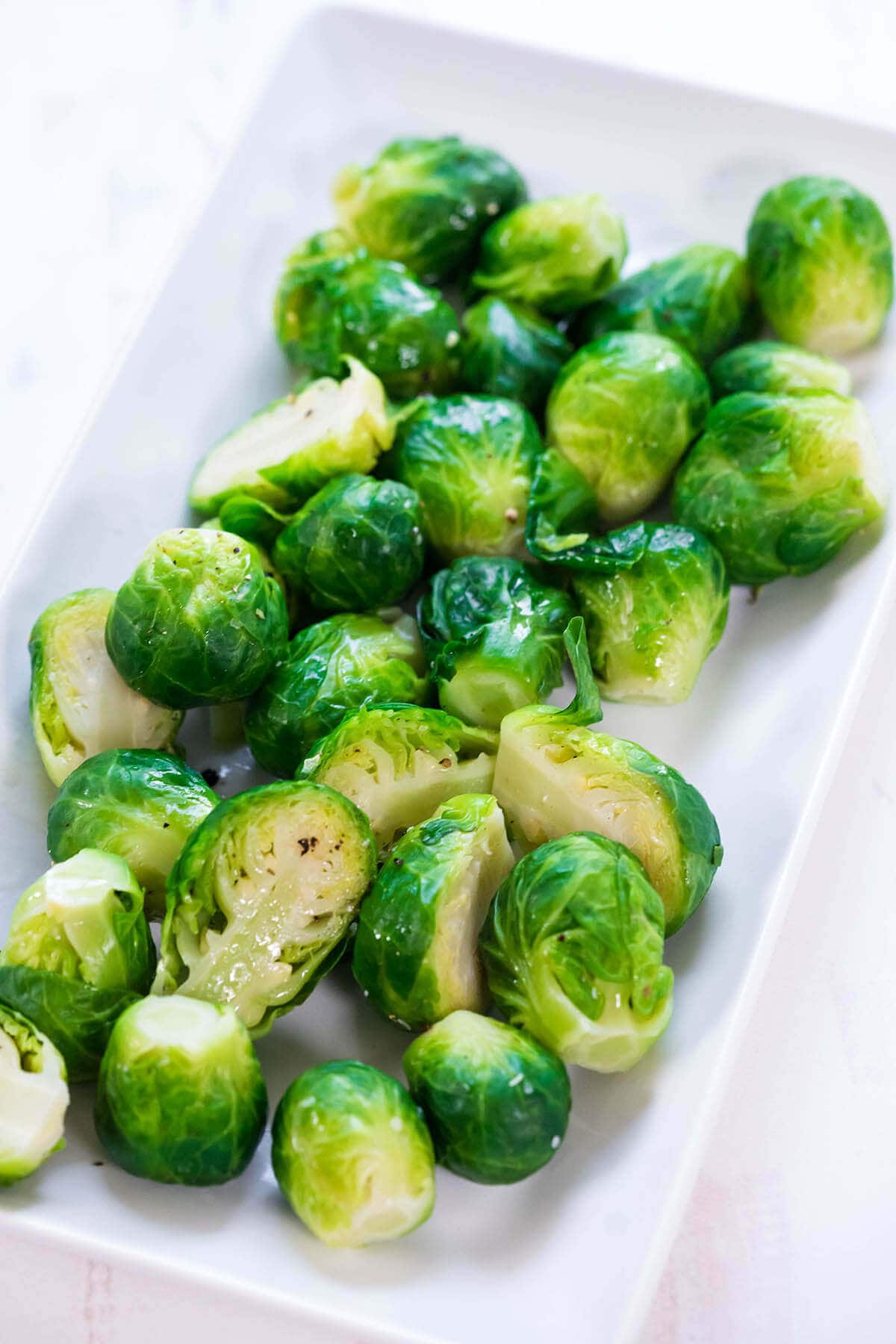 Steamed Brussels Sprouts - this easy recipe is the perfect green food to serve as a side for your lovely meal!
St. Patricks Day Dinner Ideas
Dublin Coddle - an Irish one-pot meal made with tender potatoes, sausage and onions, this is a rich filling stew.
Bangers and Mash - classic Irish Pub food, this is a must-make for your St. Patrick's Day Potluck!
Leftover Corned Beef Casserole with Cabbage - combine your leftovers from your St. Patrick's Day dinner into one super easy dish on day two!
Irish bread, scones and muffins
Because whether you're looking for a bread to sop up the last of your soup or plan on enjoying it with butter, here are several of our favorite recipes. Big on flavor and mouthwatering. Nothing is better than homemade bread!
Blue Ribbon Irish Soda Bread Recipe - a sweeter version of Irish Soda Bread with raisins and sugar.
Apple Irish Cream Scones - Moist and tender Irish Cream Scones filled with tender apples.
Soda Bread Muffins - tender muffins with the perfect crumb and delicious Irish cheddar in every bite!
Irish Guinness Beer Bread Recipe - this bread is a little malty and a little sweet. It's terrific with corned beef and cabbage stew.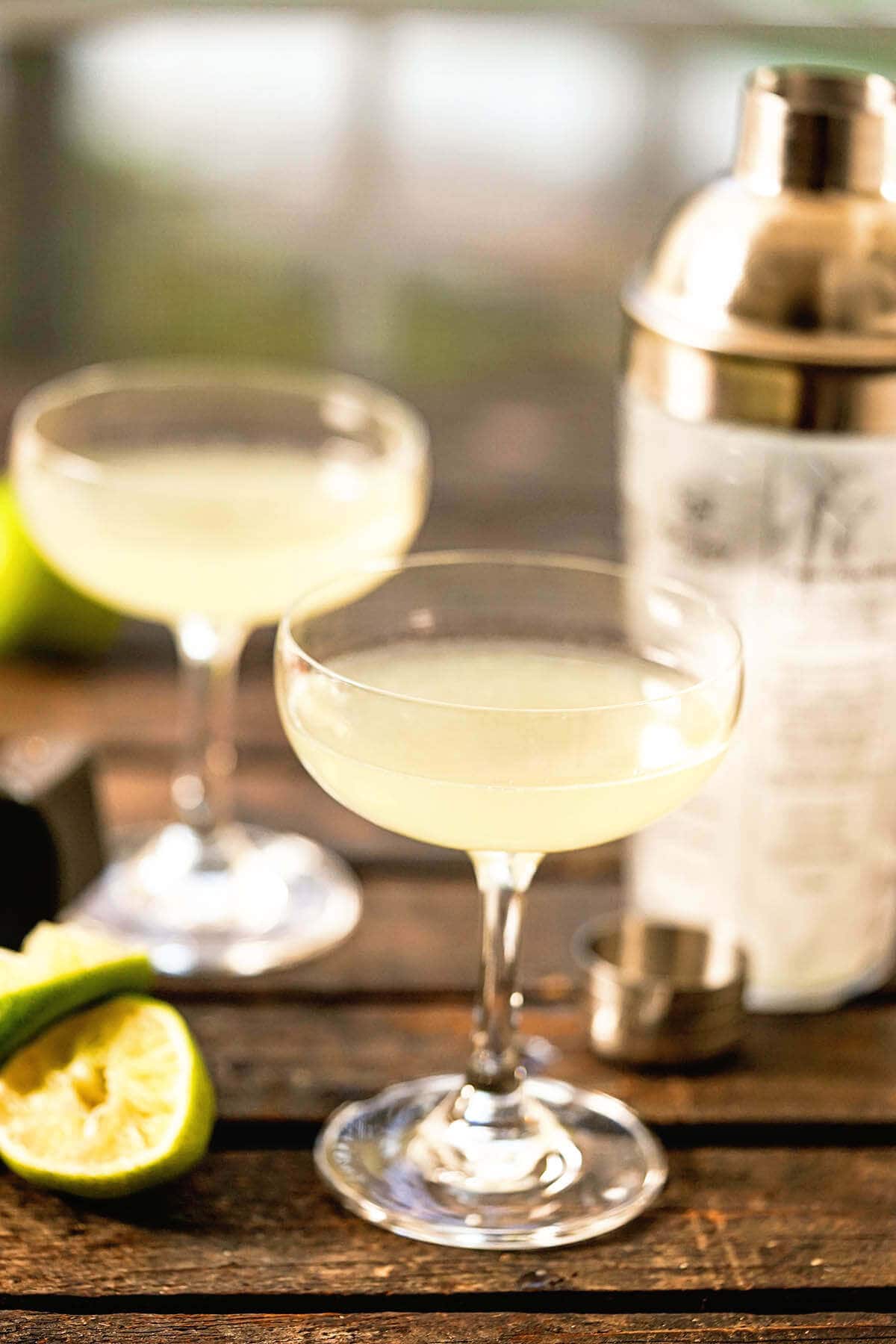 Irish drinks for St. Paddy's Day
Every Irish holiday party starts with tasty alcoholic beverages. Here are some great ideas!
The Last Word Cocktail - pictured above, this one packs a punch!
Guinness beer
Bailey's Irish Temper Cocktail - Irish cream, spiced rum and espresso topped with sweet cream.
Black and Tan - pale ale topped with a good dark beer.
Shamrock Shake Shooters made with vanilla ice cream, Irish Whiskey, mint flavoring, and tinted green, are sure to be the hit of the party!
St. Patrick's Day appetizer recipes
Whether you're having a fancy party or a potluck where everyone brings their favorite dish you'll need some finger food. People love to graze! Here are some especially delicious appetizers to try and enjoy!
St. Patricks Day Desserts
Bailey's Irish Cream Cheese Cake - creamy and rich, a boozy cheesecake with a touch of chocolate and a generous pour of Bailey's Irish Cream!
Grasshopper Ice Cream Pie - vanilla ice cream, mint chip ice cream with layers of Oreo cookies in between - this green treat is always a fun way to end your meal!
Chocolate Covered Leap-rechauns and Pots of Gold - these cookies are so cute!
I hope you find a great new recipe to enjoy! If you're looking for more great recipes, all in one place you'll definitely want to check these out!
More recipe roundups
If you like all of your meals planned ahead, be sure and check this out - meal planning for the year. Starting with the first of the year moving forward we will be sharing recipes so you can easily plan your menus!
Comment below and let me know what is your favorite St. Patrick's Day Recipe.
Happy St. Patrick's Day my friends!!!