Let's be honest. The best part about going to a steakhouse is the endless complimentary rolls! However, then the food comes out, and you can't stop your mouth from watering as you dig into a hearty meal and iconic fixin's—like my favorite side, the Texas Roadhouse mashed potatoes.
Today, we'll learn to recreate the classic restaurant favorite right in your very own home. It's budget-friendly, super easy, and you don't even have to change from PJs into going-out clothes. That's a win in my book!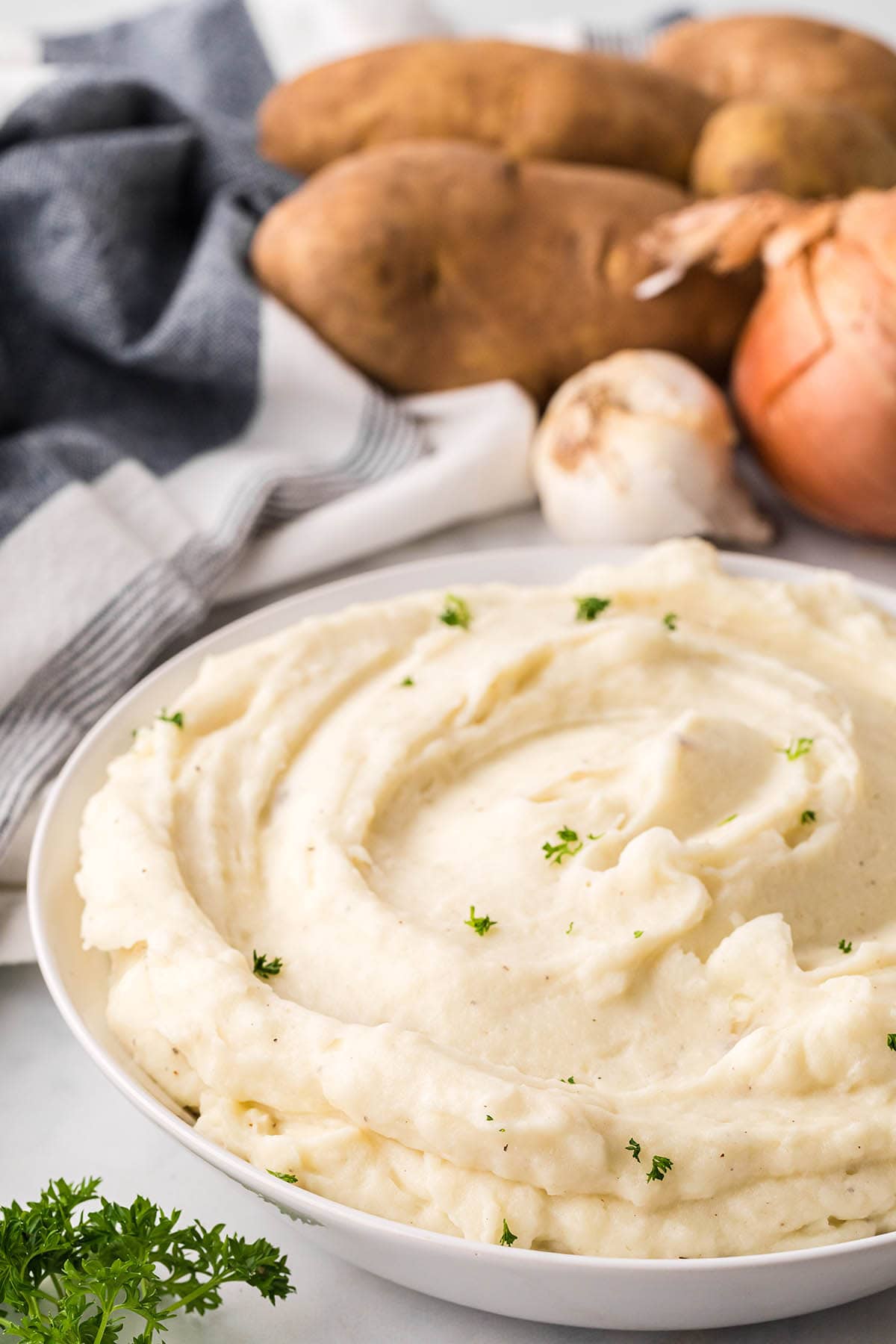 Jump to:
Why you'll love this recipe
✔️ This easy recipe is a must-make for Thanksgiving dinner!
✔️ This Texas Roadhouse copycat recipe has a rich, creamy flavor. It's a crowd-pleasing option for weeknight meals.
✔️ Don't settle for mediocre mashed potatoes! From now on, they will come out perfectly creamy every time—no lumps!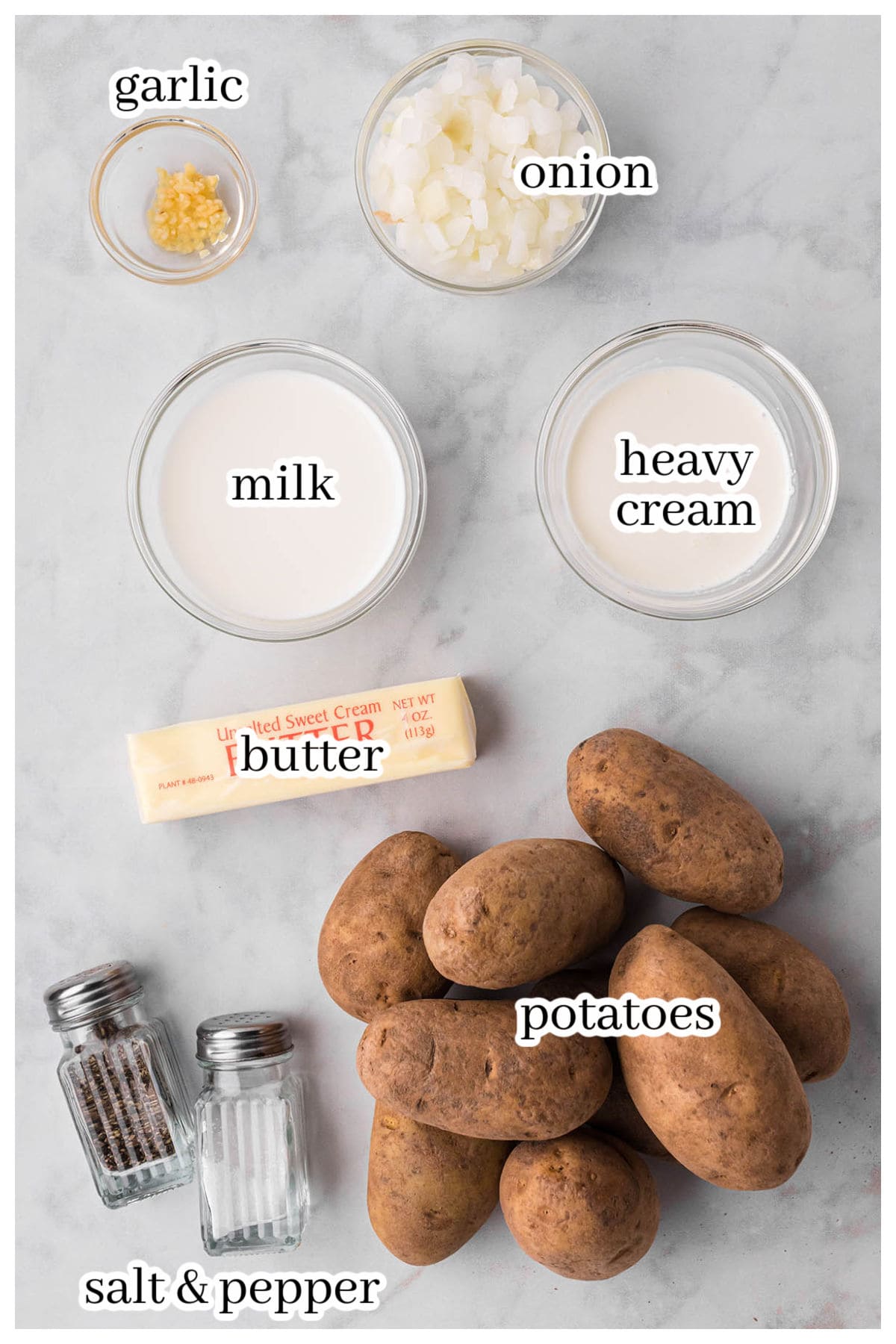 Ingredients
Please refer to the printable recipe card at the bottom of this post for the exact measurements.
Russet or Yukon Gold potatoes
chopped onions
fresh garlic, minced
butter (salted or unsalted will do)
milk
meavy cream
salt
black pepper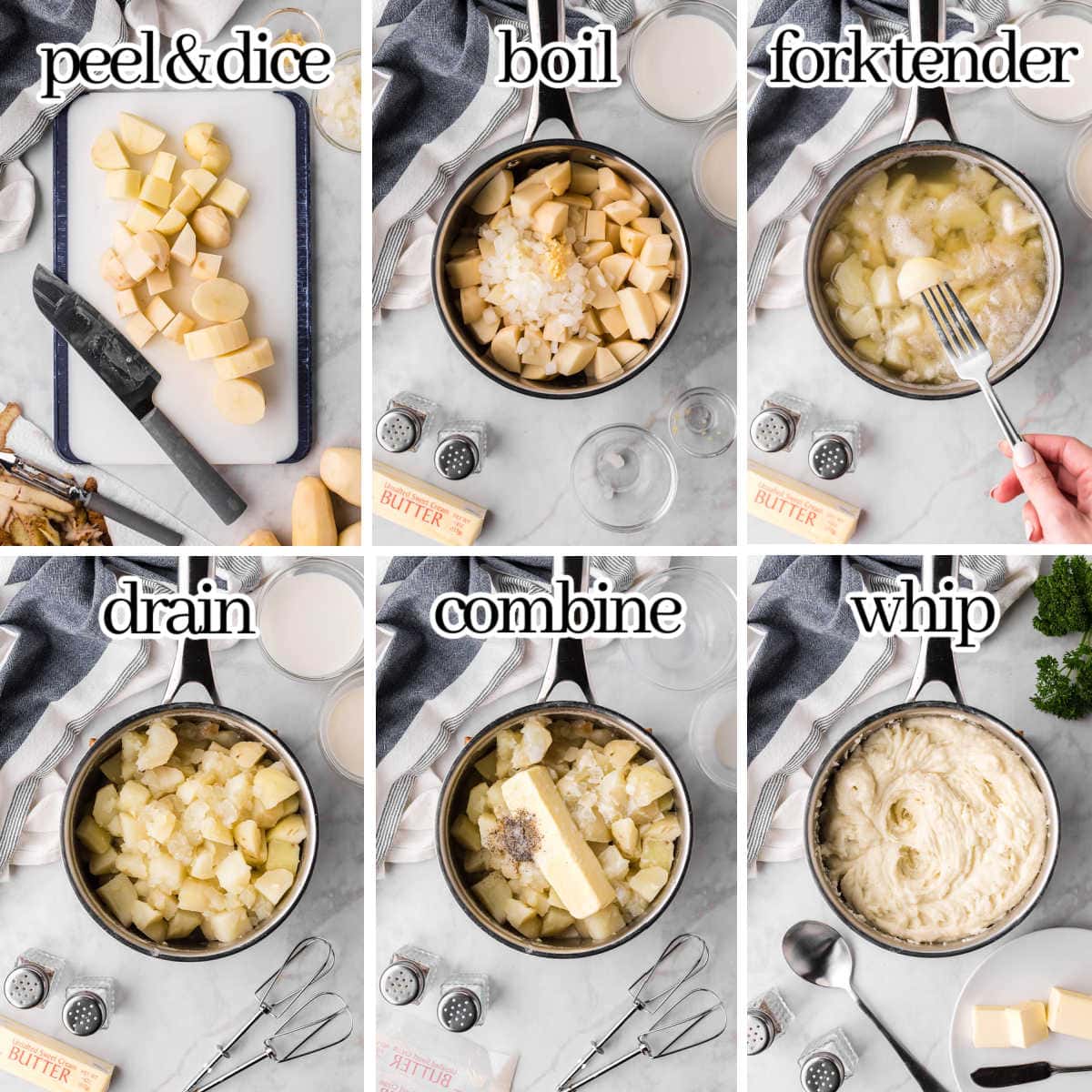 Instructions
This is an overview of the instructions. For complete directions, scroll down to the bottom.
Peel and dice potatoes into evenly sized pieces. You can leave the skin on the potatoes if you want.
Place potatoes, garlic, and the onion into a large pot and cover with water.
Cook on high heat until the water boils. Reduce to medium-high and continue to cook for 10-12 minutes until potatoes are fork-tender.
Drain the water from the cooked potatoes and return to the pot.
Add butter, milk, cream, salt, and pepper to the pot.
Mix well with a hand mixer or potato masher.
Equipment
The following are affiliate links. We participate in the Amazon Services LLC Associates Program, an affiliate advertising program designed to provide a means for us to earn fees by linking to Amazon.com and affiliated sites.
Don't forget to check out my Amazon storefront for some of my favorite products! 🛍️
FAQ's
Which potatoes are best for mashed potatoes?
Russet potatoes and Yukon Gold potatoes are the most popular mashing varieties. Russet potatoes are more starchy, so they'll be creamier. Yukons have less starch, so they'll taste lighter.
Can I use red potatoes?
Absolutely! Red potatoes naturally have less starch in them, so they provide a smooth texture similar to Yukon Gold potatoes.
Do I have to peel the potatoes for mashed potatoes?
Leaving the peel on can add some texture and color to the potato mixture. However, to make an exact copycat recipe for Texas Roadhouse mashed potatoes, peel them.
Can I use a food processor to make creamy potatoes?
No, I don't recommend it. It can lead to a gummy texture. Some people use hand mixers, I prefer an old fashioned potato masher.
How do you know mashed potatoes are mashed enough?
Mashing them too long or mixing them in a stand mixer while you cook other stuff can make them taste gluey. A little mashing goes a long way—go slow and pay attention to the texture. Stop once they're smooth.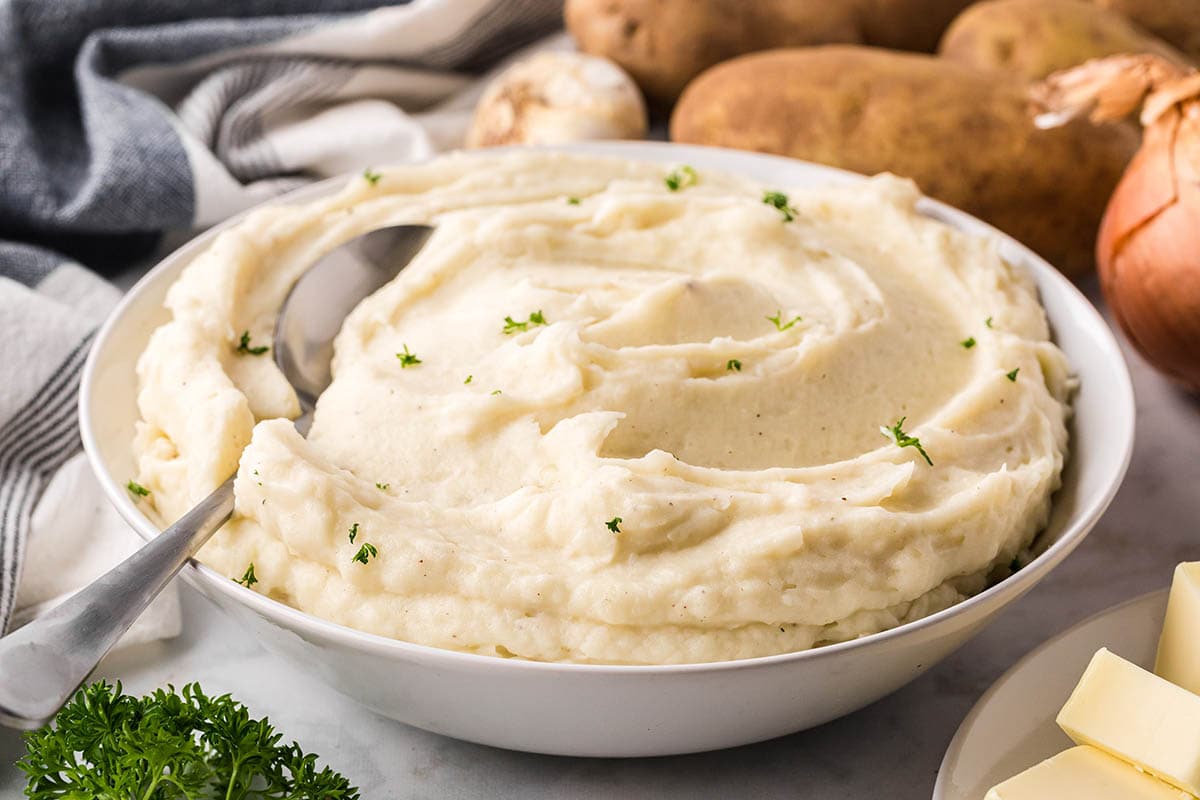 Test kitchen tips
Don't cut the pieces of potato too small. The tinier they are, the more water they will absorb. This makes the texture gummy and the flavor a little water-logged.
Never add potatoes to boiling water. Rather, add the potatoes to the pot, then fill it with cold water before putting it on the stove. This ensures even cooking and prevents the starch from getting too gluey.
Avoid overworking the potatoes during the mashing process. I recommend mashing them by hand instead of using a stand mixer or food processor.
Once you have drained the potatoes, return them to the still-hot pot and place them back on low heat. Give the pan a gentle shake and let heat for 15-30 seconds to release steam and moisture. This will leave you with drier, fluffier potatoes that are perfect for mashing.
Variations
The beautiful thing about these Texas Roadhouse mashed potatoes is how easily you can customize the flavor.
Sometimes, I'll stir in golden brown caramelized onions or parmesan cheese. If you're in the mood for something different, experiment with sour cream, bacon, cheddar cheese, and some oven-roasted garlic.
You can also switch up the potato variety. Russet and Yukon Gold are my top two choices. However, why not try using some skin-on red potatoes or fingerlings?
This recipe also works with sweet potatoes if you have some yummy yams to use up.
Storage
Refrigerate—Store leftover whipped potatoes in an airtight container and refrigerate for three to four days.
Freezer—In a freezer-safe container, mashed potatoes will technically keep for up to a year. However, the texture is best within one month.
Reheat—Allow mashed potatoes to thaw in the refrigerator overnight if frozen. Then, add the leftover potatoes to a large saucepan and warm on low heat for 15-20 minutes.
You can also use the microwave to reheat individual-sized portions. Stir in a little milk if the texture thickened during storage.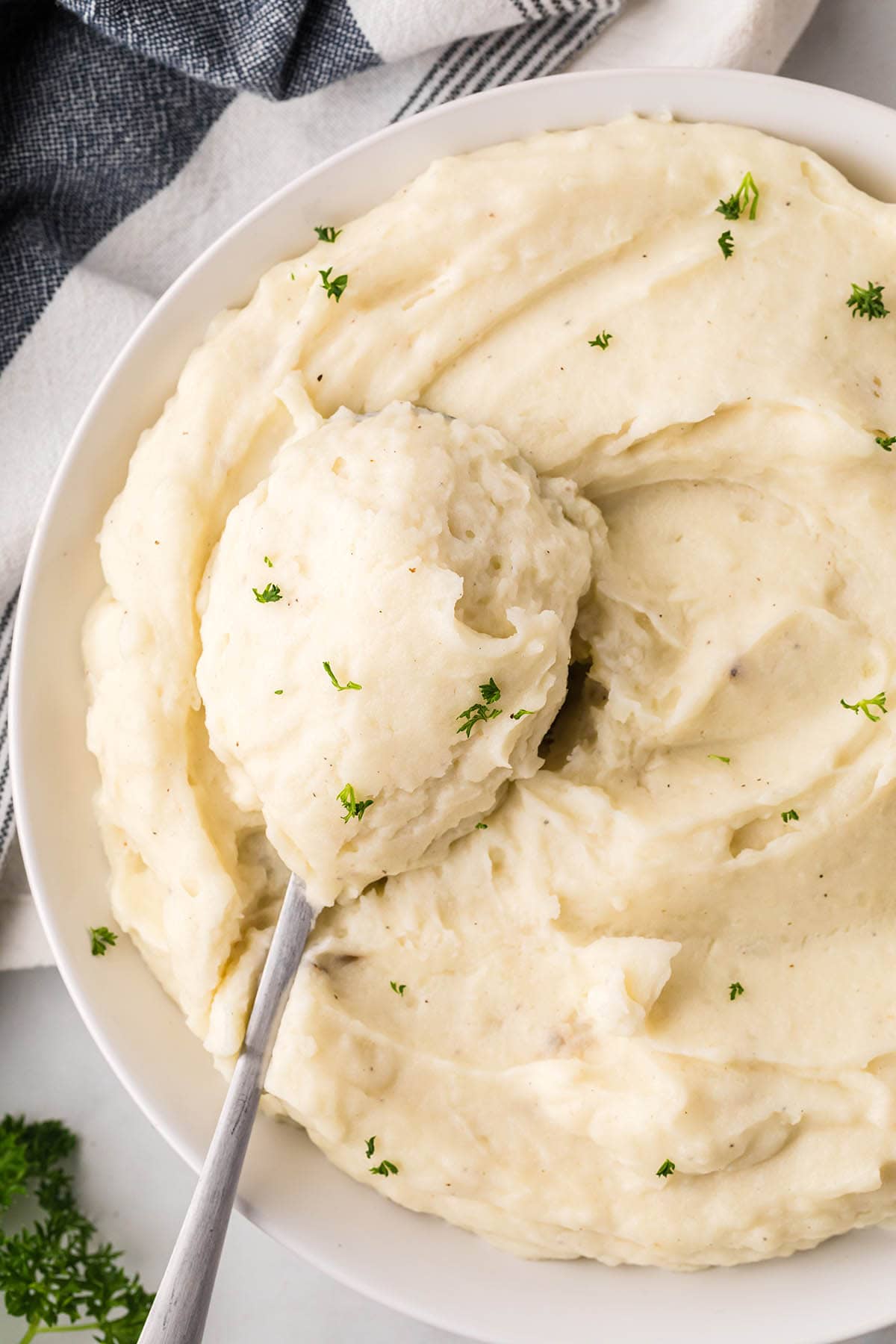 Related recipes
A fan favorite from another well-known chain, Cracker Barrel Cheesy Potatoes are the ultimate comfort food and easy to copy at home.
These Oven-Roasted Rosemary Potatoes have drool-worthy, caramelized edges and a burst of herbal flavor with every bite.
If you want a new breakfast or brunch option, Breakfast Potatoes never disappoint! They're easy to scale for a crowd, and everyone loves 'em.
Serve with
Hey, if you want to catch all my videos, subscribe to my YouTube Channel. You'll be notified each time I share a new video!
If you love this recipe, please leave a ⭐⭐⭐⭐⭐ rating!
Copycat Texas Roadhouse Mashed Potatoes Recipe
Perfectly creamy whipped potatoes!
As an Amazon Associate I earn from qualifying purchases.
Ingredients
2

pounds

Russet or Yukon Gold Potatoes

½

cup

chopped onion

½

teaspoon

fresh garlic

minced

½

cup

butter

(that's one stick of butter)

½

cup

milk

¼

cup

heavy cream

½

teaspoon

salt

¼

teaspoon

pepper
I earn a commission from Instacart from qualifying purchases.
Instructions
Peel and cut potatoes into even pieces. Leave as much or as little skin on the potatoes as you like.

Place potatoes, garlic, and the onion into a large boiling pot and cover with water.

Cook on high heat until the water begins to boil. Reduce the heat to medium-high, maintain a boil, and continue to cook for 10-12 minutes; until potatoes are fork tender.

Drain potatoes and return the potatoes to the pot.

Add butter, milk, cream, salt, and pepper to the pot and mix well with a hand mixer or potato masher.
Nutrition
Calories:
307
kcal
|
Carbohydrates:
30
g
|
Protein:
5
g
|
Fat:
20
g
|
Saturated Fat:
12
g
|
Polyunsaturated Fat:
1
g
|
Monounsaturated Fat:
5
g
|
Trans Fat:
1
g
|
Cholesterol:
54
mg
|
Sodium:
334
mg
|
Potassium:
697
mg
|
Fiber:
2
g
|
Sugar:
3
g
|
Vitamin A:
654
IU
|
Vitamin C:
10
mg
|
Calcium:
60
mg
|
Iron:
1
mg
Sign up for my recipes here!!
Don't worry, we'll never share your email.