No one has the time to spend hours in the kitchen! These easy chicken casserole recipes take just minutes to make, and they are delicious! Best part? Most can be prepared in advance so you can just pop them in the oven when it's time for dinner !
You'll love these classic dishes like chicken pot pie casserole to spicier options like chicken enchiladas, there's something here the entire family will love! So, grab some chicken breasts and your favorite casserole dish, and let's get cooking!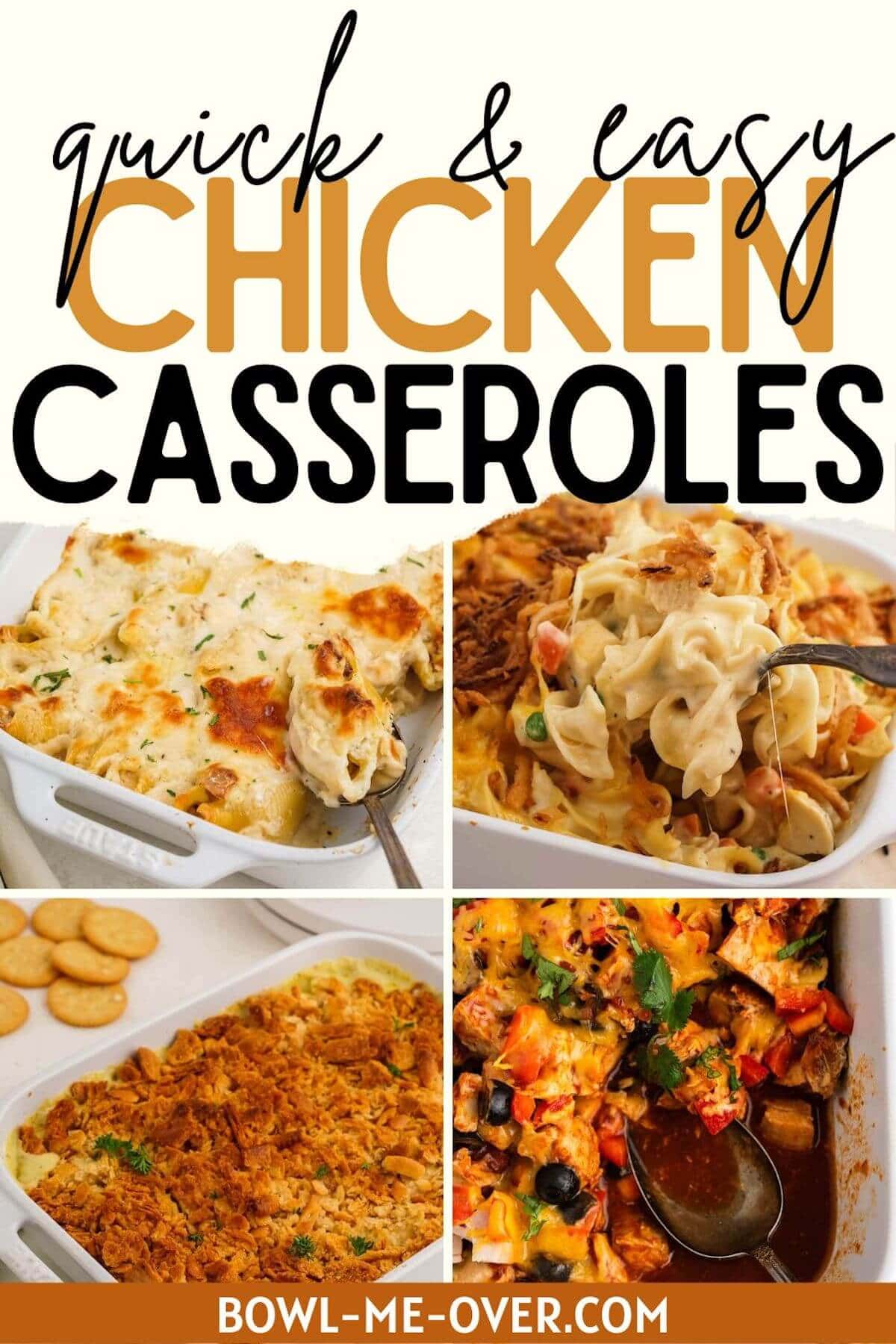 Jump to:
Easy chicken casserole recipes to try tonight
On busy weeknights, you need no-fuss easy recipes that are low prep, simple to make, and taste delicious. We've got you covered with more than 20 of the most delicious chicken casseroles ever.
These easy dinners are the perfect way to use leftover rotisserie chicken or leftover grilled chicken without any food going to waste. Choose one or two to try this week!
Monterey Chicken Spaghetti
The evaporated milk makes this dish extra creamy, but you can sub regular milk instead if you prefer. You can even swap out the cheese for your family's favorite—cheddar, or mozzarella both work.
Chicken Spaghetti with Rotel
Substitute spaghetti squash or a low carb pasta for the spaghetti to cut down on carbs or add diced bell peppers for more good-for-you veggies.
Buffalo Chicken Tater Tot Casserole
Serve it with a healthy green salad on the side for a well-rounded meal!
Queso Chicken Enchiladas
For an authentic experience, start this meal off with tortilla chips and salsa. Mexican fruit salad is a great side to go along with it!
Low Carb Chicken Enchilada Casserole
Or serve it in bell pepper cups for a bit of crunch in every bite!
Loaded Chicken Taco Casserole
Shredded pepper jack, cheddar cheese, or Mexican cheese all work well in this dish.
Want even more flavor? Sprinkle green onions, red onions, or olives over the top. Corn would be a yummy addition to the casserole filling as well.
Creamy Chicken and Potato Bake
Caramelized onions, spinach, or broccoli florets are great additions if you want more veggies in your meal.
Chicken and Broccoli Pasta
You can't beat that, make it for dinner tonight!
This delicious meal is a great way to use leftover grilled chicken or rotisserie chicken. Even your pickiest eater will be asking for seconds.
Easy Chicken Pot Pie
Using pre-made pie crust cuts down on prep time, so from start to finish, these hearty pot pies are ready in an hour.
Ritzy Chicken Casserole
Add a cup of frozen peas or chopped broccoli to make this a complete meal with veggies or serve green beans on the side.
Green Chile Chicken Enchilada Casserole
White or yellow corn tortillas work for this recipe, so use whatever you have on hand! If you love Mexican recipes, you'll make this dish again and again.
Easy Chicken Pot Pie Casserole
Use basic freezer and pantry ingredients to pull it together in a snap!
Some things you'll need are frozen veggies, cream of chicken soup, crescent rolls, ranch seasoning, evaporated milk, and chicken, of course. This recipe is a complete meal that's ready in just 35 minutes.
Ultimate Chicken Noodle Casserole
We hear your stomach growling already!
If fried onions aren't your thing, you can use breadcrumbs or crushed potatoes or pretzels to make your crunchy topping instead.
The creamy casserole and the crunchy topping are a match made in heaven.
Chicken Broccoli Rice Casserole
Everyone will be asking for the recipe, and trust us, you won't have a bit left to bring home!
We used white rice, but brown rice or wild rice works too, though you may need to adjust the liquids and will certainly need to adjust the cooking time.
King Ranch Chicken Casserole
Chicken Alfredo Stuffed Shells with Chicken, Bacon, and Ranch
With both chicken and bacon, you'll get lots of meaty flavor. Add some crusty bread, steamed broccoli, or a fresh salad on the side to complete this tasty dinner.
Chicken Bacon Ranch Casserole
It's just 4.4 net carbs per serving, so you don't have to feel guilty about this healthy comfort food at all!
Who wouldn't gobble up a casserole made with tender chicken, crispy bacon, ranch dressing, broccoli, and cheese? It offers loads of flavor in every spoonful.
Crack Chicken Casserole
Leftovers (if you're lucky enough to have some!!) are even better the next day! The recipe makes a wonderful freezer meal, too.
Layer the ingredients in a freezer-safe pan, wrap it tightly, and it'll keep a few months. Just thaw it overnight in the fridge. When you're ready to make it, and pop it in the oven for a super quick dinner.
Serve with roasted green beans on the side. Yum!
Million Dollar Chicken Casserole
Cheesy Chicken Casserole
Mushrooms, diced tomatoes, or oven-roasted veggies are all tasty options to add.
The great thing about this recipe is that you can use whatever cream soup you have on hand. Cream of mushroom soup works just as well as cream of chicken.
Salsa Verde Chicken Casserole
Use homemade salsa verde (she has a great recipe for it) or the jarred stuff if you prefer.
With just five ingredients (plus basic spices), this casserole recipe comes together perfectly in the slow cooker in about 3 hours.
Chicken Broccoli Pasta Bake
Swap out the veggies, add a pinch of red pepper flakes for a little heat, substitute a different melting cheese, or use leftover turkey in it after Thanksgiving.
Chicken Parmesan Casserole
Crispy chicken with pasta, marinara sauce, and loads of cheese? Yes, please!
The best part is that you can use frozen chicken tenders instead of making your own crispy chicken, and no one will be the wiser.
Cook with me
Vegetables and side dishes
Wondering what to serve with these yummy recipes? We got you covered! Here are some of the favorites from the blog.
Storage
Refrigerate - Most casserole are best kept stored in an airtight container.
Freezer - Check each casserole recipe card for freezing and reheating instructions.
We hope you've enjoyed this list of easy chicken casseroles recipes.
Delicious chicken casserole recipes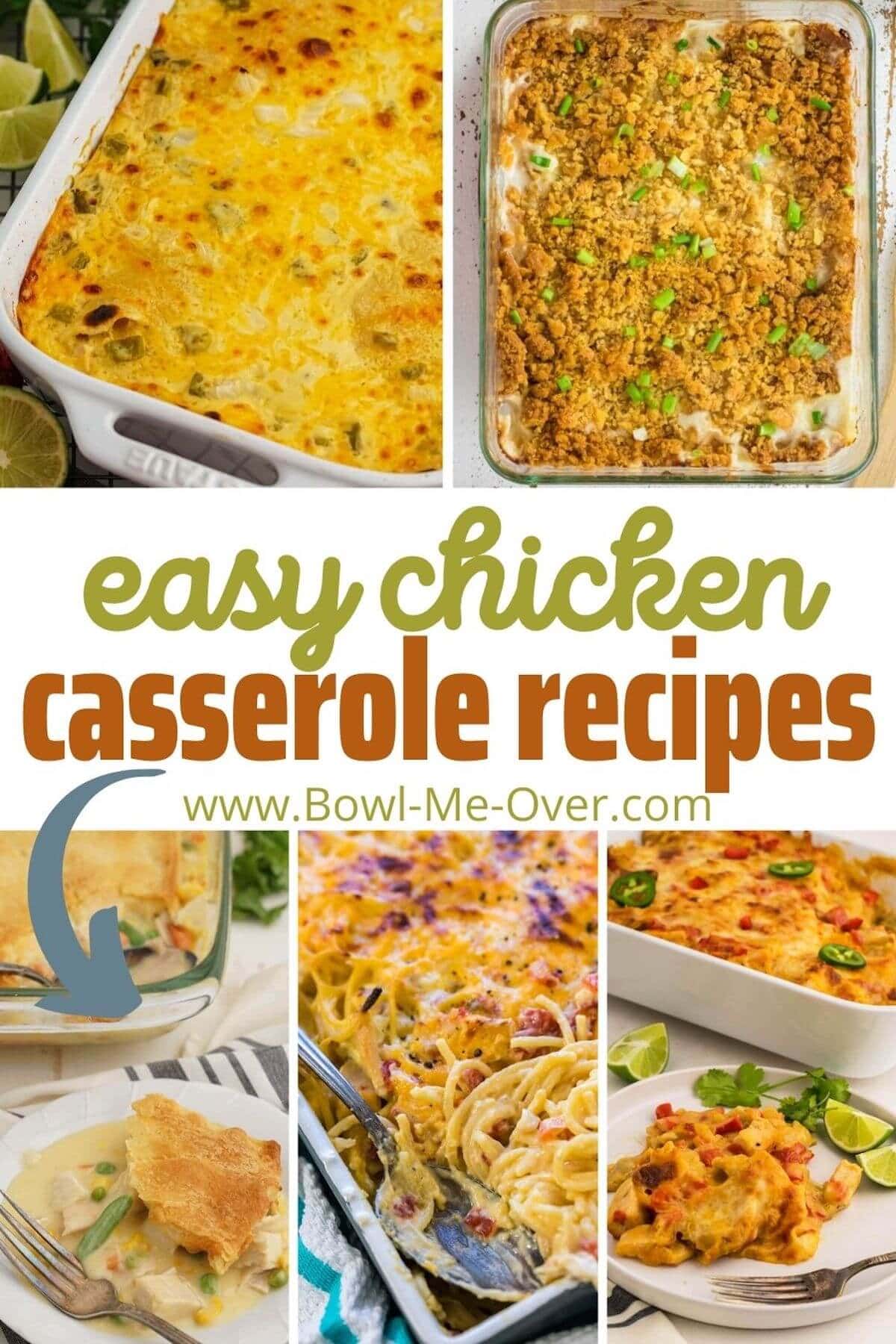 Don't forget to pin these it, these are the BEST chicken casserole recipes!! That way, whenever you need a hot and hearty meal on the table in a flash, you'll have the best resource!