Want to enjoy classic recipes and a great home-cooked meal using chicken without spending loads of time in the kitchen? Shredded Chicken Recipes are comfort food and just so good. Many are made in the crockpot making meal prep a snap.
These chicken recipes are a great way to shake up your dinner routine. No fussy recipes that require you to stand over the stove either, love that!
Jump to:
Best Shredded Chicken Recipes for Easy Dinners
Many of them are slow cooker chicken recipes that you can start in the morning so supper's nearly ready when you come home after work or school.
Don't worry — you'll find some Instant Pot recipes, too, that are perfect for busy weeknights! Use leftover cooked chicken breasts or get a store-bought rotisserie chicken to make your meal prep even easier.
Add these easy shredded chicken recipes to your weekly meal prep for salads, chicken sandwiches, pasta, burrito bowls, tacos, and so much more.
Store leftovers in an airtight container for lunches later in the week.
From healthy meals to comfort food, you're sure to find a few ideas that your family are going to love on the dinner table.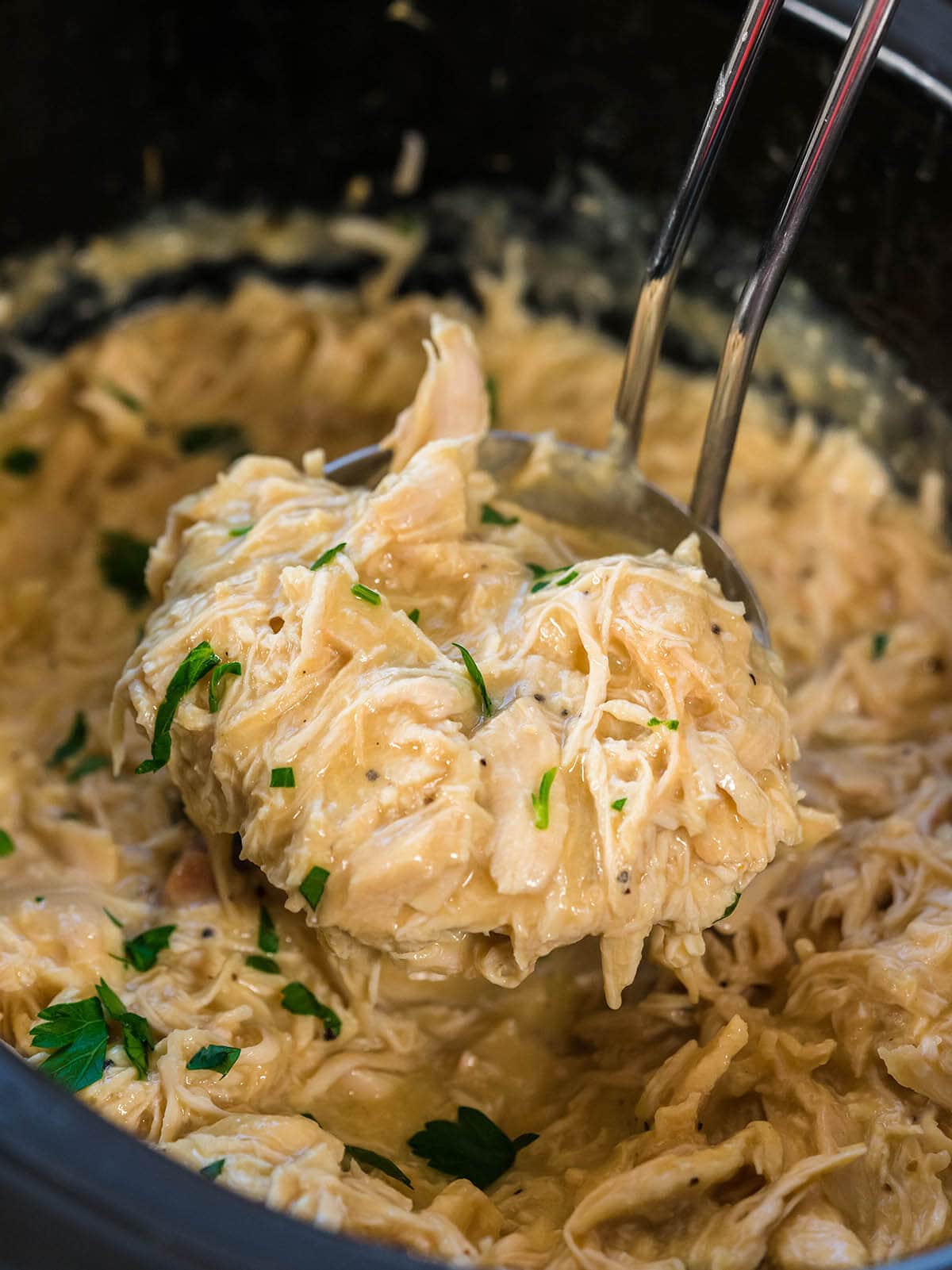 1. Crockpot Chicken and Gravy
Talk about comfort food! But instead of spending hours tending to food in the kitchen, your slow cooker does all the work for you. You'll love this simple recipe!
You'll need skinless, boneless chicken breasts, gravy packets, salt and black pepper, garlic powder, cream of chicken soup, chicken stock and dijon mustard. How simple is that?
Serve this Crockpot Creamy Chicken and Gravy over rice, noodles, or mashed potatoes for a super easy and kid-friendly meal. Don't forget to add pan roasted vegetables on the side!
Leftover shredded chicken and gravy makes for a terrific chicken noodle soup on day two!
2. Pressure Cooker Shredded Chicken
Speed up getting dinner on the table with my Instant Pot Shredded Chicken. I like to keep some on hand for a quick BBQ chicken sandwich, pizza, quesadillas, and more.
I like to use boneless skinless chicken thighs, but you can certainly use white meat if you'd prefer.
The chicken is cooked on high pressure. It's ready in just 27 minutes from start to finish (including coming to pressure), so it's the perfect easy recipe to make on a busy day and enjoy throughout the week in your lunches.
I love the tangy flavor. You'll love this easy chicken recipe! It's one of my favorite ways to enjoy shredded chicken!
3. Slow Cooker Chicken Tacos
Your Crock Pot is your best friend! These Slow Cooker Chicken Tacos are failproof and give you tender, juicy chicken every time.
Serve the meat with your favorite taco toppings like salsa, cheese, lettuce, and sour cream. Be sure to have plenty of corn and flour tortillas on hand!
The chicken is tasty in tacos, burrito bowls, chicken enchiladas, or even soup.
4. Crockpot Chicken Tacos
Spice up your weeknight dinners with these 4 Ingredient Crockpot Chicken Tacos. Don't you love slow-cooker recipes that are kid-friendly? Slow cook chicken with salsa, black beans, peppers, and taco seasoning for 8 hours.
This Mexican shredded chicken can cook while you work! When you come home, shred the chicken with two forks and serve it up with taco shells or corn tortillas and your favorite toppings. Add a side of Mexican rice to round out the meal.
Leftovers make the best chicken soup!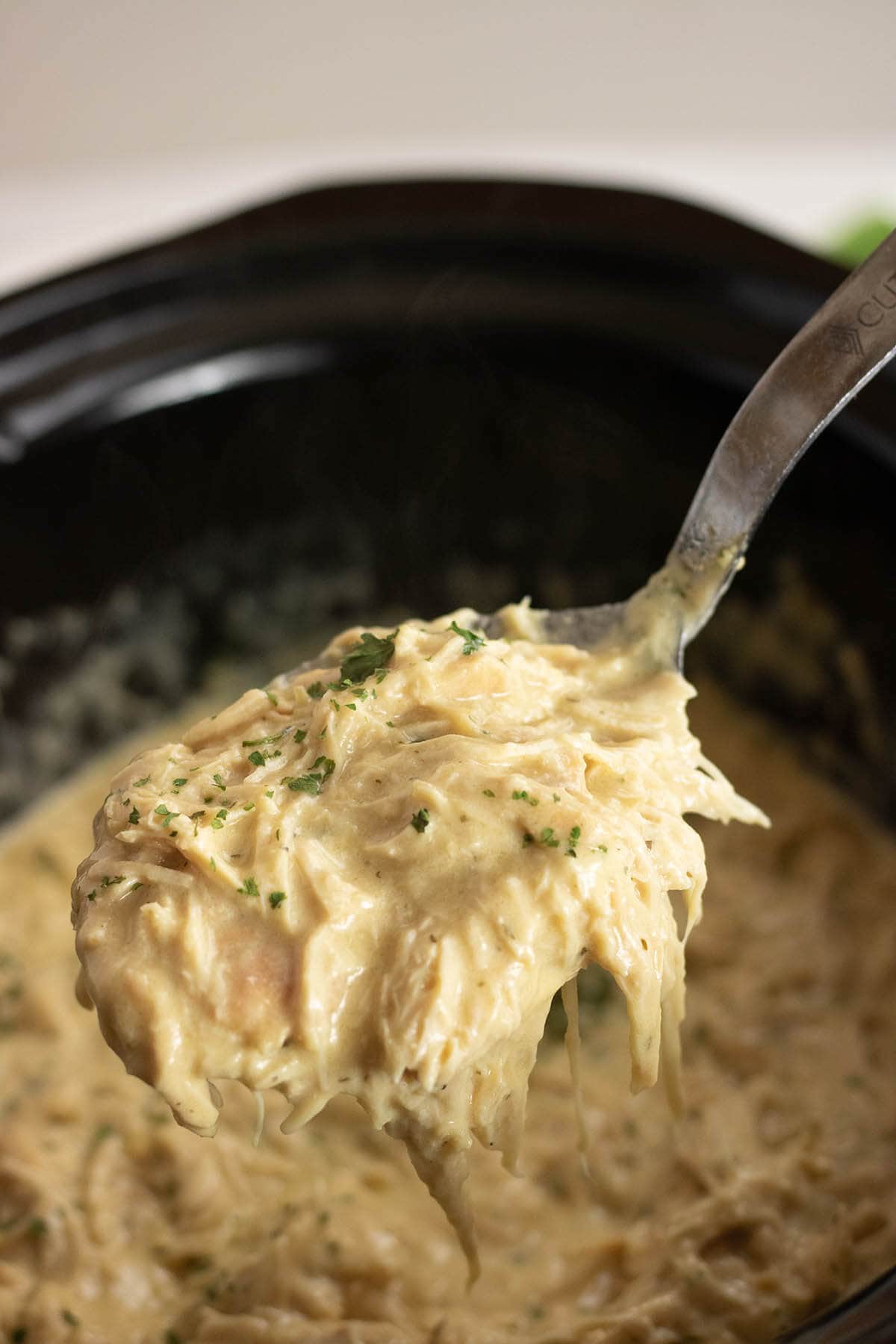 5. Crock Pot Ranch Chicken
Chicken and ranch go together like peanut butter and jelly. Add this Ranch Crock Pot Shredded Chicken to your dinner menu this week, and your family will ask for it again and again.
It's perfect over rice or pasta and has plenty of creamy sauce to go around.
Have leftovers? This is a great start to an amazing Chicken Pot Pie Casserole later in the week.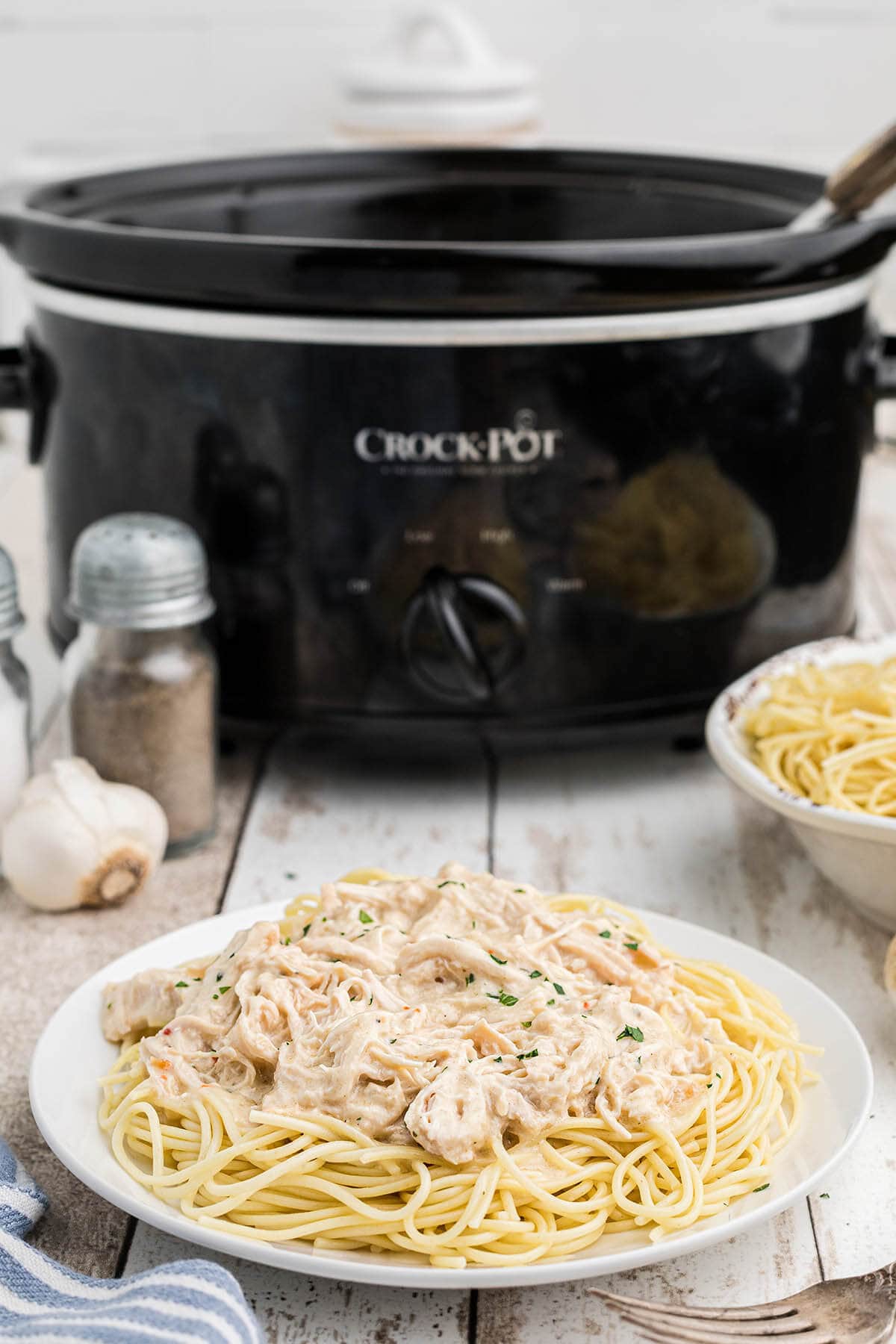 6. Crockpot Angel Chicken
Crockpot Angel Chicken is delicious, nutritious, and so easy to make. The best part is that you can use frozen skinless chicken breasts, so even if you forgot to thaw the chicken in the fridge overnight, you can start this meal in the slow cooker before noon and have a delicious meal ready for supper.
Serve with angel hair pasta, adding plenty of the gravy to coat the noodles.
7. Crockpot Crack Chicken
Cream cheese, bacon, chicken, and ranch come together to make this comforting and addictive Crockpot Crack Chicken. Even your picky eaters will love it!
Once the chicken cooks with the cream cheese and ranch, you'll top it with loads of cheese, bacon, and green onions. Sneak in some veggies if you'd like!
Serve this on buns, in veggie wraps, or over a big baked potato. Yum.
8. Slow Cooker Santa Fe Chicken
While I diced the chicken here, this Slow Cooker Santa Fe Chicken is just as tasty when it's shredded. The chicken is so good over a salad, but you can serve it up on a bun or in lettuce wraps, too.
9. Brown Sugar Chicken
If sweet chicken is your thing, try Simply Stacie's Brown Sugar Chicken. It's made with brown sugar, soy sauce, black pepper, and garlic topped with white wine vinegar and lemon lime soda.
Serve it over a bed of rice — it would probably be delicious with roasted broccoli, too.
10. Cucumber Dill Chicken Salad
Instead of classic chicken salad, try this tasty twist on an old favorite: Cucumber Dill Chicken Salad from A Paige of Positivity.
The cucumber and dill pair together beautifully, creating a chicken salad that tastes fresh, has plenty of crunch, and is delicious on a sandwich, in lettuce wraps, or scooped onto crackers.
Leftover chicken is perfect for this recipe.
11. BBQ Chicken Pizza
What could be better than using some leftover shredded chicken to make a BBQ Chicken Pizza for game night? Use your favorite BBQ sauce to ensure that every bite is super tasty.
With smoked cheddar and mozzarella cheeses, diced red onion, and shredded chicken on BBQ sauce instead of pizza sauce, it'll be a flavor explosion.
12. Coronation Chicken
Have you ever had Coronation Chicken? This recipe from Mrs. Jones's Kitchen is a healthier take on this classic dish that became famous after the coronation of Queen Elizabeth II.
Instead of cream, the recipe calls for Greek yogurt. The curried dressing, sweet apricots, and crunchy almonds combine with the chicken for a tasty dish that's great on sandwiches or by itself.
13. Pineapple Teriyaki Chicken
Your family will love a heaping helping of Pineapple Teriyaki Chicken from Simply Stacie. The sweet and savory sauce makes it perfect for serving over rice to soak up all that goodness.
Plus, it only takes 5 minutes of prep and then cooks in the Crock Pot to have dinner ready with no fuss at all.
14. Buffalo Chicken Dip
Scoop your chips into this delish Buffalo Chicken Dip from The Forked Spoon. Shredded chicken, ranch dressing, hot sauce, cream cheese, cheddar cheese, and green onions make this appetizer irresistible.
If you're watching your carbs, you can serve it with celery or bell pepper dippers instead of chips.
15. Mexican Chicken Salad
Isabella Eats has a delicious recipe for Mexican Chicken Salad that you need to try at least once. Ensalada de Pollo uses everyday ingredients you probably have on hand in the kitchen right now.
You'll need shredded chicken, potatoes, mixed vegetables, mayo, sour cream, lime juice, and pickled jalapeno brine. The brine adds a bit of heat and acid to perfectly complement the mayo and sour cream.
It's hearty enough to eat on its own but would taste amazing over greens or in tostada shells.
16. Honey Garlic Shredded Chicken
Make a healthier version of the classic Chinese dish with this recipe for Honey Garlic Shredded Chicken by The Foodie Affair.
The chicken is baked rather than fried and coated in a sauce made of ginger, honey, and garlic.
Serve with rice, sesame seeds, and chopped green onions.
17. Buffalo Chicken Sliders
Chicken is cooked low and slow in wing sauce to make these Slow Cooker Buffalo Chicken Sliders from Simply Stacie.
Once the chicken is shredded, add it to some buns along with a big drizzle of ranch dressing to finish off these game day appetizers.
They're terrific for an easy weeknight dinner, too.
18. Spicy Chipotle Shredded Chicken
Pinch of Yum has a fabulous recipe for Spicy Chipotle Shredded Chicken that'll add loads of heat and flavor to your dinner menu. Use it to make tacos, chicken nachos, quesadillas, or over a salad.
But you don't have to stop there. It's also delish over rice, on a pizza, or in lettuce wraps.
19. Caribbean Shredded Jerk Chicken Salad
Serve this Caribbean Shredded Jerk Chicken by Flavour and Savour over an incredible salad made with greens, avocado, mango, oranges, all topped with a tasty citrus vinaigrette.
The spicy and tender chicken pairs perfectly with the sweet fruit for a paleo-friendly meal.
20. Crispy Chili Chicken
Turn your shredded chicken into a plate of delectable Chinese Crispy Chili Chicken from My Morning Mocha in about 30 minutes.
The chicken is loaded with flavor from the marinade followed by the stir fry sauce made dark soy sauce, honey, sriracha, and lemon juice.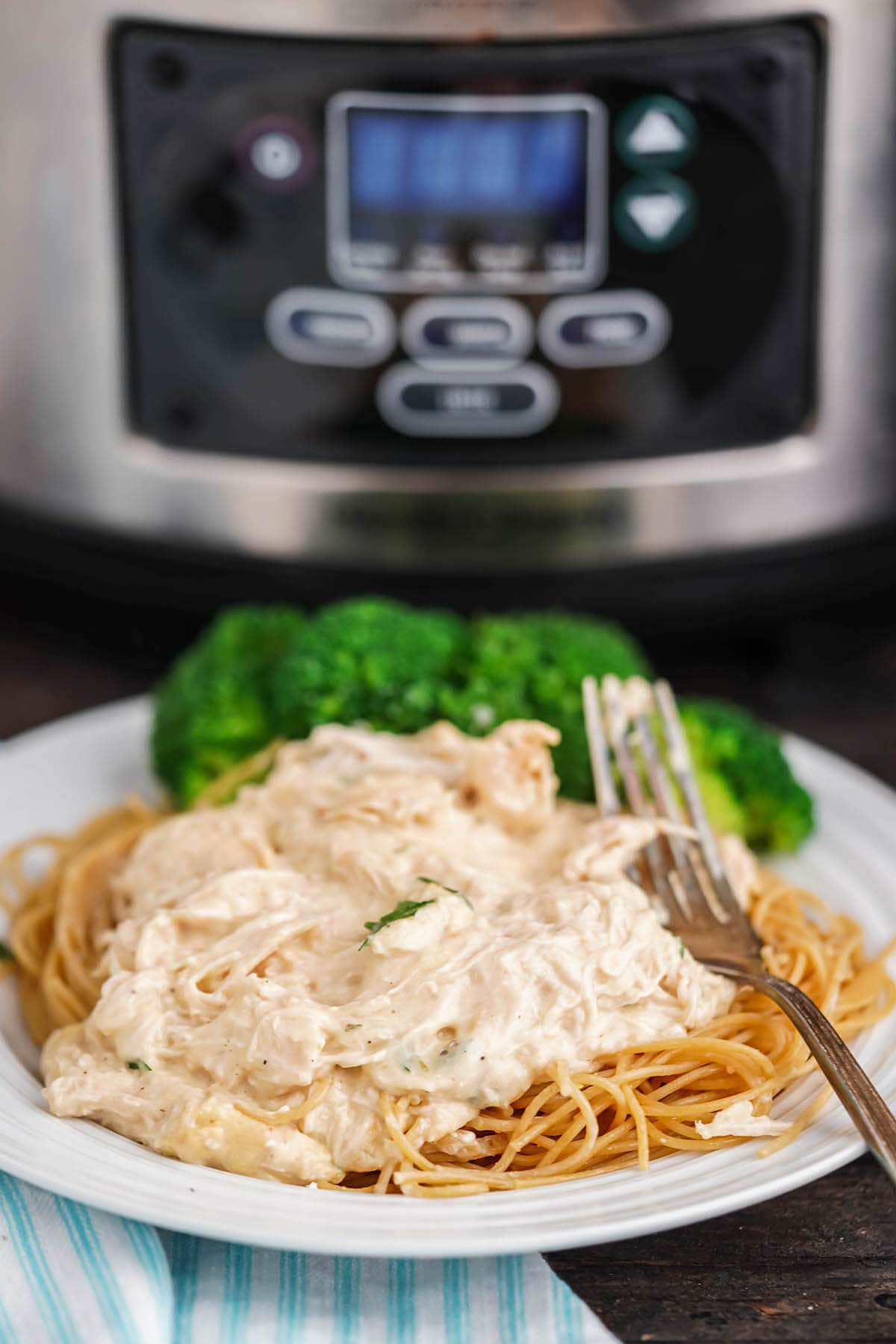 21. Zesty Italian Shredded Chicken
You'll love this incredible Italian Shredded Chicken recipe made with boneless, skinless chicken breast that is full of bold flavors.
The chicken is seasoned with a handful of ingredients includingzesty Italian seasoning mix and cream cheese. Serve it over pasta, rice, or zoodles for an easy and yummy meal.
Even the kids will love this versatile recipe!
22. Dutch Oven Shredded Chicken
This Easy Dutch Oven Shredded Chicken is the perfect recipe for dinner tonight! Simply throw all of the ingredients into your dutch oven and let it do all the work for you!
This recipe is perfect for a wonderful dinner and leftovers terrific for sandwiches, wraps or salads. Gotta love a recipe that is so versatile!
That wraps up our list of shredded chicken recipes. Which one do you think you'll try first? Don't forget to pin this post to come back to your favorite recipes later. And check out some of our favorite easy chicken casseroles!