Tender chicken packed with southwestern flavors made in the crock pot! Slow Cooker Santa Fe Chicken is an easy-to-make meal great for a salad or chicken burrito bowl this perfect for busy weeknights when you don't want to spend all day in the kitchen!
If you enjoy this recipe, be sure and try this next! One of my favorite crockpot chicken recipes!
Slow Cooker Santa Fe Chicken
Busy week ahead? Then you're going to love this meal! It's perfect for meal planning - sandwiches, wraps, salad, bowls - you name it! Double it up and freeze half and you'll be ready when you don't want to cook!
Not only is this a meal in a bowl - you're going to be even more excited about it because it starts in the slow cooker! Yep, it's a set it and forget it kinda meal. Love that!
I did not take a ton of pictures of the slow cooker process. Well... mostly because you don't need one! Boneless skinless chicken breasts, an onion, a can of enchilada sauce, taco seasoning and salt.
Slow Cooker Chicken Burrito Bowl Recipe
Ingredients for Slow Cooker Santa Fe Chicken
boneless, skinless chicken breasts
yellow onion
red enchilada sauce - homemade or store-bought your choice!
salt
That's the basics - if you want to make this a bowl or a wrap, here are more ingredients for this meal.
rice
spinach
cilantro
hominy or black beans
avocado
cherry tomatoes
red onions
black olives
yellow bell pepper
cotija cheese
flour toritillas
lemons or limes
salsa
sour cream
Of course I made mine into a bowl! That's no surprise, right?!!
Confession time, I love Chipotle's Burrito Bowls, so I started the bowls with tasty Tex Mex Rice!
Want to pump up the flavor of ordinary boiled rice? Ditch the water and substitute your favorite stock - chicken/beef or vegetable stock and add a pinch of salt.

When it's done mix in lime zest and a squeeze of juice and you'll have a delicious and easy Tex Mex Rice!

Deb Clark
Next top off with some greens - a good handful of baby spinach and a few leaves of cilantro. Hominy or black beans and shredded chicken
The protein is takes a back seat to all of these crunchy grains and the beautiful fresh vegetables!
Top it off with crumbled cotija cheese - pronounced [Ko-tee-hah]. Cotija is a Mexican cow's milk cheese. It's quite pungent and salty and ridiculously yummy!
Are burrito bowls served hot or cold?
Certainly it's your own personal preference, but I prefer the chicken, rice and beans served warm.
Are burrito bowls good for you?
It depends on what and how much you pile on your bowl. All things in moderation, right? 😋
Rather than serve this with salad dressing top it with a heaping spoonful of your favorite salsa and just dollop of sour cream finishes it off.
Serve lemon or lime wedges alongside. That fresh burst of citrus finishes it off perfectly. Save the heavy salad dressing for another meal!
How long does a burrito bowl last in the fridge?
Leftover should last 3-4 days in the fridge! This recipe makes four generous bowls and on day two it was just as delicious!
You'll have two leftover chicken breasts and I used those for nachos on day three or grab a tortilla and make a wrap. Cook once and have three meals? LOVE that!!
Crockpot Chicken Burrito Bowl
Steps to make Sant Fe Chicken
Spray the crockpot with non-stick spray.
Add the chicken breasts.
Top with onions.
Sprinkle with taco seasoning and salt.
Pour over the enchilada sauce.
Cover and cook on low 8-10 hours.
Shred the meat for serving!
Simple and delicious, crockpot chicken burrito bowl is an easy meal!
Related recipes
Here are some yummy recipes to try!
What to serve with Slow Cooker Santa Fe Chicken!
Paloma Cocktail Recipe
Whether it's a summertime sip or a pretty cocktail for the holidays, you'll love the beautiful flavors of this grapefruit cocktail! It's the perfect combination!
Check out this recipe
Mexican Coleslaw Recipe
Mayo-free Spicy, crunchy coleslaw with a tasty twist on the traditional slaw recipe. It's a simple recipe and the perfect tasty side dish or add some crunch to your favorite tacos, yum!!
Check out this recipe
Southwest Salad Recipe
This days salad takes minutes tot make! It's full of crunch and flavor.
Check out this recipe
Authentic New Mexico Posole Recipe
Rich and flavorful this soup is slow cooked until the hominy is soft and the pork is fall apart tender.
Check out this recipe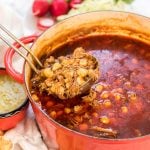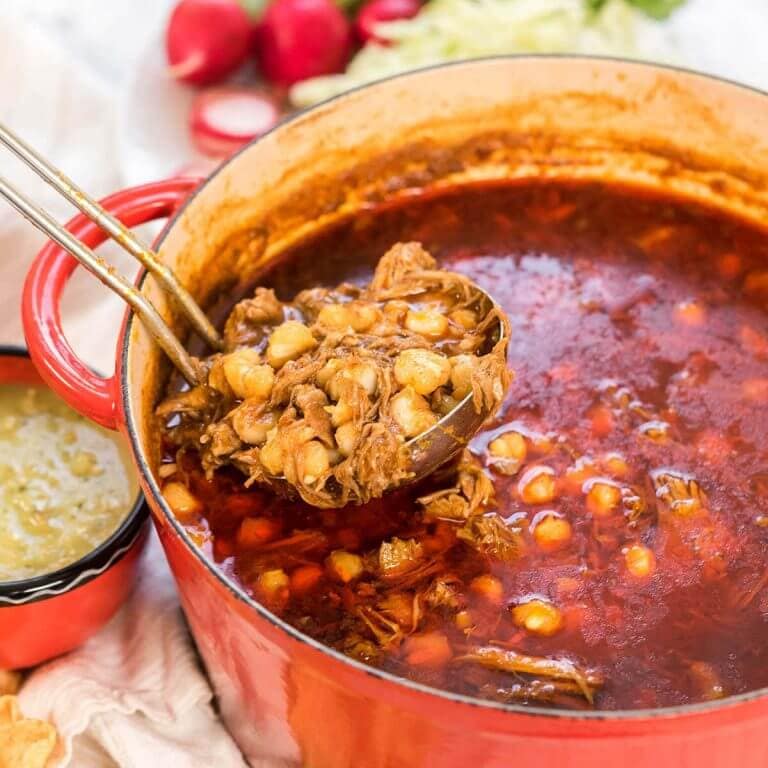 Oven Baked Chicken Chimichanga Recipe
Super simple this easy recipe is made with leftover chicken, this is a meal everyone will love!
Check out this recipe
Barbacoa Beef Tacos
Barbacoa Beef Tacos can't get any easier or more delicious with this slow roasted meat.
Check out this recipe
If you're looking to make it a party, click here for all of the BEST Mexican Food Recipes!
Slow Cooker Santa Fe Chicken
Slow Cooker Santa Fe Chicken Bowl
Slow Cooker Santa Fe Chicken is an easy meal SO DELISH great for mealplanning and easy make-ahead meals!
As an Amazon Associate I earn from qualifying purchases.
I earn a commission from Instacart from qualifying purchases.
Instructions
The morning of your meal lightly spray your slow cooker with non-stick cooking spray.

Lay the onions on the bottom, top with the chicken breasts, sprinkle with taco seasoning & salt, pour the enchilada sauce over the top.

Place the lid on the slow cooker and cook on low for 8-10 hours.

Remove two of the chicken breasts from the slow cooker. Dice into bite sized pieces.
Notes
*Cooking your rice in your favorite stock, chicken, beef or vegetable will make it that much more flavorful! Finish with a pinch of salt, lime zest and juice.
Toppings for wraps or bowls
rice, spinach, cilantro, hominy or black beans, avocado, cherry tomatoes, red onions, black olives, yellow bell pepper, cotija cheese, flour tortillas, lemons or limes, salsa, sour cream
Nutrition
Calories:
501
kcal
|
Carbohydrates:
53
g
|
Protein:
33
g
|
Fat:
18
g
|
Saturated Fat:
5
g
|
Cholesterol:
89
mg
|
Sodium:
1278
mg
|
Potassium:
1179
mg
|
Fiber:
8
g
|
Sugar:
5
g
|
Vitamin A:
3375
IU
|
Vitamin C:
88.4
mg
|
Calcium:
178
mg
|
Iron:
3.1
mg
Sign up for my recipes here!!
Don't worry, we'll never share your email.
First published Jan 20, 2017 - Last Updated September 29, 2021