Whether it's a summertime sip or a pretty cocktail for holiday time, this Paloma Recipe will be your new go-to cocktail!
Fruity and fun this Paloma Cocktail Recipe is a festive drink! Celebrate with Mexico's most famous drink! An easy to make, refreshing cocktail that combines tequila and grapefruit soda, cheers!!!
First Published: Nov 25, 2018... Last Updated: October 25, 2019
Paloma Cocktail
Happy Halloween! Are you celebrating tonight? Passing out sweets for the little ghosts and goblins? I hope so!
October 31st officially starts the celebration of the Day of the Dead - now just to be clear, this isn't Mexican Halloween, but a holiday in remembrance of those who have passed.
It lasts from October 31 - November 2. The celebration originated in Southern Mexico. It is a holiday to make peace with the inevitability of death and to remember loved ones.
The celebration has spread throughout much of the United States, resulting in parties and face painting, but I wonder how many folks really know the origination of the holiday?
Hmmm..... good question huh?
Anyway, when we were in New Mexico at the Santa Fe Farmers Market the ladies at the were busy braiding marigolds into beautiful long strands.
Native to Mexico, it is believed that the bright fragrant flowers help guide spirits to their altars. It's really quite fascinating. I wish I had taken more pictures!
I love the bright colors and festive spirit they bring to the celebration! I think it's fascinating and you can read more about it here.
Since the Paloma is the National Drink of Mexico, I think it's only fitting that we celebrate Halloween with this cocktail!
What is in a Paloma cocktail?
Served on the rocks, a Paloma Recipe includes tequila, grapefruit soda, and citrus. You can add more ingredients; I garnished my drink with a slice of blood orange and some pomegranate arils to make it extra festive!
If it's summertime just omit the pomegranate seeds!
Paloma Recipe
Ingredients for Paloma Cocktail Recipe
tequila - silver, gold or an aged tequila; choose the best quality that fits into your budget.
grapefruit soda - Fresca, Squirt or Jarritos grapefruit soda.
blood orange - mostly available in the winter, you can substitute with grapefruit.
pomegranate arils - an optional pretty garnish! You can also garnish with grapefruit or lime slices.
If you're looking for a substitute for grapefruit soda, you can use club soda and grapefruit juice with a twist of lime and simple sugar.
The soda in my recipe takes the place of all those ingredients. Hey if you can make it taste just as good with fewer ingredients and less work. Why not, right?!!
How do you make a Paloma?
It's so easy, check out how simple it is to make:
fill the glass with ice
add a shot of tequila
top it off with grapefruit soda.
finish it off with a squeeze of blood orange and spoonful of pomegranate arils
How easy is that?
What drinks are made with tequila?
The margarita is the first drink people think of when it tequila cocktails come to mind - Strawberry Margarita or Mango Margarita - cheers!
More delicious choices?
Where did the Paloma drink originate?
Great question! Apparently, no one knows the answer! 🤷 As I write posts now, I try to share a little knowledge as I go, but not today.
The origins of this cocktail are unknown. But don't worry; take a sip and you'll realize a little mystery is a good thing!
What tequila is best for this drink?
How do I drink tequila?
A good tequila should be savored like a great scotch. Tequila has its own distinct flavor!
If you're sipping tequila, this is definitely when you get what you pay for. Nosotros Gold Tequila is a great choice for sipping.
If you're mixing tequila, in a margarita or this Paloma Recipe, Legado is a great tequila for blending.
Do your research and then when you're ready to purchase, here's what I recommend; go to a good liquor store and speak with one of the experts.
We went to Total Wines and More and spoke to one of the experts. He explained the flavor profiles and helped us pick a tequila that worked for our budget.
I'd highly recommend if you are interested in learning more about tequila.
Tips to make this drink
A Poloma is typically served in a high ball glass which is tall and skinny.
Eek, I can't find blood oranges!!!

Don't run from store-to-store in search of blood oranges if you can't find them. Check your grocery store for canned blood orange juice. Can't find that? Substitute pink grapefruit - that is readily available and will give a delicious tang to this tasty sip!
Don't be shy, ain't nobody gonna judge when you're digging the pomegranate seeds out of the bottom of the glass! After soaking up all that goodness they are tasty!!!
More fun cocktails and drinks from the blog;
Lemon Drop Martini
Lemon Drop Martini - Sweet tart delicious lemony goodness! An excellent cocktail for a hot summer day or cold winter's night - cheers!
Check out this recipe
Homemade Strawberry Lemonade Recipe
Sweet tart homemade strawberry lemonade is an easy recipe that is a deliciously refreshing beverage, perfect for a bright spring day or hot summer afternoon.
Check out this recipe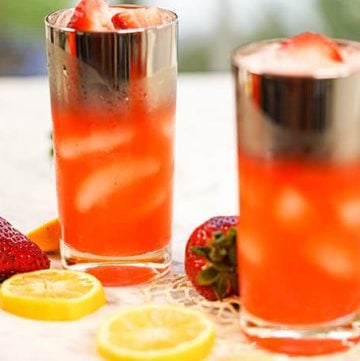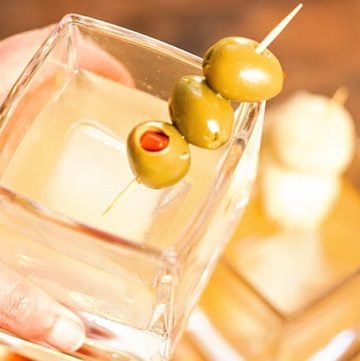 Mango Madness Mocktail Recipe
Mango Madness Mocktail is a sweet delicious non-alcoholic drink! Mango juice and sparkling water spiked with chunks of fresh mango and grapes combine to make a bright delicious punch!

Check out this recipe
The Last Word Cocktail Recipe
Last Word Cocktail Recipe - Only 4 ingredients to party fun! This cocktail is super easy to make and the liqueurs blend perfectly with tangy lime for a yummy balanced cocktail! This one packs a punch!
Check out this recipe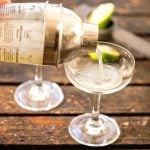 Some of the items below contain affiliate links; I am a participant in the Amazon Services LLC Associates Program, an affiliate advertising program designed to provide a means for us to earn fees by linking to Amazon.com and affiliated sites. However, I only promote things that I love and think you will love, too. For more information, please see my Disclosure Policy.
Cocktail Glass - here's a great set of cocktail glasses! The tall glass is what you're looking for when making a Paloma. It's affordable too, which makes this a great choice!
I'd love to see your party pictures when you enjoy this delicious cocktail! Tag me at #bowlmeover or on Instagram with @bowl_me_over! I love to see your tasty creations!!
Paloma Cocktail Recipe
Paloma Cocktail Recipe
Whether it's a summertime sip or a pretty cocktail for holiday time, this Paloma Recipe will be your new go-to cocktail!
As an Amazon Associate I earn from qualifying purchases.
Ingredients
1

part

tequila

2

parts

grapefruit soda

½

blood orange

cut into wedges

1

tbsp

pomegranate arils

optional
Instructions
Add several ice cubes to a tall cocktail glass.

Add a shot of tequila and top with grapefruit soda.

Finish by squeezing a couple wedges of blood orange into the cocktail and give it a stir.

Top with additional slices of oranges and pomegranate arils. Sip and enjoy!
Nutrition
Calories:
17
kcal
|
Carbohydrates:
3
g
|
Potassium:
35
mg
|
Sugar:
2
g
|
Vitamin C:
5
mg
Sign up for my recipes here!!
Don't worry, we'll never share your email.