Here's your FREE Weekly Meal Plan 48 for November 27 - December 3. Let's make dinner quick and easy and for sure save time and money in the kitchen!
If you have any suggestions or needs, let me know. I'd love your input. Together we can enjoy delicious affordable meals!
Jump to:
Meal planning and prepping tips
If you're new here...
Every week, I share a free meal plan for you to use the following week. You'll have seven main dish recipes, along with a few extras and of course dessert.
Typically the weekly meal plans are named by number of the week and date. For example, if the plan is for the first week of January, I'll name it Weekly Meal Plan 1 - Jan 3-9. Next year the plans will be updated for the corresponding dates and tasty new recipes!
Don't forget - if you have a busy day and plan on eating out, just drop a day off the menu and adjust the meal plan to fit YOUR busy life!
Weekly Meal Plan 48 - shortcuts and tips
Double the roasted cauliflower recipe. Save half for snacking or simple side dish later in the week. Still have leftovers? Add it to the fried rice Wednesday night! Cauliflower soup will keep for 3-4 days so be sure and enjoy it for lunch this week. Leftovers do not freeze well.
Double the rice when you make the BBQ Beef Bowl. Leftover rice is perfect for fried rice the next day (in fact you want the rice to be day old!).
Sub out the Korean BBQ beef or leftover pork for chicken in the fried rice recipe. That will be SO GOOD! Top the rice with a fried egg and you have a complete meal!
Leftovers of the Alfredo Stuffed Shells freeze great.
Stretch your budget - tips for meal planning
I have some quick tips for meal planning today for you to quickly review and apply what works best for you!
Leftovers - freeze them as soon as possible. Don't forget to mark your storage containers well! If they sit in the refrigerator and you don't use them, it's like money down the drain.
Purchase staples when they are on sale. That way you have go-to ingredients in your freezer and pantry.
Properly package and store food - if you buy in bulk, repackage it when you get home from the grocery store. Use heavy duty foil will lengthen freezer life and prevent spoilage.
Use your leftovers
The week before Thanksgiving we began cleaning out the refrigerator and freezer. Each day I removed meals that were frozen to thaw and use.
That worked great because...
We used those meals (which is why I frozen them to begin with).
We saved money because I wasn't going to the store.
It open space in the freezer for our Thanksgiving leftovers....win/win!
Pro Tip - Make a leftover night! - in other words, use your leftovers! That might be a no-brainer, but don't just tuck a meal in the freezer.... eat it!
Got a tip for me? Please comment below, I'd love to hear it!
November 27 - Tachos
By now you're getting tired of all the Thanksgiving flavors, right? Then it's time to break out the Tachos!
What are tachos? Well those are tater tot nachos. Super easy and fun for movie night or watching the game. Enjoy!
November 28 - Crockpot Chicken and Gravy
November 29 - Korean BBQ Beef Recipe
Super simple and quickly seared on a hot grill, Korean BBQ Beef is a quick and easy meal! Serve with rice, diced pears or mandarins and top it all off with a little sriracha. So simple and absolutely delicious!
November 30 - Fried Rice Recipe
Fried Rice is really a simple dish to make. Use leftover BBQ Beef instead of chicken. I love this meal!
Top it off with a fried egg and dinner is done! If you want to add a little more, then make pot stickers or egg rolls.
December 1 - Cheeseburger Soup Recipe
This hearty soup will be a real winner, even for your picky eaters!
With all the flavors of your favorite cheeseburger this easy recipe will quickly become a family favorite.
Cheeseburger Soup is quick and easy to make. No needs for any sides, this is a complete meal!
December 2 - Chicken Alfredo Stuffed Shells
Roasted Brussels sprouts would be yummy with this meal, as would roasted asparagus. I'm such a fan of a great yummy veggie! A great green salad is always a terrific side as well!
December 3 - Turkey Soup
Dessert - Pretzel m&m Hugs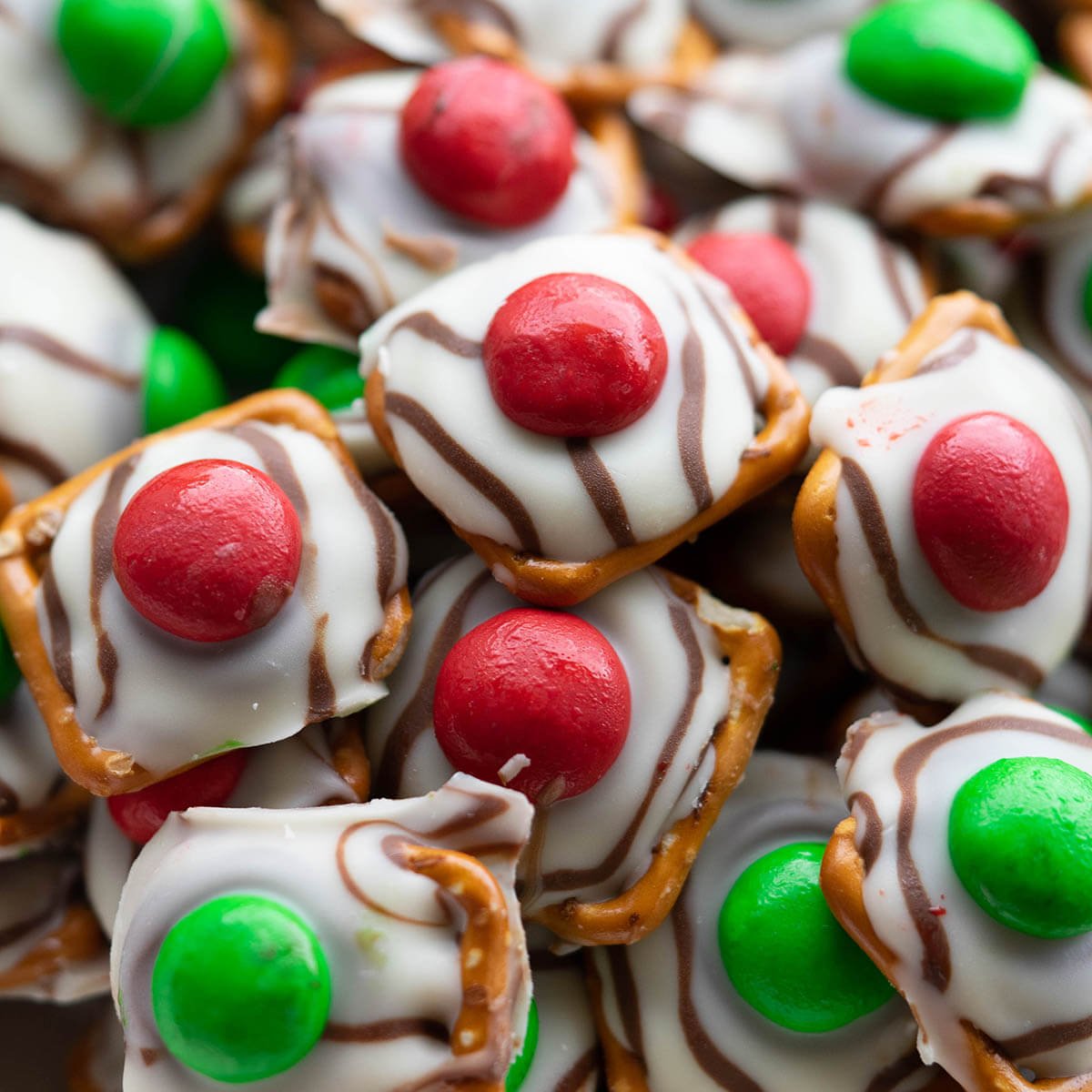 This little treat is the perfect sweet salty bite!
Easy to make pretzel m&m hugs only take about 10 minutes to make. Perfect for a treat when you want a little something!
They are also great for a cookie exchange or cookie platter gifts you're making for the holidays!
Meal Planning Worksheet
Click on the link below to download a PDF of the worksheet for weekly meal plan 48 so you can easily make notes and your grocery list for this week's recipes!
Related Recipes