Here's your FREE Weekly Meal Plan Week 8, February 21-27th. Let's stay on budget and saving time in the kitchen and money on food! Together we can enjoy delicious affordable meals!
Meal planning and prepping tips
Not enough leftover chicken from the slow cooker meal? Add a rotisserie chicken to your grocery list and that will cover it.
Leftover Pork Tenderloin and Meatloaf make great sandwiches for lunch!
Can't eat all of those cupcakes during the week? Freeze them! Cakes and cupcakes freeze well. Wrap them well with plastic wrap and use within the month.
February 21
Slow Cooker Chicken Tacos
This is one of my most magical recipes on the blog. We're making tacos on Sunday and we will use all leftovers during the week! So don't even throw out the broth, ok? Enjoy the slow cooker chicken tacos!
Top the tacos with guacamole and stretch the meal out with black beans. What a great meal!
February 22
Pork Tenderloin Salad
I love a big salad and this is the Pork Tenderloin Salad is the perfect combination of crunchy greens and grilled pork and bright fresh vegetables. And the creamy homemade dressing brings it together perfectly.
February 23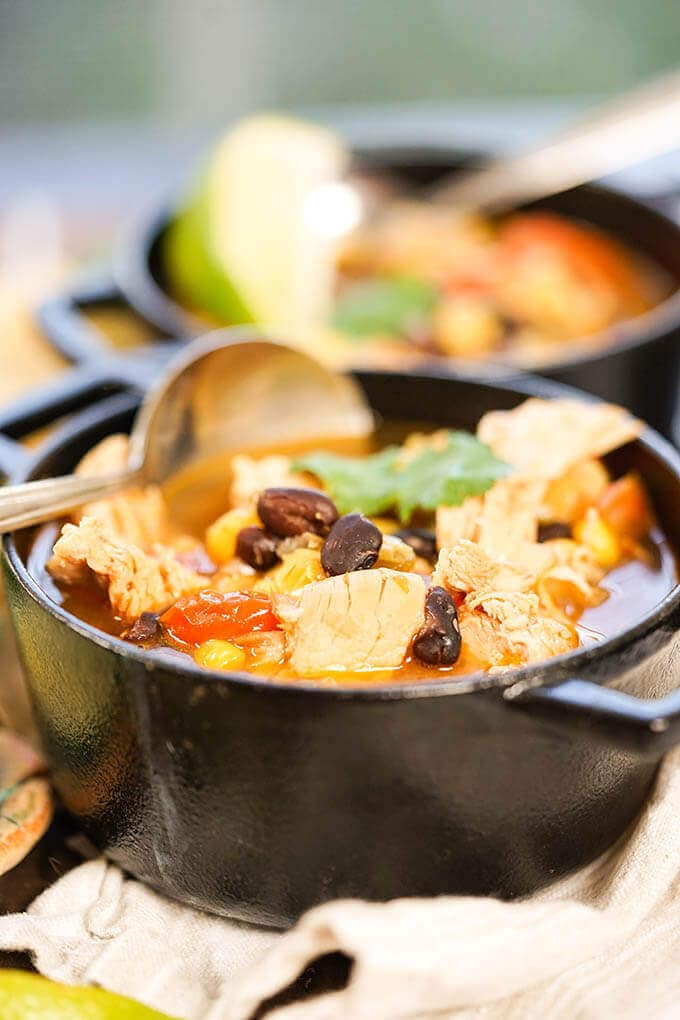 Taco Soup Recipe
On Tuesday we're going to use the leftover broth from Sunday's tacos, a little bit of the chicken and any leftover black beans to make a delicious taco soup.
This soup is so good. It's simple to make, everything is tossed in the crockpot and because the chicken is already cooked, it doesn't take long to come together.
Serving with a simple Caesar salad - keep it easy on yourself and use a bagged salad. Cornbread would also be a great side, or chips and salsa - YUM!
February 24
Pasta Primavera
This is a great empty-out-the-vegetable-drawer meal, because really you can use whatever you have on-hand!
Vegetarian pasta primavera is light and delicious it's a quick 30 minute meal. Put the pot on to boil for the pasta and by the time it's boiling and you've cooked the pasta the vegetables will be done.
February 25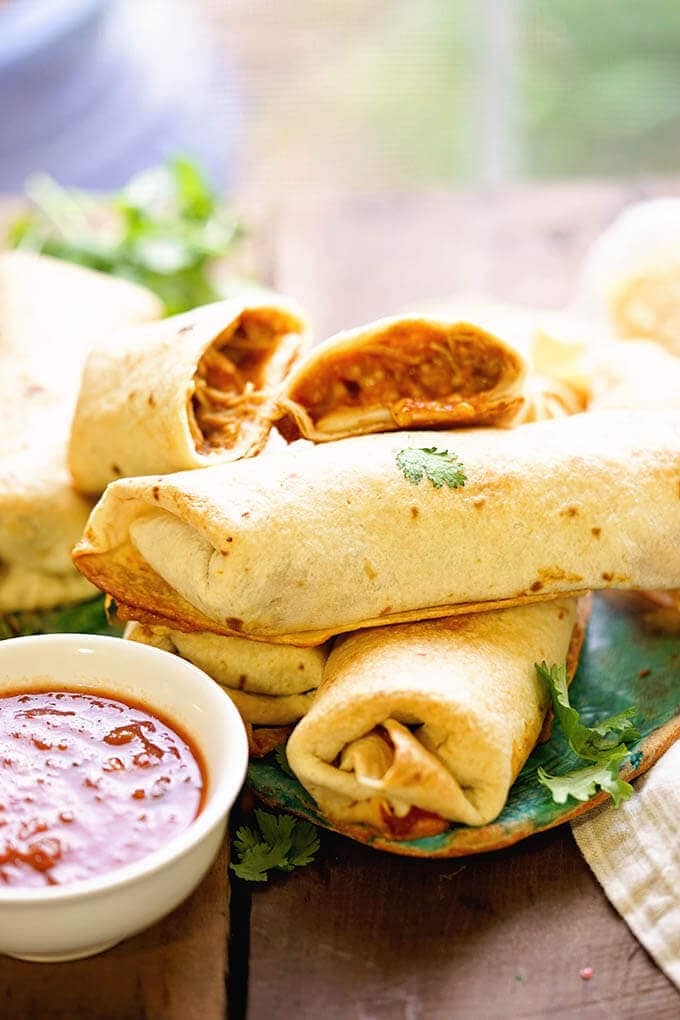 Chicken Chimichangas
Leftover meal three and this is so simple and easy!
Baked chicken chimichangas - shredded chicken, cheese, refried beans and a few spices, rolled up and baked until crispy and golden brown.
I'll be surprised if this isn't your families favorite meal of the week!
February 26
Meatloaf
Meatloaf is everyone's favorite comfort food meal! I make this tender, flavorful meatloaf in the pressure cooker, but it just as easily can be baked in the oven.
Leftovers make great sandwiches for lunch!
Pair this with mashed potatoes and roasted broccoli for a complete delicious meal!
Mashed Potatoes and Cauliflower
Yum, yum, yum - this is our favorite way to enjoy mashed potatoes! Potatoes are mixed with cauliflower and cheese.
Roasted Broccoli
Roasted Broccoli is an easy simple side dish and goes great with meatloaf! Be sure and make extra for tomorrow!
February 27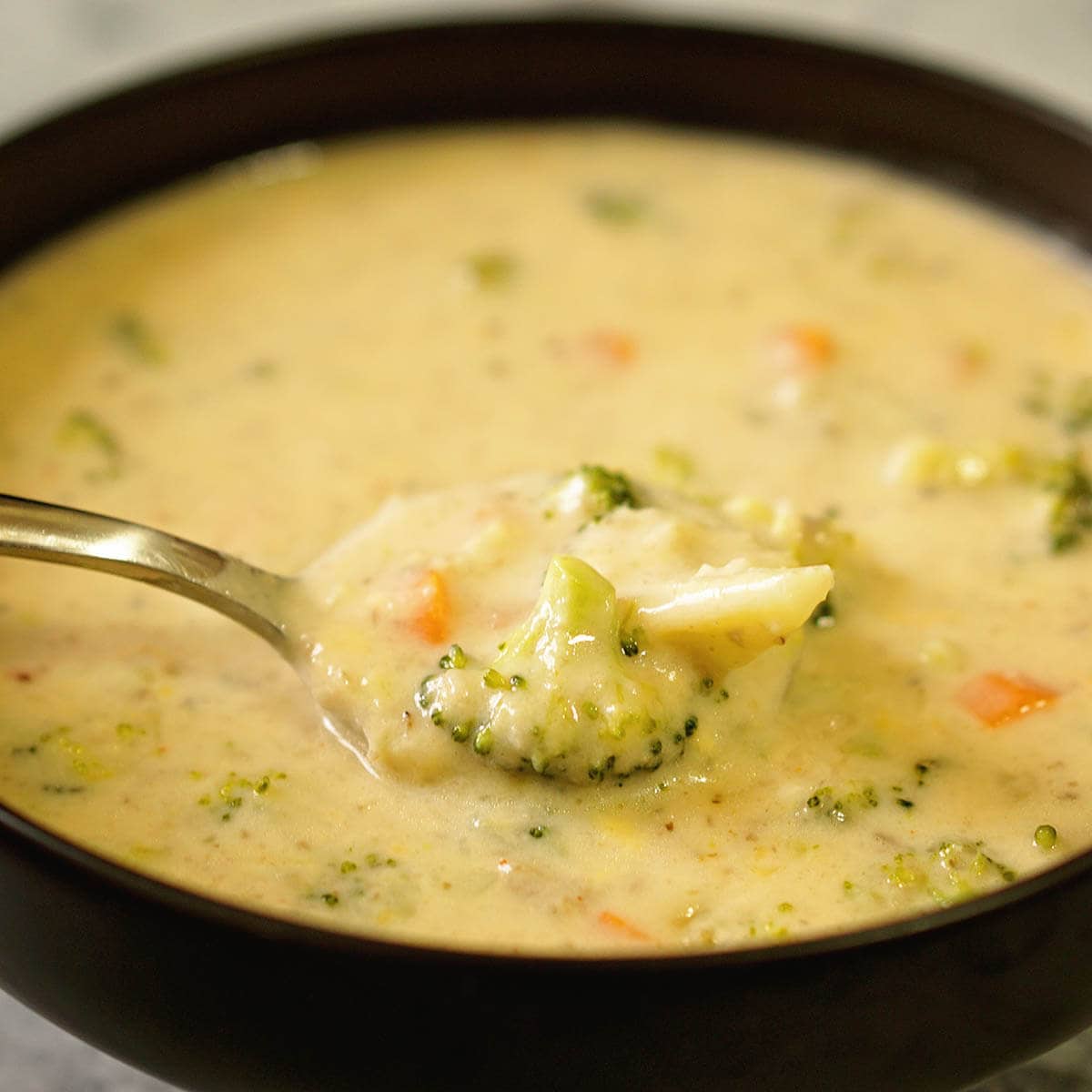 Broccoli Soup
Did you make extra roasted broccoli yesterday? Fantastic! We're using leftovers today to make this lovely broccoli cheese soup!
If there's any leftover cornbread, that would be delicious with the soup. Store bought Hawaiian rolls would also be lovely!
You want to get fancy and be just like Panera Bread? Serve your soup in a bread bowl - mmmm!!!!
Dessert
Minnie Mouse Cupcakes
Aren't these fun? Minnie Mouse Cupcakes are so simple to make! I use a box mix and a super easy homemade frosting.
Topping with mini Oreo cookies and a red m&m's for a nose and they are perfect. You can enjoy these all week long!
Find all of the weekly plans by clicking here.
Meal Planning Worksheet
Click on the link below to download a PDF of the meal planning worksheet so you can easily make notes and your grocery list for this weeks recipes!
Meal Plan for February 14 - February 20