Happy Halloween! Are you planning some holiday fun? Whether you're having a party at home with just family or gathering with close friends, you're going to love this list of Easy Halloween Party Food ideas that are real crowd-pleasers.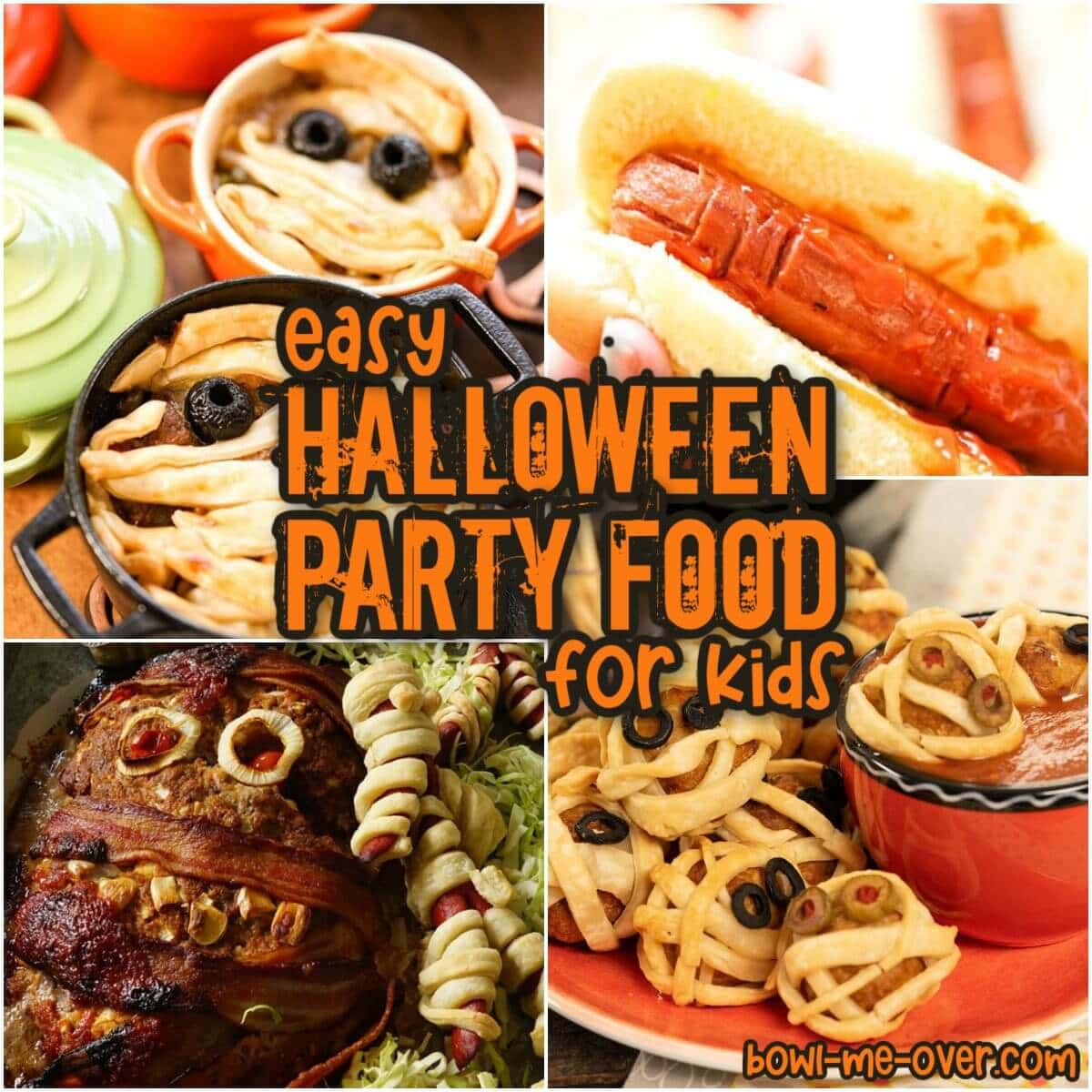 The mummy meatloaf and mummy hotdogs are perfect for your Halloween party menu, while the mummy meatballs, hot dog fingers, and pumpkin chocolate chip cookies are great spooky treats for the kids. These are simple halloween recipes created to fill bellies and be loads of fun!
Every spectacular, spooktastic recipe has been tried, tested, and taste-buds-approved!
Jump to:
Mummy Meatloaf and Mummy Hotdogs
Mummy Meatloaf and Mummy Hotdogs - Do you dream of a meatloaf that's good enough to serve to your family for Sunday dinner but spooky enough to scare the kids on Halloween? No? Just me? You might change your mind when you make this, it's one of my favorite main dishes for the holiday!
It's wrapped in bacon and slathered in sauce, so you know it's delicious! And with a few strategically-placed decorations, like garlic teeth and onion eyes, you have a simple meaty mummy for your Halloween dinner. It's a great recipe!
To make it even more fun, he's surrounded by mummy hotdogs. They're the perfect portable snack for the kids who may not want to sit down to a full meal of meatloaf with all the fixings.
Mummy Pot Pie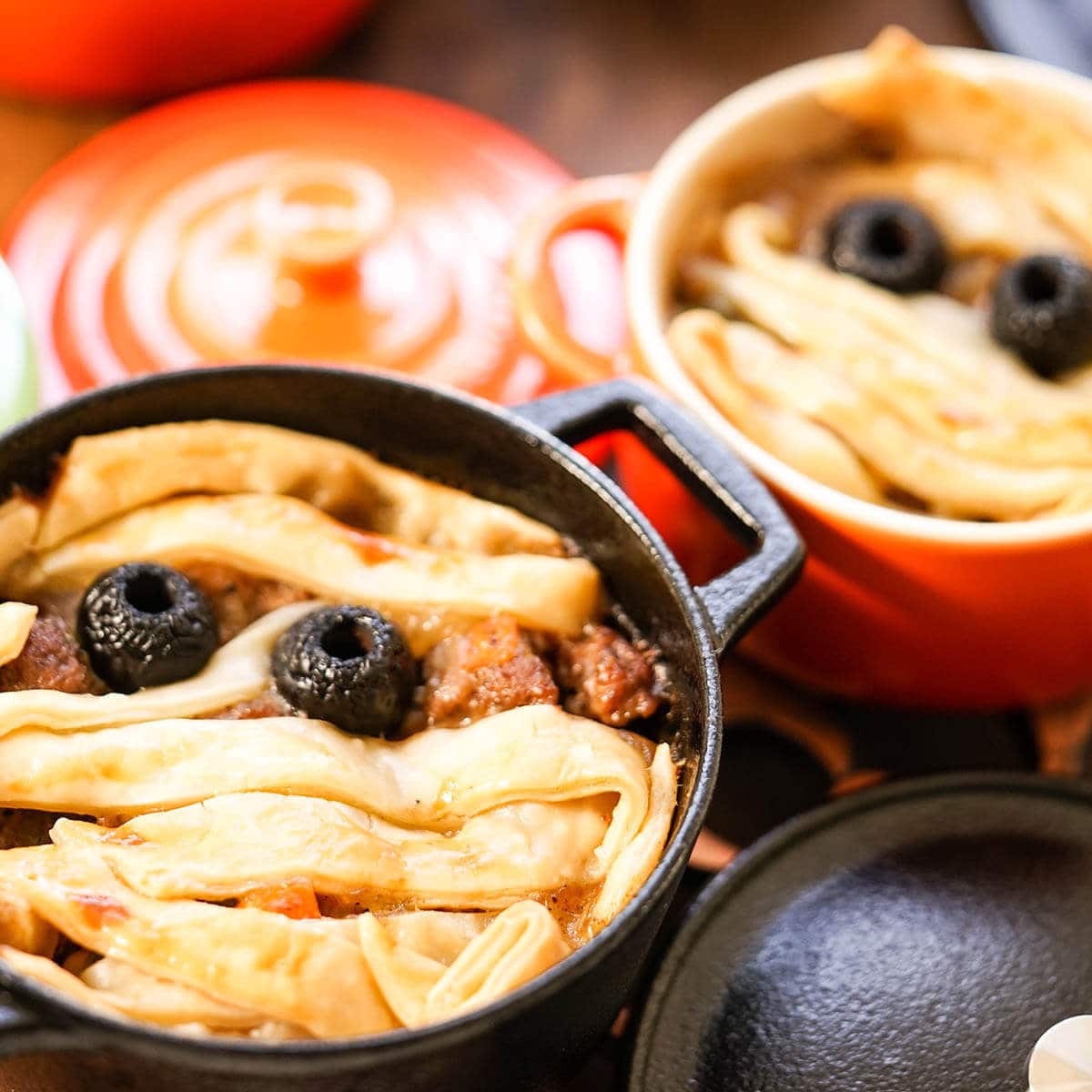 Mummy Pot Pies - Halloween can be a little chilly or even downright cold, depending on where you live. Sit down to this warm, comforting Mummy Pot Pie before you begin your festivities.
They're so good that the kids won't even notice that these savory pies are full of mixed veggies.
The best part is that you don't have to worry about making a pretty pie crust top. Just cut your pie dough into strips to create that wrapped mummy effect, and plop in two olives for eyes. Now, isn't that easy and fun?
Chocolate Chip Pumpkin Bread
Chocolate Chip Pumpkin Bread - You're going to love this delicious Chocolate Chip Pumpkin Bread. It's terrific for dessert or a sweet breakfast with a hot cup of coffee. This simple fall treat is made with loads of chocolate chips, crunchy walnuts, and tons of pumpkin flavor. It's super moist and flavorful thanks to the added spice cake box mix. What an easy flavor shortcut!
This is a terrific recipe to make ahead for friends and neighbors for Thanksgiving or Christmas, too. It lasts 5-7 days in the fridge or up to 3 months in the freezer! Start your baking early so the holidays can be stress-free.
Crockpot Pumpkin Butter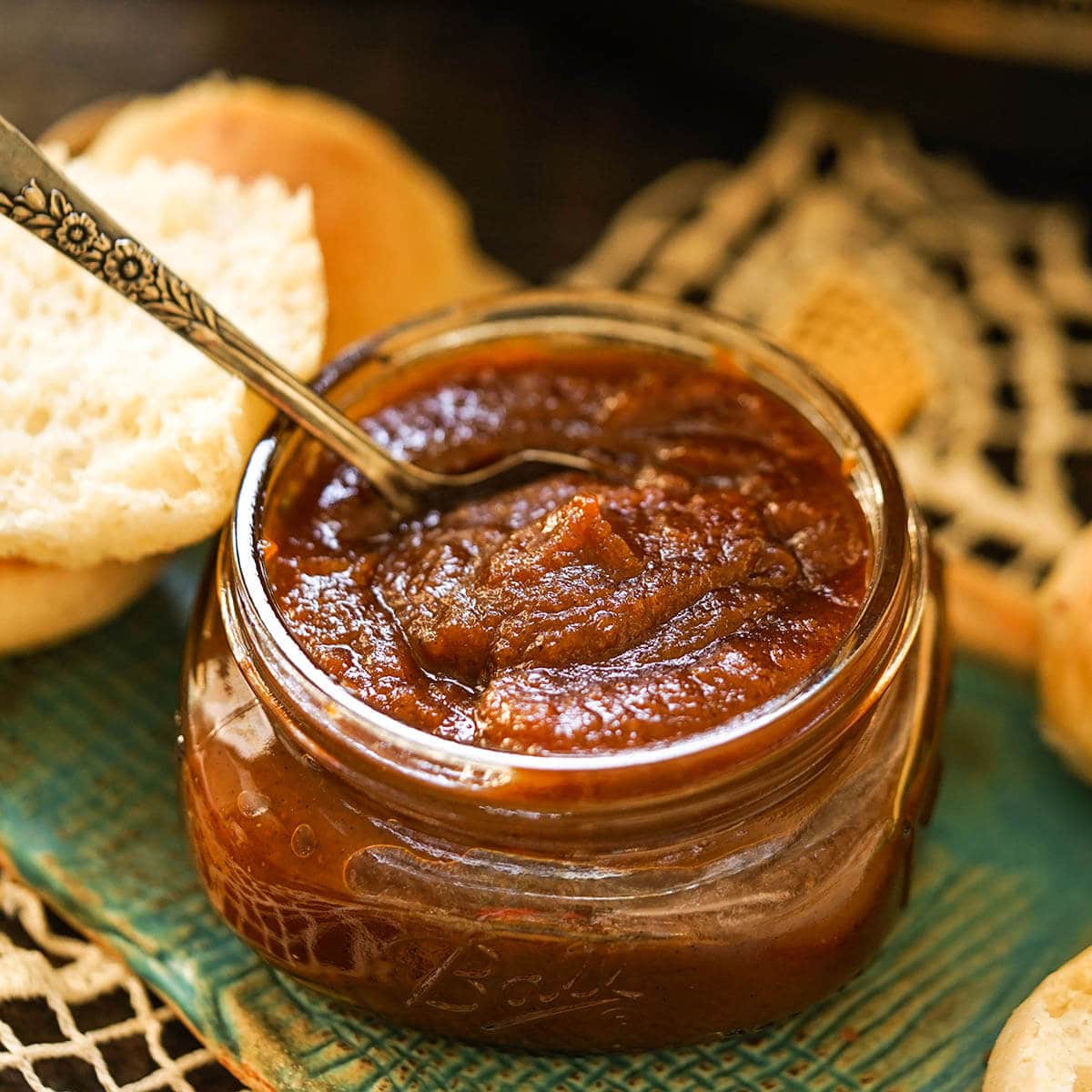 Crockpot Pumpkin Butter - If you love apple butter, this Pumpkin Butter is going to be a new fall favorite. It's the perfect spread to slather on biscuits, toast, or muffins. This pumpkin butter is made in the slow cooker and is made with the perfect blend of fall spices—cinnamon, nutmeg, ginger, and allspice.
It's super simple; pop the ingredients in the slow cooker, give it a good stir, and make sure you stir it once an hour for the 3 hours or so that it for cooking! Refrigerate leftovers for up to 2 weeks or in the freezer to preserve it.
Pumpkin butter is perfect for the whole fall season! Looking for simple halloween appetizers? Serve this with toasted bread or set it out in a bowl with a cheese platter. Also delicious for breakfast with warm muffins. What a yummy breakfast or snack - am I right? Yes!!!
Mummy Meatballs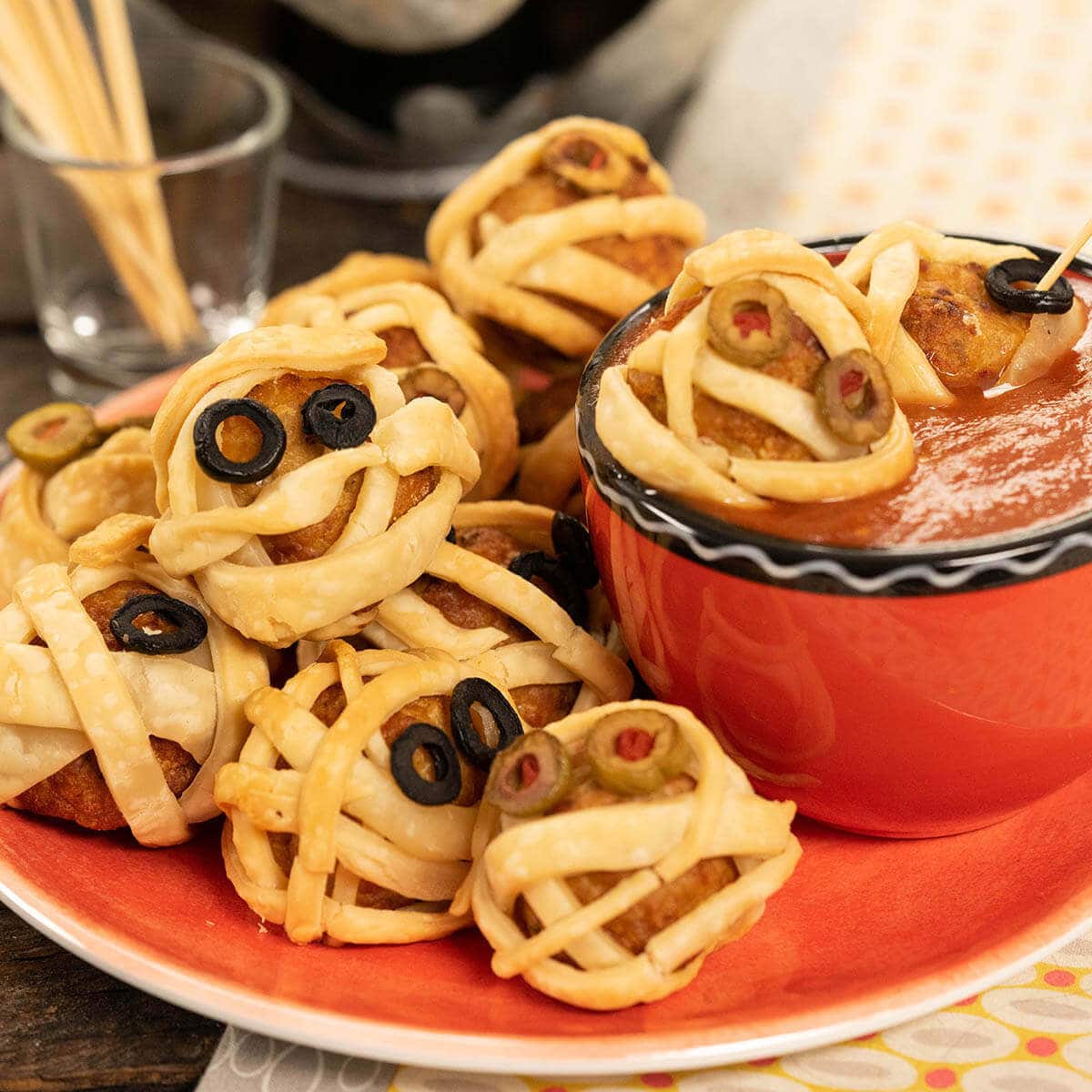 Mummy Meatballs - these are the perfect finger food for your Halloween party! Skewer that delicious-looking mummy head and plop it in some sauce for a delicious savory treat.
Don't worry—you don't have to fuss with homemade meatballs, although you could if you wanted to. We've gone the simple route with frozen meatballs, store-bought pie crust, and jarred marinara sauce with green or black olives for eyes.
Psst… if you do get a craving for homemade meatballs, these turkey meatballs are amazing!
Mummy meatballs are a fantastic lunch idea for the kids during the week of Halloween. They'll be the envy of all their friends!
Halloween Hot Dog Fingers
Halloween Hot Dogs - If you don't feel like doing a lot of cooking on Halloween, for your next Halloween party you can take even the simplest foods and, with a little creativity, make them spooky and gory-looking for Halloween. Take these Halloween Hot Dog Fingers, for instance.
With a bit of strategic cutting with the knife, you'll have your hot dogs looking like severed fingers in no time. Bet that's a sentence you thought you'd never hear! You can boil, microwave, or grill them.
I like the flavor of grilled hot dogs the best, and it gives it that extra "ick" factor when you think of grilled severed fingers.
Pumpkin Chocolate Chip Cookies
Pumpkin Chocolate Chip Cookies - Are you ready for the softest, chewiest, puffiest pumpkin cookies ever? Of course you are! These sweet treats are perfect for Halloween. They're made with only 4 simple ingredients, one of which is spice cake mix, which really elevates the flavor of these tasty little sweets.
They bake up perfectly every time and fill your home with an irresistible aroma while they're in the oven. This recipe makes about 40 cookies, so you'll have plenty to share at your Halloween shin-dig.
I won't blame you if you keep a bunch of them for yourself, though. They disappear quickly!
Crock Pot Confetti Hot Chocolate
Crock Pot Confetti Hot Chocolate - Enjoy this delicious Crock-Pot Confetti Hot Chocolate after trick-or-treating or around a Halloween bonfire.
It's creamy, rich, and so chocolatey. And because you can make it in the Crock-Pot, you can have some going all evening. If you're serving a crowd, this is the best way because they will be able to serve themselves!
Set up a hot chocolate bar with marshmallows, whipped cream, and Halloween-colored sprinkles so everyone can help themselves whenever they need a warm drink!
Prefer a grown up drink? Then a Ruby Slipper would be the perfect cocktail!
Easy Caramel Apples
Easy Caramel Apples - It just isn't a Halloween party without Caramel Apples! These are the easiest, stickiest, gooey-est, most delicious caramel apples around.
This is such an easy way to make them and you will enjoy them in just minutes! The whole family will absolutely love them. Get your apples in the fridge the day before. Caramel sticks better to cold apples.
What will you top your caramel apples with? For this easy recipe you can choose chopped nuts, crushed Heath bars, mini chocolate chips, sprinkles, and even shredded coconut are all creative and delicious options.
Halloween is one of my favorite holidays so be sure you're prepared. Don't forget to grab fun Halloween costumes for the family! That way you'll be sure to scare the little monsters and goblins when they stop by for trick or treat!
Pin this list of the BEST Halloween Party Food ideas, so you'll have a menu plan for your celebration this year!