Halloween Hot Dog Fingers – Super scary and perfect spooky "finger" food for your party! Severed finger hot dogs are fun food for your ghosts and goblins to gobble up before heading out for trick or treating!
Halloween Hotdog Fingers
We moved out to the country when I was in the third grade. I'm not gonna lie, it was scary! I didn't know anyone and remember the kids whispering about me at recess.
Trick or Treating wasn't a whole lot of fun either. We had to walk 1/2 mile just to get to one house!
When we lived in town it was great! We'd tromp around with pillowcases filled with piles of candy before we quit for the night!
Luckily the first year we were out there, my folks made arrangements so my friend Laurie and I could go into town and trick or treat. Laurie's Mom planned to come out and get me and then we'd head back into town.
Sounds perfect, right?
Well Dad decided he would scare the girls, so before they got there he made a ghost out of a sheet, sat an old chair at the corner of the house and piped super scary music outside.
When they finally pulled in and got out of the car, Dad rose up out of the chair (right beside their vehicle).
Everyone screamed. Laurie peed her pants. I didn't get to go trick or treating that year, or ever again! 🤣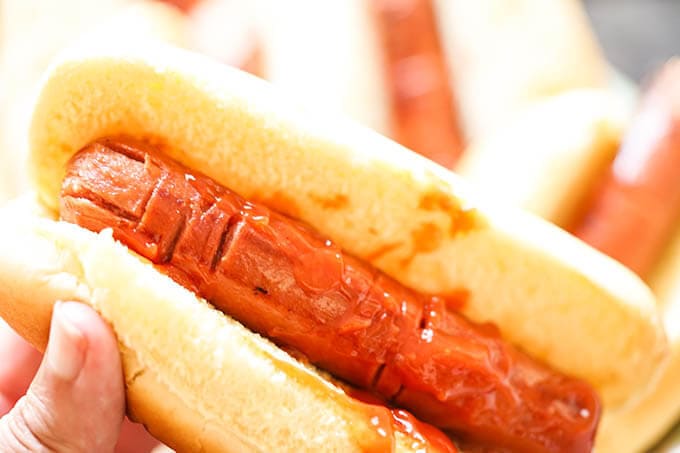 Hot Dog Fingers
How do you cut a finger to look like a hot dog?
It's really quite easy! Let me walk thru the steps:
To make the fingernails, score the two sides of the "nail", then straight across the top and bottom. Using a knife remove the patch to make a nail bed.
To make the knuckles, simple score the three to four slices for each "knuckle" being careful not to slice completely through the hot dog.
Tear off the end of each hot dog to give them a "severed" look
Severed Finger Hot Dogs
This isn't my video, but this gal did such a great job of showing how easy it is to make Halloween Hot Dog Fingers I wanted to share it with you!
And "frankly" (no pun intended) I love the "worm burgers" too – how fun!
Severed Finger Hot Dogs
How do you cook the Halloween Hot Dog Fingers?
I grilled mine because I really like the taste of a grilled dog, but can also boil them for 5-6 minutes.
You can microwave them too. Wrap the dogs in the paper towels and microwave for 30 second intervals until heated through.
More fun Halloween food and treats!
Mummy Meatloaf, caramel apples and mummy pot pies – yes I have a lot of fun Halloween food on the blog. In my world, this is a holiday for laughing and giggling. Make the most of the day for a fun time for the kids!
Looking to round out your party? Here's more Halloween Party Food!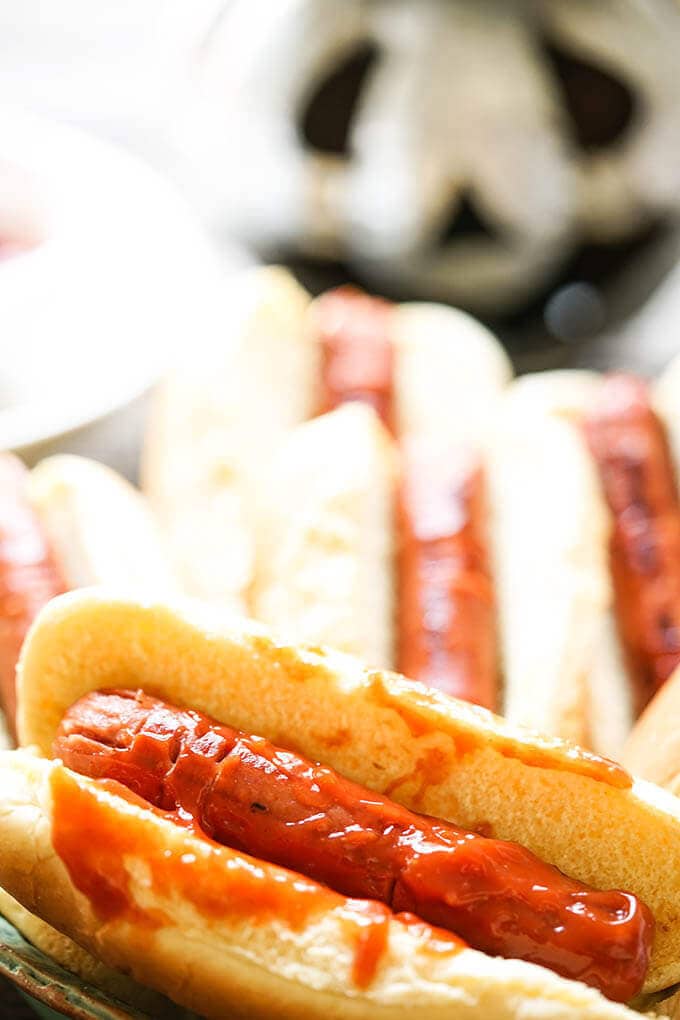 Life's too short to take yourself too seriously, right? I hope you enjoy this fun "finger" food for your Halloween get together!
I am a participant in the Amazon Services LLC Associates Program, an affiliate advertising program designed to provide a means for us to earn fees by linking to Amazon.com and affiliated sites.
Don't forget to check out my Amazon storefront for some of my favorite products! 🛍️
If you post a photo, please tag me! I'd love to see your pictures! You can tag me with #bowlmeover or if you're on Instagram use @bowl_me_over I can't wait to see how yummy this turned out for you! I would love it if you gave this recipe 🌟🌟🌟🌟🌟 stars!!
Halloween Hot Dog Fingers