Halloween Hot Dog Fingers - Super scary and perfect spooky "finger" food for your party! Severed finger hot dogs are fun food for your ghosts and goblins to gobble up before heading out for trick or treating!
Love these, be sure to try the Crescent Rolls Hot Dog Recipe - the kids will love these as well!
Jump to:
☠️ Why you'll love this recipe
✔️ Super fun, you won't have any problems getting the littles to eat a filling meal before trick or treating!
✔️ The "fingers" are really simple to make as well.
✔️ Decorating with ketchup makes them ghoul-worthy!
👻 Ingredients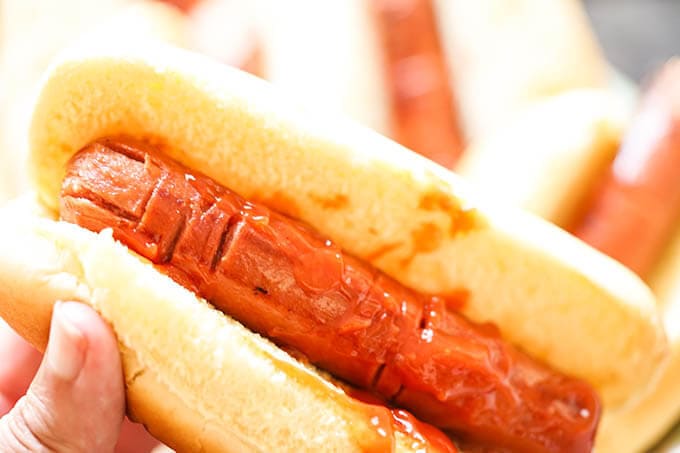 regular hotdogs - whatever your favorite brand is; Ballpark Franks, turkey dogs, classic hot dogs.
hotdog buns
catsup, mustard and any other toppings you enjoy on hot dogs!
😈 Instructions
🎃 How do you cut a hot dog to look like a finger?
It's really quite easy to make this extra creepy effect! Let me walk thru the steps:
To make the fingernails, place the hotdog on a cutting board. Score the two sides of the fingernail, then straight across the top and bottom. Use the tip of the paring knife to peel the patch off to make the bottom nail bed.
To make the knuckles or finger joints, simple score the three to four slices for each "knuckle" being careful not to slice completely through the hot dog.
Tear off the end of each hot dog to give them a "severed" look.
Equipment
The following are affiliate links. We are a participant in the Amazon Services LLC Associates Program, an affiliate advertising program designed to provide a means for us to earn fees by linking to Amazon.com and affiliated sites.
You'll really only need a good pairing knife to make this fun kid-friendly recipe!
🦇 Severed Finger Hot Dogs Video
Click on the image to watch this fun video and see me make this recipe from start to finish with extra tips! (Video opens in a new tab).
🕷️ How do you cook the Halloween Hot Dog Fingers?
I like grilling them because they blister and get great grill marks, plus we enjoy the taste of a grilled dog,
Microwave the dogs. Wrap them in the paper towels and microwave for 30 second intervals until heated through.
Air Fryer Hot Dogs (another personal favorite!) Perfect for a rainy day or when you don't want to grill.
Boil the hot dog fingers for 5-6 minutes - though the hotdogs themselves look good, I think it boils the flavor out. (my two cents!)
⚰️ More fun Halloween food and treats!
Mummy Meatloaf, caramel apples and mummy meatballs - yes I have a lot of fun Halloween food on the blog. In my world, this is a holiday for laughing and giggling. Make the most of the day for a fun time for the kids!
Isn't this the perfect Halloween meal? Another super scary fun meal is this recipe for Mummy Meatloaf along with mummy dogs - simple to make but your kids BIG and small will get a kick and enjoyment out of this meal!
Are you still scratching your head looking for the perfect Halloween costumes? Here are some terrific ideas for fun, homemade costumes!
Click here for a ton of easy halloween recipes! Fun themed food, perfect for your party!
And if it's an adult party, be sure to check out these 25+ Boo-zy Halloween Cocktails. So good, they are scary!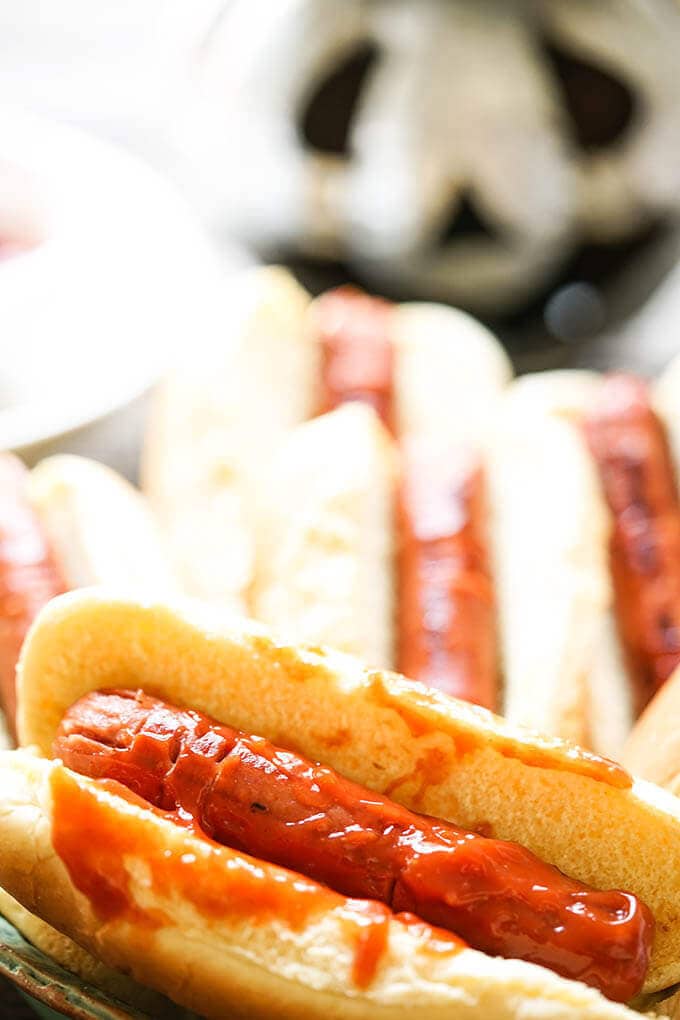 Life's too short to take yourself too seriously, right? I hope you enjoy this fun Halloween Hot Dog Fingers Recipe and make them for your Halloween get together!
Halloween Severed Fingers Recipe
Super scary and uber yummy these silly Severed Fingers Recipe will encourage your littles to grab a dog and chomp away before heading out to trick and treat! What a fun halloween lunch or the best dinner!
As an Amazon Associate I earn from qualifying purchases.
Ingredients
8

hot dogs

8

hot dog buns

½

cup

catsup
I earn a commission from Instacart from qualifying purchases.
Instructions
To make the finger nails, score the two sides of the "nail", then a slight curved or crescent slice across the top and bottom, in the shape of a finger nail. Use a sharp knife and remove the thin strips to make a nail bed.

Next make the knuckle lines, simply score the three to four slices or small lines for each "knuckle". Be careful not to slice completely thru the hot dog.

Tear off the end of each hot dog to make them appear "severed".

Grill lengthwise on the grill for about two minutes per side until the dogs are blistered and heated through.

Dip the end of the hot dog in ketchup to get the bloody effect and splatter some on the dogs and buns. The goal is to make them look like a bloody finger - eek!

Place each dog in a hot dog bun and on a big platter with additional toppings if desired. Enjoy this and have fun with it!
Notes
Cooking the hot dogs on the stovetop:
Boil them for 5-6 minutes.
Cooking the hot dogs in the microwave:
Wrap the dogs in the paper towels and microwave for 30-second intervals until heated thru.
Place piles of your favorite topping right on top of the bun. Serve and enjoy!
Variations 
Wrap your hotdogs in delicious crescent rolls and bake! Allow part of the hot dog, just the tip of the finger peak through the end - how fun is that?!!
Nutrition
Calories:
246
kcal
|
Carbohydrates:
34
g
|
Protein:
9
g
|
Fat:
8
g
|
Saturated Fat:
3
g
|
Cholesterol:
20
mg
|
Sodium:
656
mg
|
Potassium:
167
mg
|
Fiber:
1
g
|
Sugar:
6
g
|
Vitamin A:
77
IU
|
Vitamin C:
1
mg
|
Calcium:
87
mg
|
Iron:
3
mg
Sign up for my recipes here!!
Don't worry, we'll never share your email.
🕸️ Recipe backstory
We moved out to the country when I was in the third grade. I'm not gonna lie, it was scary! I didn't know anyone and remember the kids whispering about me at recess.
Trick or Treating wasn't a whole lot of fun either. We had to walk ½ mile just to get to one house!
When we lived in town it was great! We'd tromp around with pillowcases filled with piles of candy before we quit for the night!
Luckily the first year we were out there, my folks made arrangements so my friend Laurie and I could go into town and trick or treat. Laurie's Mom planned to come out and get me and then we'd head back into town.
Sounds perfect, right?
Well Dad decided he would scare the girls, so before they got there he made a ghost out of a sheet, sat an old chair at the corner of the house and piped super scary music outside.
When they finally pulled in and got out of the car, Dad rose up out of the chair (right beside their vehicle).
Everyone screamed. Laurie peed her pants. I didn't get to go trick or treating that year, or ever again! 🤣