Planning a Halloween party or need something to sip on after a night of Trick or Treating with the kids? We've got you covered with these boo-zy Halloween Cocktails!
Spooky drinks and spicy concoctions, these are the best Halloween cocktail recipes! Potions made with vodka, champagne, rum, tequila, and all the rest of your favorite alcoholic drinks and topped with spooky garnishes. They're colorful, bubbly, smoky, and downright creepy!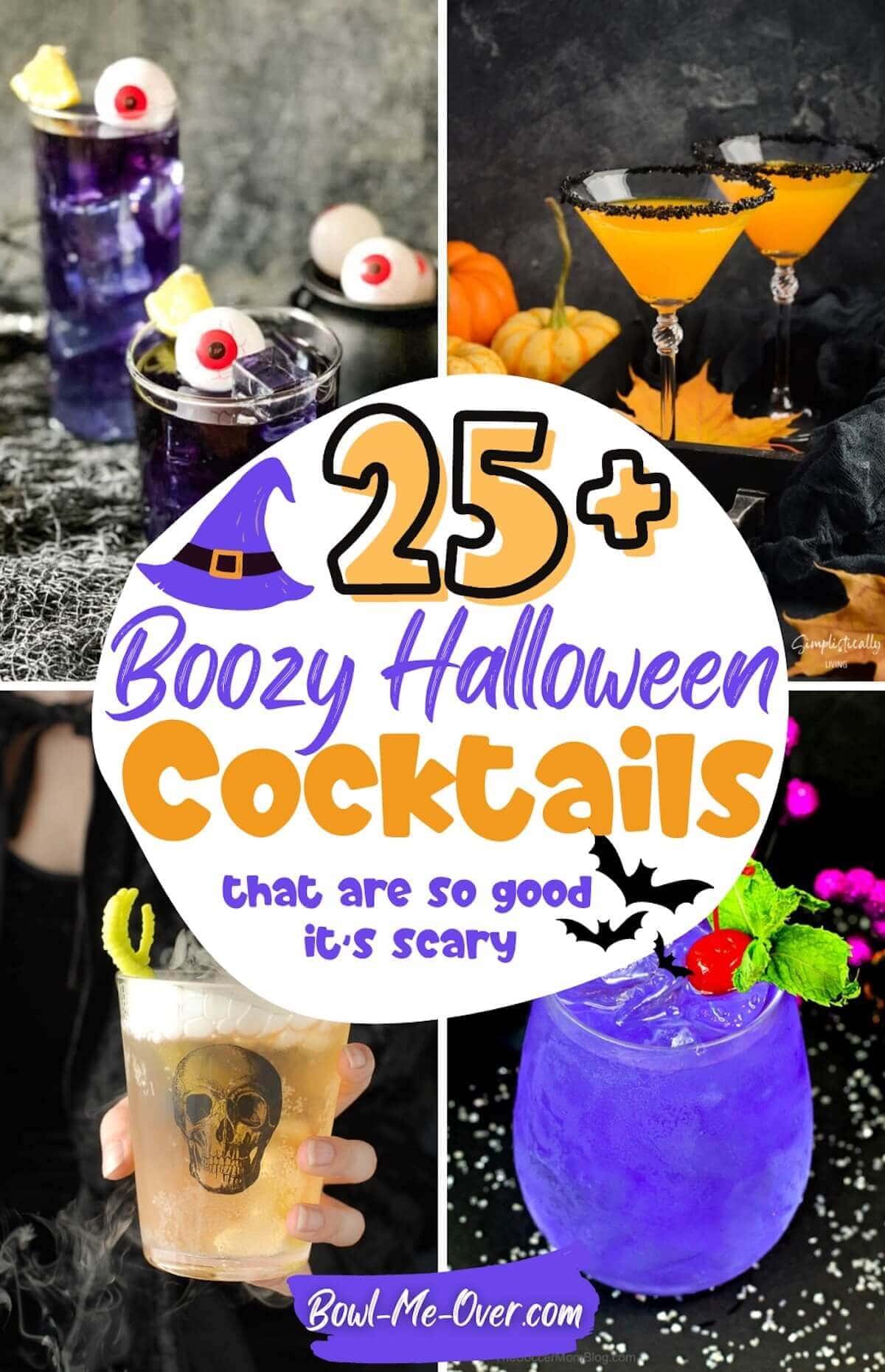 Jump to:
We've also got you covered when it comes to the ultimate halloween party treat!
For some Halloween appetizers, try Mummy Meatballs or Mummy Jalapeno Poppers. Our big list of Halloween Party Foods is handy, too.
Make Gourmet Candy Apples or Halloween Rice Krispies Treats if you have a sweet tooth.
But for now, let's put the cauldrons on the fire and mix up some seriously spooky Halloween drinks for your Monster Mash.
Wickedly Delicious Halloween Drink Recipes for Your Spooky Soiree
Grab your cocktail shaker. It's time to mix up some easy Halloween cocktails this Halloween season!
1. Halloween Jungle Juice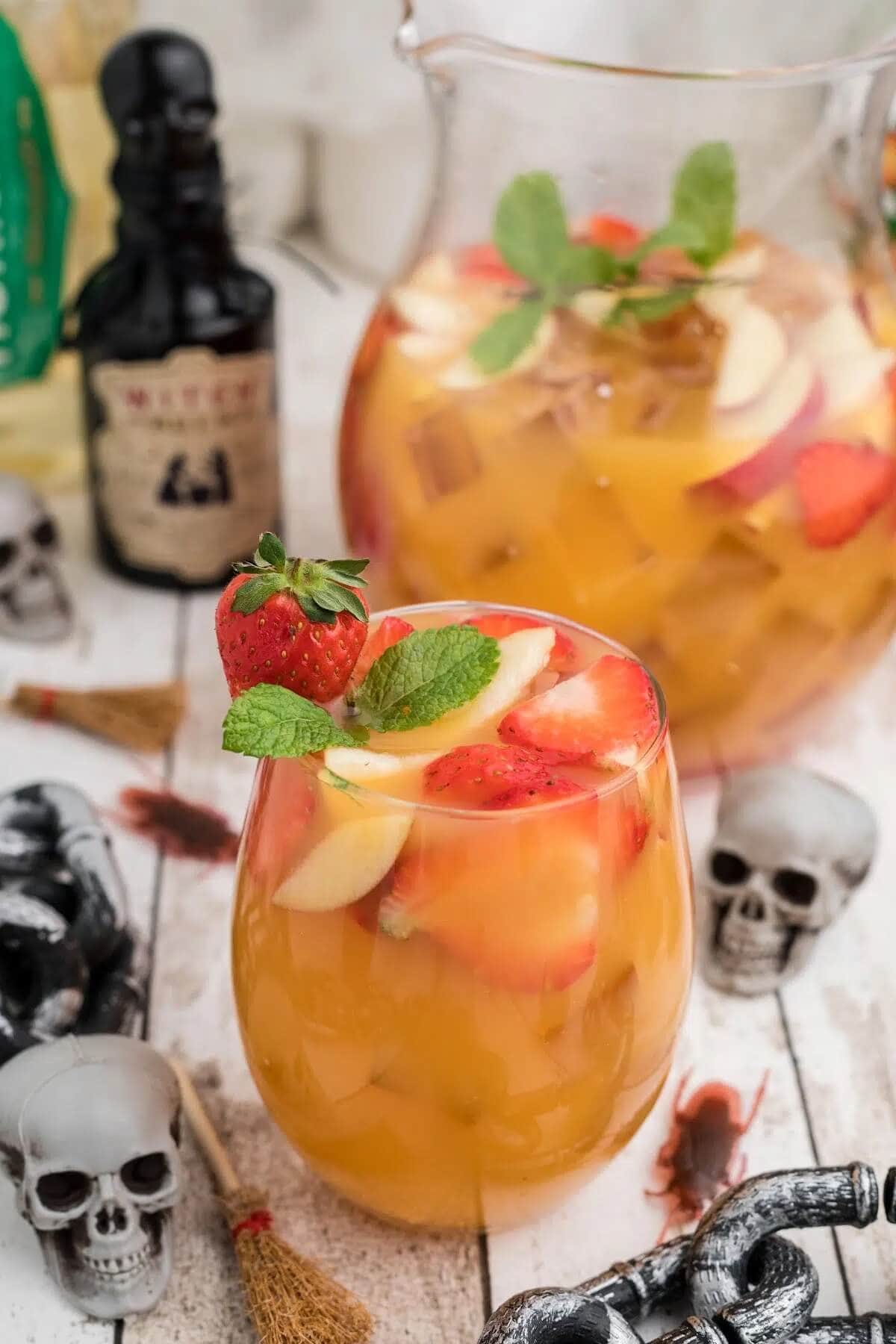 Kick your party off with this amazing Halloween Jungle Juice - making a pitcher of this potion will ensure you're enjoying the party and having loads of fun! Beware.... this grog packs a punch!
2. Poison Apple Halloween Cocktail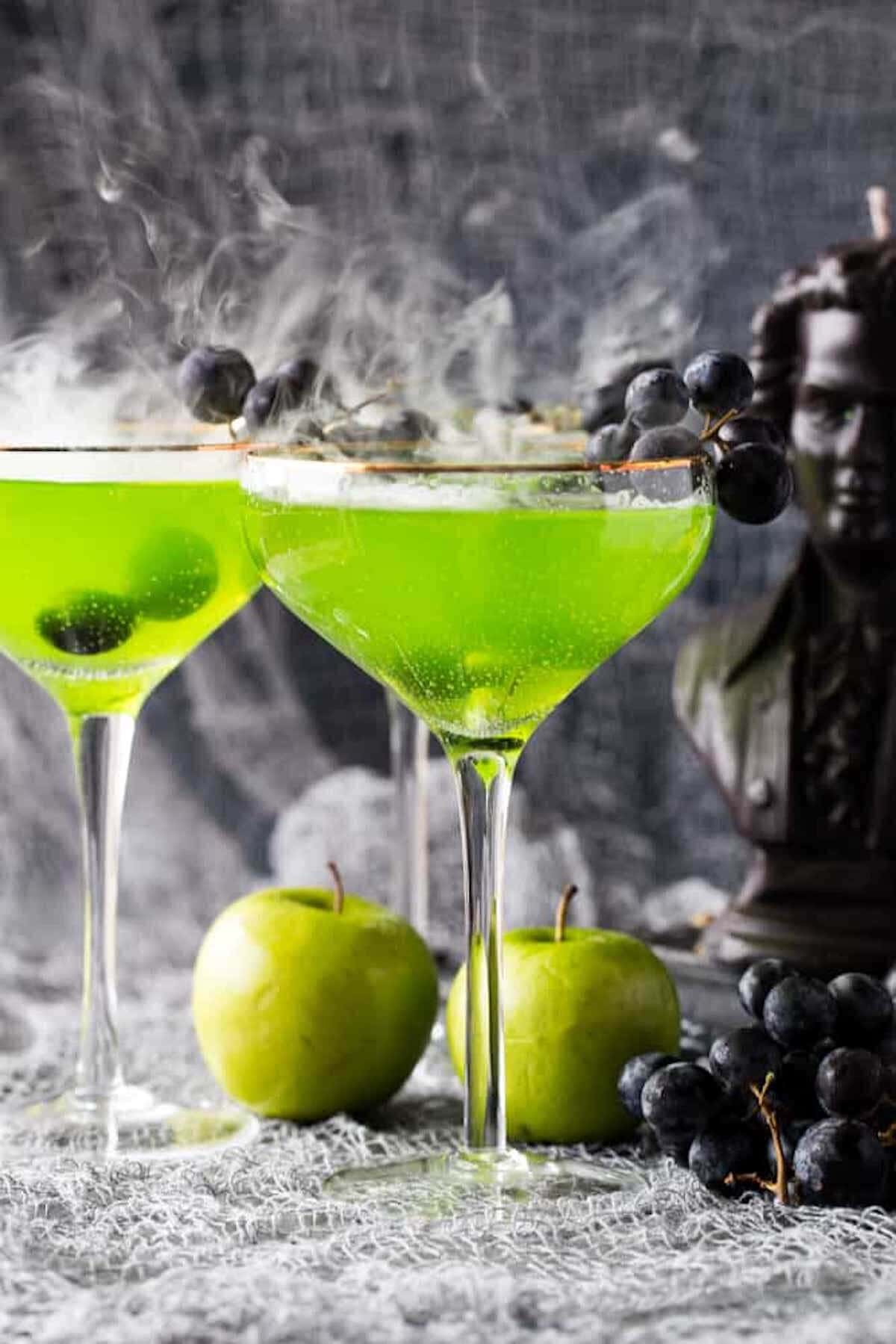 Shake up a Poison Apple Cocktail from The Seaside Baker for your Halloween celebrations. The flavor is crisp and tart, and the bright green hue perfectly matches the Halloween theme.
You'll need Apple Schnapps Liqueur, vodka, and sour apple mixer — just 3 simple ingredients!
Serve it in drink glasses or in potion bottles or test tubes. Add apple slices to the rims of the glasses for extra flair.
The smokey effect is achieved by using a little chips of dry ice. Just be very careful and use tongs when handling the dry ice.
3. Witches Brew Cocktail
You'll love this vivid green Witches Brew Cocktail from Crayons and Cravings.
It's made with vodka, Sprite, and Green Berry Rush Hawaiian Punch with gummy worms to create a witches brew effect. If you're serving this to a crowd, put it in a large punch bowl or cauldron.
Rim glasses with Halloween sprinkles right before serving to make this drink extra fun. If you're feeling sweet, serve with a platter of pumpkin chocolate chips cookies for extra fun!
4. Bloody Sunrise Cocktail
Mix up a little fake blood made with corn syrup and red food coloring to rim the martini glasses for this Bloody Sunrise Cocktail from The Kitchen Is My Playground.
Made with orange juice, grenadine, and tequila, the ingredients come together to form a stunning red, orange, and yellow layered drink that looks spooky in the blood-rimmed glass.
5. Dragons Blood Cocktail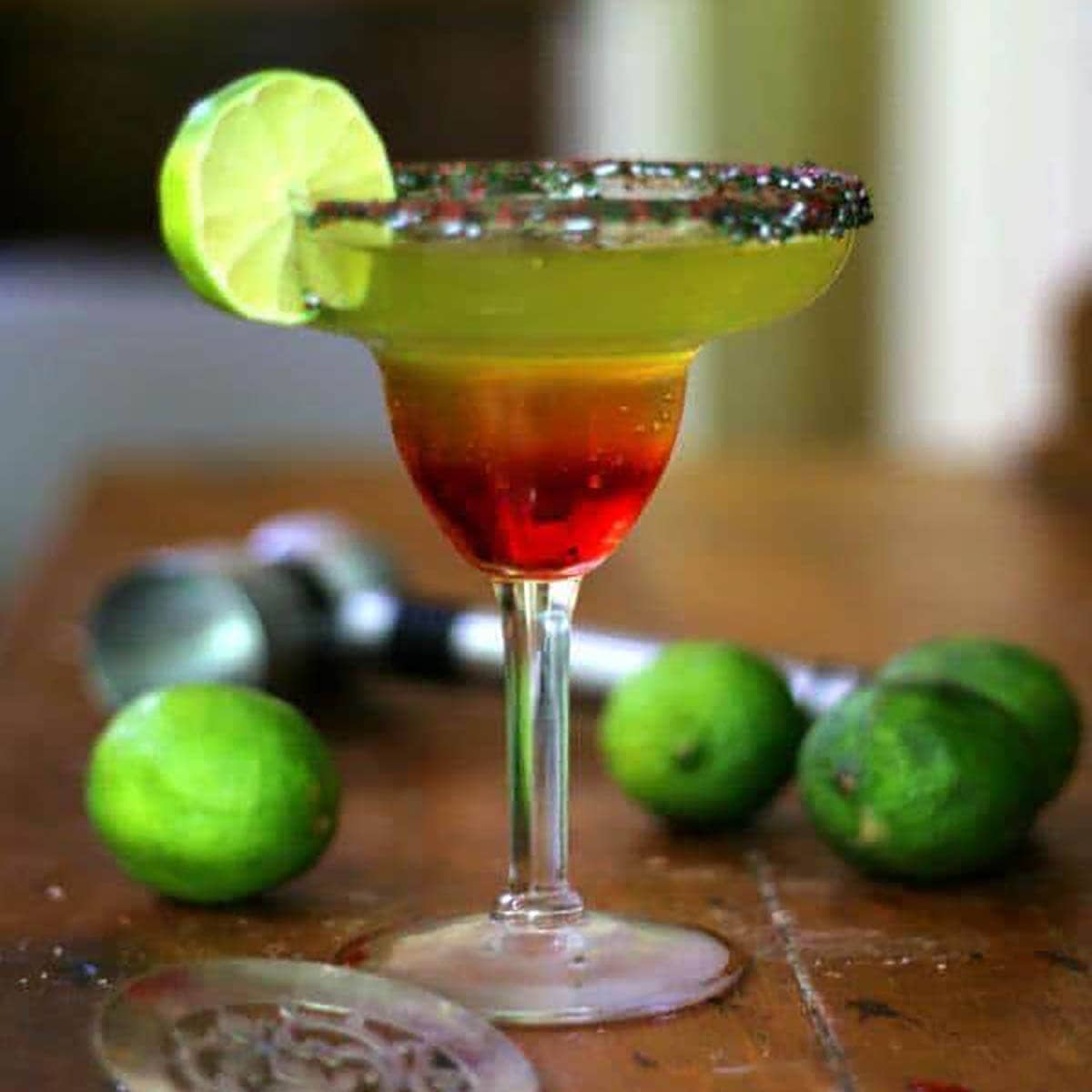 This evil potion is sweet and tangy and beautifully presented in layers of crimson and chartreuse!
If you drink too many Dragon's Blood Cocktail you may just start seeing dragons and daggers too!
6. Grave Digger Cocktail
This Grave Digger Cocktail from Boulder Locavore is a terrific fall drink you can enjoy all season long — not just on Halloween.
Enjoy a mix of hard apple cider, whiskey, and ginger ale — a bubbly combination with the flavors of fall. Use ginger beer if you prefer a stronger ginger flavor.
Put your drink in Halloween glasses with some ice, and enjoy. This drink is not well suited to big batch serving because the cider and ginger ale will go flat. Serve it fresh instead.
Some cinnamon sticks would probably be delicious in this cocktail.
7. Dracula's Blood Cocktail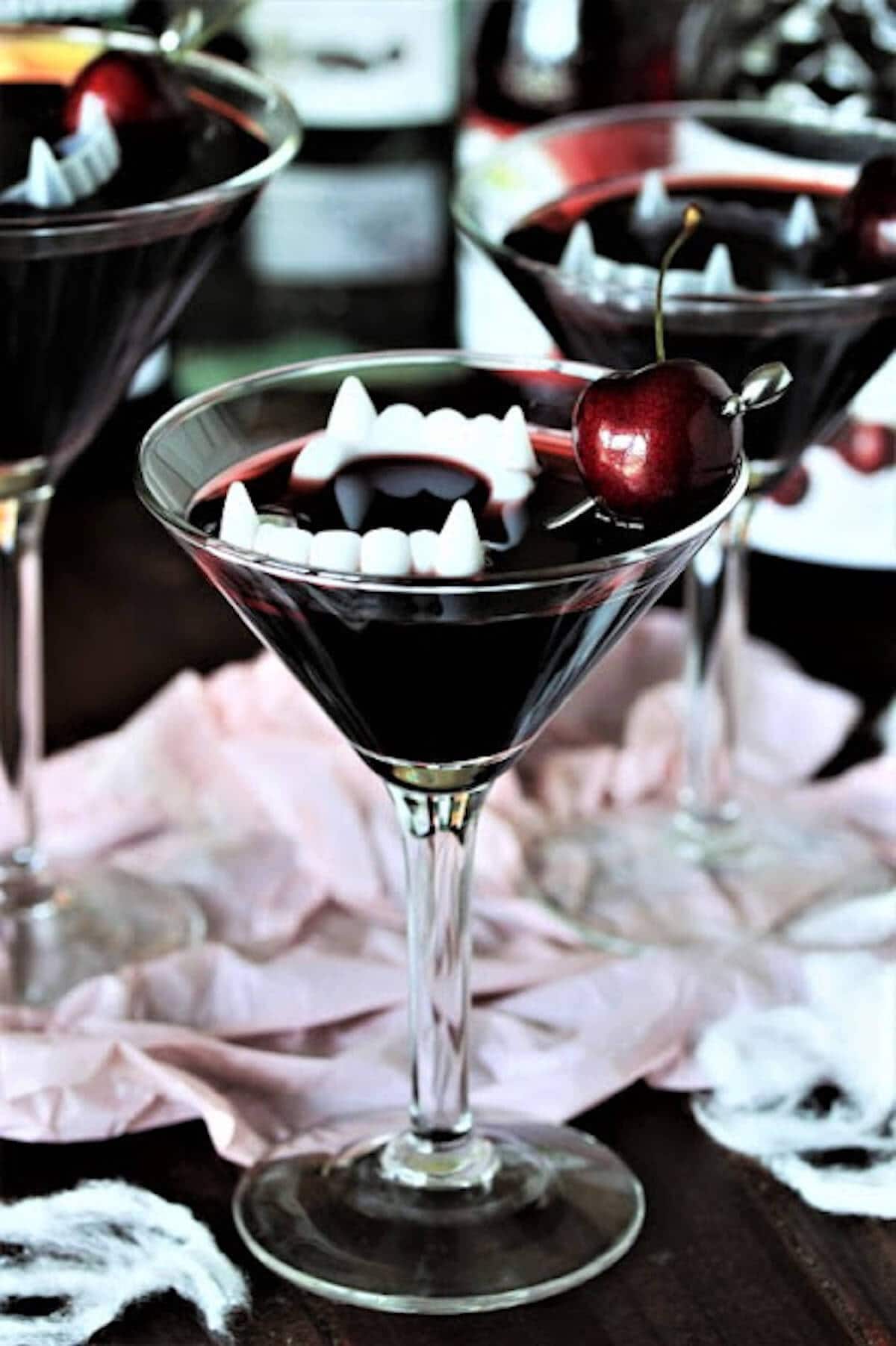 Serve this deep red Dracula's Blood Cocktail from The Kitchen Is My Playground if you're into vampires.
The drink gets its color from the combination of black cherry juice and grenadine, but it also contains rum and peach schnapps for a delicious Halloween drink.
Add some plastic vampire's teeth; they'll look like they're swimming in blood!
8. Maleficent Halloween Cocktail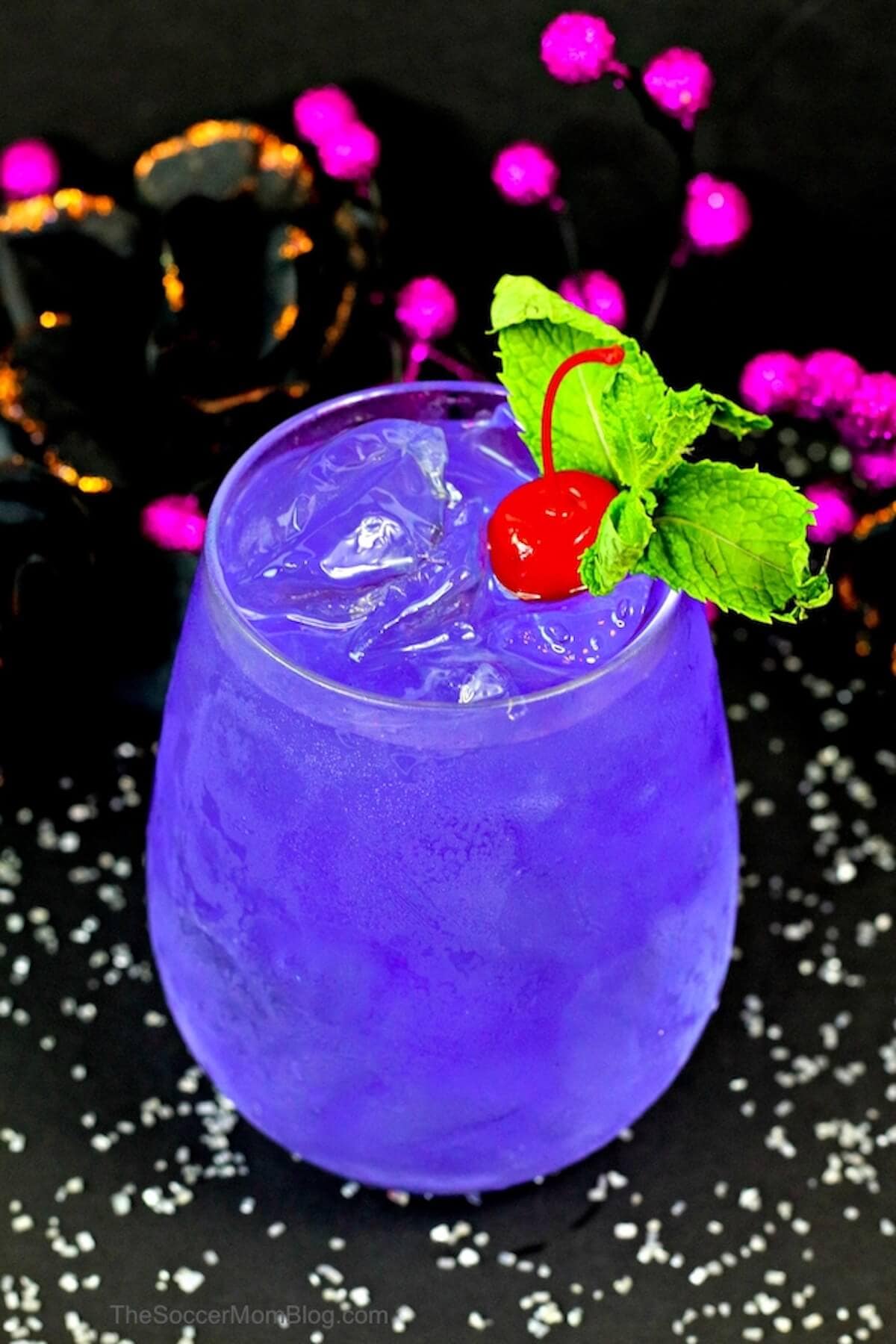 Are you a Disney fan? This Maleficent Halloween Cocktail by The Soccer Mom Blog is inspired by the infamous dark fairy.
It's a beautiful purple color and is made with vodka, raspberry liqueur, Sprite, and lime juice.
Add some purple food coloring and silver cocktail powder to make it sparkle.
9. Glow in the Dark Halloween Cocktails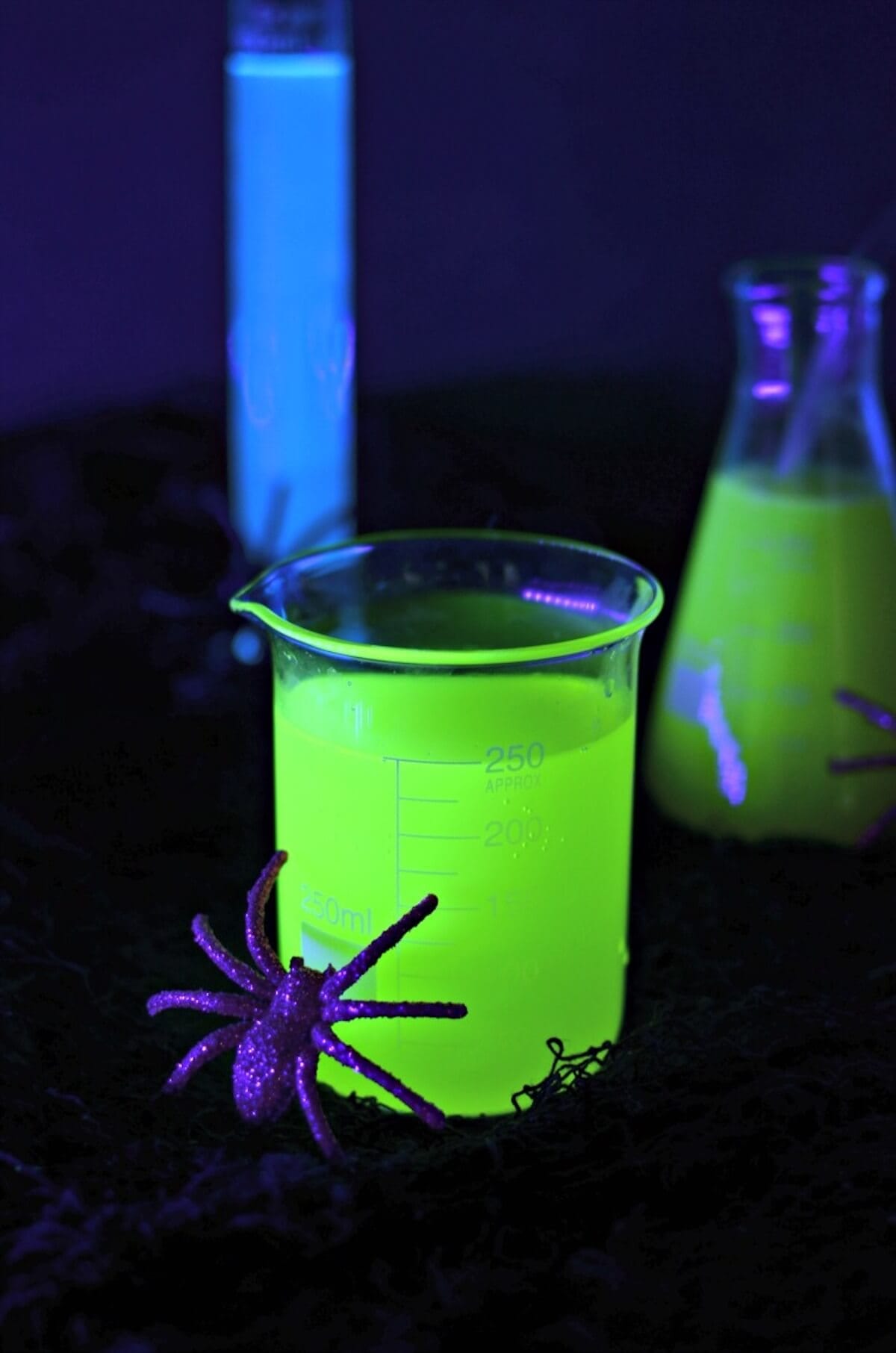 Simply Darrling's Halloween cocktails that glow in the dark have that WOW factor that your party guests are sure to love.
Adding tonic water and vitamin B to your drinks is an easy way to make them glow in the dark with a black light.
In addition to those ingredients, you'll need Fresca, vodka, and orange juice.
10. Creepy Crawler Cocktail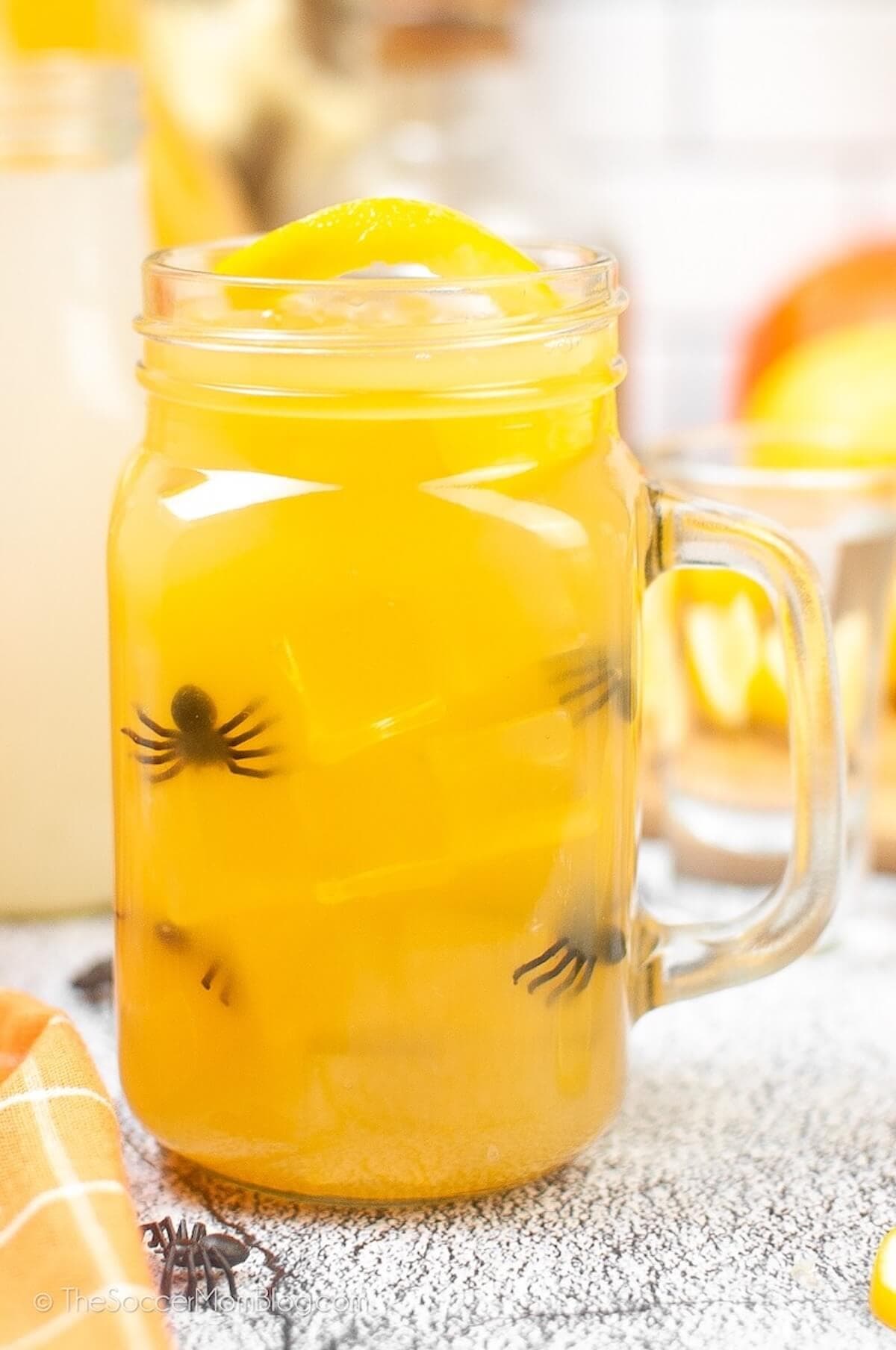 Spiders have to be among the creepiest creatures alive. Imagine having them in your drink!
The Soccer Mom Blog's tropical Creepy Crawler Cocktail gets its creepy vibe by adding plastic spiders to the tropical cocktail, but you can leave them out if you prefer.
Gummy worms would be a delicious addition, too.
11. Purple People Eater Cocktail
This monster-inspired drink isn't what it seems. The Purple People Eater Halloween Cocktail from Three Olives Branch looks like a purple monster, but tastes like cherry lemonade.
It's made with Blue Curacao (which has a citrus flavor and is blue in color), vodka, grenadine, and topped off with lemonade.
12. Syringe Jello Shots
Jello shots are lots of fun, but these Bloody Halloween Jello Shots from The Soccer Mom Blog are downright spine-tingling. Don't you just love that blood-red color?
These "bloody" syringes are filled with a delicious mix of cherry gelatin and silver rum. They'll be a total hit at your next party.
13. Halloween Spritz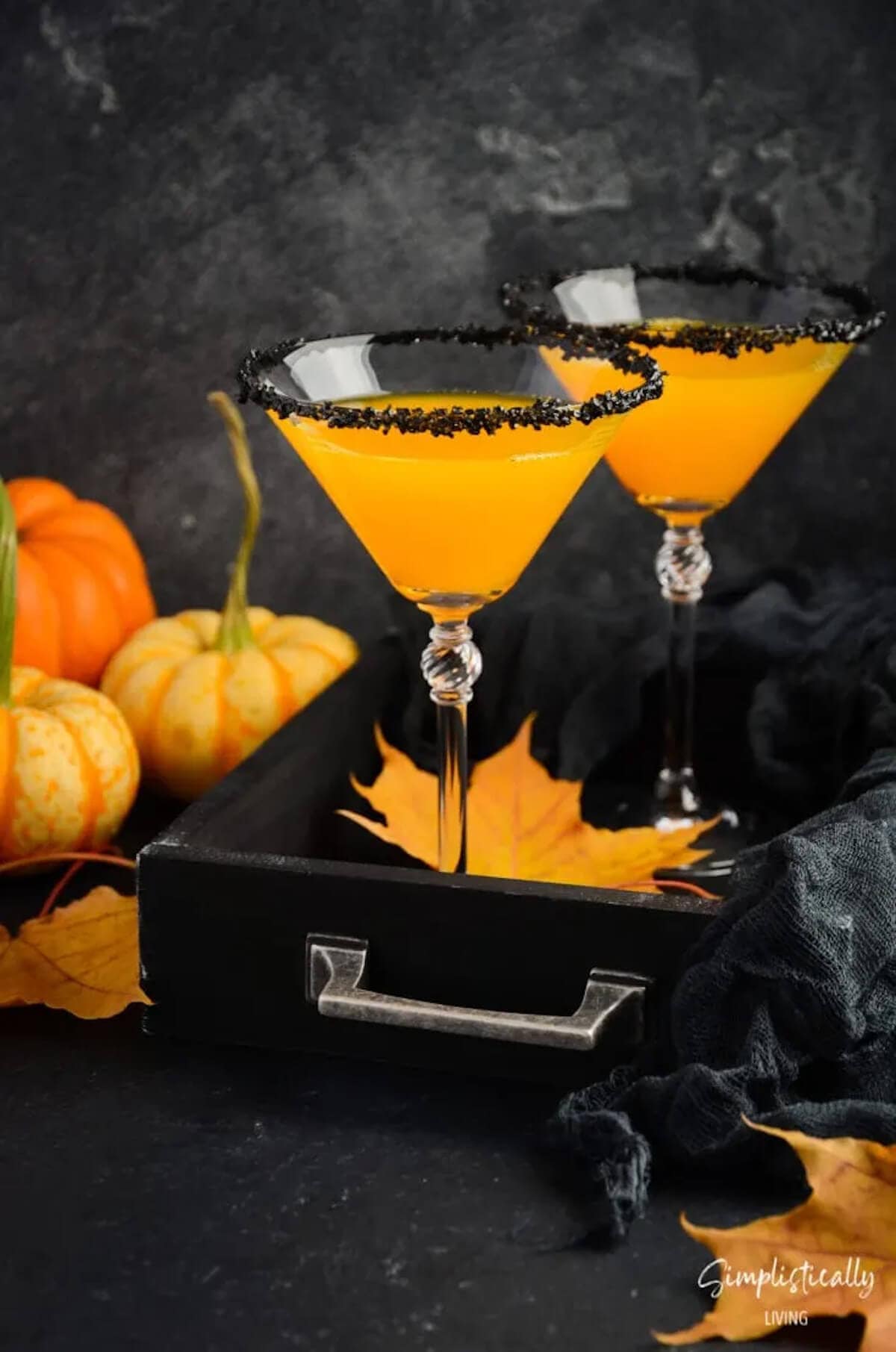 Want a Halloween-themed drink without making something that looks gory? Try this Halloween Spritz from Simplistically Living.
The orange drink rimmed in black rimming sugar carries the classic Halloween colors without being over the top. Make it with vodka, grapefruit juice, Aperol, vanilla extract, and soda water.
14. Black Magic Cocktail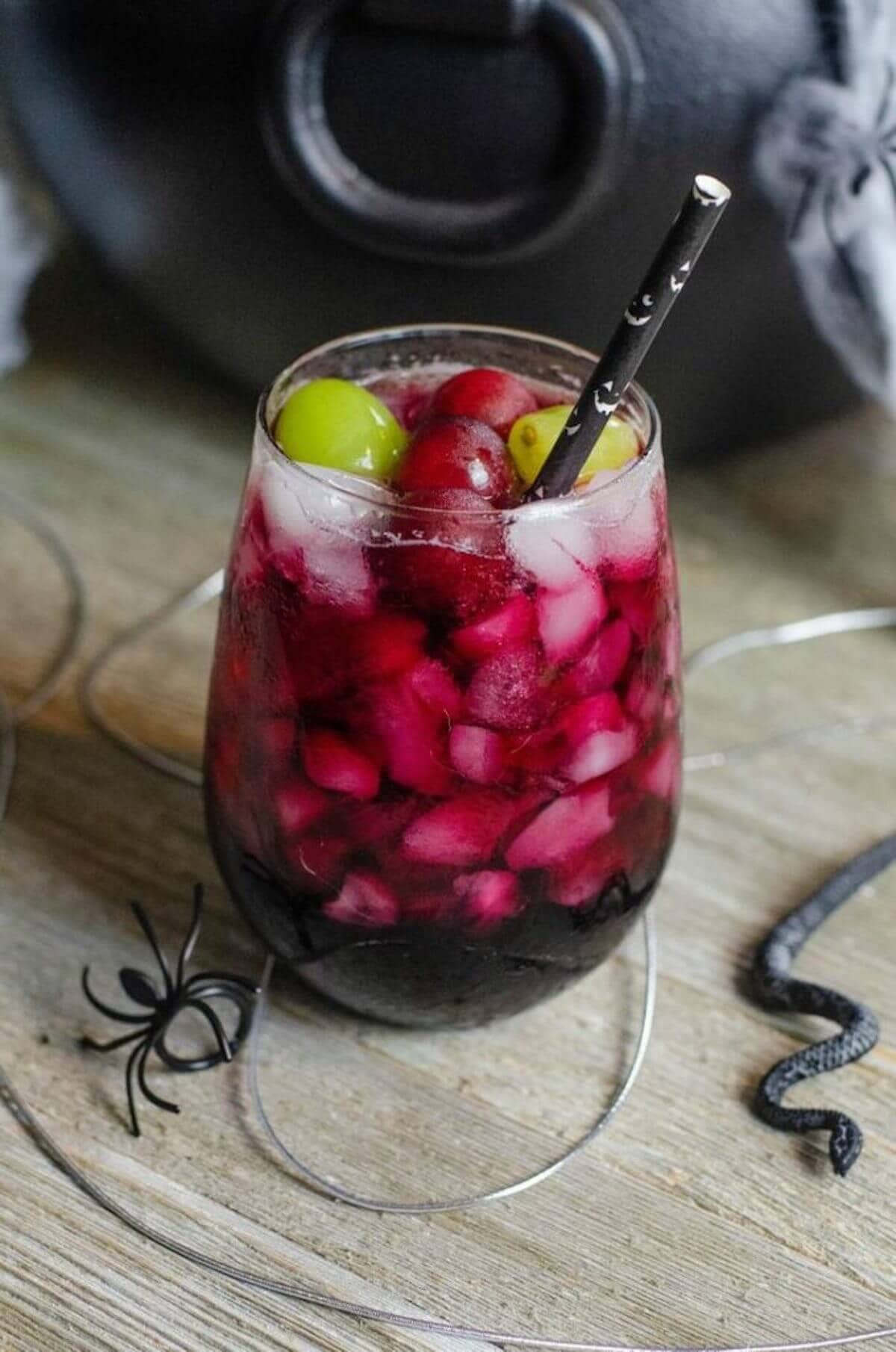 Making a cocktail for one? The Black Magic Cocktail from This Ole Mom is just what you need.
Purple grape juice gives it the deep purple color. The vanilla liqueur gives it that sweet flavor, and grapes add color to the drink. You can skip the ice altogether if you freeze the grapes!
15. Hocus Pocus Cocktail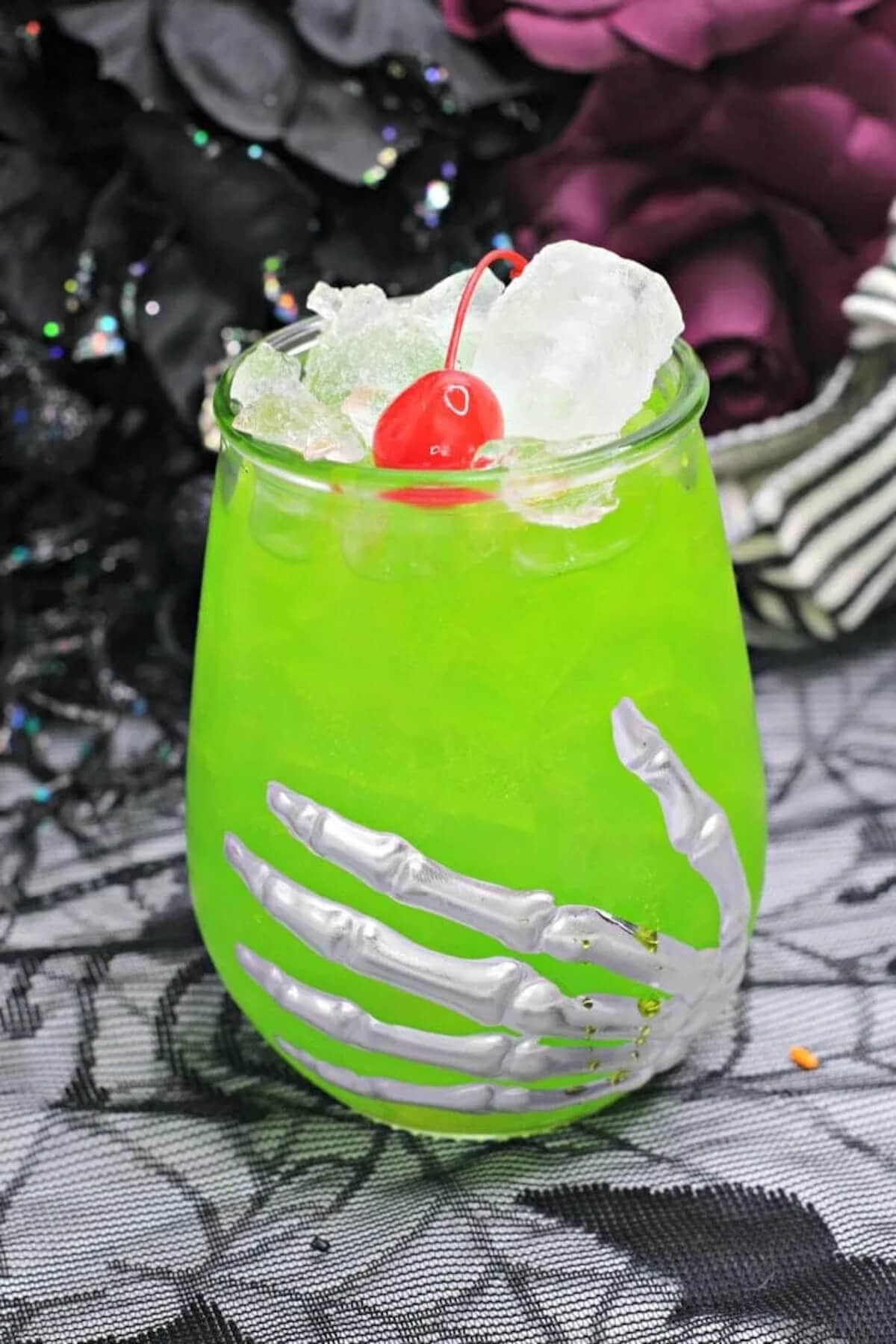 Simplistically Living's Hocus Pocus Cocktail is a hair-raising mixture of pineapple and orange juices, gold rum, apple brandy, and Blue Curacao.
Add silver cake shimmer to make it look glittery and magical! Garnish with a cocktail cherry for a pop of red color.
16. Zombie Brain Shot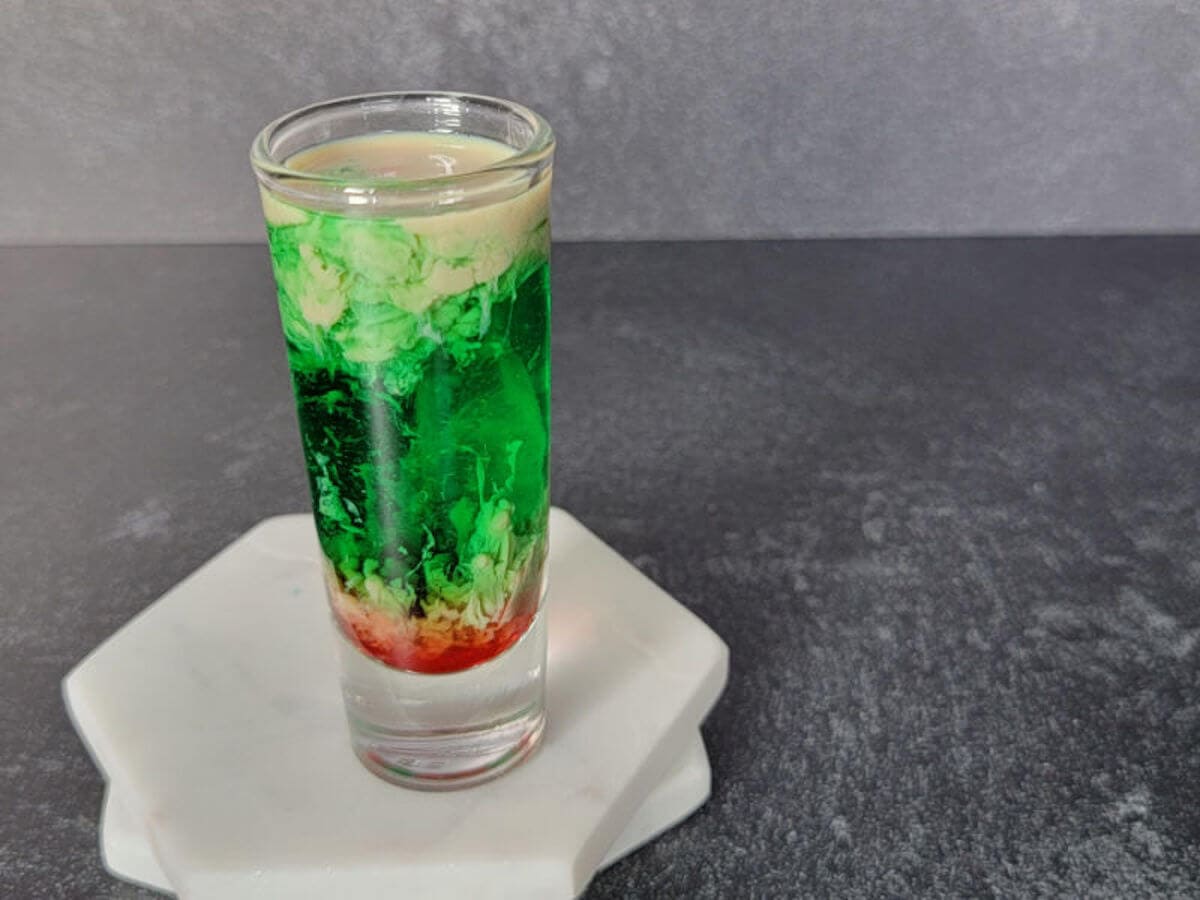 Though it may look disturbing, this Zombie Brain Shot from Tammilee Tips is made from delicious ingredients like Peach Schnapps, creme de menthe, and Bailey's Irish Cream with a splash of grenadine.
17. Vampire's Kiss Halloween Cocktail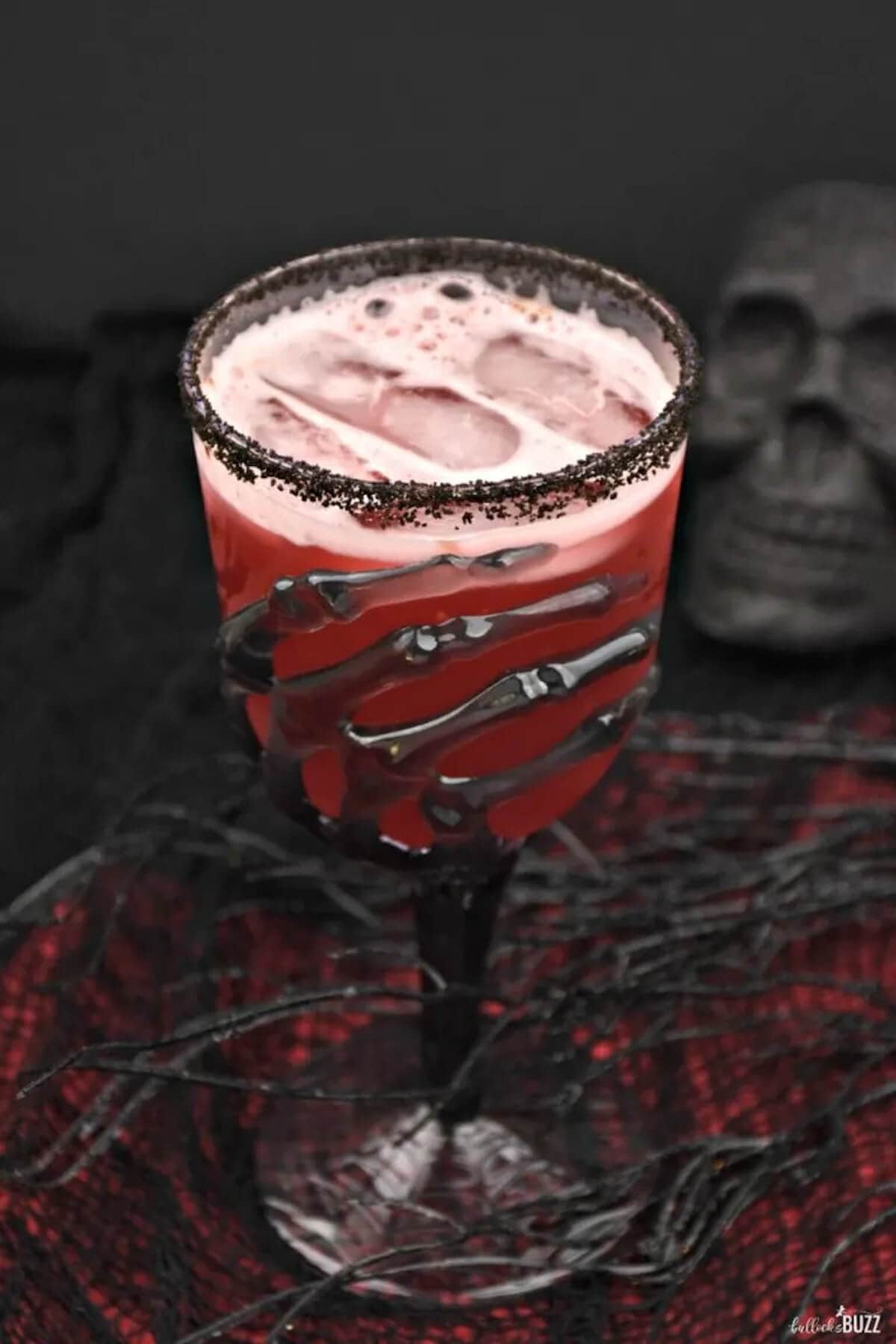 You may not enjoy a kiss from a real vampire, but you won't be able to resist this tasty Vampire's Kiss Cocktail by Bullock's Buzz.
Combine spiced rum, cranberry juice, pineapple juice, and grenadine for a deliciously red drink that looks like blood. Pour the drink into the haunting skeleton glasses for the finishing touch.
18. Sassy Witch's Brew
Dry ice and a sparkly purple color give Pizzazzerie's Sassy Witch's Brew a spooky look.
Pair dry champagne with fruity Viniq shimmery liqueur in small, pretty glasses. Drop in a dry ice cube to give off that steamy look.
19. Spooky Skull Halloween Cocktail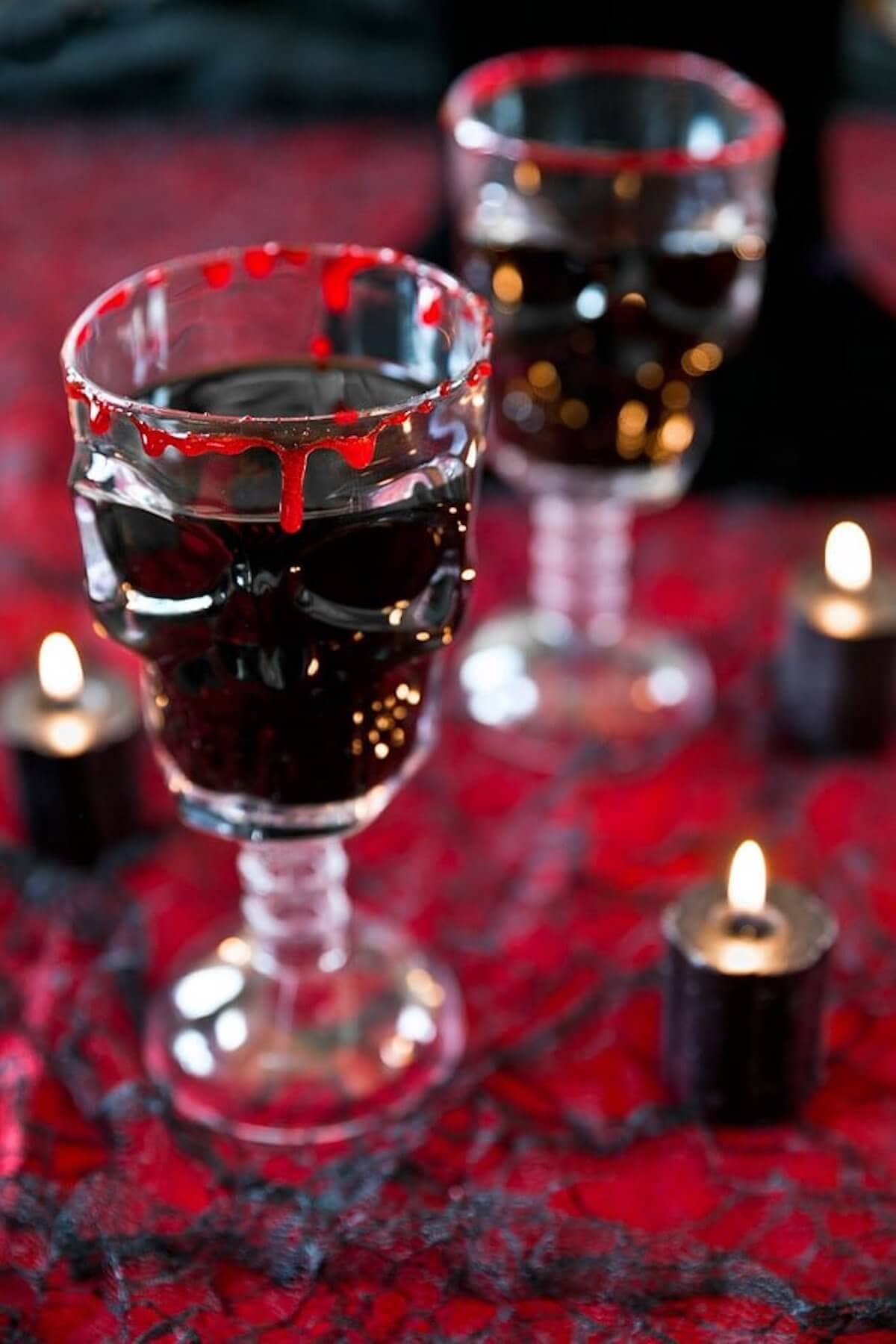 Apple and spice flavors come together in this Spooky Skull Cocktail from Pizzazzerie.
Rim the glasses in fake blood made with corn syrup and food coloring. Mix black spiced rum, amaretto almond liqueur, and apple juice for a wickedly good cocktail.
Add black food coloring if you want it to look dark and spooky! Spooky black Halloween cocktails are perfect party drinks.
20. Lychee Halloween Cocktail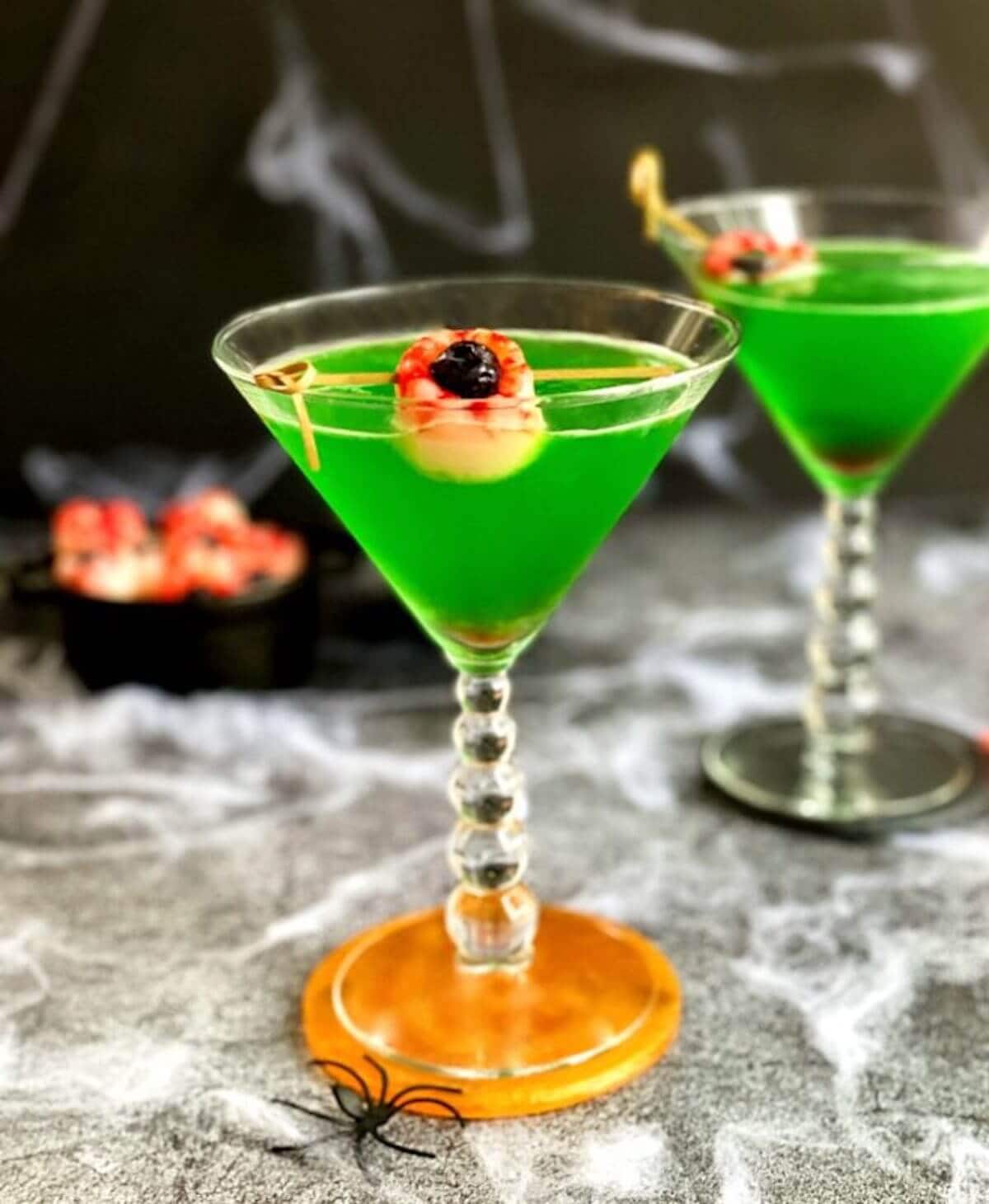 What could be creepier than an eyeball peering out of your drink? Make this Green Halloween Lychee Gin Cocktail from Emily Fabulous, and it'll be the talk of the town this Halloween.
The eyeball is made with lychee, blueberries, and red food coloring. Whip up the yummy cocktail by combining gin, elderflower liqueur, lime juice, lychee syrup, and green food coloring.
21. Halloween Jello Shots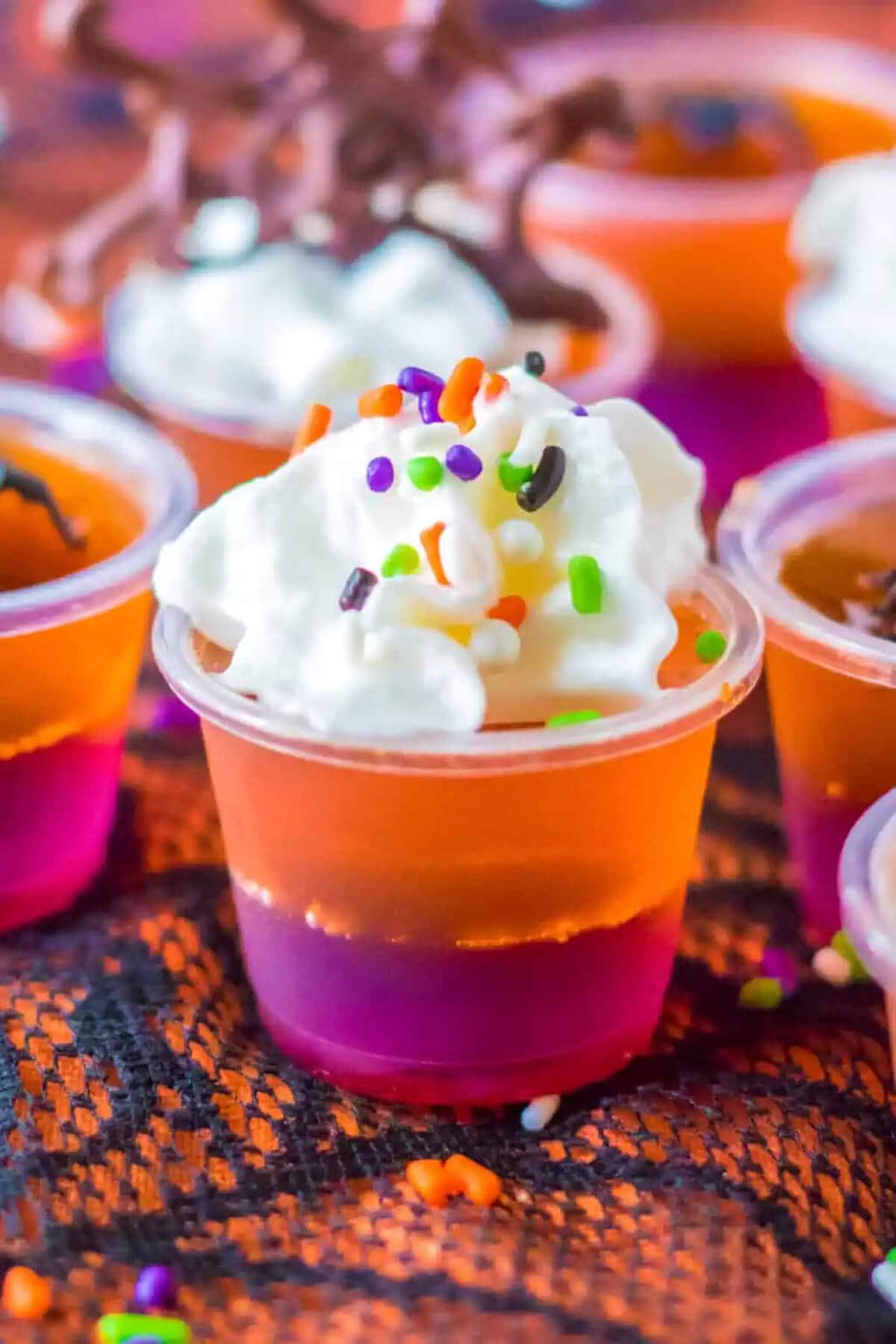 Yummy orange and purple Halloween Jello Shots are made with vodka or rum, orange jello, and purple jello.
Once they're set, top with whipped cream and Halloween sprinkles to pretty them up. Get the instructions from Crayons and Cravings to make your own.
22. Candy Corn Martini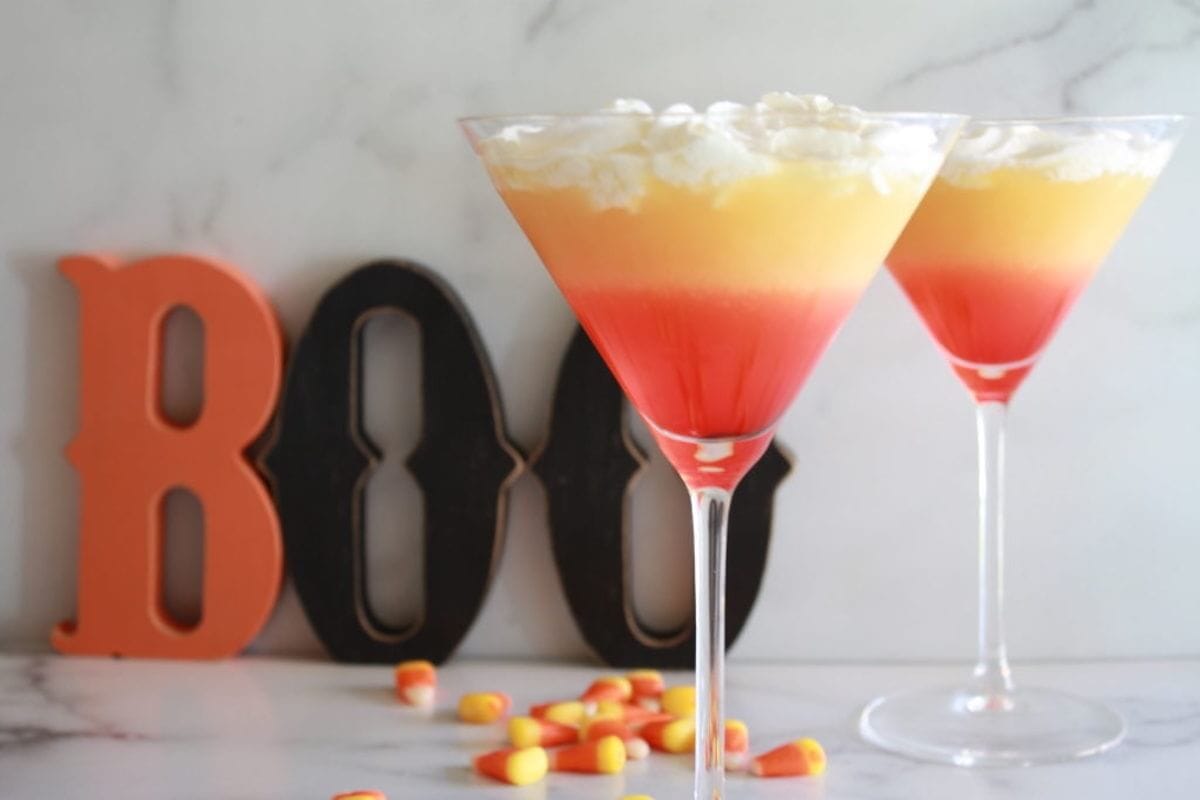 Whether you love or hate real candy corn, you'll definitely enjoy The Short Order Cook's Candy Corn Martini.
It's full of tropical flavors thanks to the pineapple juice, whipped cream flavored vodka, grenadine, and whipped cream. It looks like candy corn in a glass!
23. Devil's Margarita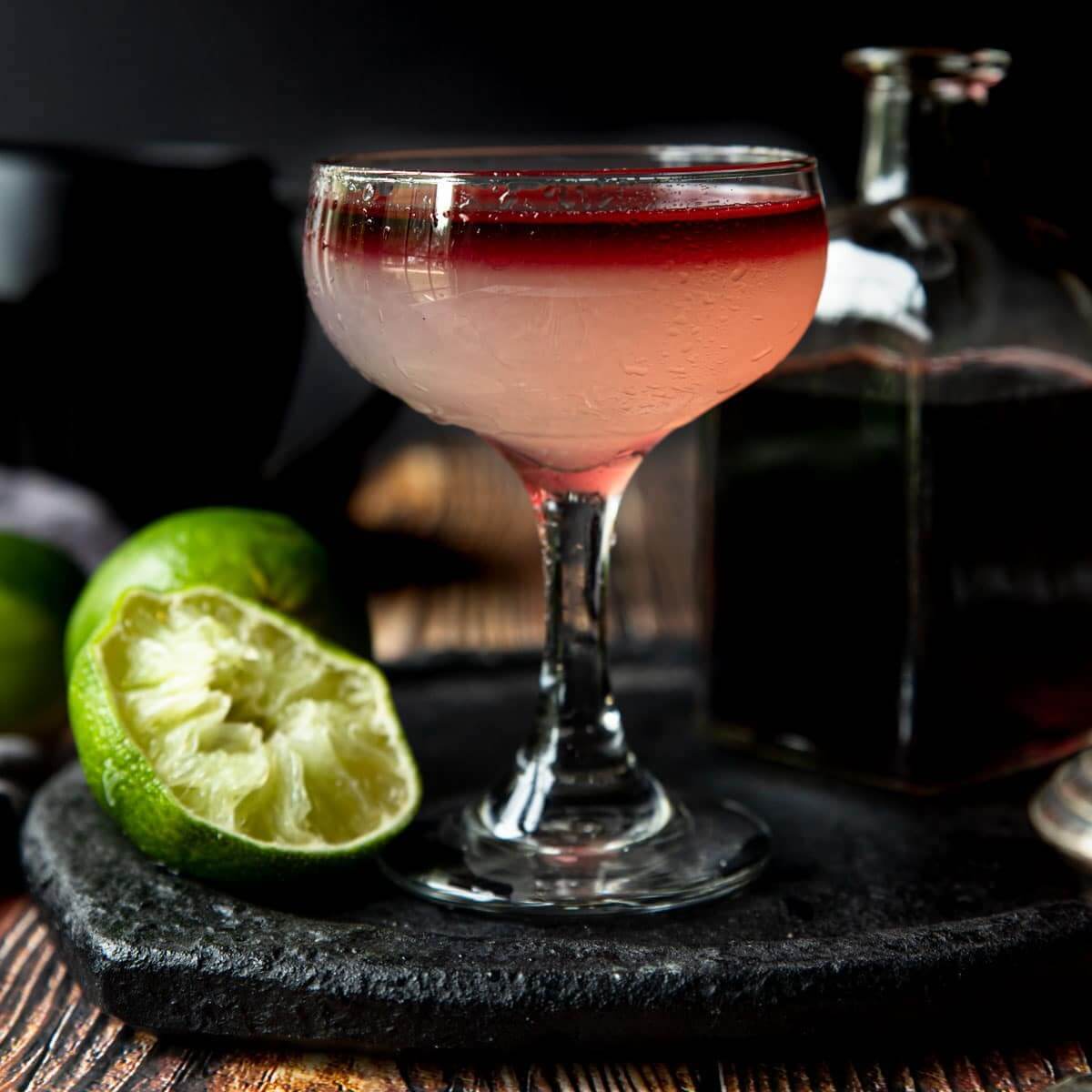 To make this Devil's Margarita from Mom's Dinner, you'll layer red wine with a lime margarita for an intriguing cocktail that's perfect for Halloween.
Remember to pour the wine very slowly to ensure that the wine sits on top of the margarita for the beautiful layered look.
24. Vampire's Kiss Rum Shots
Try some tasty Vampire's Kiss Rum Shots by XOXO Bella this Halloween.
Made with strawberry daiquiri mixer, rum, simple syrup, and food dye, this spooky cocktail is easy to make ahead and look great in vials or syringes.
25. Halloween Mimosa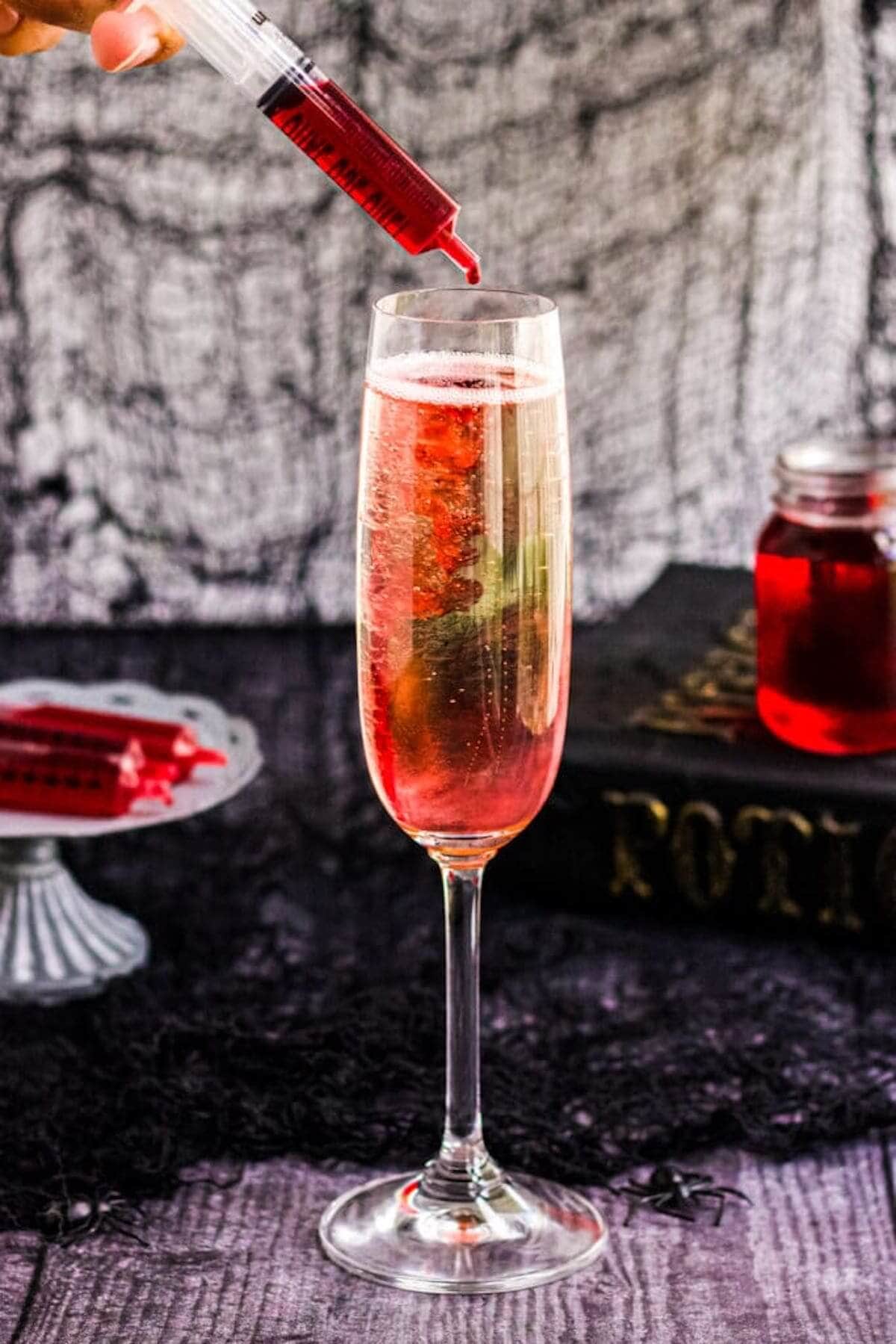 Pair dry sparkling wine with syringes of cherry grenadine to make these memorable Halloween Mimosas from Fresh Coast Eats.
Your party guests will get a thrill out of pushing the "blood" (a.k.a. grenadine) into their drinks.
26. Halloween Spiked Tonic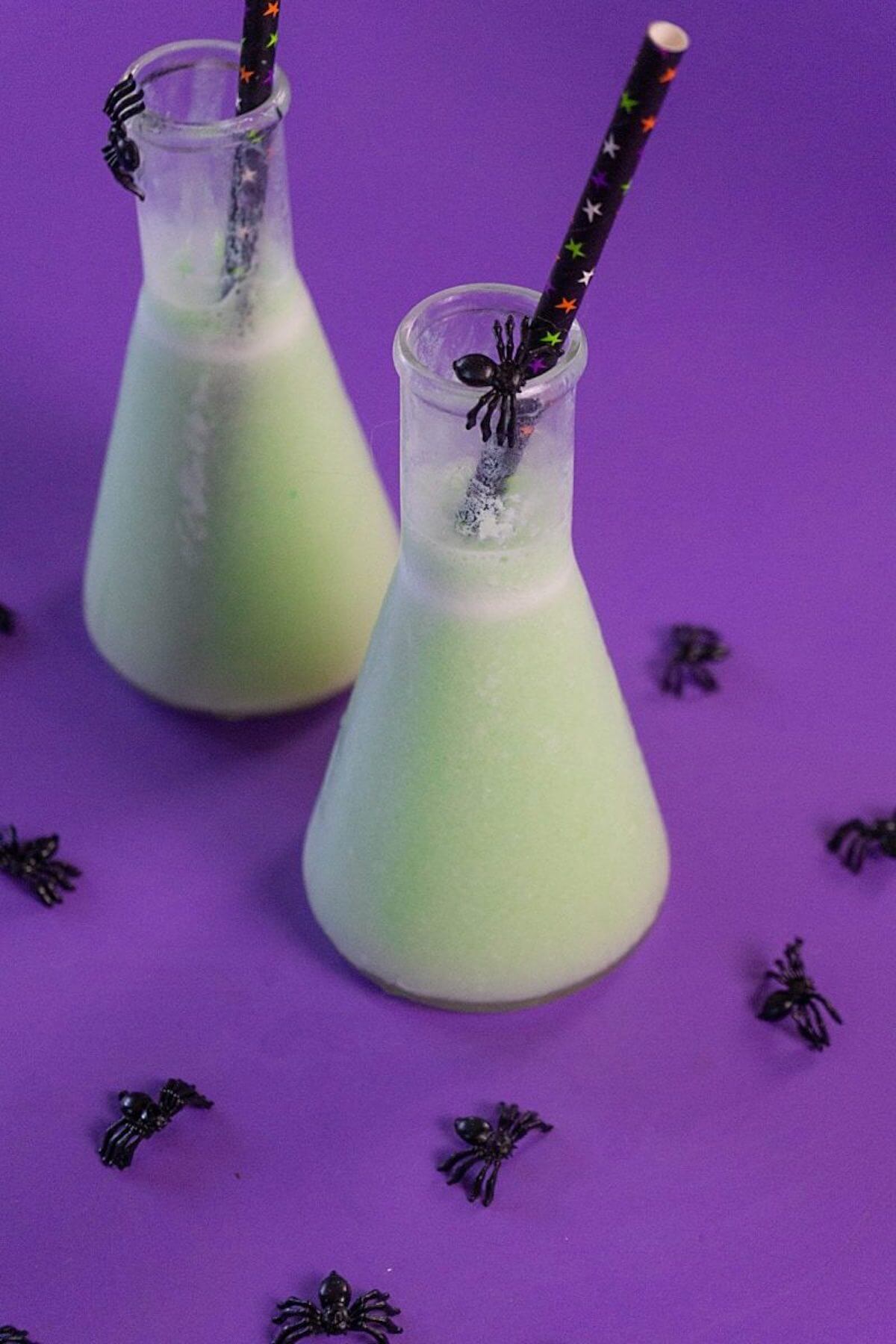 Serve this Halloween Spiked Tonic from Ottawa Mommy Club in laboratory glasses for mad scientist vibes.
The super simple spooky drink is made with sweetened condensed milk, Pinot Grigio, key lime juice, and lime sherbet.
27. Spiced Blood Orange Dark and Stormy Cocktail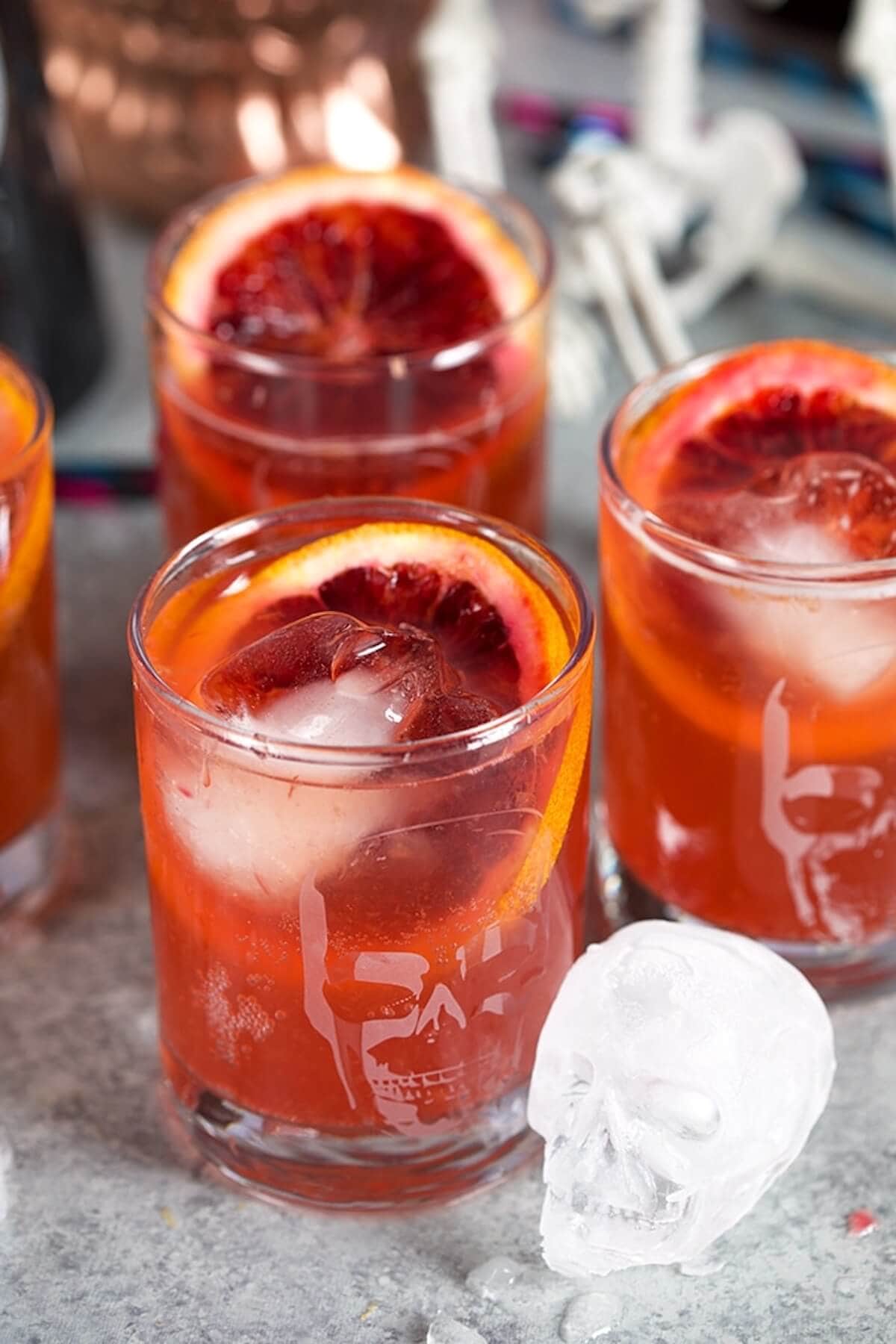 Kick off your Halloween with a Spiced Blood Orange Cocktail by The Suburban Soapbox. Citrusy, refreshing, and fun, it's super easy to whip up while you're waiting for the Trick or Treaters to come by.
This drink is made with rum, ginger beer, blood orange juice, and slices of blood oranges served in a highball glass. If you like this drink, you'll love my Blood Orange Paloma Cocktail, too.
Equipment
The following are affiliate links. We are a participant in the Amazon Services LLC Associates Program, an affiliate advertising program designed to provide a means for us to earn fees by linking to Amazon.com and affiliated sites.
That rounds out our list of themed cocktails for the spookiest day of the year!
Don't forget to pin it so you can come back to it next year for another easy Halloween cocktail.