Using your slow cooker is always a timesaver! Making a tender, juicy steak recipe in your crockpot is brilliant! Why not use a shortcut and enjoy a fabulous meal?
Here, you'll find a ton of great Crockpot Steak Recipes that are easy to make, flavorful, and delicious!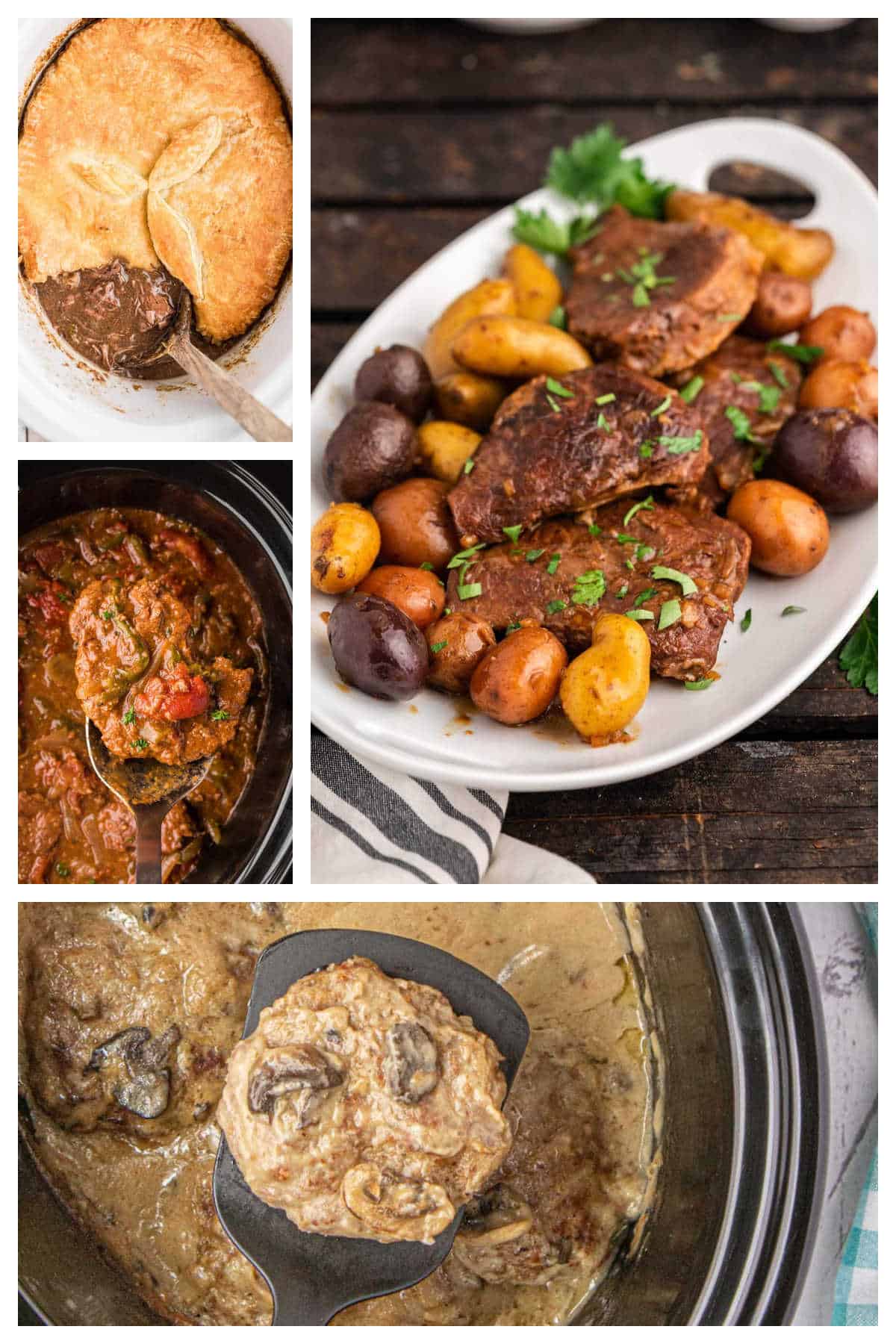 Jump to: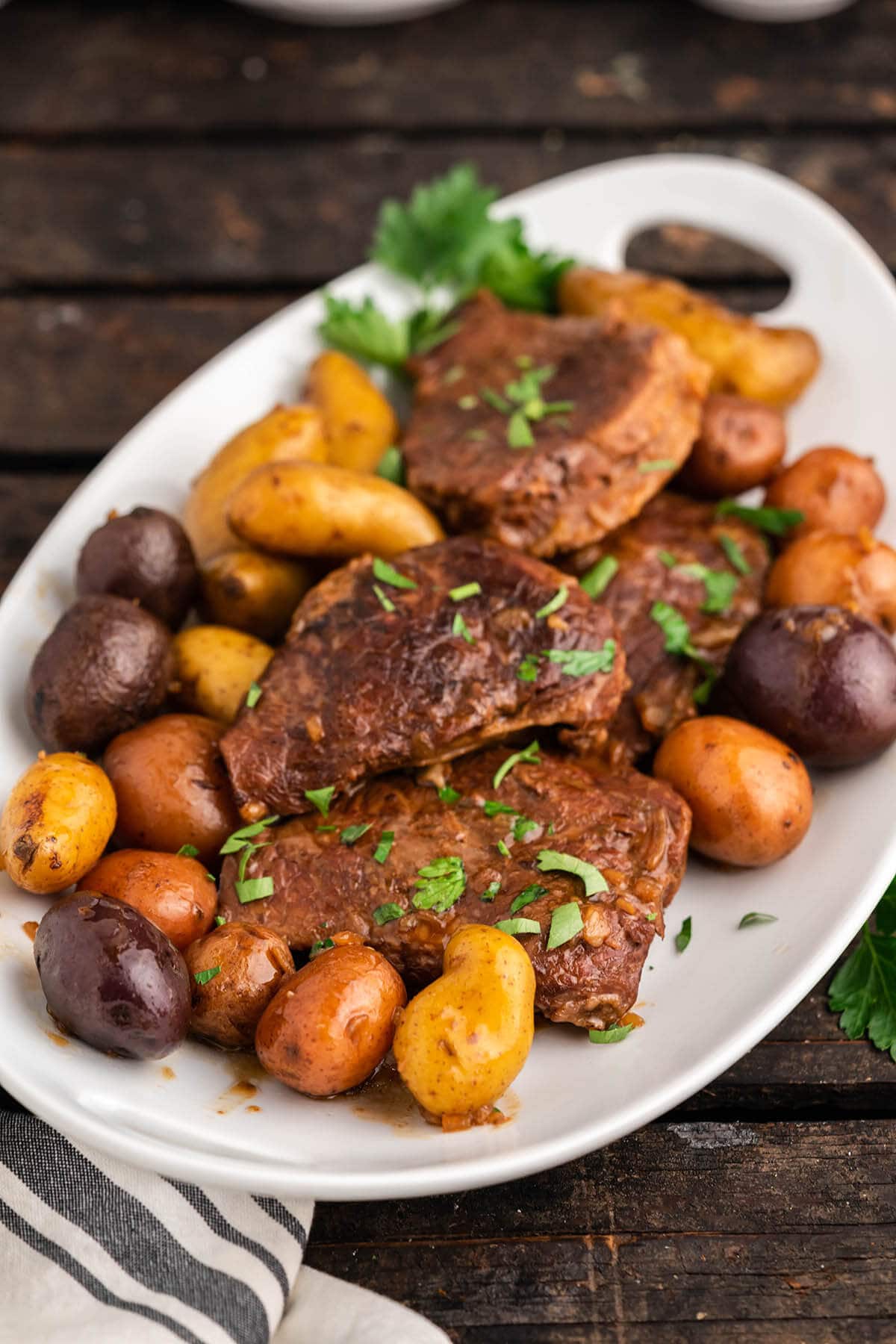 Crockpot Steak and Potatoes
You won't believe how easy this Crockpot Steak and Potatoes dinner is to make! My favorite part is that it even makes it's own gravy to baste of the creamy potatoes.
Just gather a handful of ingredients. You'll need sirloin steak, round steak or cube steak, baby potatoes, onion gravy and brown gravy mix, beef broth and butter. You know what's best? This is a complete meal!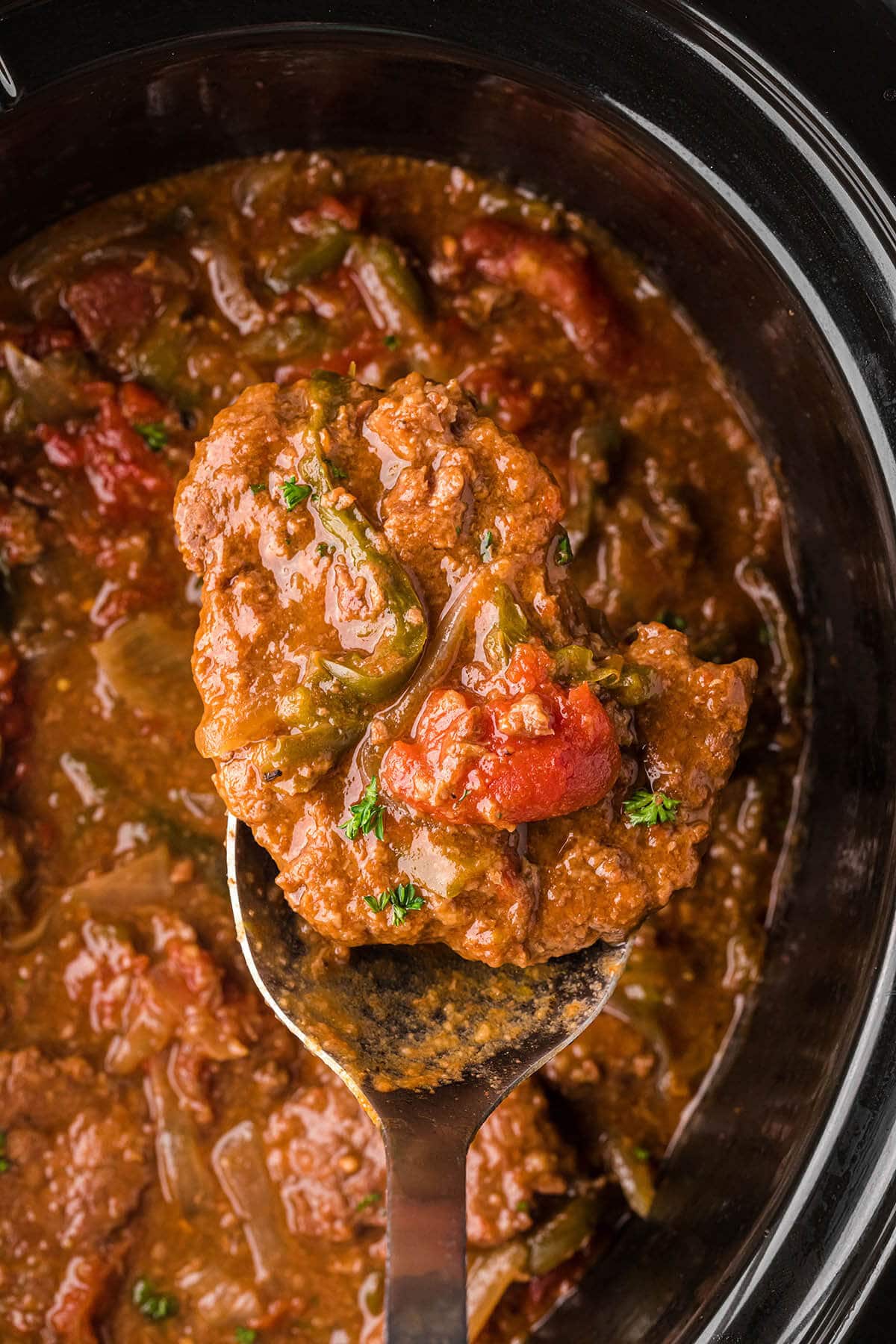 Swiss Steak
Crockpot Swiss Steak is an easy comfort food recipe. It's perfect for busy weeknights or a relaxing Sunday dinner. You'll need cube steak, green peppers, canned tomatoes and seasoning. It turns a simple beef cut into a satisfying, flavorful meal.
Slow Cooker Steak Bites
One word for this one - YUM! Crock Pot Steak Bites are smothered in a rich au jus gravy made with beef stock and a few classic seasonings. Slow cooking is a great cooking process to ensure your steak is tender and juicy.
Slow Cooker Cube Steak
5 Ingredient Slow Cooker Cube Steak is the perfect comfort food dinner. Fork tender meat in just a few hours. Swimming in a savory brown gravy you'll want to add this to your weekly meal plan rotation!
Crockpot Salisbury Steak
Only 10 minutes of prep to make this amazing meal! Crockpot Salisbury Steak will be a hit with the whole family. The cream of mushroom soup makes its own gravy while the meat cooks perfectly! What's not to love about this slow cooker recipe? Serve over egg noodles or a big pile of mashed potatoes.
Slow Cooker Mongolian Beef
Slow Cooker Mongolian Beef is an easy recipe with only minutes of prep! Just toss everything in the crockpot and it does the word for you. With tender strips of beef in a rich Asian sauce, it's great over rice or egg noodles.
Slow Cooker Steak Pie
How wonderful does this look? Slow Cooker Steak Pie - The filling cooks low and slow, making it so tender. It's seasoned perfectly! Don't worry; the crust is super easy. It uses puff pastry! I think you'll really like this recipe!
Steak in the Slow Cooker
Is tender, juicy steak in the slow cooker really possible? Yes, when you cook it like this! AND it couldn't be easier! Be sure to serve it on a big pile of mashed potatoes. You'll find the slow cooker steak recipe here.
Slow Cooker Steak Diane
Slow Cooker Steak Diane is one of those meals that taste really fancy, but only will require a few minutes of prep! The Au Jus is to die for.
Slow Cooker Beef Brisket
Brisket is one of my favorite cuts of meat. I rarely made it at home because I didn't have a smoker. Now anyone can make it using their crockpot. Slow Cooker Beef Brisket will make you drool!
More easy slow cooker steak recipes
How can I cook steak in a slow cooker?
Searing the beef first in a hot skillet (I like to use my cast iron skillet for this) will add flavor to the meat.
If you're looking for a tender steak with lots of flavor, but you're starting with a tougher cut of meat, the crockpot is the best of all the cooking methods!
Best steak recipes side dishes
Potatoes are a must with your favorite steak!
Nothing is like a big juicy steak with a side of Ruth's Chris Creamed Spinach Recipe. Just like your favorite steakhouse, this recipe will be the perfect compliment to your meal!
I don't know about you, but I love crispy garlic bread with a great steak dinner. Here are several garlic bread recipes for you to choose from!
Serve your steak dinner with a great red wine. It's a classic combination!
Great steak seasoning and marinades