Looking for an easy recipes for Taco Tuesday? Try one of these chicken taco casserole recipes to shake up dinnertime. A Mexican casserole is just what you need to ensure you've got something on the table that the whole family will love. Plus, it's flavorful way to use leftover shredded chicken or rotisserie chicken.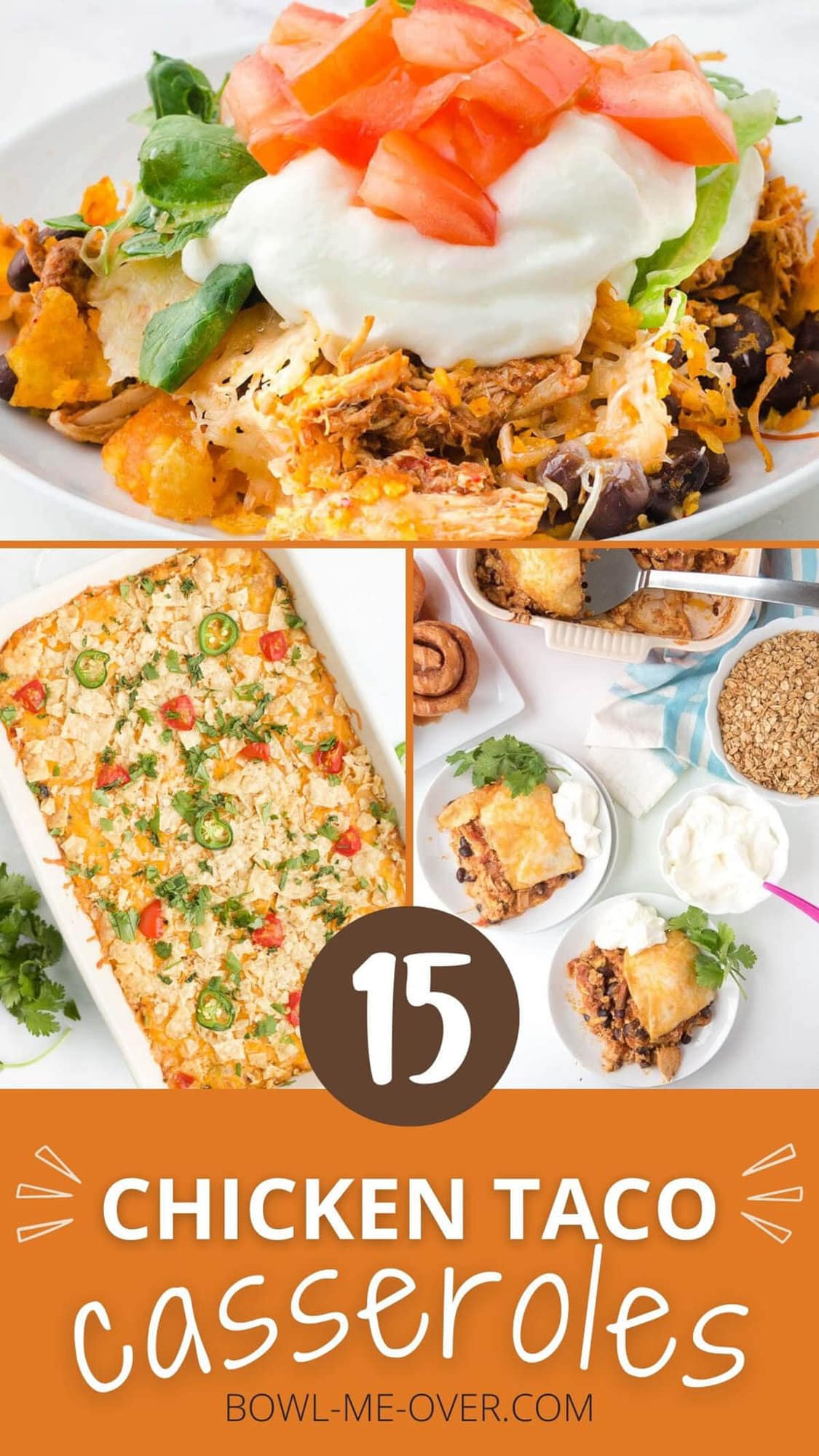 You'll definitely want to check out all of these Easy Chicken Casserole Recipes next!
Jump to:
Many of these meals can be made in 30-45 minutes, so they're perfect for busy families on the go who only have a little time for meal preparation. Skip the drive-thru this week for one of these dinners instead. You'll be glad you did!
Easy Casserole Recipes for Taco Tuesday
Let's dive in to these chicken taco-inspired dishes. Each has a variation that makes it unique while maintaining a yummy Mexican flavor.
And if you're wondering what to serve with your chicken casserole, be sure to check this out!
1. Baked Chicken Taco Casserole
Our Baked Chicken Taco Casserole is full of your favorite taco flavors and is topped with crispy tortilla chips and plenty of cheese. It's made with budget-friendly ingredients and a homemade chicken taco seasoning. I promise even picky eaters will love it.
With only 10 minutes of prep time and 20 minutes of baking, this yummy meal is ready for your dinner table in just 30 minutes.
Chicken breasts, Rotel, taco seasoning mix, black beans, and pepper jack cheese are among the simple ingredients needed to make this baked dish. Add taco toppings like sour cream, pico de gallo, or salsa or salsa verde to make it even yummier.
What a tasty way to use leftover chicken or rotisserie chicken!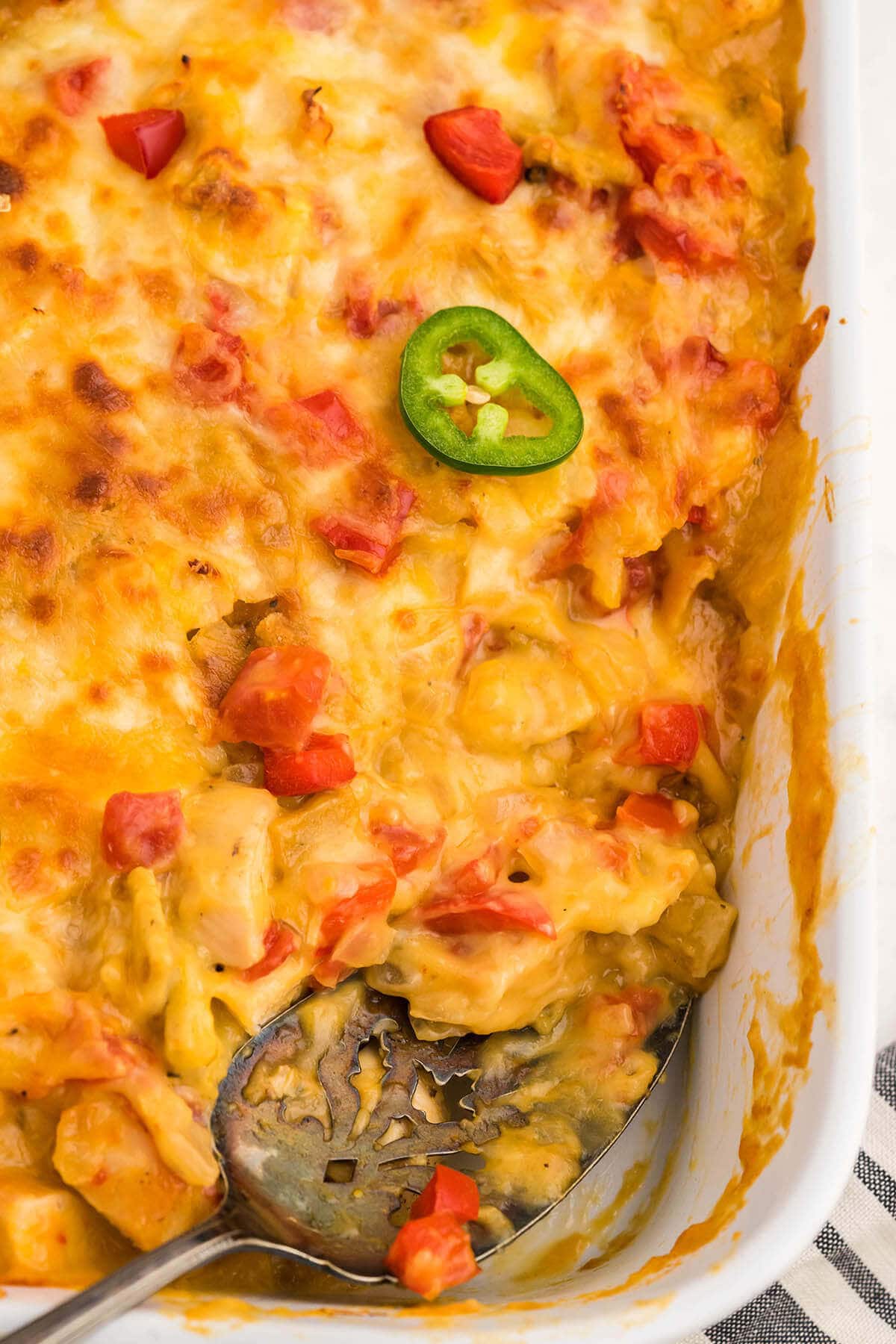 2. King Ranch Chicken Casserole
Classic comfort food, and the best Tex-Mex lasagna ever! The cream sauce is simple to make and starts with cream of chicken soup.
It's loaded with chicken, cheese, green chiles and layered with corn tortillas. It's easy to make and super yummy!
This delicious chicken casserole will quickly become a meal time favorite!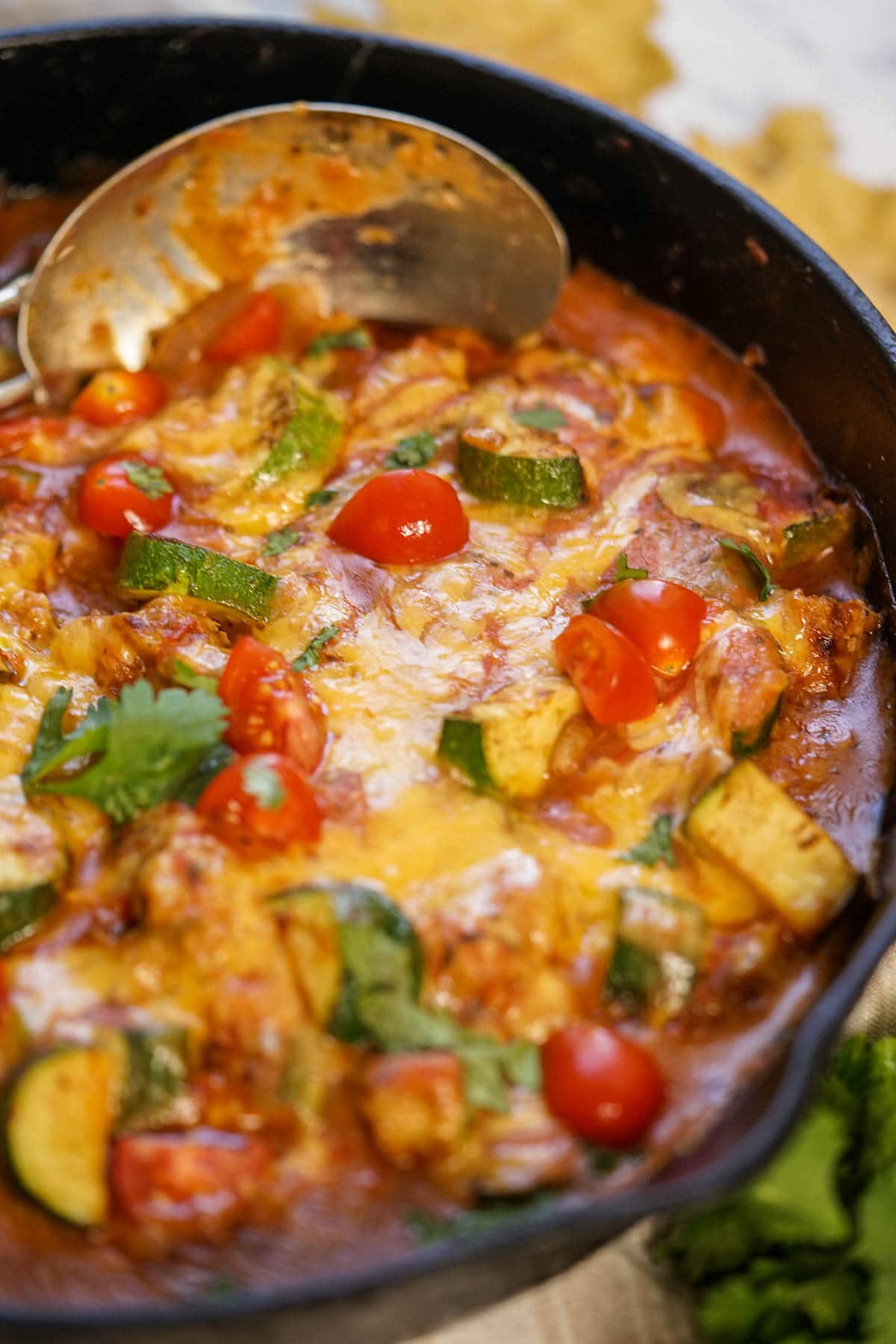 3. Tex Mex Chicken and Zucchini
This one pot meal for Tex Mex Chicken and Zucchini is an easy, cheesy, creamy chicken casserole and a wholesome meal! Making the pot in a large cast iron skillet allows you to take it from the stove top to the oven without skipping a beat.
It's a great way to use up that summer zucchini from your garden and sneak in more veggies for the kids. Bonus? It's a low carb casserole! But shhh.... I won't tell if you don't!
Get dinner on the table in a flash with this super simple 30-minute meal. Make this with ground beef, turkey, or pork, and it'll be just as scrumptious.
Store leftovers in an airtight container or covered with plastic wrap.
4. Spicy Taco Chicken Hash Brown Casserole
If you love Mexican food and hash browns, this delicious recipe for Spicy Taco Chicken Hash Brown Casserole from Momma Can is the meal for you!
It's made with simple ingredients you probably have on hand already plus shredded rotisserie chicken.
Spicy, filling, and comforting, it's a great recipe to add to your menu rotation and is especially good for feeding a crowd.
You can make this dish ahead of time by preparing the casserole (unbaked) and keeping it in the fridge for up to 2 days. When you're ready, pull it out and bake it.
5. Dorito Chicken Casserole
This Dorito chicken casserole is a fun and easy way to make a classic dish more interesting. The addition of Doritos gives the casserole a delicious crunch, and the shredded cheese adds creaminess and flavor. It is sure to be a family favorite — who doesn't love Doritos?
To make this meal, simply combine cooked chicken, salsa, cream of chicken soup, shredded Colby jack cheese, and salt and pepper.
Pile it all on a layer of crushed Doritos on the bottom of the baking dish, then add more on top! Bake until hot and bubbly.
For an extra touch of flavor, you can top the casserole with sour cream or salsa. So if you're looking for a new twist on an old favorite, give this recipe a try.
6. Chicken Taco Rice Casserole
When you need a one pan meal the whole family will love, make this Healthy Chicken Taco Rice Casserole from Watch What U Eat. It's gluten free and good for you!
Ground chicken was used here because it cooks up more quickly, but feel free to substitute shredded chicken if you have some left over. Ground turkey works nicely, too.
The chicken and rice are cooked with bell peppers, corn, onions, tomatoes, and seasonings. Of course, if you don't have lots of spices, a taco seasoning packet does the job just fine.
Top the casserole with diced avocado and lime wedges for garnish.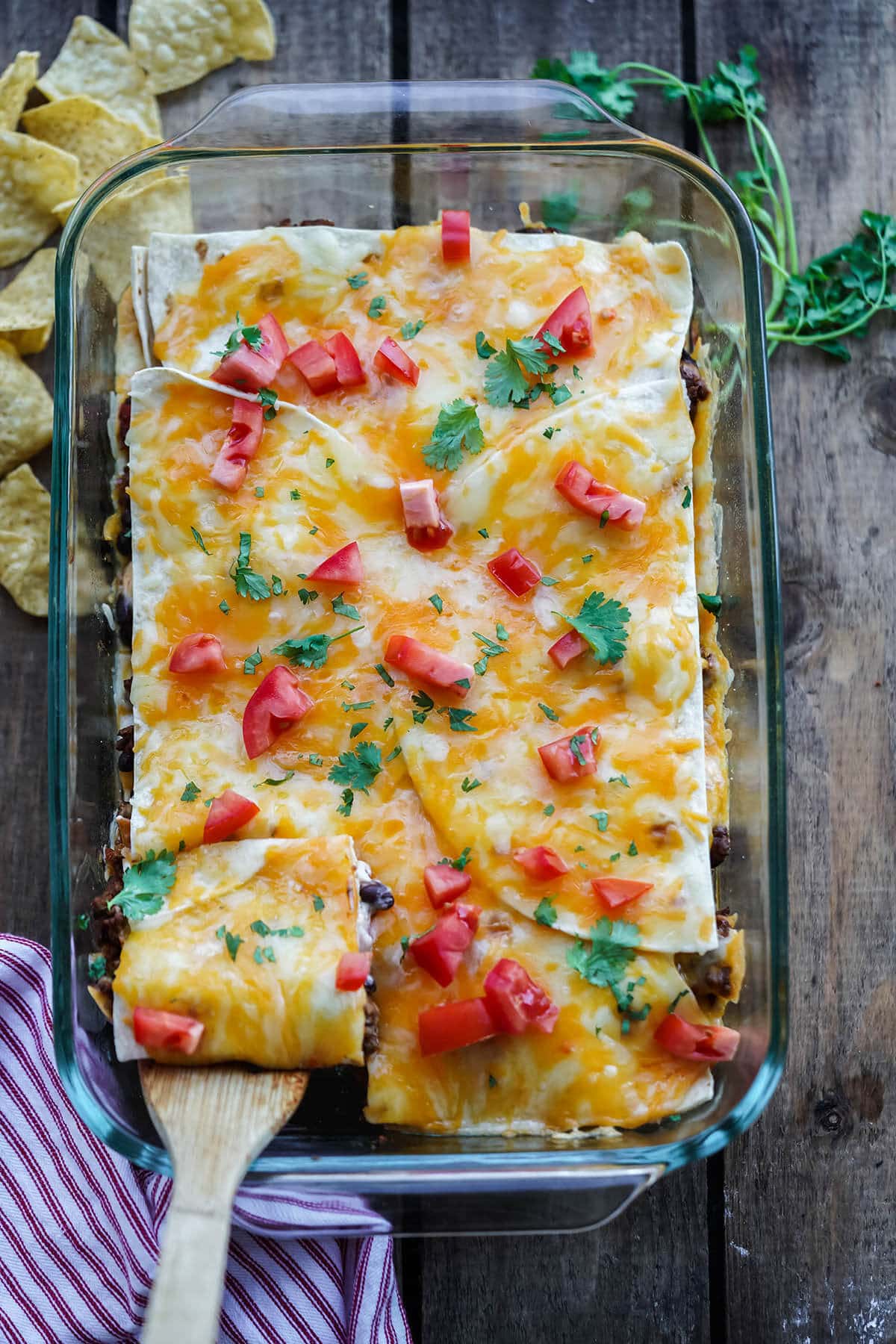 7. Burrito Casserole
This easy to make Burrito Casserole is always a hit! It has great flavor and it's easy to make with everyday ingredients.
Simply brown the ground beef, season and layer in the casserole dish and top it with cheese. This recipe is always a crowd pleaser and the next best thing to a taco!
8. Pressure Cooker Chicken Taco Casserole
Busy nights call for an easy and fast recipe like this Pressure Cooker Chicken Taco Casserole from Serendipity & Spice. You can get dinner on the table in under 30 minutes with your Instant Pot!
Being able to make this recipe anytime you're in a squeeze for time is a great reason to keep shredded chicken in the freezer and tortillas in the pantry.
The casserole is made with shredded chicken, refried beans, taco seasoning, salsa, green chiles, jalapenos, shredded cheese, and tortillas with grape tomatoes dotted throughout the layers.
Top with sour cream, avocado, cilantro or your favorite toppings.
9. Chicken Taco Casserole with Orzo
Chicken Taco Casserole with Orzo is a quick and easy weeknight dinner perfect for busy nights when you have a million things to do.
This dish is made with canned chicken, orzo pasta, diced tomatoes with green chilies, chicken broth, and taco seasoning. It can be easily customized to your liking by adding additional black beans, corn, or other veggies.
Best of all, it only takes about 45 minutes to make. Simply cook the chicken and pasta, mix everything together in a casserole dish, top with Mexican cheese, and bake. In no time at all, you'll have a delicious and hearty meal that will leave everyone satisfied.
Serve with your favorite taco fixings like sour cream, jalapenos, or even black olives to amp up the flavor factor!
10. Quick & Easy Chicken Taco Casserole
When it comes to a creamy taco bake, nothing is better than this Quick & Easy Chicken Taco Casserole from Fresh Coast Eats.
Made with shredded skinless chicken breasts, black beans, and a creamy spicy cheese sauce, it's incredibly flavorful and will become one of your favorite recipes. Plus, it's super simple — just mix, bake, and serve with your favorite taco toppings.
When you make this, prep two casseroles: one for this week and one for the freezer to enjoy later. You only need 8 simple ingredients and 45 minutes to make this kid-friendly meal. It's a complete meal on its own, but you can also serve it over white rice, brown rice, or quinoa.
Substitute ground beef for the chicken to switch things up a bit.
11. Mexican Chicken Quinoa Casserole
Looking for a tasty meal to take to friends or neighbors in need of a little help? Try this Easy Mexican Chicken Quinoa Casserole.
Blistered peppers add color and flavor to the chicken, quinoa, black beans, spicy chicken, salsa, and pepper jack cheese. Add even more fun veggies like corn or mushrooms if you'd like.
This recipe from Pinch of Yum makes 8 servings, and you'll absolutely love the leftovers.
12. Mexican Breakfast Chicken Tortilla Lasagna Casserole
Whether you're making breakfast, brunch, or dinner, you can't beat this Mexican Breakfast Chicken Tortilla Lasagna. Layers of tortillas, chicken, eggs, bacon, black beans, tomatoes, cheese, and enchilada sauce are stacked on one another to make a delicious-looking lasagna.
Use rotisserie chicken to make this come together quickly!
If you want a meal that sticks to your ribs until lunchtime, this is the breakfast casserole for you.
13. Individual Chicken Taco Casseroles
Cooking for one and don't enjoy leftovers? These Individual Chicken Taco Casseroles are quick and simple to prepare in under 20 minutes. I
t makes a great meal planning dish, too, because you can keep individual portions in an airtight container.
14. Easy Chicken Tortilla Casserole
For a mile high casserole that's perfect for big appetites, make this Easy Chicken Tortilla Casserole from Baking Beauty. What a fun way to mix up Mexican night!
The dish is super cheesy with tons of flavor packed into every bite. Use pre-cooked seasoned chicken strips to make this recipe simpler.
15. Mexican Chicken Cornbread Casserole
Cornbread is total comfort food, and this recipe from Spicy Southern Kitchen combines the yumminess of cornbread with mouthwatering Mexican flavors for an irresistible Mexican Chicken Cornbread Casserole dish.
Don't worry — you don't have to make cornbread from scratch. You'll use an easy, tasty cornbread mix that's already prepared. Using shredded rotisserie chicken is another great time-saving tip.
Combine shredded chicken with corn, Rotel, taco seasoning, sour cream, and cheddar cheese. Top it with cornbread mix combined with cheese. Less than half an hour later, you have a delicious family-friendly meal made in a single pan.
Serve with fresh salsa, green onions, and sour cream.
16. Veggie Packed Taco Chicken Casserole
A Worthey Read's take on Taco Chicken Casserole is as visually stunning as it is tasty! This chicken taco casserole recipe is absolutely packed with veggies like bell peppers, corn, and shredded carrots.
And while the recipe calls for sliced jalapenos for serving, you can skip them or remove the seeds to make them milder if your family doesn't like a lot of spice.
Unlike the other recipes in this list, this one calls for a crumbly cheese instead of shredded cheese. However, you can swap that out according to your preferences.
17. Skillet Chicken Tortilla Pie
Does seasoned chicken, shredded cheese, tortillas, and a delicious red sauce sound good to you? That's what you'll get with this simple, comforting Skillet Chicken Tortilla Pie from Pinch of Yum.
The seasonings and spices for the red sauce are kept simple with chili powder, cumin, and oregano. And for the meaty mixture for the pie, you'll need some taco seasoning as well.
It'll make two 9-inch pies, so freeze the other or give one to a friend or a mama who's just had a baby and is too exhausted to cook. The recipe is mild, so if you want a spicier version, add some diced jalapenos to the sauce.
18. Slow Cooker Santa Fe Chicken
This easy crockpot recipe uses boneless skinless chicken breasts and has all the flavor of your favorite chicken tacos. Because your crockpot does all the work, Slow Cooker Santa Fe Chicken is a breeze to make and only takes a few moments of prep time.
What's even better? You can reserve half of the chicken mixture to make Oven Baked Chicken Chimichangas the next day. I love great meals you can repurpose!
All in all, you have 15+ yummy family dinner ideas to try whenever you're craving Mexican food. These taco chicken casseroles are meaty, hearty, and delicious. Let us know which one is your favorite in the comments!
What to serve with taco casserole
Here are 60+ recipes if you're wondering what to serve with taco casserole!
More recipe round-ups