Want an easy breakfast the whole family will enjoy? This simple overnight oats recipe is the answer! Incredibly delicious, good for you and affordable! This meal is perfect for busy mornings!
Next time try Instant Pot Steel Cut Oatmeal if you prefer a warm bowl of oatmeal.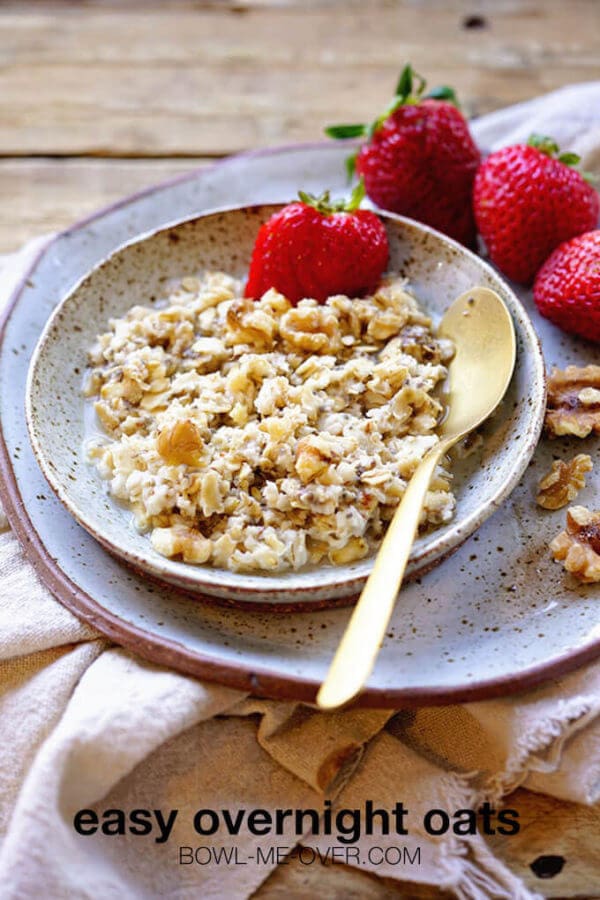 Jump to:
Why you'll love this recipe
✔️ affordable
✔️ make ahead
✔️ This creamy oatmeal is completely delicious!
Ingredients
Please refer to the printable recipe card at the bottom of this post for the exact measurements.
This Overnight Oats Recipe can be a total brunch thing - cute and deliciously served in small jelly jars and easily stored in the refrigerator.
steel cut or old-fashioned oatmeal
use your favorite milk - regular milk, almond milk, coconut milk or cashew milk
sweetened or unsweetened apple sauce, homemade applesauce - your choice
brown sugar, pure maple syrup or a drizzle of honey for sweetness
nuts and fruit
Optional additions include; Greek Yogurt, flax seeds, finely diced crisp apples (YUM!) or you could make an apple compote - there are so many different choices!
Instructions
This is an overview of the instructions. For the complete directions just scroll down to the bottom!
Measure equal parts of Oatmeal and liquid - such as milk, nut milk or even yogurt. Pour it over the oatmeal in a sealable container.
Add the sweetener and cinnamon. Whisk to combine.
Store in an airtight container and refrigerate overnight.
If you're using steel cut oatmeal, increase the liquid by half - instead of 1 cup use 1 ½ cups milk.
Then the next morning, simply slice and chop your favorite fruit. Add granola, chopped nuts or a spoonful of chia seeds and serve. It's really that easy!
Top the oatmeal with ingredients you enjoy! This is a total "make it your way" type recipe! Don't have strawberries? Use blueberries, sliced peaches or raspberries. Chia seeds not your thing? Chopped walnuts or pecans would be delicious. A spoonful of your favorite granola will add a nice crunch!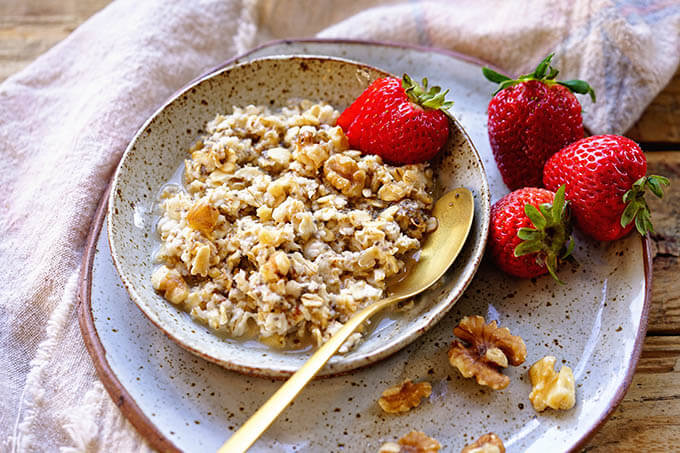 FAQ's
Do you eat overnight oatmeal hot or cold?
Actually you can eat them either way. The trick is - you simply mix up the oatmeal the night before and tuck it in the fridge. The next day, enjoy!
Is overnight oatmeal healthy?
Yes, this is a super healthy meal and what a great way to start the day! Oats are really good for you! A great source fiber, oats fill you up fast and longer and can help you loose weight!
How long do they last?
Easy overnight oats will last in the refrigerator up to five days. If you make them in small mason jars, you can even screw on the lid and tuck them into your purse or lunch bag. No need to skip breakfast now!
What types of oats are best for you?
Steel cut oats are the least processed and are considered more nutritious. They take a little longer to cook and taste nuttier than rolled oats, but they are delicious!
Can you use steel-cut oatmeal in overnight oats?
Yes, you'll just need to use more liquid.
What is the difference between rolled oats and steel cut?
Rolled oats (often called old-fashioned oats) are processed a bit more than the steel cut. (very inexpensive!) Instant Oatmeal is processed the most and often has added sugars and preservatives. (quick and easy).
Why eat oatmeal?
As a whole grain, oats can help you lower your risk for diabetes (and you know I'm always talking about that!) and also help reduce your cholesterol. A bowl of oatmeal is a balanced meal and contains lots of good nutrients, vitamins and minerals.

If the reasons above don't convince you - then how about this... oatmeal is delicious!
Things to know
In a hurry? Double the recipe! It will last in the fridge up to five days.
I use small mason jars. It's perfect for meal prep and putting together to-go single servings for a grab-n-go breakfast.
Not into breakfast oatmeal? Then have a couple 3 ingredient Oatmeal cookies. Made from instant oats packets, they are perfect for breakfast!
Variations
Serve with your favorite toppings, like sliced fresh fruit - strawberries, blueberries, blackberries, sliced bananas, all are delicious!
Top the overnight oats with a drizzle of cream or milk, though oat milk or almond milk would be yummy as well.
Nut butters - peanut butter, almond butter, etc. add a creamy texture.
Hemp seeds, protein powder, coconut flakes, dried fruits, are all great additions!
If you prefer, use plant-based milk.
Apple pie spice would add even more flavor. Slices of fresh apples would be delicious with the
A pinch of cinnamon or nutmeg with a splash of vanilla extract? My favorite edition. Dan loves a handful of chocolate chips - he has such a sweet tooth!
Topping the oats with fried apples turns this into a apple cinnamon overnight oats recipe - delish!
Related recipes
Serve with
Are you making brunch and wondering what to serve with this lovely meal? Here are my suggestions!
What a spread! I hope you've found some yummy new recipes for that buffet!
Don't forget to check out my Amazon storefront for some of my favorite products! 🛍️
If you love this recipe please leave a ⭐⭐⭐⭐⭐ rating!
Easy Overnight Oats Recipe
You're going to love this creamy overnight oats recipe, it will quickly become your favorite.
As an Amazon Associate I earn from qualifying purchases.
Ingredients
1

cup

steel-cut oats or old fashioned oatmeal

1

cup

milk

½

cup

applesauce

½

teaspoon

cinnamon

1

tablespoon

brown sugar

substitute maple syrup or honey

¼

cup

sliced strawberries

¼

cup

granola

2

teaspoon

chia seeds
I earn a commission from Instacart from qualifying purchases.
Instructions
Split the raw oatmeal between two bowls stir and add ½ cup of milk to each bowl.

Add the sweetener and cinnamon. Whisk to combine. Cover it and refrigerate overnight.

In the morning, slice and chop your favorite fruit. Top the oatmeal with granola, chopped nuts and/or a spoonful of chia seeds and serve. It's really that easy!
Notes
Use your milk of choice - regular milk fat free, 1%, 2% or whole milk, soy milk, almond milk, coconut milk or cashew milk
Nutrition
Serving:
1
cup
|
Calories:
324
kcal
|
Carbohydrates:
46
g
|
Protein:
11
g
|
Fat:
10
g
|
Saturated Fat:
3
g
|
Cholesterol:
12
mg
|
Sodium:
60
mg
|
Potassium:
394
mg
|
Fiber:
6
g
|
Sugar:
10
g
|
Vitamin A:
200
IU
|
Vitamin C:
10.6
mg
|
Calcium:
197
mg
|
Iron:
2.7
mg
Sign up for my recipes here!!
Don't worry, we'll never share your email.
Are you a breakfast person? For the longest time, I could never eat breakfast food. I'm not sure why.
Give me leftover pasta, sliced meat from the night before. Leftover lasagna, yes I was that person. Breakfast food never sounded good.
Probably because I was usually eating alone.
Now, Dan and I make a point of eating breakfast together and usually the evening meal too. It just makes it more fun when you're enjoying a meal with someone rather than by yourself!
Now I like to eat breakfast; Instant Pot Steel Cut Oats, Avocado Toast Breakfast Sandwich, a Papaya Breakfast Bowl or a stack of Pumpkin Pancakes, YUM!
Honestly, I feel better since I've been more deliberate about mealtime and one of my go-to breakfast meals is overnight oatmeal. It's an easy breakfast and everyone loves it - no boring oatmeal here!
And if you're like us when you're dashing around and you're all going different ways, making it ahead the night before is definitely the way to go!
You can make it ahead so that's a definite plus! It's also perfect for a weekday breakfast.
If you can get a good, nutritious meal in your kids, hubby, best gal - whomever - before they hit the road in the morning, that's what matters!
Knowing that breakfast is nutritious? Big plus there!!!
First Published December 1, 2018 - Last Updated MAY 26, 2022