Fire up the grill and liven the flavors with this sweet rib rub recipe on baby back ribs! This is the best dry rub, it's great with pork or chicken, the brown sugar caramelizes and seasons the meat. The smokey paprika, chili powder and spices is the perfect balance of seasoning.
For seafood and fish use Homemade Old Bay Seasoning!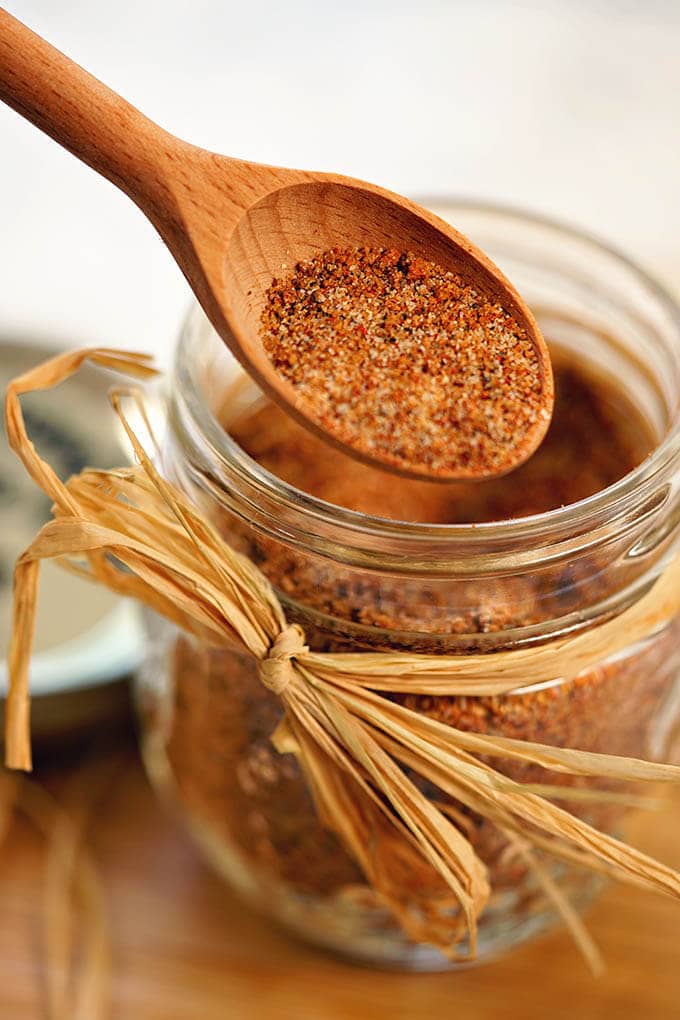 Jump to:
Why you'll love this recipe  
You're going to love this recipe because it will help you make the BEST ribs! That's what this is all about right?!!!
✔️ This homemade dry rub recipe adds so much amazing flavor to spare ribs!
✔️ It's a little sweet and a little smokey with a hint of spice. Pair it with your favorite bbq sauce for sticky lick-your-fingers deliciousness!
✔️ You have all the ingredients in your spice cabinet right now. So it saves you money AND it tastes better than store bought.
Bonus? There's no preservatives and you get to control all the heat and sodium.
Ingredients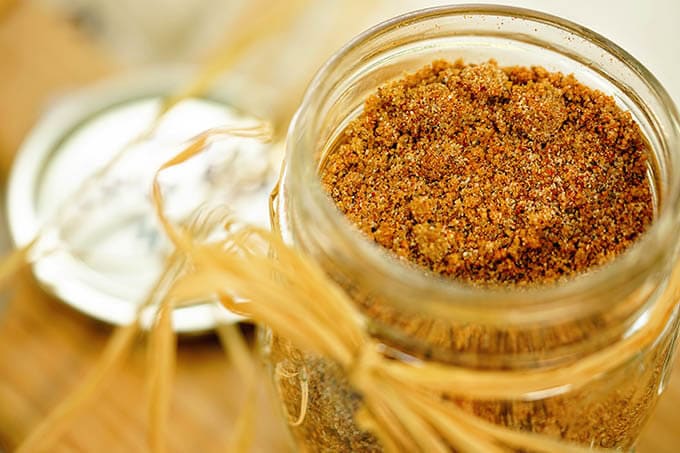 For the exact measurements for this seasoning blend, please refer to the recipe card at the bottom of this post.
garlic powder
dry mustard
smoked paprika
onion powder
chili powder or if you really like heat substitute cayenne pepper
kosher salt
black pepper
brown sugar
See? I bet you have everything you need for this easy recipe! No smoked paprika? You can substitute sweet paprika, but if you have it, use the smoked. It just helps add another layer of seasoning. Red pepper flakes would be a nice addition if you enjoy a bit of heat.
Instructions
The instructions for the homemade dry rub is super simple!
All you need to do is measure the ingredients and mix them together.
Store in a screw-top jar or sealed plastic bag in the spice cabinet or a dark cool place.
Equipment
The following are affiliate links. We are a participant in the Amazon Services LLC Associates Program, an affiliate advertising program designed to provide a means for us to earn fees by linking to Amazon.com and affiliated sites.
FAQ's
What does it mean to dry rub?
A dry rub is a mixture of spices and seasonings mixed together an applied to meat, whether that's a rack of ribs, chicken or fish.
How do you make a homemade dry rub for ribs?
A dry rub is made by combining all of the ingredients and mixing them together well.
How do you get the rub to stick to pork?
A layer of yellow mustard, olive oil or even water will help the rub stick to the meat. Then dry rub ribs with the seasoning.
How long should you leave a rub on meat?
Rubs can be left on the meat anywhere from 30 minutes up to overnight. Add the rub to the meat, wrap it well in tin foil and place it back in the fridge overnight.
How long does homemade pork rub last?
Because this is made with spices (not herbs) it has a really long shelf life. This dry rub will last up to three years!
What is the best way to store spices?
You can store them in a screw top jar, just make sure it's sealed well.
What happens if you eat expired spices?
Honestly, no worries at all - spices loose some of their taste. Worst case is your meal won't be as flavorful.
Tips
First things first, rubs at the store are EXPENSIVE! And if you can make your own from spices you already have, why not right?
Customize your spices adding more heat or sweet flavor as you see fit.
Storage
Store homemade spice blends in an airtight container in the pantry or other dry place.
Little mason jars work great (and are perfect if you're giving them as gifts!) You can even seal them in a ziplock bag and place the rub in the freezer, it will last even longer!
Serving with
Oh my goodness, this dry pork rub recipe is amazing on all cuts of pork! Pork tenderloin, pork chops, pork loin, pork shoulder, pork butt - you name it! Sprinkled on chicken breasts, thighs or legs it's delicious as well.
It would also be delicious over grilled salmon or chicken!
Related recipes
Do you enjoy making your own rubs and spice blends? Here are some of my favorites homemade recipes.
When you've tried this homemade pork rub recipe, I'd love it if you'd leave a five-star rating below!
If you post a photo, please tag me! You can tag me with #bowlmeover or on Instagram at @bowl_me_over so I can see how yummy they turned out!!
Sweet Rib Rub Recipe
Easy to make sweet rub recipe with the best flavor. Great for pork, chicken and shrimp!
As an Amazon Associate I earn from qualifying purchases.
Ingredients
¼

cup

dark brown sugar

2

tablespoon

salt

1

teaspoon

ground pepper

1

teaspoon

garlic powder

1

teaspoon

dry mustard

1

teaspoon

smoked paprika

1

teaspoon

onion powder

1

teaspoon

chili powder
I earn a commission from Instacart from qualifying purchases.
Instructions
Combine all of the ingredients and mix together well.

Store in in the pantry or spice cabinet.

Sealed well in a screw top jar it will keep up to a year
Nutrition
Calories:
39
kcal
|
Carbohydrates:
10
g
|
Sodium:
2328
mg
|
Potassium:
25
mg
|
Sugar:
8
g
|
Vitamin A:
165
IU
|
Calcium:
8
mg
|
Iron:
0.2
mg
Sign up for my recipes here!!
Don't worry, we'll never share your email.
Recipe backstory
I'm telling you I'm all about the barbecue this summer!
Great meals like the best grilled chili lime chicken, served up with some corn on the cob and Mom's Potato Salad, mmmm! Maybe some homemade ice cream for dessert? Honestly, does life get any better?
After we got our new grill we've just been enjoying delicious meals like this all summer long! Yes... I'm still talking about the grill, but it's changed cooking for us because previously we had to wait until late in the evening to go outside and grill.
This rub is perfect for Barbecued Pork Ribs or this recipe for Ribs on the Grill! Or just great bbq'd chicken!
Summer temps in Fresno are triple-digit. We are going thru a hot spell now that just doesn't want to seem to break.
I'm not whining I think it's been ridiculously hot just about everywhere. But as I keep saying.... it is July right? ☀️☀️☀️
BBQ Rub is a great gift! Make several jars of these and tuck them away. When the holidays roll around package them up with some great grilling accessories and you'll have a wonderful gift for family and friends!
What can I say, I'm always thinking ahead for the holidays. I try to have most of our gift purchases completed by November... but that's just me. Come holiday time there's no time for crafting!
First Published: July 10, 2018... Last Updated: April 24, 2022