You know a meal is a winner when there are many variations of it. That's especially the case when it comes to popular tater tot casserole recipes.
Made with a variety of ground meats, simple ingredients for flavor, and, of course, frozen tater tots, the easy recipes are often family favorites.
You'll love tater tot casserole because it's easy to prep (even in advance) for busy weeknights. Of course, the rest of the family will love it (even the picky eaters) because no one can resist cheesy tater tots! It's a win-win.
Jump to:
Tips to make the best casserole
The key to crispy tater tots is simple: don't let them thaw! Keep them frozen while prepping the easy meal unless your recipe says otherwise.
Feel free to make swaps to fit your tastes. For example, sometimes we like to use ground turkey or ground chicken instead of beef!
Canned and frozen ingredients (like black beans, corn, and mixed veggies) are cheap to stir in and make an easy casserole recipe stretch!
For perfectly golden tater tots in every bite, place them in a single layer.
If you prefer extra-crispy tots, bake them first. Then, layer them on top of the casserole dish and bake again!
While you can prep some tater tot casserole recipes ahead of time, don't place an ice-cold baking dish into a hot oven, or it can crack! (The same goes for a hot dish in a cold fridge, too.)
FAQ's
How many people does a tater tot casserole feed?
Casseroles are hearty enough to feed the hungriest groups of teenage boys! The exact serving number will depend on your recipe, but there's usually enough for the whole family.
What can I use instead of tots?
Feel free to swap the frozen tater tots with another frozen potato product, like french fries! You can also use fresh potatoes, but be sure to slice them thinly so they cook through in the oven.
Why aren't my tater tots turning golden brown?
The tots won't brown as much if they're layered underneath other wet ingredients. If you want to give the tater tots and cheese on top of the casserole a little extra crisp, you can use the broiler for a few minutes. Watch it closely, though!
Can you freeze a casserole?
Absolutely! I like to use aluminum foil baking trays. Otherwise, make sure your dish is freezer-safe. Let the casserole cool, if hot, and cover tightly! I have full instructions and tips to freeze casseroles here.
1. Cowboy Tater Tot Casserole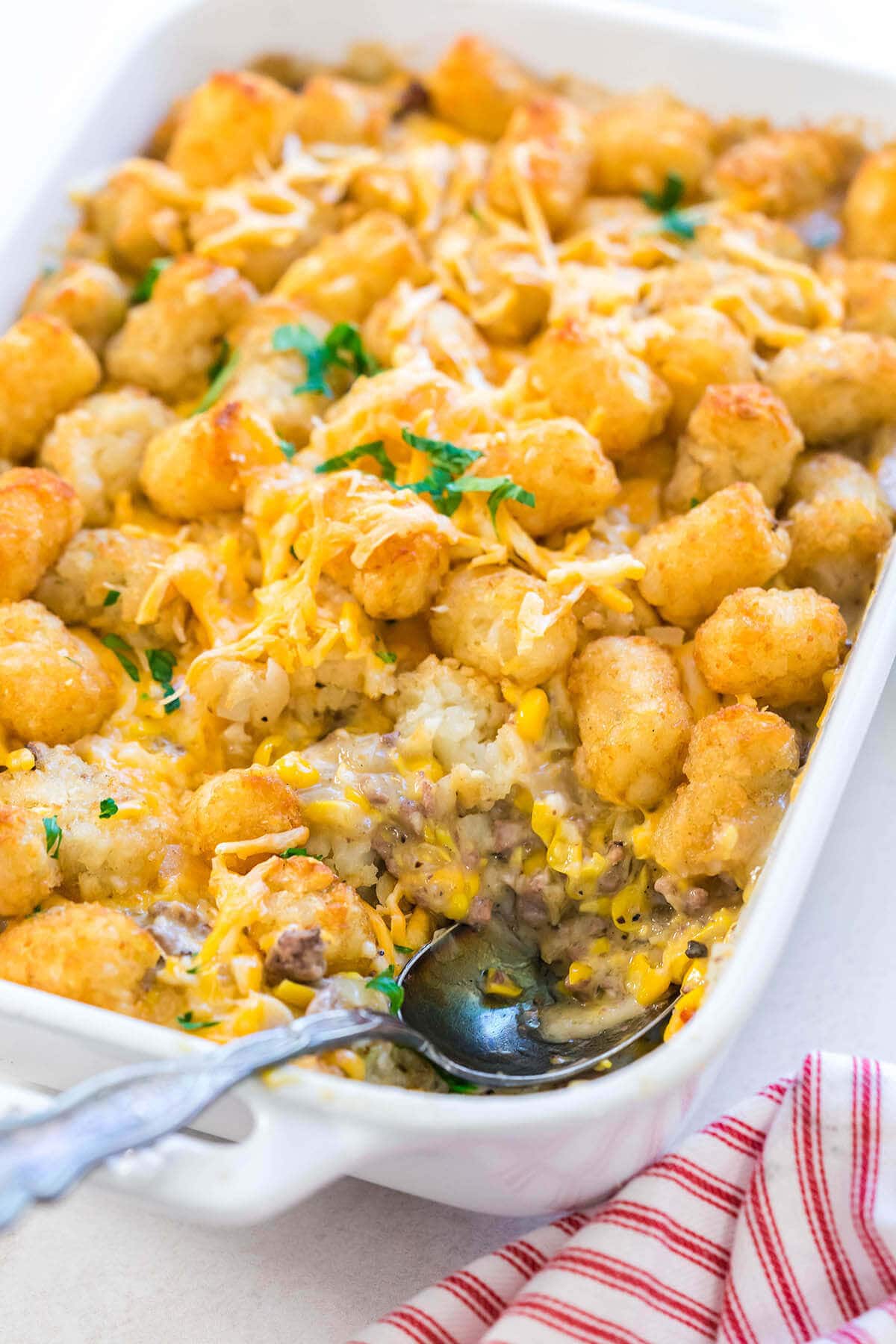 Cowboy Tater Tot Casserole has a delicious homestyle flavor profile. Thankfully, it's satisfying to eat, even if you wear more slippers than spurs!
The hearty casserole starts off with a Montreal steak-seasoned ground beef mixture. Then, it's loaded with cream-style corn, cream of mushroom soup, and lots of cheese.
2. Buffalo Chicken Tater Tot Casserole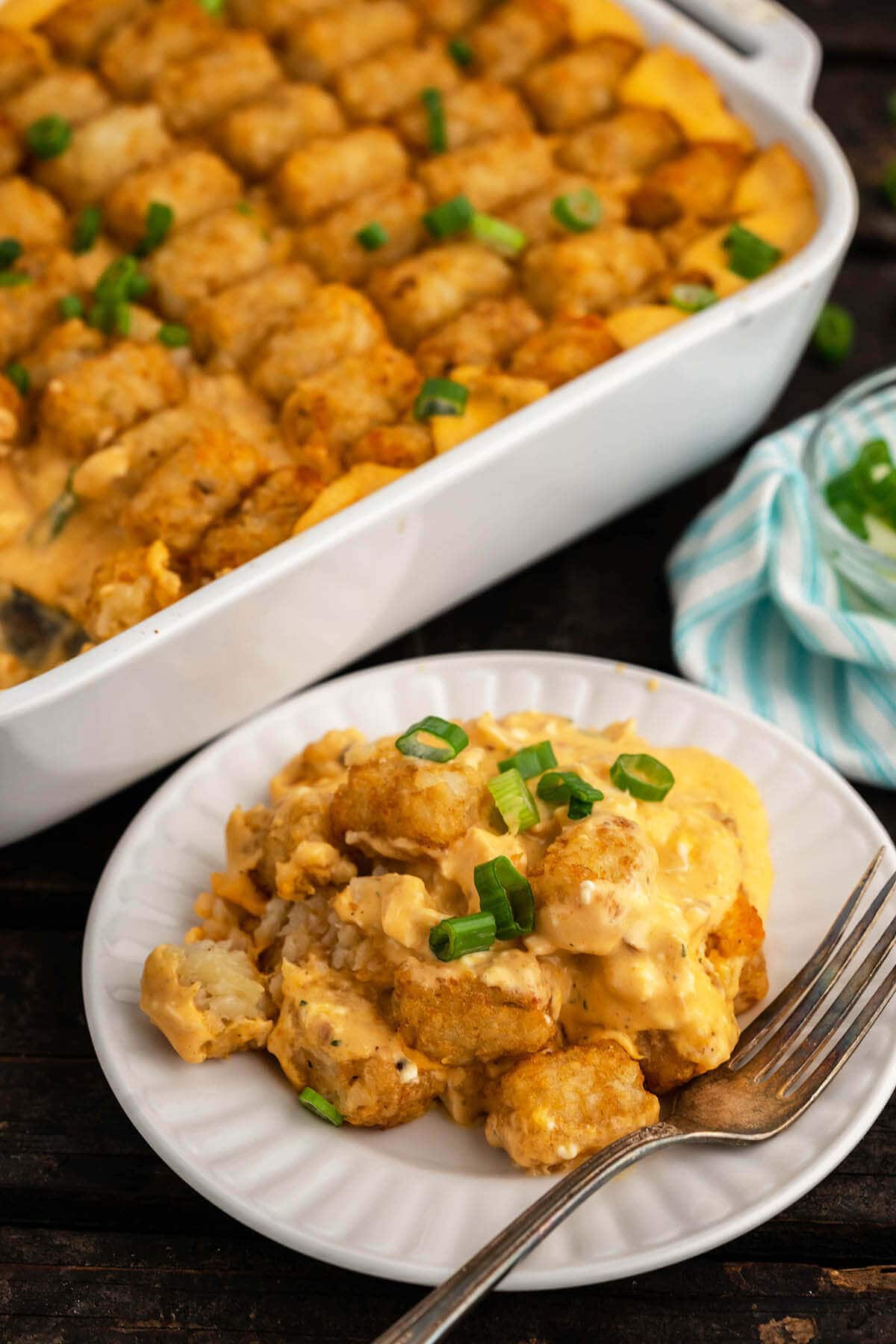 A zingy twist on the classic comfort food recipe, Buffalo Chicken Tater Tot Casserole is just bursting with flavor. Plus, you can use leftover chicken (or grab a rotisserie from the grocery store) to cut down on prep time!
Make extra, because this hearty casserole tastes even better the next day. (Future-you will be glad you did!)
3. Chicken Tater Tot Casserole
Creamy Chicken Tater Tot Casserole is a great recipe for busy nights. It's an easy, one-pan meal, and prep takes just minutes.
This casserole uses cream of potato and cream of chicken soup for a really hearty, comforting dish. Plus, with frozen veggies mixed right in and tater tots on top, you don't need to worry about a side dish. Love that!
4. Big Mac Tater Tot Casserole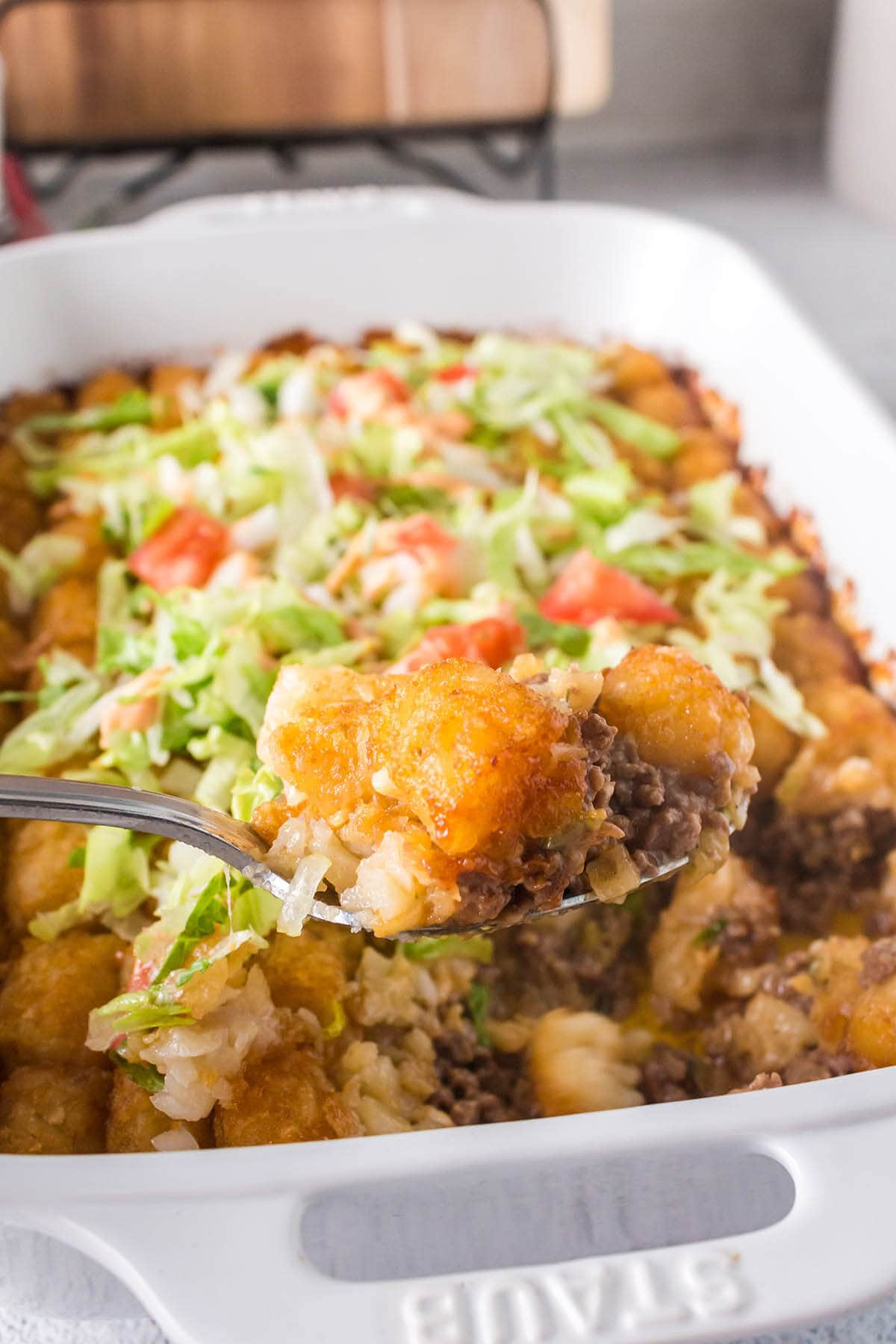 I like to call this one "Big Mac Tater Tot Casserole" because it gets everyone excited to eat! Some people call it cheeseburger tater tot casserole—it's just as delicious however you name it!
With a flavorful ground beef mixture, burger sauce, some relish, and tater tots, you'll think you're biting right into your favorite drive-through snack! No sesame seed buns are required.
5. Tachos - Tater Tot Nachos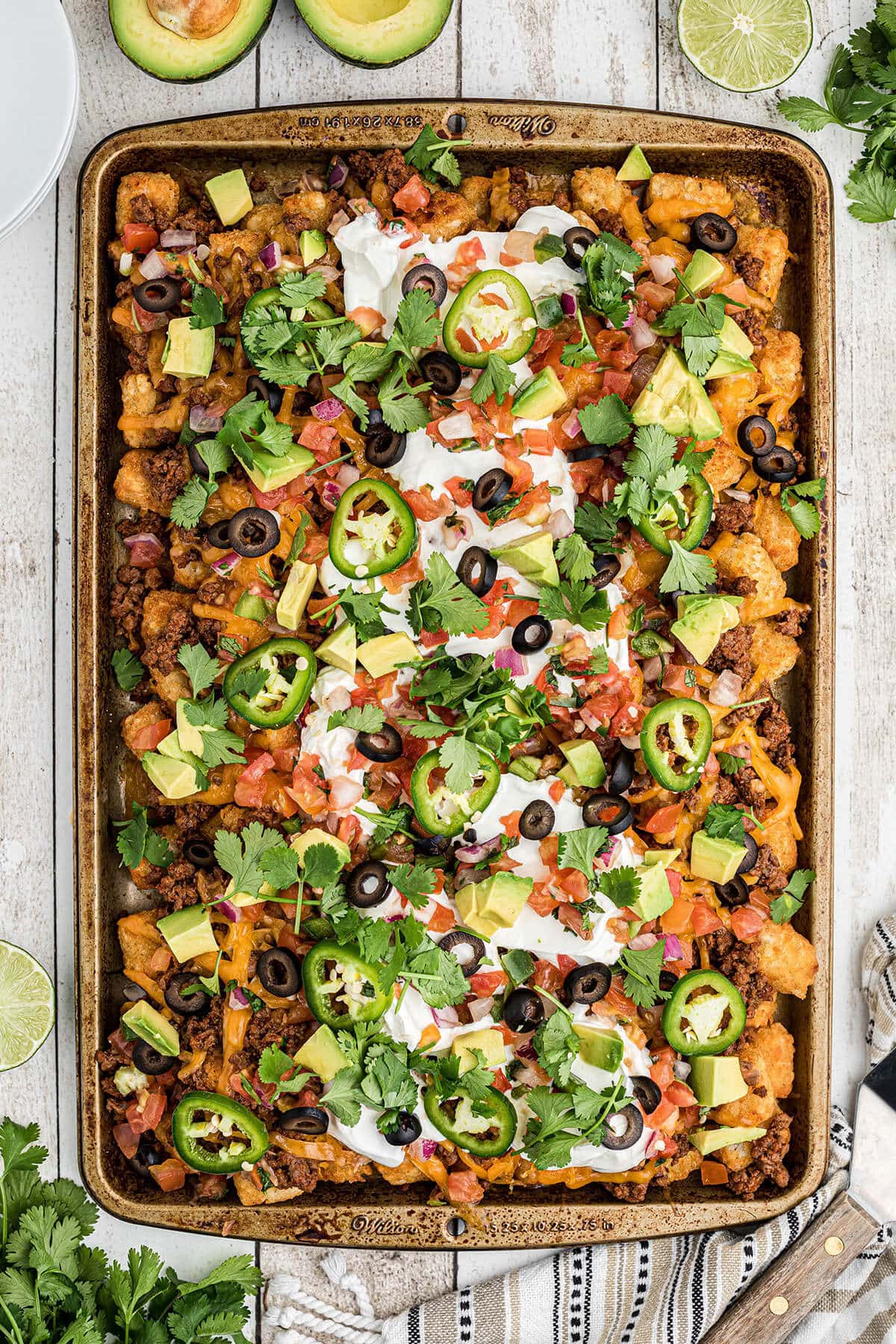 Move over nachos—this easy dinner is changing the game! It's fun for get-togethers or just when you want dinner to feel like a party.
Made like classic nachos but with tater tots instead of chips, "Tachos" stands for Tater Tot Nachos—and, they are good.
Don't forget to load up on your favorite toppings, like sour cream, green onions, and extra jalapenos!
6. Sloppy Joe Tater Tot Casserole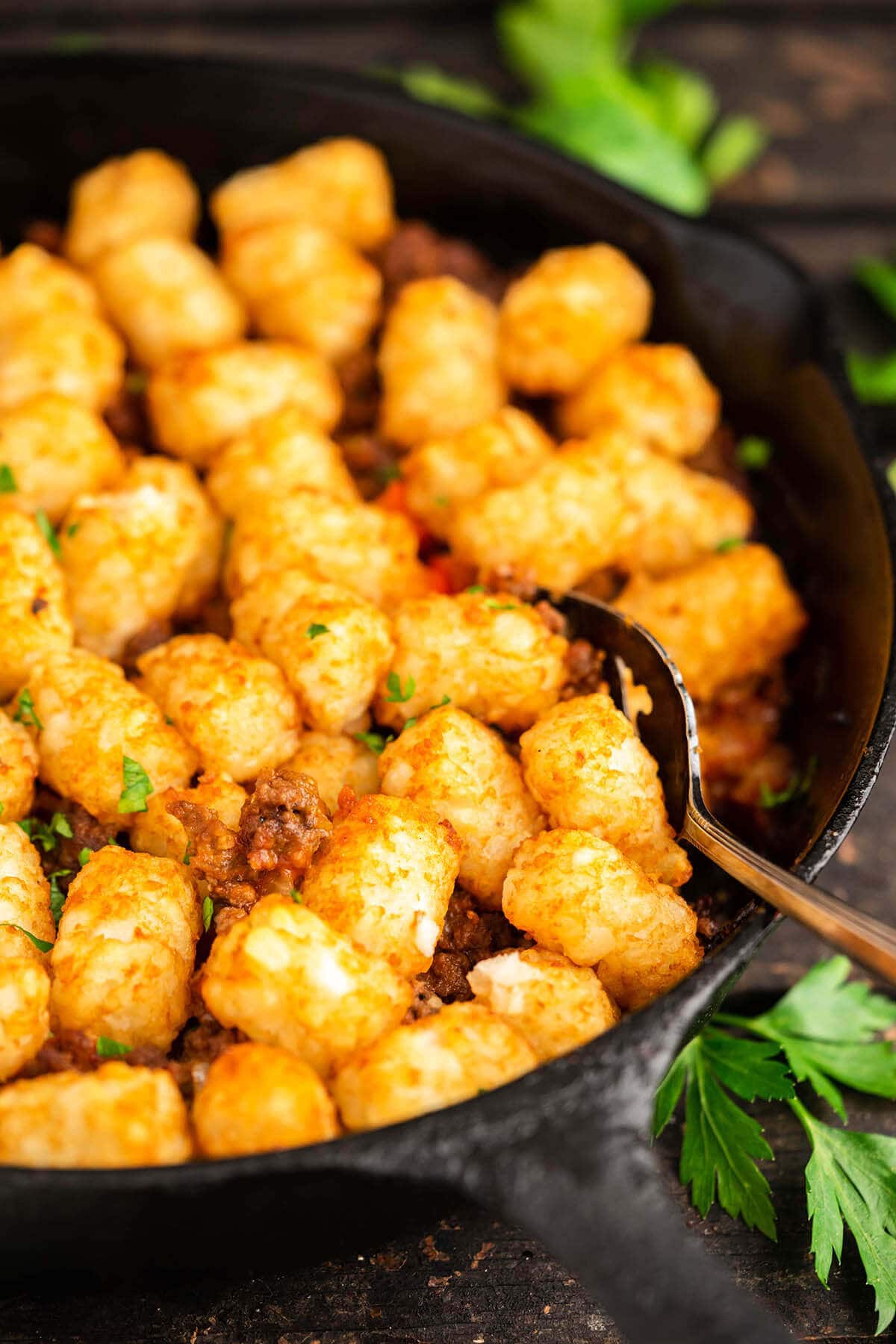 Love homemade Sloppy Joe's sandwiches but hate the mess? Sloppy Joe Tater Tot Casserole gives you the best of both worlds!
A deliciously tangy, slightly sweet sauce coats the tender beef. Then, it's topped off with tater tots for an easy dinner you'll crave weekly!
Add some extra cheese if you want, but it's not necessary for this one.
7. Mexican Tater Tot Casserole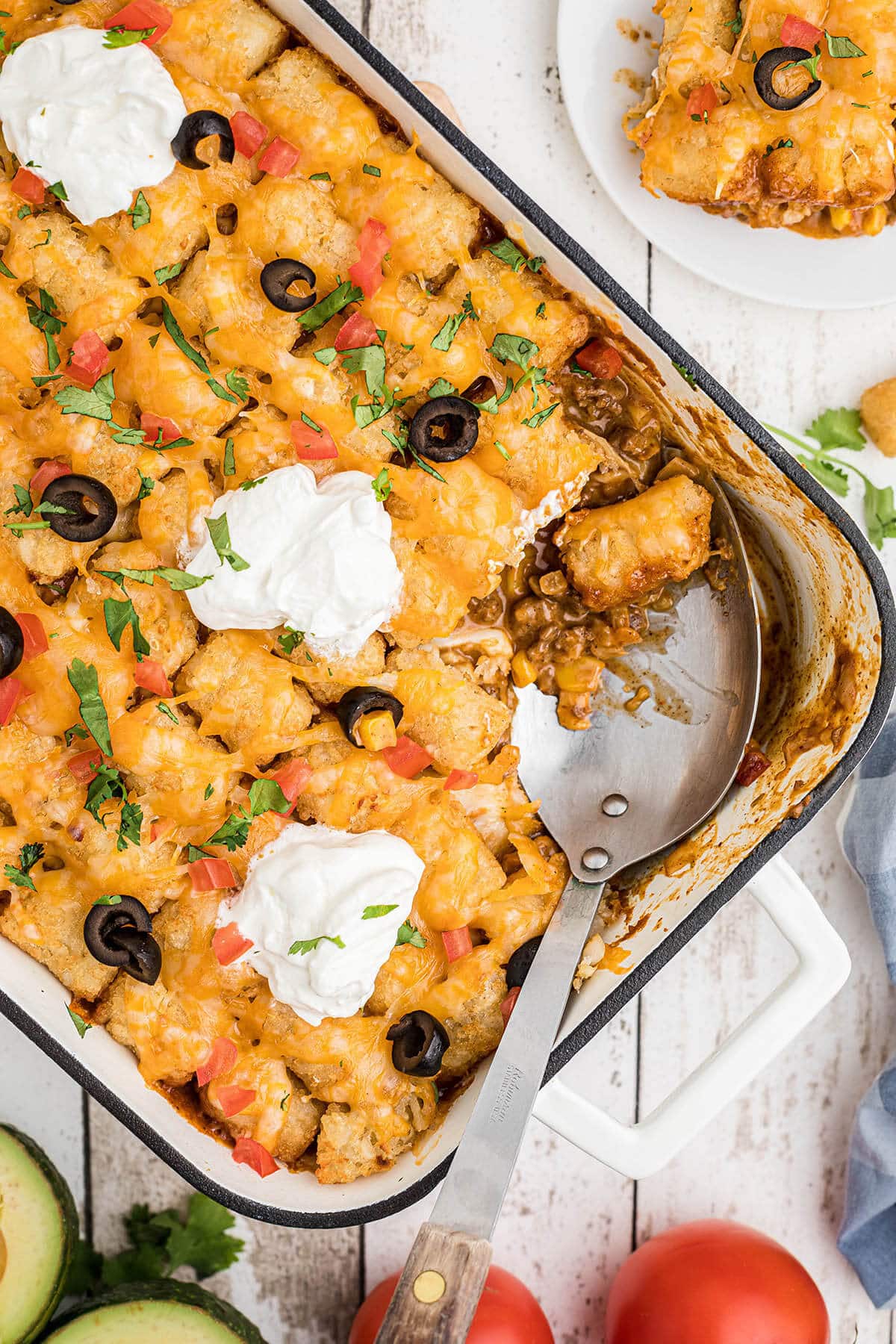 Skip taco Tuesday and opt for Mexican Tater Tot Casserole instead. (Is anyone down for Tater tot Tuesday?)
Made with flavorful taco seasoning, corn, queso, and lots of cheddar cheese, this easy tater tot casserole recipe is great prepped ahead of time, too! Plus, you can make tons of swaps and variations to use up whatever you have in the pantry.
8. Chicken Bacon Ranch Tater Tot Casserole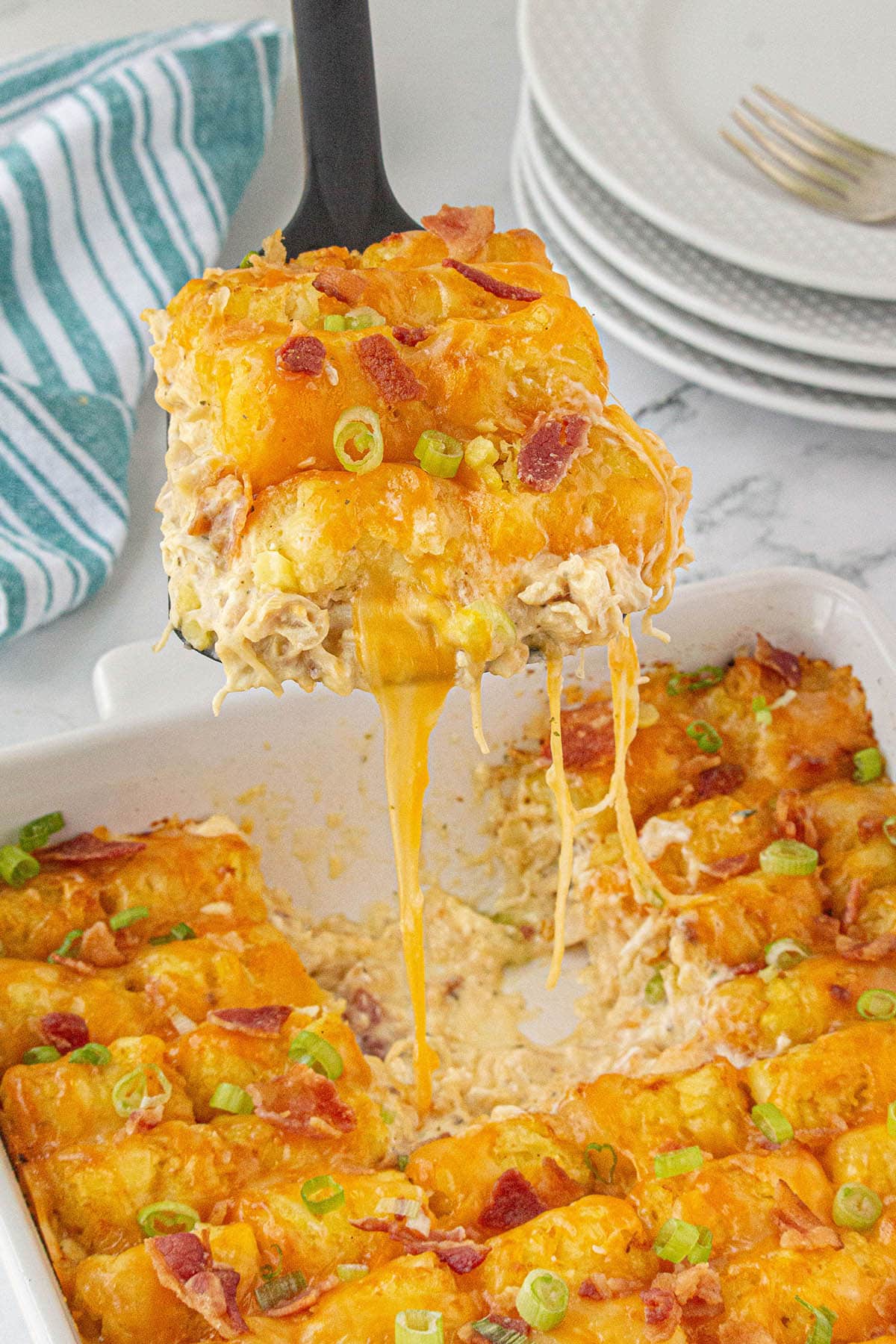 It's an easy recipe that comes together in minutes. It's loaded with bacon and cheese.
Who wouldn't love this delicious meal?!!
The Chicken Bacon Ranch Tater Tot Casserole is a real crowd-pleaser. You'll love it because it comes together in minutes, and the oven makes it all hot and toasty!
This is one you'll put into the weekly rotation!
Equipment
The following are affiliate links. We are a participant in the Amazon Services LLC Associates Program, an affiliate advertising program designed to provide a means for us to earn fees by linking to Amazon.com and affiliated sites.
More great casserole recipes
These easy comfort food recipes are just as delicious but without the tots!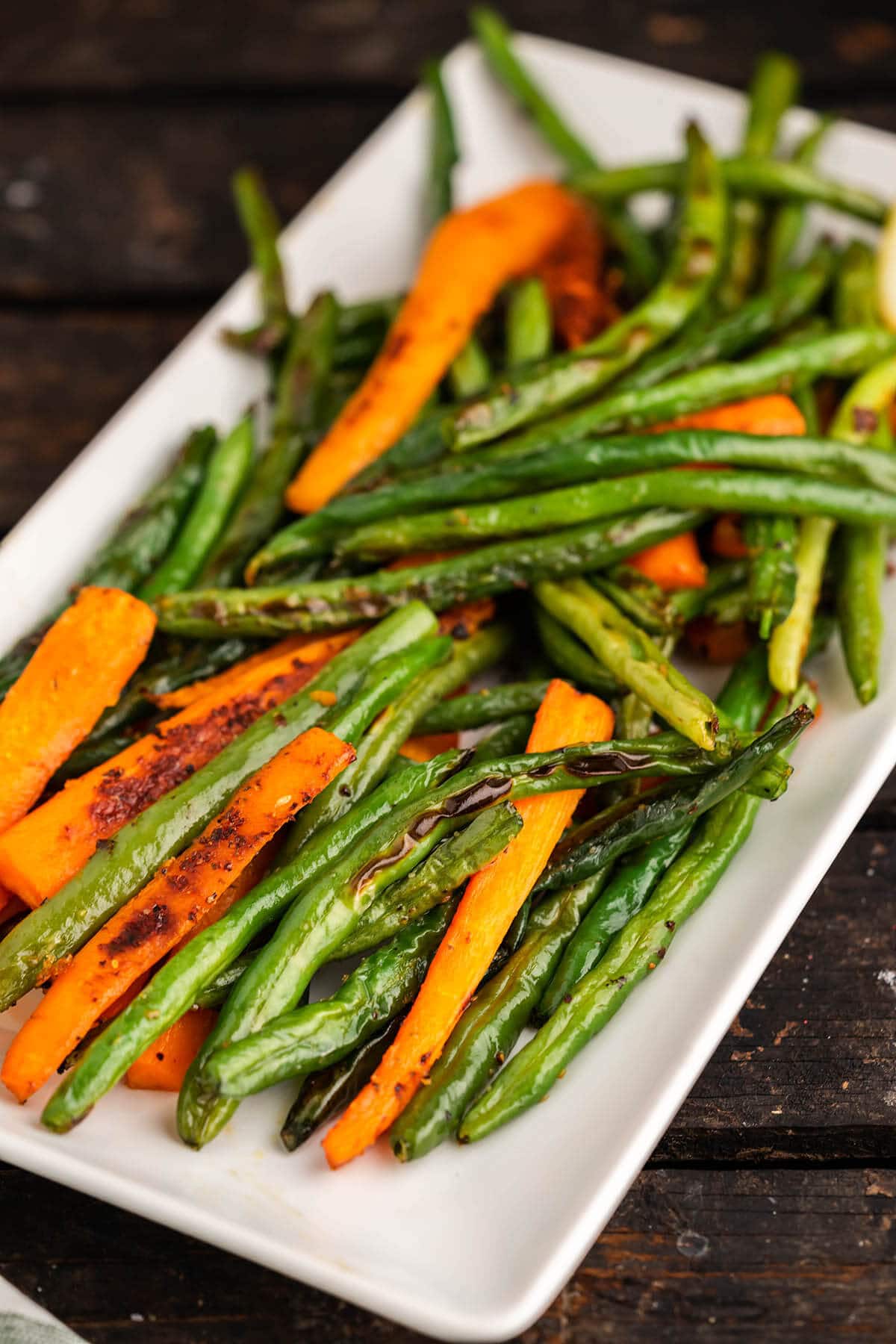 What to serve with the best tater tot casseroles
The great thing about tater tot casserole is that it can be a complete meal on its own! However, if you want to make it stretch a little bit more, there are plenty of excellent sides to go with it.
Check out What to Serve with Tater Tot Casserole for a complete list of over 25 easy side ideas!