If you're wondering how to freeze a casserole, I applaud you! Casseroles make delicious freezer meals for busy days and are a great idea to gift to someone who could use a meal, too.
If you're trying to get a head start on meal prep for the week, or even just have a small portion of leftovers to save, we'll cover it in this post. I've compiled a collection of great tips for freezing all your favorite casserole recipes—and, how to get the best results every time!
Click here for all of our delicious casserole recipes!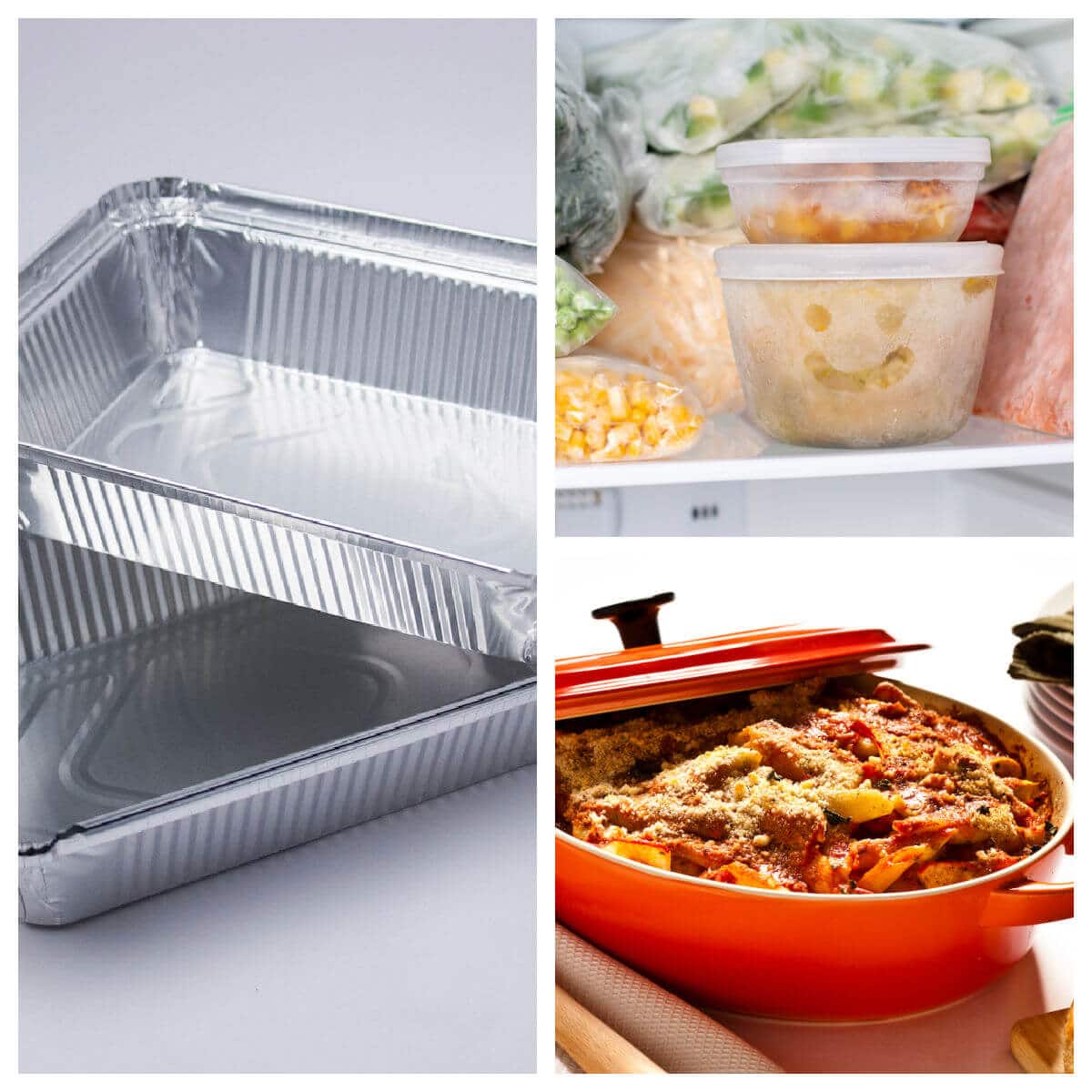 Jump to:
FAQ's
Should you freeze a casserole before or after baking?
Most of the time, it's best to freeze before baking! The ice crystals that form from the moisture of the cooked food will melt after thawing and "recook" the ingredients a second time. This can make the texture a bit mushier, especially with foods like pasta or rice. Often, just once in the oven is best!
Wait, so can I freeze leftover cooked casserole, or not?
You totally can! Some of my favorite casseroles are actually frozen after baking. I'll elaborate more on this under the "Tips" section near the end of the post.
What are the best containers for storing casseroles?
The best containers for freezer storage depend upon a variety of factors! Is the casserole cooked? Do you plan to thaw and cook the entire casserole at one time? Are you prepping multiple casseroles? The subheadings below will help you decide what's best for the kind of casserole you're freezing.
Do I have to bake a casserole longer if I don't thaw it?
Yep, generally, you do. You'll need to increase the original cook time. A frozen, uncooked casserole requires more time because it has to thaw in the oven, first, before starting the cooking process. Frozen precooked casseroles, however, just need to be warmed up, so they don't always require as much time. Learn all about reheating steps and cooking time here.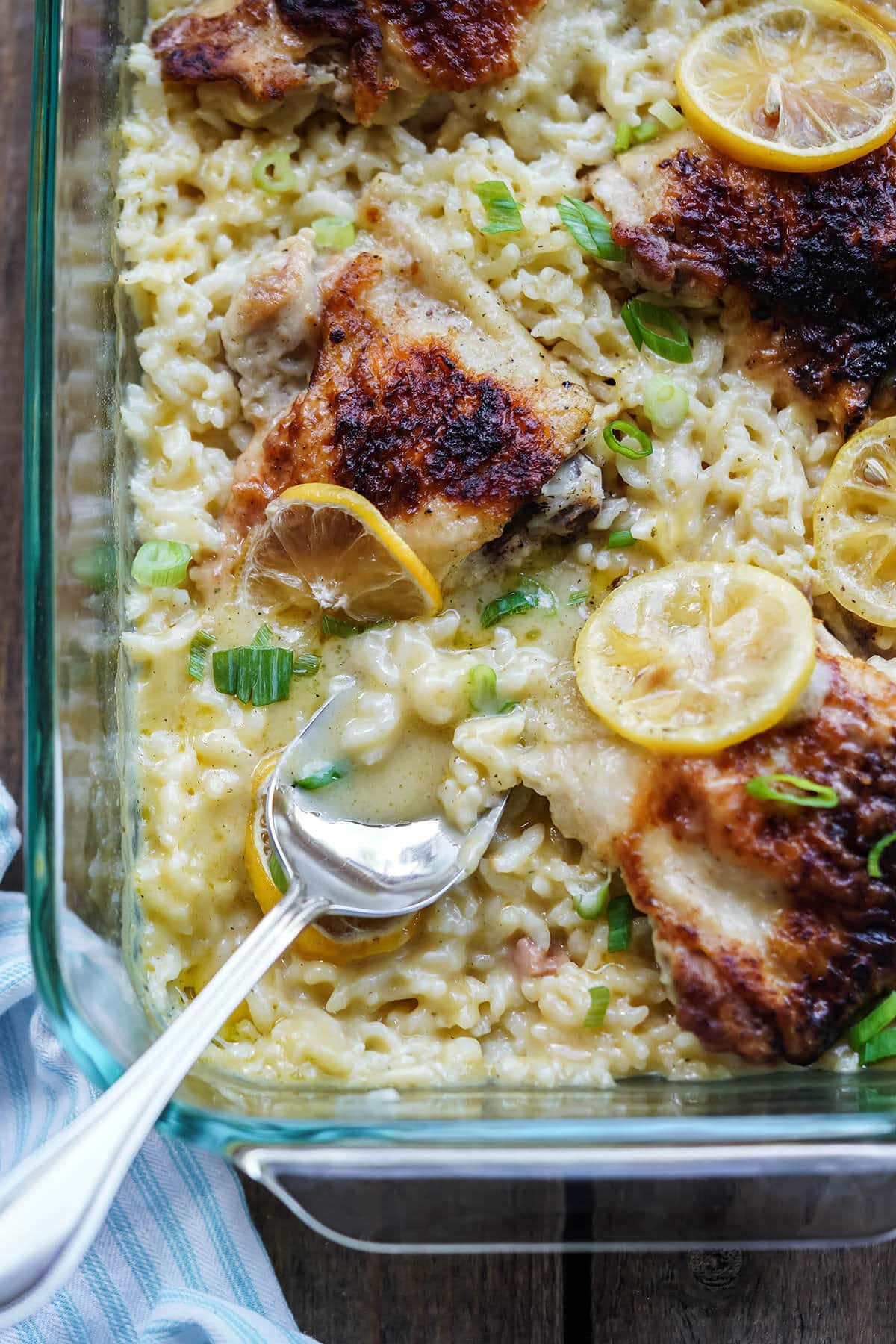 How to freeze a casserole in a glass dish
Freezing a casserole in glass is just fine, as long as you are using a freezer-safe dish. Some glass isn't rated for freezer storage, so check the bottom of the dish before getting started. Then, follow these steps:
Cover the top of the casserole with a layer of plastic wrap.
Make sure to seal all the edges of the dish tightly.
Next, cover the plastic with a layer of foil for extra protection. (If you don't have foil, use two layers of plastic wrap.)
Freeze, making sure not to lay anything on top of the dish that could cause the foil or plastic to come loose.
However, it's not always helpful to find your only casserole pan tied up in the freezer when you're starting another dinner. Don't worry, I have good news! There is a great way to avoid this problem:
Line the empty casserole dish with a sturdy layer of foil.
Add the casserole ingredients to the foil-lined dish.
Flash-freeze the casserole until it is solid and frozen through.
Lift the tin foil packet and fully frozen food out of the dish.
Wrap/cover the food tightly with extra foil.
Store the fully frozen casserole in the freezer and use your dish as needed!
To thaw, bake, or reheat the casserole, simply slide the foiled food back into the dish and proceed accordingly.
You may need to increase the amount of time it takes to bake since it's been frozen.
How to freeze a casserole in an aluminum pan
The best way to make and store a lot of casseroles at once is in aluminum pans. After all, most of us don't have a massive collection of casserole dishes hanging around. Plus, if you give the casserole away, the thankful recipient doesn't have to stress about returning your baking dish!
You can find a disposable foil pan near the baking or food storage section of your local grocery store. Try to choose one made of heavy-duty aluminum foil, rather than the flimsy kind. Some dishes, like chicken enchilada casserole, are really heavy once you add all the ingredients.
Then, simply assemble your delicious meal in the disposable pan. Cover it tightly with a layer of foil or use the foil lid, if yours came with one. However, to prevent any freezer burn from ruining your hard work, I recommend covering the whole casserole with a second piece of foil. It doesn't hurt to be safe!
Best ways to store a casserole in the freezer
At the end of the day, it doesn't really matter which type of storage container you use to freeze your casserole, as long dry freezer air doesn't get in. An airtight container is a frozen casserole's best friend!
Freezer-safe glass containers often come with airtight lids, making them a good idea if you're planning on stacking lots of freezer meals together.
However, there's nothing wrong with using a plastic container to store your casserole. The only fact to consider is that you might have to transfer the food to an oven- or microwave-safe dish for reheating.
A large freezer bag works well for storing leftover casseroles and is one of the easiest ways to portion out individual sizes for future use. That way, you can thaw a bag or two at a time, instead of the whole casserole. Just be sure to squeeze the extra air out of the bag.
Tips
Leave crunchy toppings and garnish off! Breadcrumbs, cornflakes, fresh herbs, and the like should be added to the casserole just before baking to maintain the best quality ingredients.
When going directly from a hot oven to the freezer, or vice versa, newer glass has a tendency to crack. In between steps, let your dish warm or cool to room temperature.
For a better quality meal, consume frozen casseroles within three months.
When preparing a casserole, carefully read the instructions. Most recipes (the good ones, anyway) include information for freezer storage.
If your recipe is missing freezer instructions, look at the ingredients and do a quick Google search to see if they can be frozen before or after cooking. If they can, then you're likely okay to freeze it either way.
For the frozen food and foil insert to remove easily from a glass dish, be sure that no sauce leaks out of the foil. Otherwise, it'll act as "glue."
When using aluminum foil baking dishes, place them on a rimmed baking sheet before freezing so nothing punctures the foil. Once the casserole is frozen, you can remove the baking sheet.
Make sure to choose a freezer-safe bag if going that route. Not all plastic bags are created equally!
You can freeze many slow cooker recipes using these tips, too. Place all the ingredients into a storage container, freeze, thaw, and then dump them into the crockpot when you're ready to cook.
Always label your casserole dishes using a permanent marker on the foil, or with some masking tape. Include the name and date of storage so you don't forget what's what!
A note about what not to freeze
Here's a list of some common foods that don't freeze well:
Casseroles with a hefty amount of dairy products (the exception to this is mac and cheese, which does hold up okay in the freezer).
Unless they are in a sauce, potatoes usually do not freeze well.
Sauces made from mostly sour cream or mayo.
Egg-based dishes like a souffle.
For best results, most casseroles are fine to assemble, freeze, then bake. Casseroles with pre-cooked meat—like shredded Rotisserie chicken or browned ground beef—for example, are fine to assemble and freeze, then bake later.
However, food experts generally recommend casseroles with raw meat be cooked, first, before freezing. Many home chefs have broken this rule once or twice, but that's why it's always important to use a food thermometer to test for doneness.
Poultry-based dishes and most casseroles need to reach 165 degrees F to be considered safe for consumption.
Equipment
The following are affiliate links. We are a participant in the Amazon Services LLC Associates Program, an affiliate advertising program designed to provide a means for us to earn fees by linking to Amazon.com and affiliated sites.
Freezer-safe and oven-safe dish
Disposable aluminum foil casserole pans
Freezer-safe storage bags
Masking tape
Permanent marker
Instant-read thermometer (to check the internal temperature after baking)
Don't forget to check out my Amazon storefront for some of my favorite products! 🛍️
By learning how to freeze a casserole, you'll have enough food to last through the chilly winter months! The next step? Check out my instructions to reheat a casserole and you'll be all set.
If you love this recipe please leave a ⭐⭐⭐⭐⭐ rating!
After a long day shuffling around and getting things done, there's nothing better than coming home and throwing a frozen lasagna or some pot pies in the oven. As the warm, fragrant food cooks and the delicious aromas waft through the house, remember to give yourself a little pat on the back. Enjoy!
Related recipes
Subscribe to YouTube
Hey if you want to catch all my videos, be sure to subscribe to my YouTube Channel. You'll be notified each time I share a new video!