Roasted Radishes and Potatoes - Roasting radishes mellows their peppery flavor and brings out their natural sweetness. Paired with potatoes they are a yummy contrast in flavor and a great side dish to serve with just about any meal!
If you're a radish fan like me, this oven roasted radish recipe is for you!
If you're a fan of potatoes, be sure to try this Potato Soup Recipe, it's so good and takes just 30 minutes to make!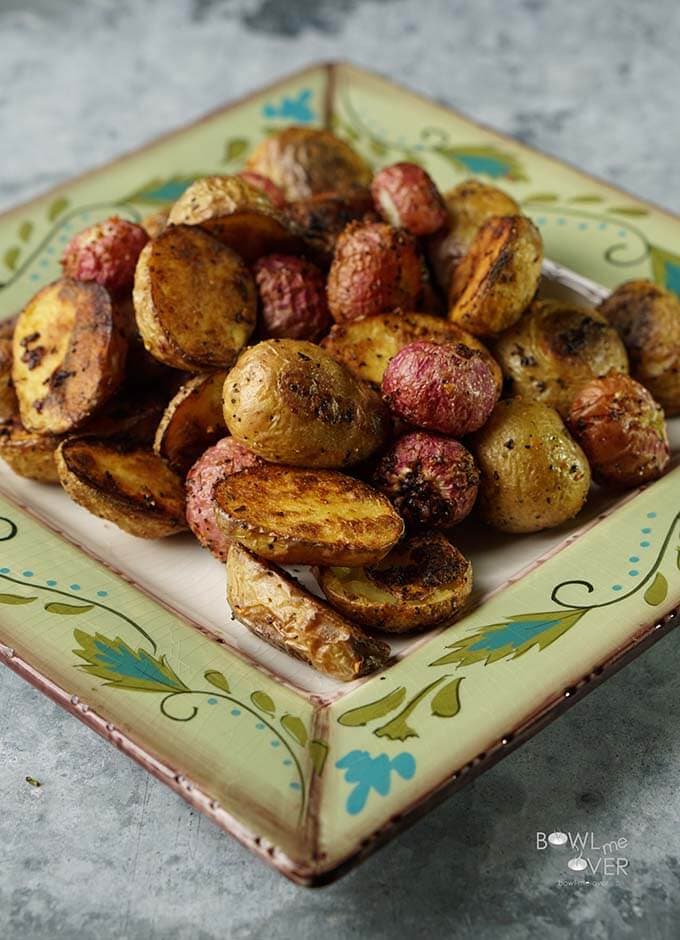 Why you'll love this recipe
✔️ Roasted Radishes Recipe with Potatoes is a tasty side dish!
✔️ It's super simple and really flavorful we love the peppery taste.
✔️ It's the perfect and affordable side dish for roast chicken, pork tenderloin, pork chops or grilled steak. It will be one of your new favorite ways to enjoy them!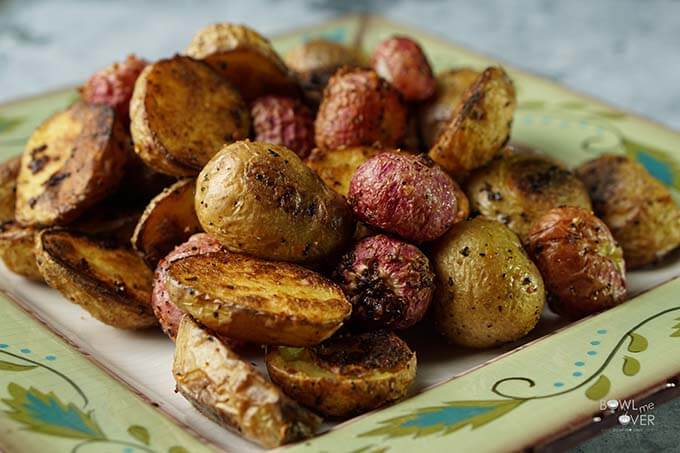 Ingredients
fingerling potatoes
fresh radishes
salt
black pepper
extra-virgin olive oil

Instructions to roast radishes
Preheat the oven
Clean the potatoes well and slice them in half.
Clean the radishes, lob off the radish tops and remove the root end - keep them whole. (Basically you want the potatoes & radishes to be about the same size for even cooking time.)
Put the potatoes & radishes in a large bowl.
Toss radishes and potatoes with olive oil, grill seasoning, salt & pepper - spread them out in a single layer on a rimmed baking sheet, cut side down
Bake in hot oven, flipping once during cooking time.
FAQ's
What does cooked radish taste like?
Cooked radishes have a similar texture as a potato, but they have a little bite and are spicy. Think roasted potatoes with more flavor! Really this is an outstanding dish!
How do I keep radishes fresh?
Remove the leaves. Wash them to remove any dirt. Then remove the tip of the root. Wrap the radishes in a damp paper towel and store them in a plastic bag. They will last a week or longer
How long to radishes last?
Properly stored radishes will keep in the refrigerator seven to ten days.
Do you peel radishes before cooking?
There's no need to peel the radishes before sautéing or roasting.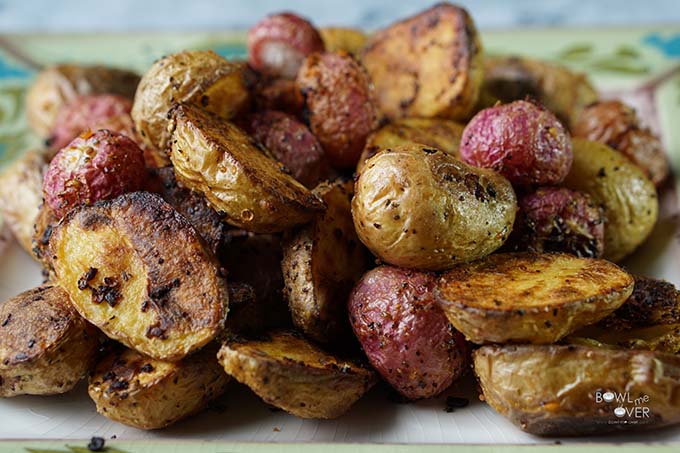 We all know what roasted potatoes taste like and the radishes, well roasting mellows their peppery spice, lightens their color and sweetens the flavor just a bit.
They taste kinda like a roasted turnip with a peppery finish. We LOVE them - it's definitely something you're going to want to try! Plus they are a great low carb substitute if you omit the potatoes.
Why you should be roasting radishes:
Great flavor, they are juicy and delicious!
Mixes up your dinnertime side dish routine.
They are a low carb, tasty veggie!
Roasted Radishes are a quick side dish and they are super tasty!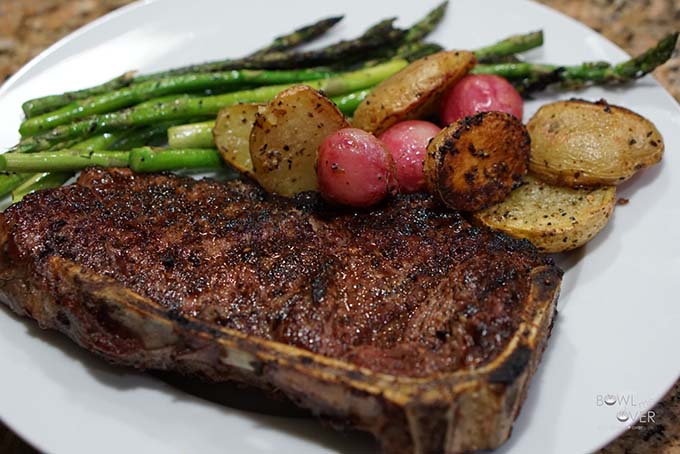 Related recipes
When you give this a try, be sure to come back and comment below I'd love to hear what you think of roasted radishes! Or on Instagram, please tag me at @bowl_me_over - can't wait to see your comments!!
Roasted Radishes and Potatoes
Roasting radishes mellows the peppery bite and brings out the sweetness of this tasty vegetable. Paired with potatoes they are a yummy contrast in flavor.
As an Amazon Associate I earn from qualifying purchases.
Ingredients
1 ½

pounds

fingerling potatoes

1

bunch radishes

1-2

tablespoons

grill seasoning

½

teaspoon

salt

½

teaspoon

pepper

2

tablespoons

olive oil
I earn a commission from Instacart from qualifying purchases.
Instructions
Preheat oven to 450 degrees

Wash and clean potatoes. Slice any large potatoes in half - put them in a large bowl.

Wash and clean radishes. Remove and discard the radish greens and the roots. Add them to the bowl. (The potatoes & the radishes should be about the same size so they have even cooking time.)

Drizzle the vegetables with olive oil and mix well. Sprinkle with grill seasoning, salt & pepper. Mix well to combine.

Put all of the vegetables on a sheet pan. Make sure they are evenly spaced out so they can roast (not steam). Place cut sides down. Scatter the radishes around the pan.


Place in the preheated oven for 20 minutes - remove & flip all of the vegetables over, return to the oven for another 20 minutes.

Can be served hot or room temperature.
Nutrition
Serving:
1
g
|
Calories:
200
kcal
|
Carbohydrates:
31.6
g
|
Protein:
3.8
g
|
Fat:
7
g
|
Saturated Fat:
1
g
|
Sodium:
313
mg
|
Fiber:
4.4
g
|
Sugar:
1.9
g
Sign up for my recipes here!!
Don't worry, we'll never share your email.
You know I've been talking about all the grilling we've been doing lately, right? There's something about a big T-Bone on the Weber that makes my mouth water every time!
Yes we're enjoying the gas grill.... but every now and then, it's good to breakout the charcoal grill also!
Gotta love a great meal on the grill!
This time though I thought I would mix up our sides and rather than serve just the asparagus with the steak I made my roasted radishes recipe.
Have you ever roasted radishes?
Ok... at this point are you thinking.... Deb that's just weird? Perhaps but I want you to give this a try! Radishes and potatoes are affordable year-round, so go ahead and step out on that ledge just a bit.