You'll never guess this you could make a rich, silky Asparagus Soup without cream, but it's possible! This guilt-free soup is filled with bacon, tender roasted vegetables and a yummy velvety, creamy texture!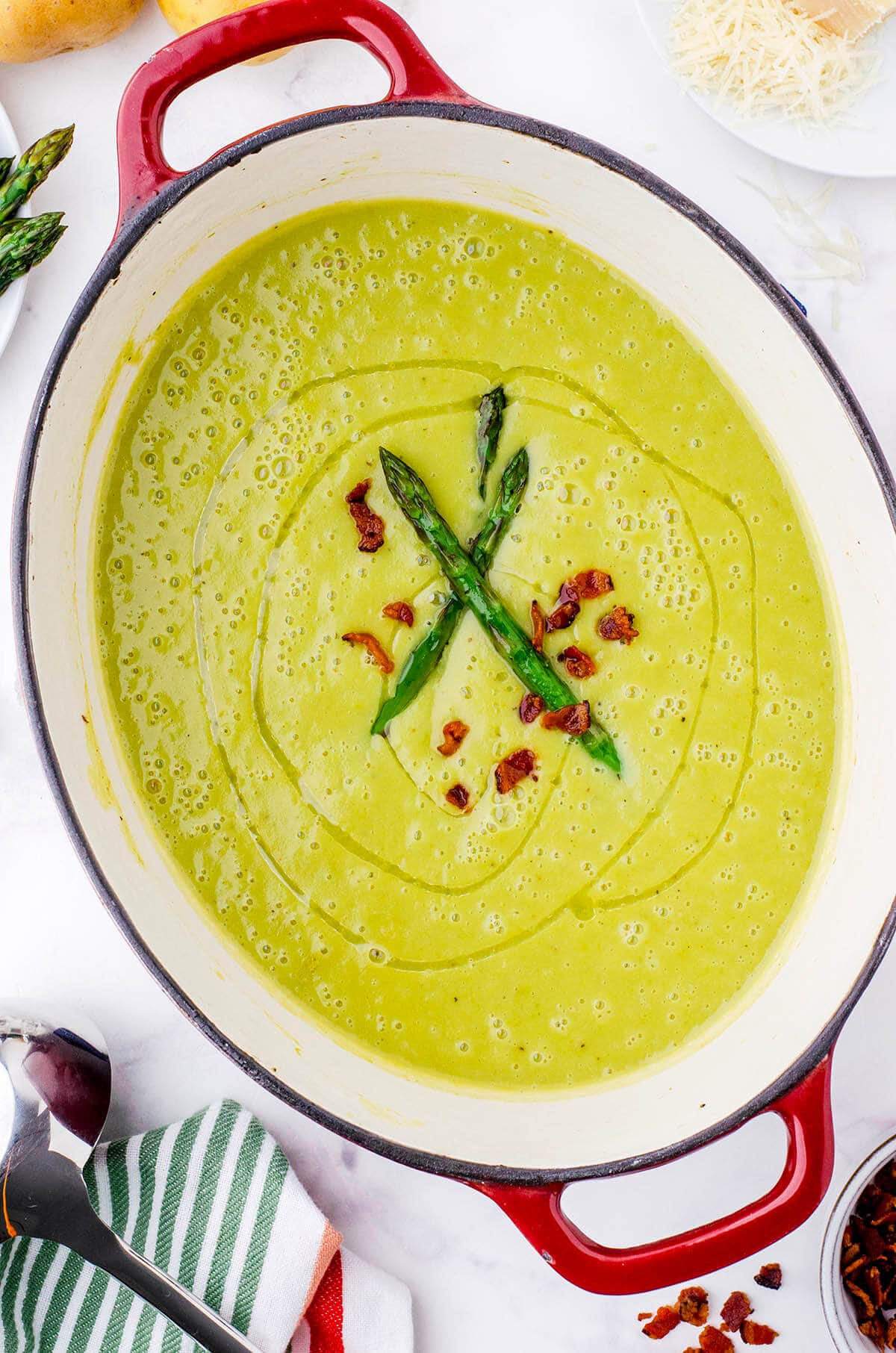 Prefer a vegetarian version? I gotcha! Next time try this recipe for easy Asparagus Soup.
Jump to:
Why you'll love this recipe
✔️ It's quick and easy to make.
✔️ Restaurant quality soup made at home - you'll love the creamy consistency.
✔️ No heavy cream required!!! The creaminess comes from Yukon Gold potatoes. The starch in the potatoes makes the soup creamy and luscious.
This is the easiest way I know to enjoy my favorite vegetables! It's a perfect spring meal!
Ingredients
You'll only need a few basic ingredients. For the exact measurements, please refer to the printable recipe card at the bottom of this post.
fresh asparagus
Yukon gold potatoes
onion
celery
garlic cloves
bacon
Parmesan cheese
chicken broth or vegetable broth
salt and fresh ground black pepper
you'll need two tablespoons of olive oil
Ingredients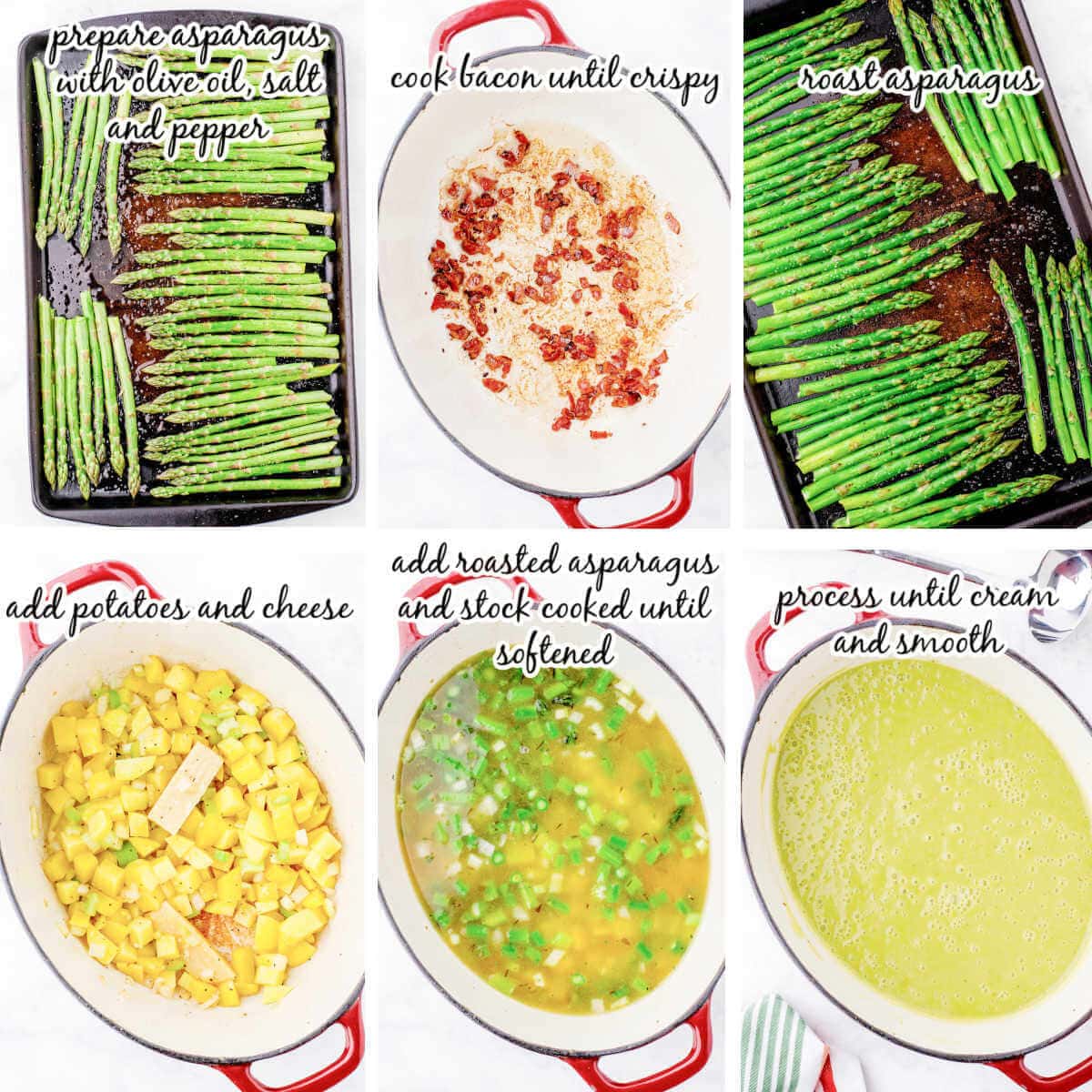 This is an overview of the instructions. For the complete directions just scroll down to the bottom!
Preheat the oven.
Roast the asparagus: Snap off the ends off the asparagus stalks and lay it on a baking sheet. Drizzle with olive oil, season with salt & pepper. Roast for 15 minutes, it will be a bright green color. Roughly chop the asparagus.
While the asparagus roasts, brown the bacon in a large stockpot over medium heat. Remove when crispy.
Next, add the potatoes, onions, celery and season with black pepper. Sauté for 5 minutes in the bacon drippings until lightly browned.
Add in the stock and about place asparagus pieces in the soup pot. Increase the heat and bring it to a boil. Reduce it to a simmer and continue cooking until the potatoes are fork tender, about 15 minutes. Turn off the heat.
Blend the soup until it is creamy. Ladle the puréed soup into bowls. Top with remaining asparagus and crumbled bacon.
FAQ's
How long do you roast the asparagus?
You'll roast the asparagus for 15 minutes in a preheated oven.
Can you boil asparagus in water?
Although this soup calls for roasting the asparagus, if you're short on time, you can eliminate that step, add all the vegetables to the stock pot, and cook them together.
Can you use frozen asparagus
Yes, you can use frozen asparagus to make this soup. However I prefer the flavor of the roasted asparagus.
Why is my asparagus soup bitter?
If asparagus is harvested before it's ripe, it will be bitter.
Things to know
If the asparagus soup is stringy, that's because you've chosen large tough spears. Blender it more until it's completely smooth and velvety.
Look for bright green spears at the market, it will be more fresh.
The asparagus will be heavy if it's fresh because it will be full of water. If it sits on the shelf too long, it dries out.
Be sure to trim the tough woody ends off the asparagus prior to roasting. Though the ends don't taste great, they do make great vegetable stock!
Roasting the fresh asparagus gives it extra flavor.
A squeeze of lemon juice or drizzle of olive oil makes a wonderful garnish!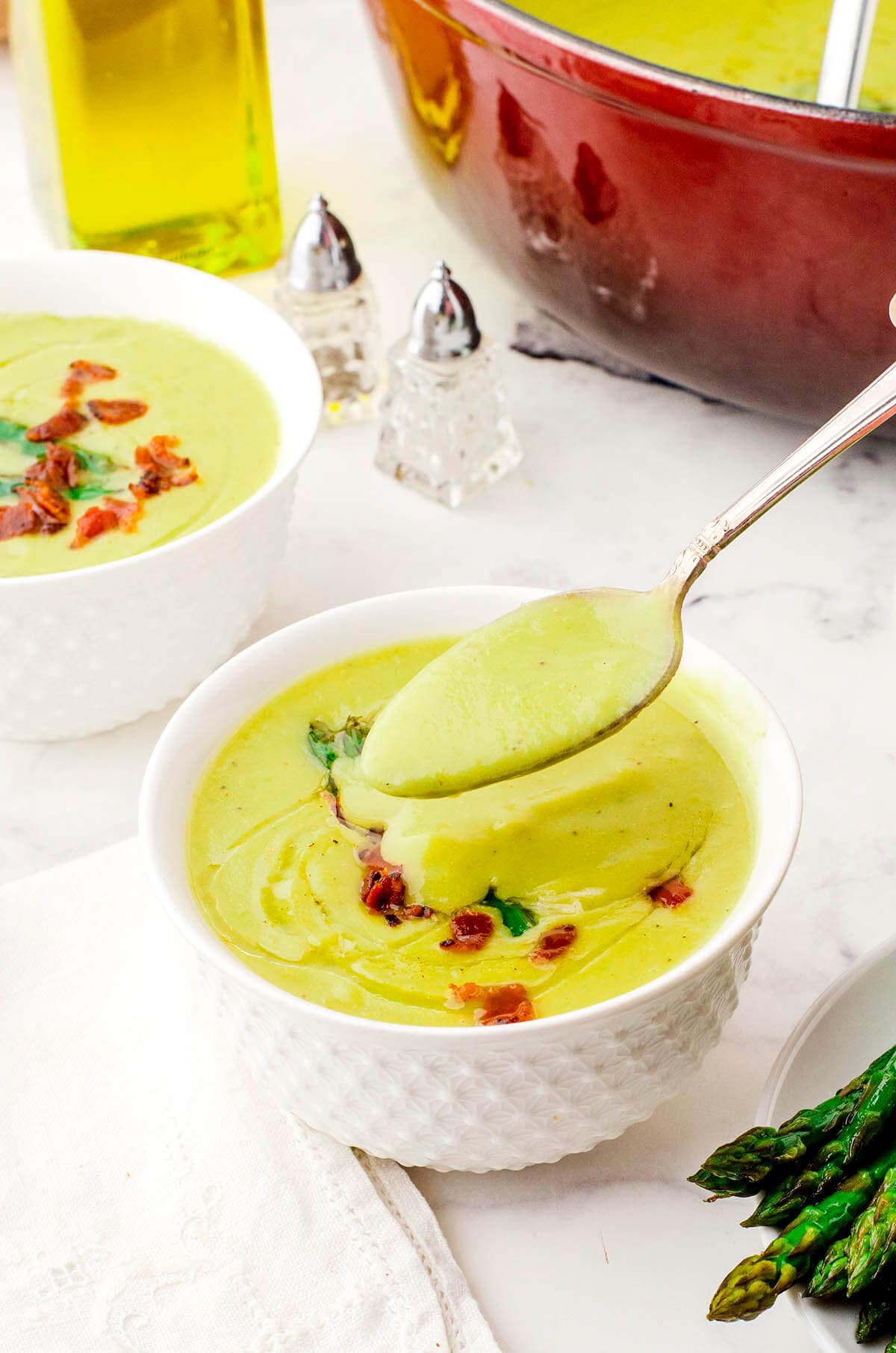 Storage
Refrigerate - allow it to cool completely and refrigerate leftovers in an airtight container.
Freezer - I do not recommend freezing this recipe. The potatoes get mealy and it just doesn't taste as good.
Reheat - warm soup on the stovetop or in the microwave.
Related recipes
You guys know I love soup year round. Even when it's HOT here in the valley, I believe soup is good food! Some of my favorites in the summertime are these easy recipes - Vegetarian Potato Soup, Cream of Cauliflower Soup and Zucchini Parmesan Soup!
Serve with
This is SUCH a yummy soup! It's excellent in the spring when asparagus is young and tender and wonderful all year long, any time you can enjoy this yummy vegetable!
Don't forget to check out my Amazon storefront for some of my favorite products! 🛍️
If you love this recipe please leave a ⭐⭐⭐⭐⭐ rating!
Asparagus Soup without Cream
This is an easy recipe with tons of great flavor! A perfect weeknight meal for busy families.
As an Amazon Associate I earn from qualifying purchases.
Ingredients
2

lbs

roasted asparagus

2

large

Yukon Gold potatoes, about 4 cups diced

chopped into ½" dice

½

onion chopped

2

stalks celery chopped

1

clove

garlic

minced

3

slices

of bacon

½

cup

grated Parmesan cheese

or a rind Parmesan cheese

4

cups

chicken stock or broth

½

teaspoon

each salt & pepper for roasting asparagus

2

tablespoon

olive oil

¾

teaspoon

salt

optional
I earn a commission from Instacart from qualifying purchases.
Instructions
Preheat the oven to 375 degrees

Start by roasting the asparagus - snap off the woody ends and reserve for vegetable stock or another use. Lay the asparagus spears on a cookie sheet and drizzle with 2 tablespoons olive oil, sprinkle with salt & pepper. Put in the preheated oven for 15 minute. Remove from oven, allow to cool. When cool, cut into ¼" pieces.

While the asparagus is cooking, brown the bacon in a large stockpot over medium heat. Remove when crispy, reserving the drippings.

Next, add the potatoes, onions, celery and Parmesan cheese rind (if using shredded parmesan add this after adding the stock) and season with black pepper. Cook the vegetables for about 5 minutes, they will be slightly browned.

Add in the stock and about ¾ of the chopped asparagus. (Reserve adding salt and remaining asparagus until the end of the cooking process.) Increase the heat and bring it to a boil. Reduce it to a simmer and continue cooking until the potatoes are fork tender, about 15 minutes. Turn off the heat.

Remove the remains of the Parmesan rind (it's job is done!) If you're using shredded parmesan, add it now and stir until incorporated.

Using an immersion blender or stand blender, cream asparagus soup until it is smooth and velvety.

When the consistency is to your liking, taste & adjust seasonings, add salt if needed.

Garnish with reserved asparagus tips and bacon crumbles. A drizzle of good olive oil adds so much flavor!
Notes
You can also use a food processor to cream the soup. 
Nutrition
Calories:
167
kcal
|
Carbohydrates:
8
g
|
Protein:
8
g
|
Fat:
11
g
|
Saturated Fat:
3
g
|
Cholesterol:
14
mg
|
Sodium:
1272
mg
|
Potassium:
510
mg
|
Fiber:
3
g
|
Sugar:
3
g
|
Vitamin A:
1275
IU
|
Vitamin C:
20.7
mg
|
Calcium:
146
mg
|
Iron:
3.7
mg
Sign up for my recipes here!!
Don't worry, we'll never share your email.
Recipe backstory
When I lived in Wisconsin, I wanted to have my own garden. I planted a TON of asparagus, hoping for a harvest of sweet, tender stalks in the spring during asparagus season.
Boy, was I disappointed! Only a few spears came up! 🙁
It wasn't until later I discovered it takes a couple of years before you can truly reap the harvest.... What can I say, this was (ahem...) a few years back and the internet wasn't available!
Yes, I'm dating myself.... anyway 🤣🤣🤣
This is the BEST Cream of Asparagus Soup, hands down one of my favorites! It is one of my go-to recipes in the spring. Although asparagus is available year-round, the springtime harvest yields tender and delicious stalks!