Dinner in a snap when you make this simple, delicious soup recipe!
This silky, creamy Zucchini Soup Recipe is so flavorful, you would swear you've simmered this on the stove for hours. Instead, it only takes 30 minutes! It's easy to make and delicious!
Next be sure and try this Carrot Soup Recipe - it's so creamy and delicious!
Why you'll love this recipe
✔️ There's no cream in this recipe so it's guilt-free!
✔️ It takes just 30 minutes from start to finish.
✔️ Got a bumper crop of zucchini? You'll definitely want to make this!
This is a "souper" (get it super/souper?) easy 30-minute meal so it can be easily made when you get home from work - love that!
Ingredients
It always amazes me that after eating so many veggies I still love them today, but I do! Enjoying a great meal is definitely my thing and soup is my jam! What can I say? Soup is good food!
For the exact measurements, please refer to the printable recipe card at the bottom of this post.
Instructions
This is an overview of the instructions. For the complete directions just scroll down to the bottom!
Start by chopping the vegetables and sauté them for about 5 minutes or so.
Add stock and bring to a boil.
When the potatoes are soft, everything goes into the blender.
Whirl it up and you're done.
Equipment
The following are affiliate links. We are a participant in the Amazon Services LLC Associates Program, an affiliate advertising program designed to provide a means for us to earn fees by linking to Amazon.com and affiliated sites.
FAQ's
How do you make a creamy soup without cream?
Using yukon gold potatoes will give you a creamy texture without the fat and calories!
How do you cut zucchini for soup?
You don't have to do anything fancy, just cut it in large chunks.
Does zucchini freeze well in soup?
I don't recommend freezing this creamy zucchini soup recipe. Because the u0022creamu0022 is actually creamy potatoes, they separate and it's just not as tasty.
Can you eat zucchini raw?
Absolutely, though it can be bitter.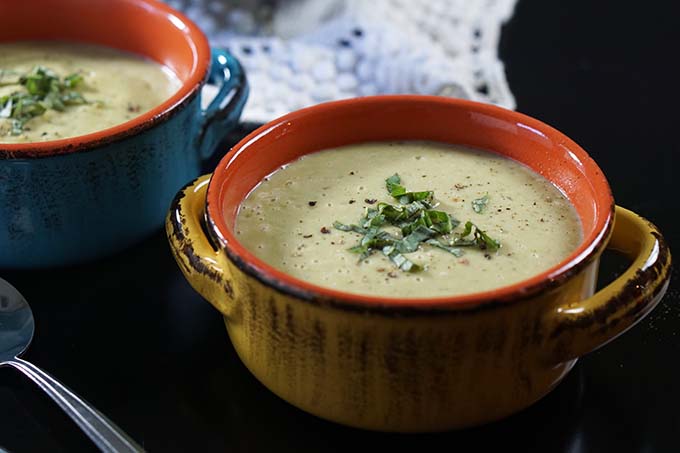 Tips
Click here for all of my tips and tricks to make the BEST Homemade Soup! This soup is easy and delicious - my kinda meal!
More Zucchini Recipes to love!
Related recipes
Cream of Zucchini Soup
Dinner in a snap when you make this simple, delicious soup recipe!
As an Amazon Associate I earn from qualifying purchases.
Ingredients
2

cups

leeks

sliced in half, cleaned and chopped

4

cups

zucchini

chopped

3

cups

Yukon Gold potatoes

chopped

1 16

oz

container sliced button mushrooms

3-4

cups

vegetable broth

2

cups

freshly grated parmesan cheese

2

tablespoons

butter

2

tablespoons

olive oil

½

teaspoon

pepper

¼

teaspoon

red pepper flakes

¾

teaspoon

salt

add at the end of cooking and only if needed

shredded fresh basil

optional
Instructions
Start by chopping & cleaning the vegetables. Remove the dark green leaves from the top of the leeks and set aside, slice each leek in half and run them under cold water.*

Slice the zucchini in half and slice into one-inch pieces. Chop the potatoes into small one-inch pieces - this will help them cook quickly and evenly.

In a large stockpot over medium heat, add the butter & olive oil. Add in all of the vegetables and season with pepper & red pepper flakes.

Sauté the veggies, stirring occasionally for about 5 minutes or until they just begin to soften.

Add in about 3 cups of stock - just enough to cover the vegetables. Increase the heat to medium-high and bring to a boil.

Continue to boil until the potatoes are fork tender, turn off the heat. Add the parmesan cheese and stir until melted.

Ladle into a blender in batches or use an immersion blender and process until smooth and creamy.

Taste to adjust the seasoning. It may need salt, but because the parmesan is quite salty perhaps not - just taste and add if needed.

Top with shredded leaves of fresh basil if desired, enjoy!
Notes
Tips to make Cream of Zucchini Soup
Don't use pre-shredded cheese - purchase a wedge and shred your own
This is a great soup to make ahead and reheat, though it doesn't freeze well.
No need to peel the potatoes, just chop them up small and when you blend everything together it becomes silky and creamy without any cream.
Be sure to clean the leek well. Dirt hides between the layers in the leek, just make sure to rinse it well to remove the grime.
Nutrition
Sign up for my recipes here!!
Don't worry, we'll never share your email.
When we I was in the third grade, we moved out to the country to a little house out in Yankton where we had a little hobby farm. We had chicken, ducks, a goat and of course a garden!
The garden was tilled in an area that had formerly been part of a corral. It was pretty big and we planted potatoes, corn, radishes, onions, tomatoes and zucchini. That year, and every year after, we reaped the harvest.
Hard work in the spring always meant fresh vegetables all summer long and well into the fall!
My brother and I helped in the garden and learned to love fresh veggies and simple delicious food. It was the perfect place to grow up!