Butterscotch Cookie Recipe – Sweet brown sugar butterscotch cookies smeared with homemade brown butter frosting and lightly dusted with sparkly sprinkles! You'll love this is an old-fashioned family recipe!
First Published: July 24, 2018… Last Updated: June 1, 2019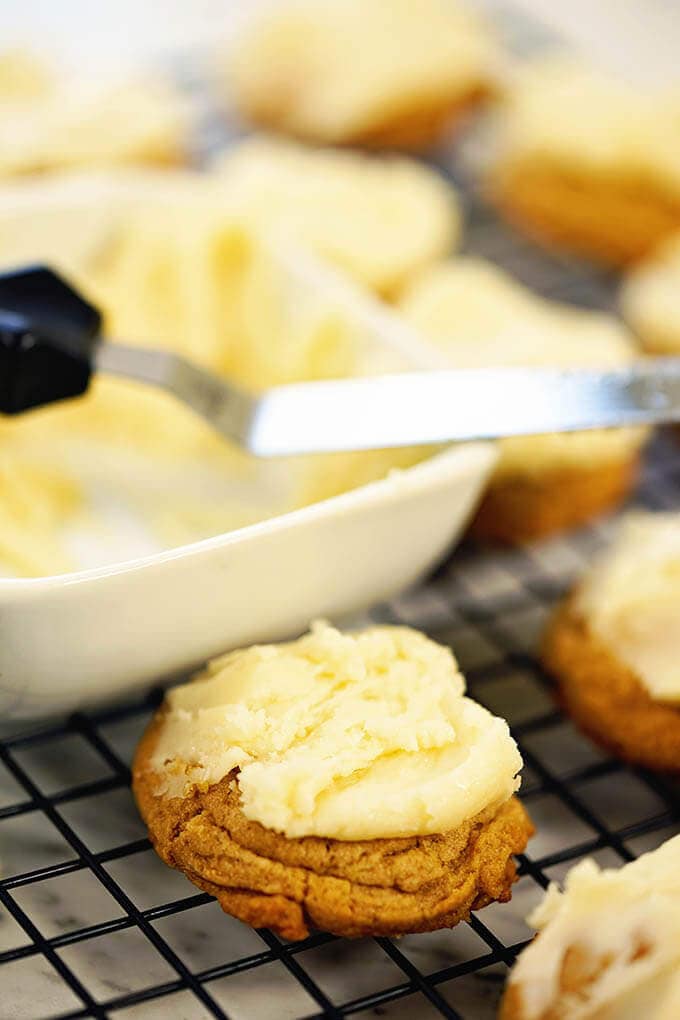 Butterscotch Cookie Recipe
I was looking thru our family cookbook again and searching for cookie recipes. Dan was in the mood for a little something sweet so I thought I'd give Grandma's Frosted Butterscotch Cookie Recipe a try.
Long story short…. I was glad we did! 😋
I've had a lot of fun going thru this cookbook! My Aunt Mary Lou put it together several years ago. She gave me Grandma's notes for all of the recipes also, which makes it that much more fun to read. (Does anyone else read a cookbook or is it just me?)
Adding tried and true recipes to the blog to share with you has been such an honor! So far I have Persimmon Cookies, Homemade Pecan Sandies, Moonpie Cookies and Butter Cookies. Can you pick a favorite? I know I can't!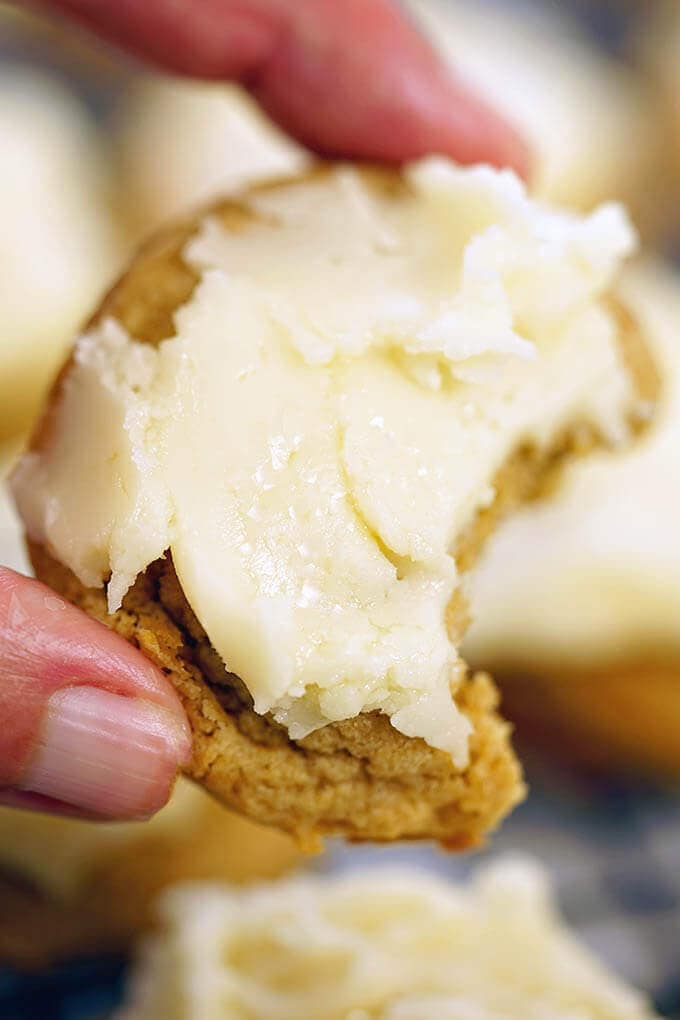 Old Fashioned Butterscotch Cookies Recipe
Butterscotch Cookie Recipe Ingredients
butter
brown sugar
vanilla
flour
walnuts
baking soda
egg
powdered sugar
I know you're going to love these butterscotch cookies! They are melt in your mouth tender and super sweet!
It took me a bit to make the brown butter for the frosting (which is what makes the frosting really tasty!). I had to scrap my butter twice and start over, so I'm hoping with good directions I'll save you that work (and the extra butter!)
Let me walk you thru the process.
How to make brown butter
Start by melting the butter.
Use a light colored pan because as the butter goes from yellow to golden, to a toasty brown you'll be able to see the color change better.
Just swirl the butter around the pan. The solids of the butter cook faster and settle on the bottom of the pan.
Remove from the heat.
Pour the liquid away, keeping the solids on the bottom of the pan. If necessary use cheesecloth to strain the butter.
Here's the deal, the solid won't taste bad, but it will give the frosting a grainy texture and I did not like that.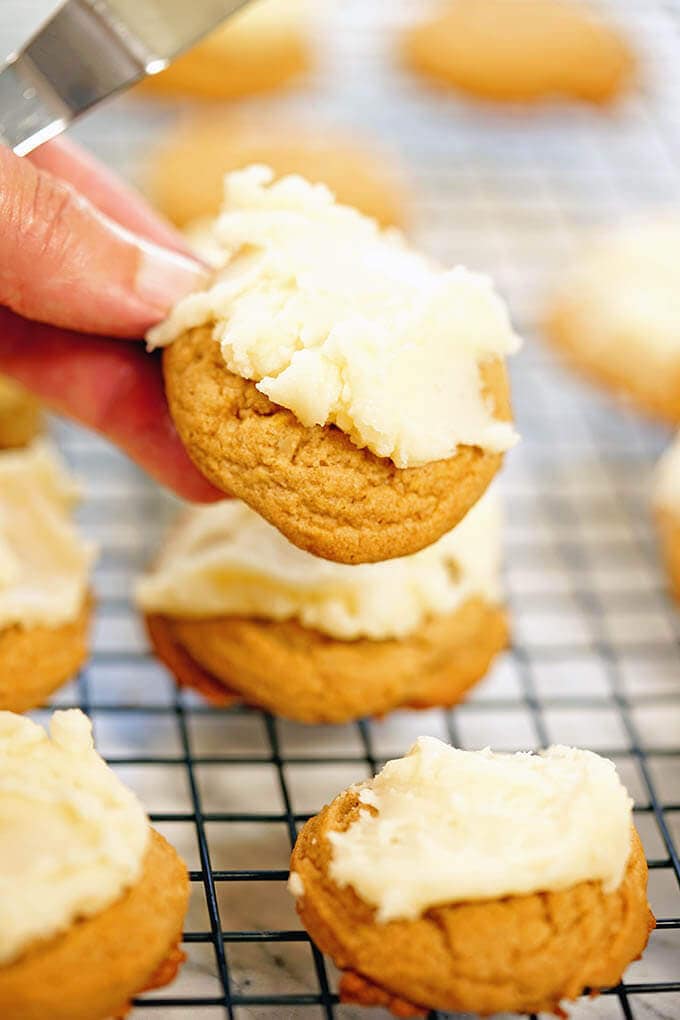 Butterscotch Cookies
Steps to make Homemade Butterscotch Cookie Recipe
Sweet brown sugar cookies topped with a brown butter frosting![/caption]
measure out the dry ingredients, set aside
cream together the butter and sugar
add the egg and vanilla, mix again
add the dry ingredients and mix to combine
stir in the walnuts (if using)
drop by teaspoons onto a cookie sheet lined with parchment paper
bake for about 10 minutes
when cool, frost
Easy enough, right? When they are frosted, promptly hide them from other family members. Wait… did I just write that? Seriously they are quite tasty and won't last long! Enjoy a cookie with a sip of Confetti Hot Chocolate – the perfect decadent combination!
More butterscotch cookie recipes? Here are some delicious bites to consider!
Have I talked you into trying these? I sure hope so! If you post a picture on social media, be sure to tag me with #bowlmeover or on Instagram with @bowl_me_over! Love to see your tasty creations!!
Some of the items below contain affiliate links; I am a participant in the Amazon Services LLC Associates Program, an affiliate advertising program designed to provide a means for us to earn fees by linking to Amazon.com and affiliated sites. However, I only promote things that I love and think you will love, too. For more information, please see my Disclosure Policy.
Must have's from my kitchen!
And if you love these Grandma's tasty butterscotch cookie recipe as much as we do, be sure to comment below with a five star rating. I know that will make Grandma happy (and me too!)! <3
Print Recipe
Frosted Butterscotch Cookies
Frosted Butterscotch Cookie Recipe – Sweet brown sugar butterscotch cookies smeared with homemade brown butter frosting and lightly dusted with sparkly sprinkles!

As an Amazon Associate I earn from qualifying purchases.
Ingredients
1/2

cup

butter

1

egg

3/4

tsp

vanilla

2/3

cup

brown sugar

1 1/3

cup

flour

3/4

tsp

baking soda

1/2

cup

walnuts

chopped (optional)

Frosting

2/3

stick

butter

2

tbsp

vanilla

2 1/3

cup

powdered sugar

2

tbsp

sprinkles

(optional) I used iridescent sprinkles.
Instructions
Preheat oven to 350 degrees.

Measure out the dry ingredients together in a small bowl, set aside.

Using a mixer

cream together the butter and sugar.

Add the egg and vanilla, mix again until creamy.

Add the dry ingredients and mix to combine, If using the nuts, s

tir them in at the end by hand.

Drop by teaspoons onto a cookie sheet lined with parchment paper, bake for about 10 minutes. Remove from pan and allow them to cool on a baking rack.

For the frosting – When the cookies are done baking, make the brown butter. Brown slightly. Mix with vanilla and powdered sugar (I used a stand mixer for this.) The flavor of the frosting comes from browning the butter.

Dust with sprinkles if desired
Notes
Although you may be tempted to use margarine, be sure to use real butter. That's where you get your butterscotch flavor!  Plus that's what Grandma always said and she always knew what she was talking about! 🙂
Nutrition
Calories:
172
kcal
|
Carbohydrates:
23
g
|
Protein:
1
g
|
Fat:
8
g
|
Saturated Fat:
4
g
|
Cholesterol:
23
mg
|
Sodium:
100
mg
|
Potassium:
30
mg
|
Sugar:
17
g
|
Vitamin A:
4.1
%
|
Calcium:
1.1
%
|
Iron:
2.6
%