Crazy-easy, chewy and delicious, these 3 Ingredient Oatmeal Cookies are so simple to make and are just the BEST cookies! These moist, tender, chewy oatmeal cookies are the perfect small batch sweet treat!
First Published: November 2, 2018… Last Updated: August 6, 2019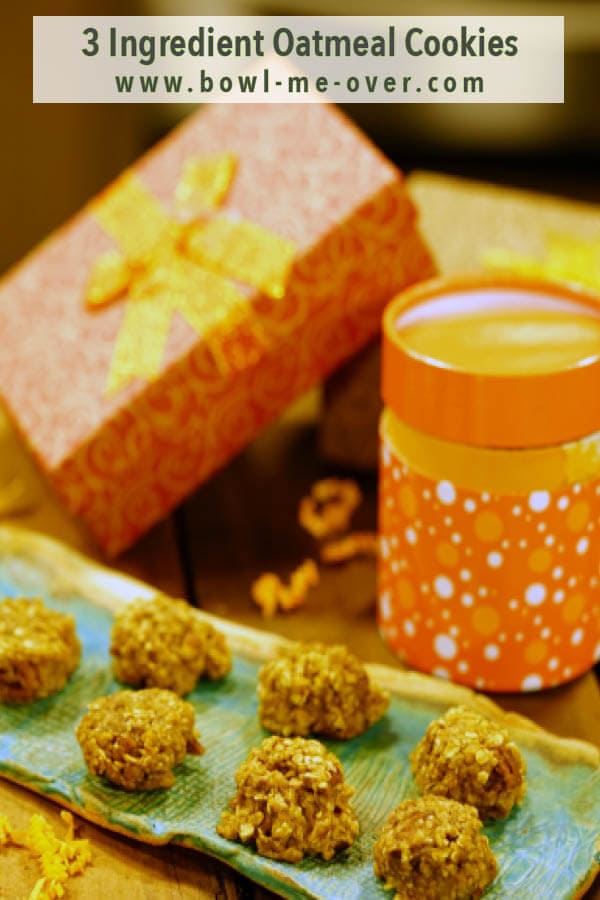 3 Ingredient Oatmeal Cookies
These cookies made their debut last week on TV! If you live here in the Valley I was on our local NBC affiliate station KSEE24 News last Friday!
I've had the privilege of hosting KSEE24 before here at the house, but I've never been to the station, so this was exciting stuff! I got up bright and early (3 am!) to get ready, pack everything up and head to the station!
We had four segments on air. We baked Pumpkin Chocolate Chip Cookies, 4 Ingredient Peanut Butter Cookies and these tasty 3 Ingredient Oatmeal Cookies! We wrapped everything up in the end by packaging them into cute little boxes (pictured above) for a cookie exchange!
If you're doing any baking, this is definitely the place to start!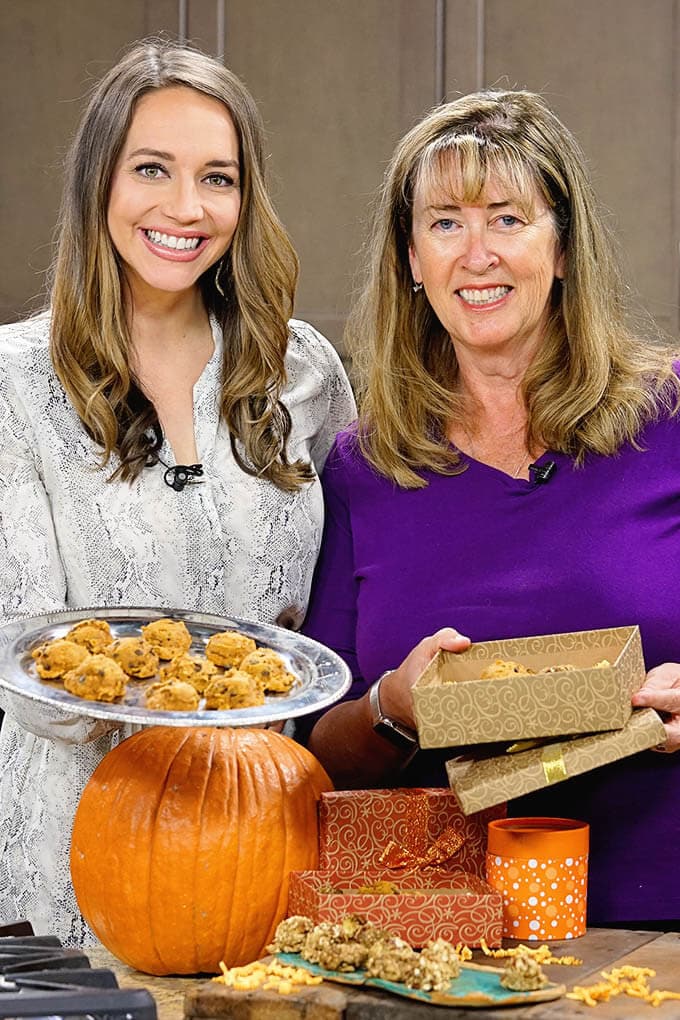 It's been so fun sharing tried and true family cookie recipes on the blog – Grandma Cochrane's Pecan Sandies, Grandma Bertha's Butter Cookies and these super delicious Peanut Butter Oatmeal Cookies. I'm so proud to have all of those old recipes. They are all handwritten and passed down with love!
I'm also excited that I've been developing some of my own. I've had some hits and some misses, but Dan is a trooper and volunteers to taste test all of my experiments. Everyone makes sacrifices, right? 😜
Today I'm super excited to share my latest recipe – 3 Ingredient Oatmeal Cookies!
Yup, three ingredients – that's it!

Grocery List for Chewy Oatmeal Cookie Recipe
Maple Pecan Instant Oatmeal (packets)
Ripe Banana
Pecans
Are you shaking your head at the Instant Oatmeal? Don't be! Those little packets have a ton of flavor!
Bananas add a nice sweetness and pecans add richness and crunch.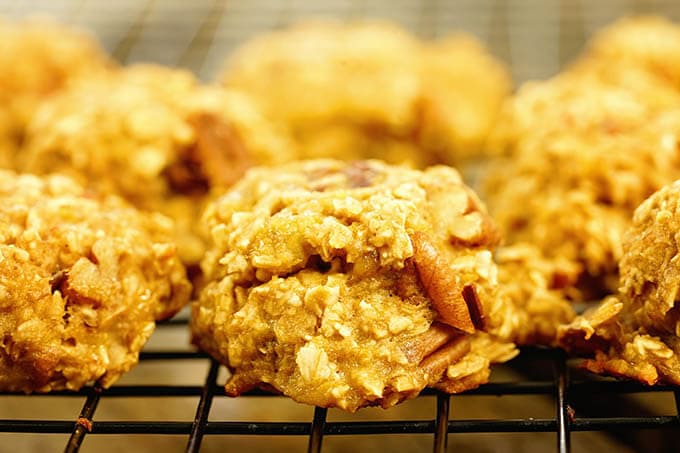 These are the perfect cookies. So easy it will take longer to preheat the oven than mix the cookie dough! 3 Ingredient Oatmeal Cookies – How crazy is that? And these cookies are GOOD! Like seriously good. Like "Deb the anti-sweet girl ate three" cookies (embarrassing yes!) but true, good!!!
Granted they were small cookies, but still … three disappeared before I even photographed them the first time.
That's okay, it gave me a good reason to make another batch! I mean I had to photograph them, right?
What makes these cookies is a good over-ripe banana.
How can I quickly ripen bananas? Here are 3 options!
place the bananas in a paper bag and leave them on the counter
preheat the oven to 350 degrees and bake the bananas (peel-on) for 15 to 20 minutes until the skins are completely black.
remove the skin, place the bananas in a bowl and microwave at 15-second intervals until soft. Depending on your microwave it will take 2-3 times until it can be easily mashed.
What if I can't use up all of the ripe bananas?
Place the overripe bananas in a Ziploc freezer bag and pop it in the freezer. Skin on/skin off – either way, works. Personally, I think leaving the skin on preserves the banana better.
Still have some leftover bananas? Be sure and try, Grandma Few's Banana Bread – or this recipe for Chocolate Chip Banana Bars, YUM!
Use a baking mat or parchment paper to bake the cookies on. If you are baking them directly on the cookie sheet be sure to lightly spray it!
Do these cookies need to be refrigerated?
Yes, when these are cooled, be sure to refrigerate them. They also freeze great!
If you're looking for a great afternoon snack, look no further. These cookies are perfect for a treat for hungry mouths!
Or if you're in a hurry to get out the door in the morning a great breakfast! What? You're saying cookies for breakfast? You bet this is an easy grab-n-go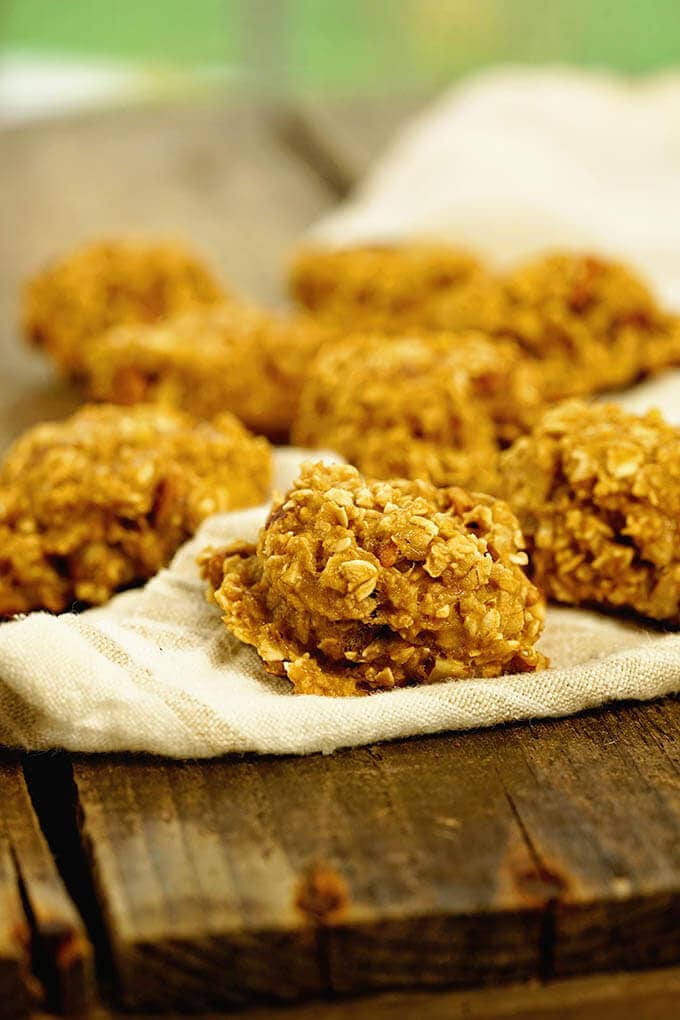 Chewy Oatmeal Cookies
How to make 3 Ingredient Oatmeal Cookies
preheat the oven, spray a cookie sheet with non-stick cooking spray
mash the banana
chop the pecans
mix 2 packets of instant oatmeal in with the banana
stir in the pecans
drop by spoonfuls onto baking sheet
bake for 12 minutes
Don't forget to check out my Amazon storefront for some of my favorite products! 🛍️
More quick and easy cookie recipes!
Pumpkin Chocolate Chip Cookie Recipe
Moist and chewy Pumpkin Chocolate Chip Cookies are the perfect fall treat! With only 4 ingredients they are quick and easy to make to make and so delicious! These are the BEST Pumpkin cookies and will quickly become your favorite!!

Check out this recipe
4 Ingredient Peanut Butter Cookies
Easy Peanut Butter Cookies4 Ingredient are sweet and delicious. Flourless peanut butter cookies that only take one bowl to make! The cookie lovers in your home will be snapping these up these tasty treats!
Check out this recipe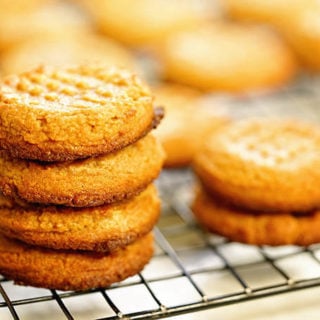 Fig and Cranberry No Bake Energy Bites
Fig and Cranberry No Bake Energy Bites are an energy packed treat you can store in your refrigerator or freezer for an easy on-the-go snack! They are loaded with nutritional foods, walnuts, figs and cranberries. Theses bites have delicious flavor and fiber to give you the energy you need!
Check out this recipe
When it comes to after school snacks, cookie exchanges and holidays desserts, homemade is best but it doesn't have to be complicated! These quick and easy chewy oatmeal cookies are delicious and won't take all day to make!
Don't forget to check out my Amazon storefront for some of my favorite products! 🛍️
I am a participant in the Amazon Services LLC Associates Program, an affiliate advertising program designed to provide a means for us to earn fees by linking to Amazon.com and affiliated sites.
When you make this please be sure to tag me on Instagram @bowl_me_over or #bowlmeover – I'd love to see your pictures! And if you get a chance, please comment and leave me a ⭐⭐⭐⭐⭐ rating below!
3 Ingredient Oatmeal Cookie Recipe
Print
3 Ingredient Oatmeal Cookies
Chewy Oatmeal Cookies are sweet and delicious! With only 3 ingredients, they are quick and easy to make.
Ingredients
1

large

over-ripe banana

2

packets

maple pecan instant oatmeal

1/4

cup

pecans

chopped
Instructions
Preheat the oven to 375 degrees. Spray baking sheet with non-stick cooking spray set aside.

Using a fork, mash the banana,

chop the pecans.

Mix 2 packets of instant oatmeal in with the banana,

stir in the pecans.

Drop by spoonfuls onto a baking sheet – I use a small ice cream scoop so the cookies are uniform in size and bake evenly.

Bake for 12 minutes, allow to cool for 5 minutes before removing from the baking sheet onto a cooling rack.
Notes
This recipe makes 10 small cookies/6 large. All are tasty!
Nutrition
Calories:
29
kcal
|
Carbohydrates:
3
g
|
Fat:
1
g
|
Potassium:
58
mg
|
Sugar:
1
g
|
Vitamin A:
10
IU
|
Vitamin C:
1.2
mg
|
Calcium:
2
mg
|
Iron:
0.1
mg
Sign up for emails here!
Don't worry, we don't share emails!