Old fashion Persimmon Cookie Recipe are sweet and delicious. Baked with nutmeg, chocked full of nuts and cranberries and drizzled with white chocolate these cookies will be everyone's favorite!
Old fashioned Persimmon Cookies are sweet and delicious. Baked with spices, nuts, cranberries and drizzled with white chocolate, the amazing aroma of will fill your home! This persimmon cookie recipe will be everyone's favorite this holiday season!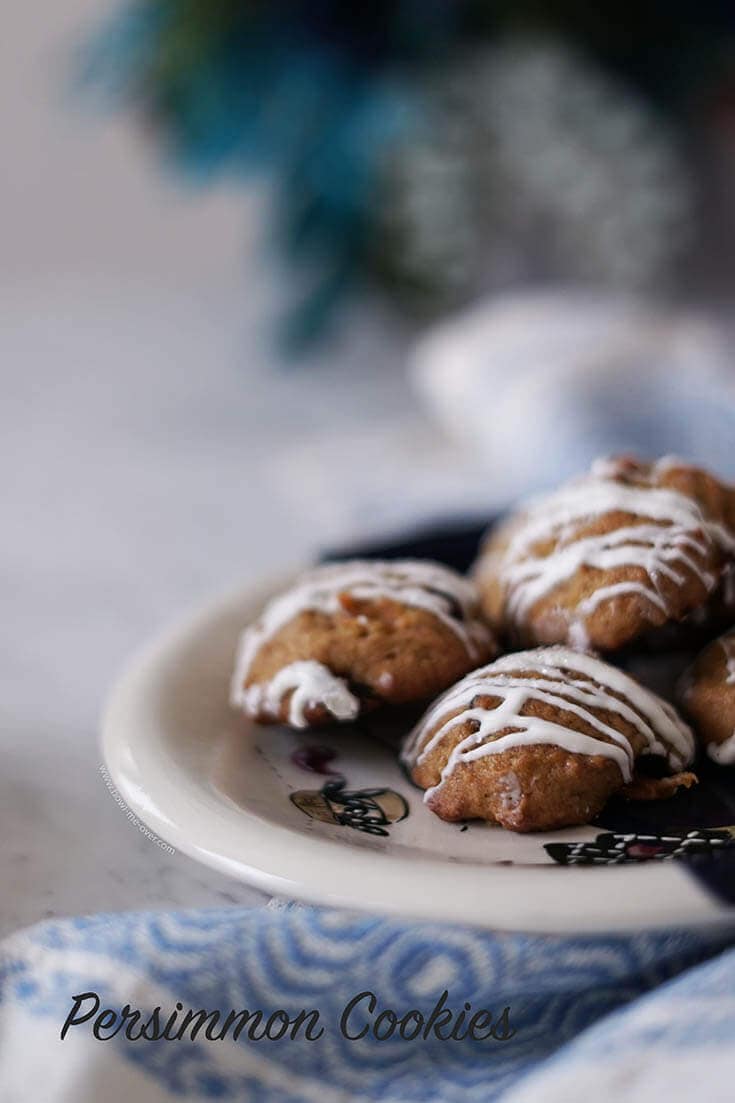 Old Fashioned Persimmon Cookies
The first time I tried persimmons was when my friend Michelle dropped off a bag at my house. She carefully walked thru which was for baking and jam - which variety you can eat as a snack.
But of course since I was curious I took a bite from the one that was ONLY for baking.
Ewe!!! It was terrible and right about then my brother stopped by. And of course because being the rotten little sister I am, I had him try it too telling him it was delicious. Boy did he make a face! AND did I laugh and then I gave him a Fuyu to try.
What can I say, that's what siblings do, right?!!
Persimmons are a wonderful fruit to cook with or enjoy as a snack. This was a recipe I found in my Grandma's cookbook, it's a classic persimmon cookie recipe.
They are filled with spices, nuts and cranberries. The cookies are flavorful and fragrant. If you've never tried cooking with persimmons, this is the BEST recipe to start with!
What is a persimmon?
Persimmon is a fruit originally from China. Their popularity grew and spread to Japan and Korea. There are many different varieties. The most common are the Hachiya and Fuyu.
A Hachiya is round and looks very similar to a tomato except that's it's orange. Raw, it tastes a lot like eating chalk (not that I've eaten a lot of chalk, but just saying! 🤣 ) Best for baking, jam or pudding it's ready to use when the fruit is soft and squishy.
The Fuyu is oblong and you can eat it raw. The skin is similar to an apple but the flesh is crisp and firm. It is rich and sweet like a peach, but it tastes similar to a cantaloupe.
Both are vibrant bright orange! I'm telling you - you just need to try them!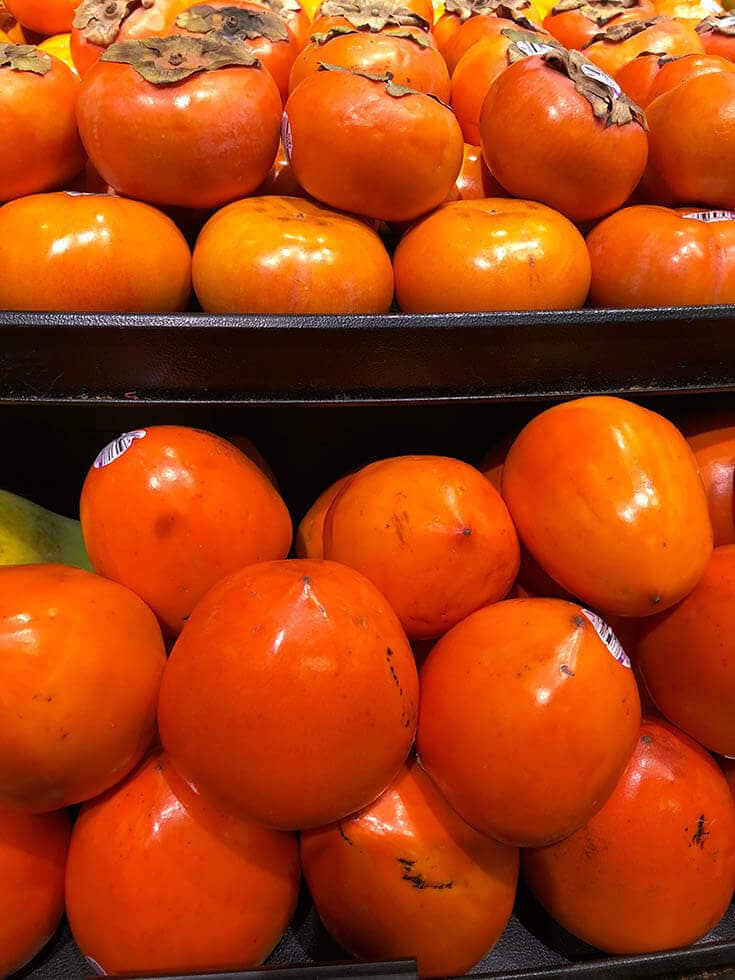 Persimmon Fruit
What kind of persimmon do I have?
Here is a picture of persimmons I took at the grocery store. The round shaped persimmons on the top (Fuyu) are eaten raw. They almost look like tomatoes except they are orange.
The oblong ones on the bottom shelf, need to be cooked before eating. The flesh is ripe when the persimmon feels very soft and super squishy.
I know, I know - it's the opposite of what you'd think!
What do I do with a persimmon?
This Fall Harvest Salad is a great recipe for Fuyu's. Sliced and served like an apple they provide a great crunch to a delicious big salad.
Fall Harvest Salad
This beautiful salad is very simple and uses great fall harvest fruits and vegetables – butter lettuce, roasted butternut squash, Fuyu persimmons, red onions, and a handful of micro-greens – that's it! Topped with a creamy homemade salad dressing it's a perfect light lunch on a beautiful fall day!
Check out this recipe
How do I ripen a persimmon?
For Hachiya - Allow to ripen on the counter a couple of days in advance until soft and squishy or
Place them in a paper bag with a banana or apple. This will hasten the ripening process. Again, leave them on the counter at room temperature.
When the flesh is really soft, simply cut off the stem and squeeze the pulp into a bowl, discard the peel.
Though I'm not an expert on persimmons, there is a ton of great information out there. If you want to learn more, click on this link - this is the most informative website I've found.
The Fuyu is ripe when it's slightly soft - best when just a touch crispy!
Can I freeze the pulp?
Absolutely! In fact you can freeze them whole until you're ready to bake or make jam!
They are harvested in the fall so soon you'll see them in the grocery stores and at the farmers market!
Are you supposed to eat the skin of a persimmon?
Great question and it's really personal preference. I do not eat the skin of the baking (Hachiya) persimmons. I just don't like the texture.
The Fuyu Persimmons (the ones that look like a tomato that you can eat raw) taste great to me and have a similar texture to an apple skin. It's really your preference.
Ok - now that we've gotten the education part out of the way, let's get to baking these yummy cookies!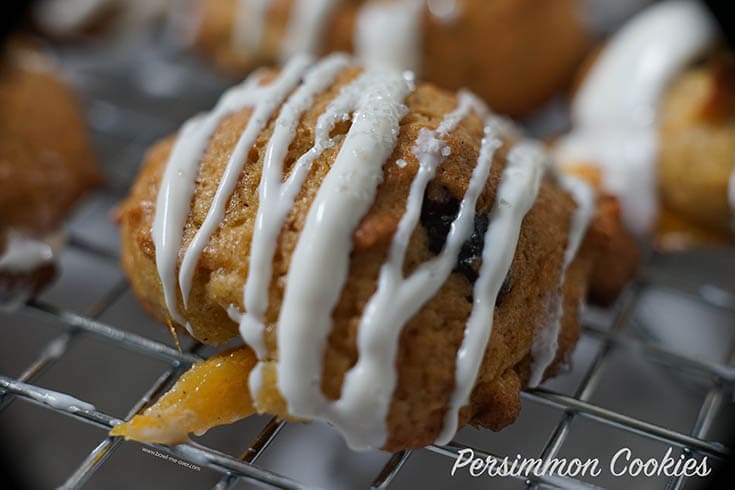 BEST Persimmon Cookie Recipe
I took Grandma Bertha's and updated it just a bit. And admittedly, I haven't shared this recipe, but kept it all to myself. And that wasn't very nice, was it?!!
Ingredients for Persimmon Cookies Recipe
sugar - to make them extra sweet
butter - to keep the cookies moist
egg - to help the cookies rise and add flavor
flour - use all-purpose flour
allspice - a strong spice reminiscent of nutmeg, cinnamon and cloves all rolled into one!
salt - to off-set the sweet
Hachiya persimmons - super sweet
baking soda - keeps the cookies soft and chewy
dried cranberries - for tartness
walnuts - add crunch
white chocolate chips - for richness and flavor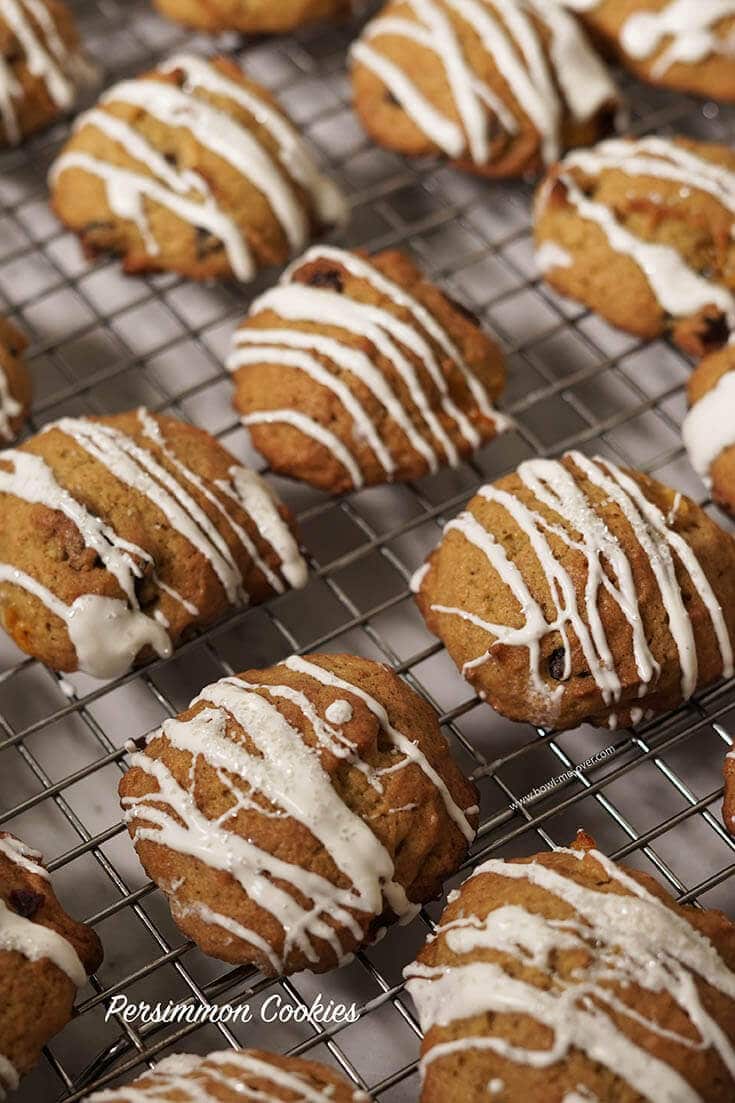 How to make Persimmon Cookie Recipe
Cream together sugar, butter and egg until light and fluffy.
Prepare the dry ingredients - flour, allspice and salt.
Take the persimmon pulp and mix it with a teaspoon of baking soda.
Add the persimmon mixture to the butter/sugar and cream again.
Now mix with the dry ingredients. When this is thoroughly mixed together, add the cranberries, nuts and white chocolate.
Drop the dough onto a cookie sheet and bake in the preheated oven until the cookies are golden brown.
If desired, drizzle with some additional white chocolate when cooled.
Top with sprinkles to make them extra special!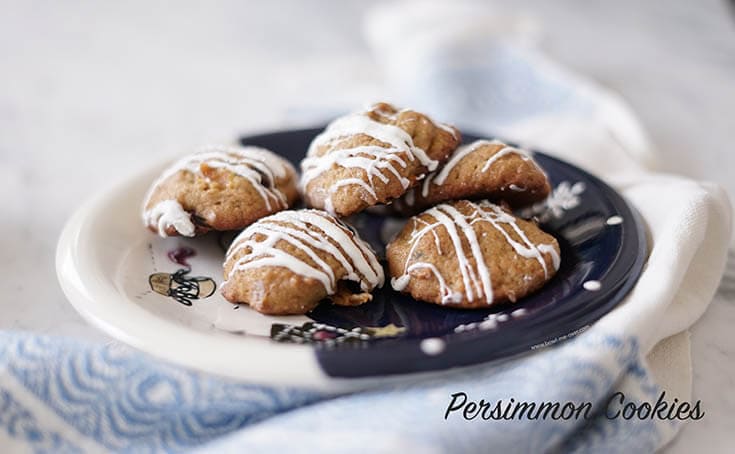 More Sweet Treats from the Blog!
Best Butter Cookies Recipe
Grandma Bertha's Homemade Butter Cookies Recipe - a classic butter cookie recipe is simple to make with minimal ingredients. Sweet and delicious, these are perfect with coffee or tea!

Check out this recipe
Chocolate Covered Cashews Recipe
Chocolate Coated Cashews Nuts covered in rich candy and melted peanut butter chips with just a pinch of chili powder. A bit of canola oil gets the chocolate and peanut butter all melty and delicious. 
Check out this recipe
Chewy Pumpkin Chocolate Chip Cookies
This cakebox cookie recipe takes a few shortcuts, but delivers with sweet flavor!
Check out this recipe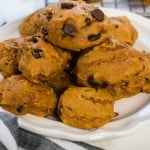 Easy Shortbread Cookies
You're going to love this recipe for Easy Shortbread Cookies! Fun and festive these shortbread cookies are drizzled with white chocolate and dunked in confetti sprinkles for the ultimate holiday treat!
Check out this recipe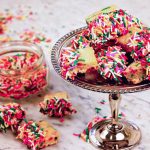 Brown Sugar Cookie Recipe
Old Fashioned Brown Sugar Cookie Recipe are tender and chewy! Stuffed with jam and baked until golden brown they are sweet and delicious!
Check out this recipe
Never cooked with Persimmon? Here are more Persimmon recipes to try and enjoy!
Whether you use them in a sweet or savory application, they are delicious!
I hope you put these cookies on your baking list for the holidays and a great after school snack! They are so good and the addition of cranberries and white chocolate takes them right over the top!
Persimmon Cookies Recipe
Persimmon Cookie Recipe
Old fashion Persimmon Cookie Recipe are sweet and delicious. Baked with nutmeg, chocked full of nuts and cranberries and drizzled with white chocolate these cookies will be everyone's favorite!
As an Amazon Associate I earn from qualifying purchases.
Ingredients
1

cup

sugar

½

cup

butter

1

egg

2

cups

flour

½

tsp

allspice

½

tsp

salt

1

cup

persimmon pulp

½

tsp

baking soda

1

cup

dried cranberries

1

cup

walnuts

½

cup

white chocolate chips

plus additional for drizzling
Instructions
Cut the top off the persimmon and squeeze the pulp into a measuring cup. You'll need 1 cup pulp, this is about three ripe persimmons. Sprinkle with baking soda, set aside.

Add the sugar, butter and egg to a mixing bowl. Cream this together until light and fluffy. Add the persimmon and mix again.

Mix together the flour, allspice and salt. Mix into the butter/sugar mixture until well combined.

Stir in the cranberries, walnuts and white chocolate chips by hand.

Drop by spoonfuls onto a greased baking sheet. Bake in the preheated oven for 12-15 minutes until golden brown.

Allow to cool, drizzle with additional melted white chocolate if desired.
Nutrition
Calories:
124
kcal
|
Carbohydrates:
17
g
|
Protein:
1
g
|
Fat:
5
g
|
Saturated Fat:
2
g
|
Cholesterol:
11
mg
|
Sodium:
76
mg
|
Potassium:
52
mg
|
Sugar:
9
g
|
Vitamin A:
85
IU
|
Vitamin C:
4.4
mg
|
Calcium:
13
mg
|
Iron:
0.6
mg
Sign up for my recipes here!!
Don't worry, we'll never share your email.
First Published: November 26, 2018... Last Updated: September 3, 2019