Easy Homemade Fudge Recipe - an old-fashioned creamy, decadent fudge that simple to make! It takes just 10 minutes and only 3 ingredients.
Easy Homemade Fudge Recipe that is creamy, smooth and decadent and only takes 10 minutes and three ingredients to make! No boiling and thermometer needed for this amazing treat!
Next time try White Chocolate Dipped Oreos!
Easy Homemade Chocolate Fudge Recipe
I know you're going to love this simple fudge recipe. It has received two thumbs up from Dan and that's high praise!
This recipe has been in our family for years. I found it in my Grandma's notes. How special is that? I love that it takes me back to childhood when my Grandparents surprised us by driving out to spend Christmas with us in Oregon.
They didn't tell anyone, not even my folks! They just showed up one day and stayed for a week. I remember Grandma was in the kitchen baking Butterscotch Cookies, making divinity and fudge.
Grandma was a firm believer all meals should end with something sweet!
What are the main ingredients in fudge?
There are only three ingredients in this easy homemade fudge recipe!
chocolate chips - use semi-sweet, dark chocolate, really it's all about your favorite
vanilla melts or almond bark - I use vanilla melts, I like how easy they are to work with.
vanilla ice cream - yup, that's it! It's what makes it so creamy!
How long does homemade fudge last?
Not long if you're in my house, LOL! Seriously though, refrigerate the fudge and well wrapped it will last 7-10 days in the refrigerator.
Can I freeze fudge?
Yes, you can! I recommend not slicing it, but wrapping well in plastic, then foil and freeze up to three months. Keeping it whole will keep it fresher. Slice it after removing it from the freezer.
What makes fudge grainy?
Crystals form when you continue to stir fudge as it cools. So after you pour it into the pan, smooth it out and allow it to cool completely.
For all the "science-ee" stuff - click this link for the science of candy!
How do you keep homemade fudge fresh?
Wrap it in plastic or aluminum foil and refrigerate it.
Steps to make Homemade Fudge Recipe
Use a medium pan over low heat, add the chocolate chips and vanilla melts.
Using a whisk, stir the chocolate until completely smooth.
Add the ice cream and stir until smooth, creamy and all of the ice cream is completely incorporated.
Pour into a lined pan, refrigerate until firm.
Just like Homemade Buckeyes, this treat is perfect for Holiday Cookie Exchanges and a wonderful Hostess Gift! Here are a few more of my favorite treats!
Chocolate Covered Cashews Recipe
Dark Chocolate Cashew Clusters covered in rich candy and melted peanut butter chips with just a pinch of chili powder. It will curb your chocolate cravings! bit of canola oil gets the chocolate and peanut butter all melty and delicious. 
Check out this recipe
Grandma Cochrane's Homemade Pecan Sandies Recipe
Old fashioned Pecan Sandies Recipe - these cookies are slightly sweet and rich from the figs. The pecans add the perfect amount of crunch in these delicious cookies.
Check out this recipe
Gumdrop Cookies Recipe
Easy Gum Drop Cookies - fun cookies loaded with gumdrops, coconut and oatmeal they are sweet, delicious. A old-fashioned cookie that everyone loves!
Check out this recipe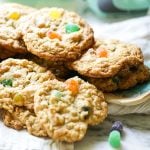 Easy Shortbread Cookies
You're going to love this recipe for Easy Shortbread Cookies! Fun and festive these shortbread cookies are drizzled with white chocolate and dunked in confetti sprinkles for the ultimate holiday treat!
Check out this recipe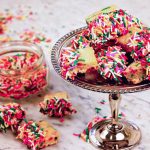 Persimmon Cookie Recipe
Old fashioned Persimmon Cookie Recipe are sweet and delicious. Baked with nutmeg, chocked full of nuts and cranberries and drizzled with white chocolate these cookies will be everyone's favorite!
Check out this recipe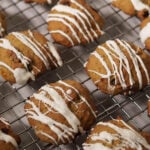 You may need
Easy Homemade Fudge Recipe
Easy Homemade Fudge Recipe
Easy Homemade Fudge Recipe - an old-fashioned creamy, decadent fudge that simple to make! It takes just 10 minutes and only 3 ingredients.
As an Amazon Associate I earn from qualifying purchases.
Ingredients
1

12 oz.

semi-sweet chocolate chips

1 ½

cups

vanilla candy melts

1

cup

vanilla ice cream
Instructions
Prepare the pan - line with foil or parchment paper. Spray lightly with non-stick cooking spray or lightly butter the pan.

Place a medium-size saucepan over low heat. Pour the chocolate chips into the pan, add the candy melts.

Stir with a whisk until completely smooth.

Add the ice cream. Stir until melted and completely incorporated - whisk until smooth.

Pour into prepared pan, smooth the top and refrigerate.

When the fudge is well set, but not completely hardened, remove it from the refrigerator. Take it out of the pan and slice it into 1-inch pieces. Return to the refrigerator until it's completely set. Enjoy!
Nutrition
Calories:
43
kcal
|
Carbohydrates:
5
g
|
Protein:
1
g
|
Fat:
2
g
|
Saturated Fat:
2
g
|
Cholesterol:
2
mg
|
Sodium:
11
mg
|
Potassium:
11
mg
|
Fiber:
1
g
|
Sugar:
5
g
|
Vitamin A:
23
IU
|
Calcium:
7
mg
Sign up for my recipes here!!
Don't worry, we'll never share your email.